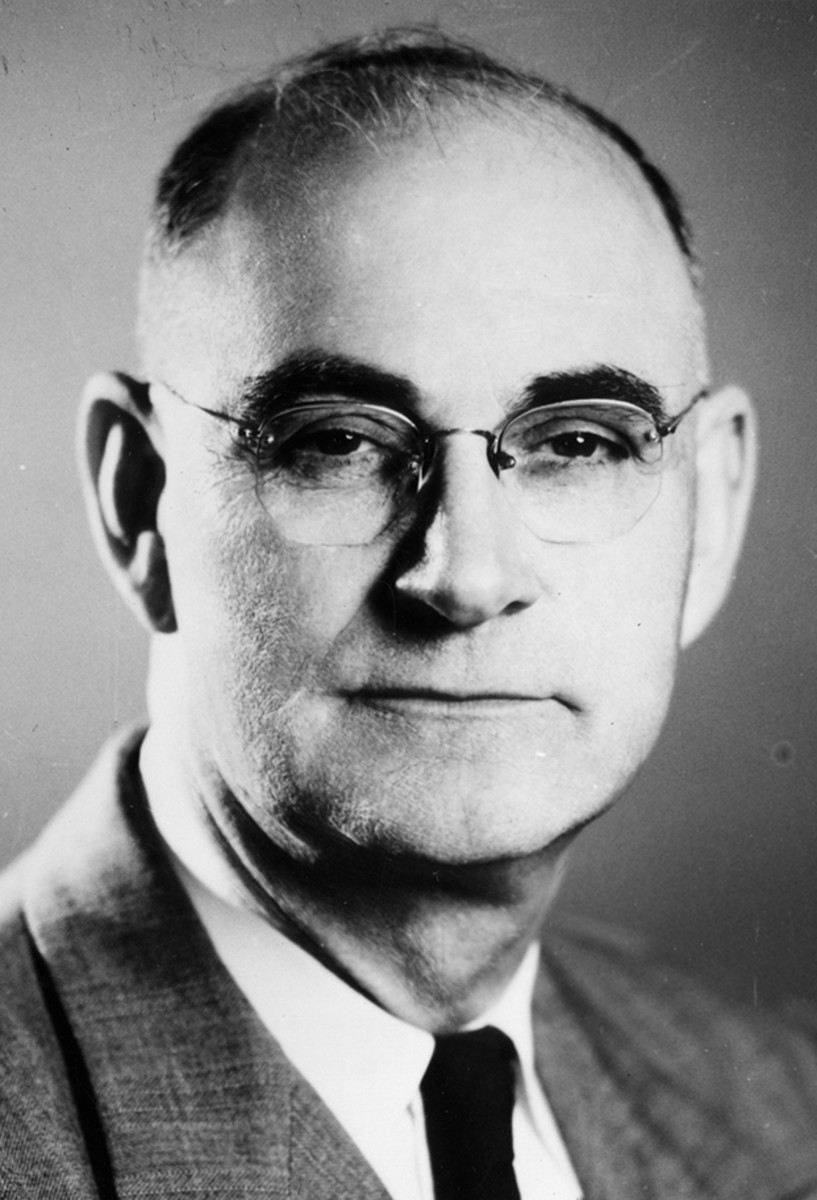 Torrey, Chester Lozere (1895–1975) and Doris Abigail (Stewart) (1895–1986)
×
Cheryl Christo Howson earned a graduate diploma in computer aided interior designing at the Dr. Bhanuben Nanavati College of Architecture for Women in Pune, India. She co-founded an interior design company in Sri Lanka and worked as a copywriter. She contributed to the morning devotional published by Women's Ministries at the General Conference of Seventh-day Adventists, the Shepherdess International Journal magazine, and the Adventist Review. She has written several plays. Currently (2020), she lives in Hosur, India while preparing for a piano exam.
First Published: January 29, 2020
Chester Lozere Torrey served the Seventh-day Adventist Church as editor and secretary-treasurer of the Southern Asia, Far Eastern, and Inter-American Divisions, and as treasurer of the General Conference. He ministered with his wife, Doris, in India, Singapore, Cuba, and the United States.
Early Life
Chester L Torrey was born May 19, 1895, in Marshalltown, Iowa, USA, to Ella Elizabeth Waugh (1868-1944) and John West Torrey (1861-1909).1 He had four siblings: Vera Zadelle (1889-1908), Glenn James (1893-1902), William Robert (1898-1973), and Rhea Leona (1905-1907).2 His parents were Adventists, and in 1907 Chester was baptized in Pomeroy, Washington, by Elder F. M. Oliver.3
When Chester was 12, the family moved to Boulder, Colorado, on account of his sister's health. From there they moved to North Yakima, Washington, for his father's job, and then back to Pomeroy where his father passed away. After his father's death in 1909, his mother married George Elvah Kelly in 1910. From that time on Chester attended various public and denominational schools as the way opened for him. He finally graduated from Lewiston High School in 1915.4
Education and Marriage
On September 22, 1916, Chester Lozere Torrey and Doris Abigail Stewart were married in Chicago, Illinois. They had one child, Robert Russel (1922-2011).5
Chester and Doris attended junior college courses at South Lancaster, Massachusetts, in 1919-1920. He earned a scholarship in the colporteur work in 1920 in the vicinity of Norridgewock. She completed a stenographic course.6
Doris was born April 18, 1895, in St. Paul, Minnesota, USA. Her mother, Angelina A. Sturdevant, passed away when she was young, and after she turned 16 Doris lived with her aunt who was a Seventh-day Adventist. Doris was baptized in August 1913 in Oklahoma City, Oklahoma, by Elder Hickman. When her father, Frederick Benton Stewart, learned about her baptism, he disinherited her because of her faith. Doris had a sister, Mrs. Joseph O. Norkin.7
Career and Ministry
In 1920 Chester began work for the denomination as a bookkeeper at the New England Sanitarium, Melrose, Massachusetts. He worked as an accountant and rooming clerk there for three years. Doris began medical secretarial work there as well.8
Chester and Doris then accepted a call to India to serve as missionaries in the Southern Asia Division after their work in Melrose ended in May 1923.9 He first worked as the assistant treasurer of the Southern Asia Division in 1923. From 1924 to 1925 he was acting treasurer of the Oriental Watchman Publishing House. He was then recalled to the division as the associate secretary-treasurer, and finally appointed the secretary-treasurer in 1926 by the General Conference. In 1929 he was appointed auditor for the division.10
Chester Torrey was ordained on January 5, 1934, in Poona, India, with Dr. H. C. Menkel, Pastors A. W. Cormack, J. S. James, and G. F. Enoch officiating.11
At the 1936 General Conference Session held in San Francisco, C. L. Torrey, the secretary-treasurer of the Southern Asia Division was moved to the Far Eastern Division, and A. E. Nelson, the secretary-treasurer of the Southern African Division filled his vacated post.12 Mr. and Mrs. Torrey left Poona in September. Chester sailed for Singapore, the headquarters of the division, while Doris stayed in Mussoorie with their son until the school year ended in December.13
Brother Torrey and Brother Armstrong bore the brunt of the burden of moving the Far Eastern Division office and equipment from Baguio in the Philippine islands to the beautiful city of Singapore and of setting up temporary offices until a permanent office location could be found. They eventually established the division compound at 800 Thomson Road, with its spacious grounds, convenient office, and comfortable homes.14 The new offices were functioning by the end of 1937. It was during Pastor Torrey's time as treasurer that the Dutch East Indies (Indonesia) were assigned to the care of the Far Eastern Division beginning on January 1, 1938.15
Chester served as secretary-treasurer and auditor until the family went on furlough to enroll Robert at Pacific Union College in the United States. When he returned in April 1939, W. P. Bradley had been appointed secretary, although Pastor Torrey continued as treasurer and auditor.16
At the 1941 General Conference Session, Paul L. Williams was elected treasurer of the Far Eastern Division, and the Torreys returned to the United States.17 He was invited to be the manager of the Boulder Sanitarium in Colorado in October 1941.18
However, this post was short-lived as there was a need in the Inter-American Division and Chester was appointed the secretary-treasurer and auditor in May 1942.19 While there he also served as editor of the El Mensajero de la Division Inter-Americana (Spanish) and The Inter-American Division Messenger (English), as well as a general agent for transportation.20
Four years later in June 1946, with the changes made in their union, the Pacific Union requested the Inter-American Division to release Pastor Torrey, with his broad experience, so that he could serve as their secretary-treasurer. Chester and Doris then left Havana, Cuba, and settled in Glendale, California, by August.21 He continued with his role of editor, this time for the Pacific Union Recorder.22 In 1948 he served as the president of the Southern Californian Conference,23 and in 1949 he was the chairman of the academy board of Newbury Park Academy and vice president of the Glendale Sanitarium and Hospital.24
At the 1950 General Conference Session in California, he was elected treasurer of the General Conference. He continued to be reelected until his retirement at the 1966 General Conference Session.25 Torrey's sixteen years as General Conference treasurer is a record for the longest tenure of this office.
Later Life and Legacy
Elder Chester L. Torrey passed away November 8, 1975, in Loma Linda, California. He was 80 years old.26 Doris Torrey passed away July 4, 1986, in Loma Linda.27
During those years, all who came in contact with the Torreys were greatly helped by their private and public ministry. Elder Torrey's timely advice regarding financial matters was of great value in bringing the finances of various institutions and organizations to the sound position they now enjoy, not an easy feat with the rapid changes in the business world.28 
Sources
Armstrong, V. T. "Greetings." Far Eastern Division Outlook, January 15, 1938.
Bauer, C. L. "Introducing Elder Torrey." Pacific Union Recorder, July 31, 1946.
Calkins, Glen "Important Notice." The Inter-American Division Messenger, June 1, 1942.
"Chester Lozere Torrey," Find A Grave. Accessed November 17, 2019. https://www.findagrave.com/memorial/154330333/chester-lozere-torrey.
"Died: C. L. Torrey." ARH, November 20, 1975.
"Division Committee Actions." Eastern Tidings, March 1, 1925.
"Division News." Far East Division Outlook, June 1, 1939.
"Division of Labor." Minutes, Autumn Council of the General Conference Committee, October 28, 1941.
"Doris Abigail (Stewart) Torrey," Find A Grave. Accessed November 17, 2019. https://www.findagrave.com/memorial/177769812/doris-abigail-torrey.
"Ella Elizabeth Waugh Kelly," Find A Grave. Accessed November 17, 2019. https://www.findagrave.com/memorial/80494900/ella-elizabeth-kelly.
"Farewell to Retiring Workers." ARH, June 30, 1966.
Forshee, C. D. "Changes." Far Eastern Division Outlook, September 1, 1941.
"Inter-American Division." Seventh-day Adventist Yearbook, 1943.
"Letters from Washington." Eastern Tidings, May 1, 1923.
"Pastors C. L. Torrey and L. C. Shepard." Eastern Tidings, July 1, 1936.
"Report of the Committee on Distribution of Labor." ARH, General Conference Report No. 9, June 16, 1946.
"Report of the Nominating Committee." ARH, General Conference Report No. 4, July 16, 1950.
Seventh-day Adventist Yearbook, various years. https://www.adventistyearbook.org/.
Thurber, Mrs. R. B. "Torrey's Farewell." Eastern Tidings, October 1, 1936.
"Torrey, Chester L." Service Records, Office of Archives, Statistics, and Research, at the General Conference of Seventh-day Adventists, Silver Spring, MD, USA.
"Visitors." Atlantic Union Gleaner, July 22, 1952.
Notes