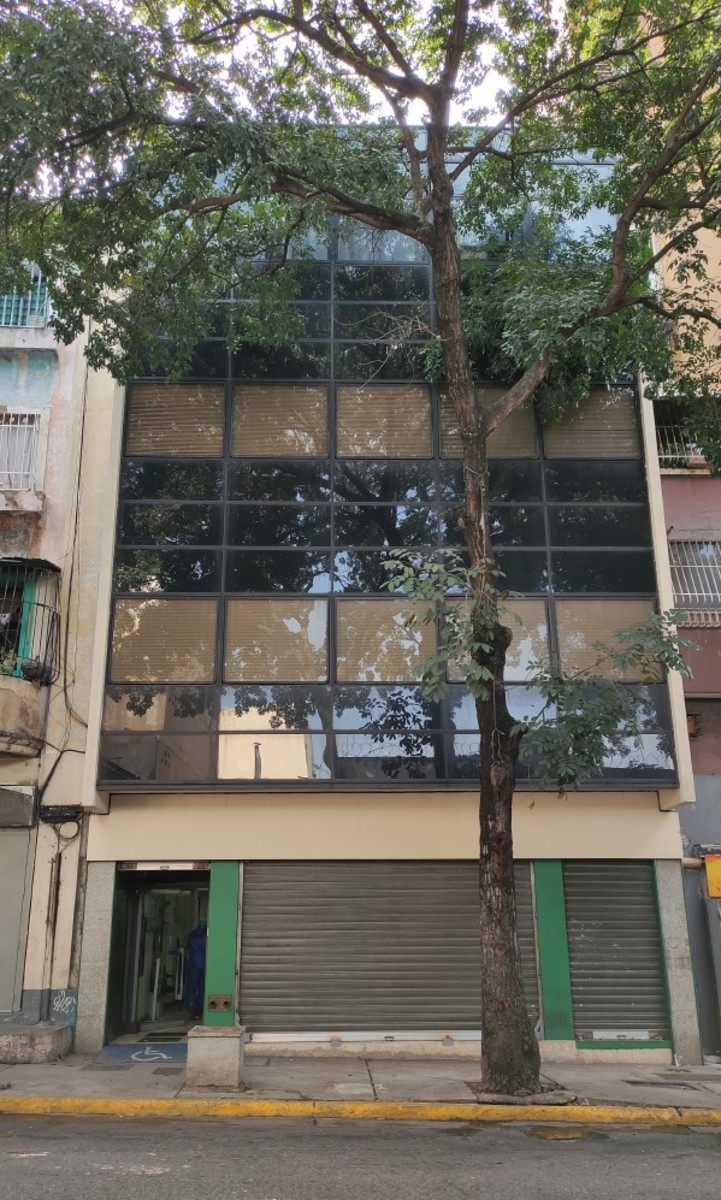 Caracas Adventist Clinic Center
×
Zoila Alvarado de Atalido, M.A., is health and family life director of East Venezuela Union Mission and has more than 30 years experience in the health-related profession. She is currently pursuing a doctorate degree at Montemorelos University in Mexico. She is married to Pastor Jorge Atalido and has two children and two grandchildren.
Caracas Adventist Clinic Center is an institution with a long tradition linked to the beginnings of the Seventh-day Adventist Church in Venezuela. It is an iconic entity located in the historic center of the city's well-known Quinta Crespo sector. In that location there are a few state institutions, including the legislative branch. It is located in Calle Sur 4, Dolores a Puente Soublette, Adventist Dispensary building, Quinta Crespo.1 The three-story building was built in 1980. Its original name was Caracas Adventist Dispensary until December 2011, when it was given the present name.2 Medical and health services have been the fundamental foundation for evangelizing the country; services are offered with a message of hope. Caracas Adventist Clinic Center has been an inspiration for the creation of other institutions, such as Venezuela Adventist Hospital in Barquisimeto and Adventist Clinic in Maturín. The Concordia Adventist Church is now located at this location.
Development
Under the administration of Venezuela Mission, now conference, the institution started as an institution to offer simple assistance in 1940. However, it offered important and necessary medical assistance to the population providing dental and nursing care services. The services were well received, as the first doctors and health professionals were beginning to be trained in the country.3 During years 1940–1950 the institution added university professionals with various specialties, giving the institution great recognition and acceptance. In November 1985, by acquiring its own location, the institution expanded its frontiers to a variety of specialties, and the work equipment was renewed, as well as its physical plant. Currently, approximately 350 patients are treated from Monday to Friday. In the facilities they also offer lifestyle workshops, Vacation Bible Schools, and spiritual programs.
Foundation
On October 12, 1940, Caracas Adventist Clinic Center was founded by Augusto Sherman, mission president, and Ricardo Fitó, administrator. On November 6, 1985, the present building was acquired. At the time the East Venezuela Union Mission president was Garry Gregory, and the dispensary administrator was José Ochoa.4
History
During 1910 to 1922 Venezuela's pioneers in the health area were Richard E. Greenidge and his wife, Rebeca, who began providing hydrotherapy treatments in Caracas.5 By October 12, 1940, their health services became a health institution in a small room at the mission office. It was located in Concordia sector in the corner of Cárcel a Pilita, it was named Caracas Adventist Dispensary.6 At the time the services offered to the public were basic dental care, offered by Augusto Sherman, who was also the mission president, along with his wife, Opha, who was a nurse and Nathaniel García, dental practitioner.7 Between 1941 and 1954 the dispensary was expanded, but in 1951 services were weakened because of a lack of personnel. After that, the medical services became stronger by adding gynecology, hydrotherapy, and massages. Several important medicine practitioners constituted the medical staff. In addition, a new dental office was built nearby.8 Between 1965 and 1966 obstetrics and gynecology service, laboratories, X-rays, and general dentistry were offered, and new dental equipment was acquired as new professionals arrived in the area. Pediatrics and cardiology specialties were offered in 1973 and 1978; during those years demand increased, and an administrator was hired. In 1983 oncology services were added.9
The acquisition of the building on November 6, 1985, where it is actually located was presented to the board by the president of the East Venezuela Union Mission, Garry Gregory, and the dispensary director, José Ochoa, which had full board approval. The next year the laboratory area was improved, and new orthodontics, orthopedics, pediatric dentistry, endodontic, and oral surgery equipment were acquired.
In 1997 trauma and urology services were offered, and construction of a surgical unit on the terrace of the first floor began. On January 11, 1998, the unit opening ceremony was held, and the first surgery intervention was on January 30, 1998.10 A new orthodontics and ophthalmology office was opened in 2000.11 From the 2000 decade to the present day, the Adventist clinic center has offered days of scientific journeys, as well as free health sessions, has opened its doors to such specialties as natural medicine, and has expanded its physical spaces. In 2007 Dr. Liliana de Molina became medical director, replacing Dr. Fanny Fleitas, contemporary modern medicine pioneer who loved the institution.12 New technology equipment was also acquired. In 2010 the construction of the administration offices was finished. To this day, the center's personnel strive to provide quality services, including sharing the gospel message with every person they come in contact with on a daily basis.
Historical Role of the Institution
The Caracas Adventist Clinic Center, with its 78 years of experience, is a city's renowned institution. Numerous people of diverse beliefs, cultures, and social classes have passed through its consulting rooms. The institution is part of the history of the Seventh-day Adventist Church as it stands like a monument proclaiming the Adventist message, which is not only religious but also health-oriented, to help people live healthier lives by taking care of their bodies and adopting a better lifestyle.
Perspectives
The Caracas Adventist Clinic Center is trying to fulfill its mission of proclaiming the gospel through direct contact with each patient who enters the facilities. Evangelistic crusades are conducted and Bible studies are given to whoever shows interest. The center's conference room is being considered to be used as a chapel for patients to feel comfortable going to church services. It is expected to expand community services areas with the reopening of the surgical room. The country's social, political, and economic crisis has prevented the renewal of equipment and even the repair of some; however, faith drives the center to maintain hope through its slogan: "We go for more, until Christ comes."
List of the Institution's Significant People
Augusto Sherman and his wife, Opha; Ricardo Fito M; Nathaniel García Robayna; Dr. Ernesto Díaz Vargas; Dr. Carlos Rojas; Dr. Eugenio de Bellard. Nurses Douglas Prenier and Ester de Prenier; Nurse Amilde Hortua Mendoza; Nurse Ana Bustamante; Dr. Luis Carlos Ortiz; Dr. Nancy Fleitas; Dr. Israel Escobar; Dr. Alfonso Müller Rojas; Dr. Lino Tovar; Dr. Fanny Fleitas; Lic. Jacobo Ramos; Dr. Yomar Berroterán; Dr. Carlos Bruguera; Dr. Ruth Millán; Mr. José Emmons, Dr. Dilio Sequera; Dr. Esteban Poni; Dr. Nelson Guédez; Lic. Montaroso; Lic. José Ochoa; Dr. Wilson León; Mrs. Ogla Escobar; Dr. Rogelio Vivas; Dr. Arturo José Briceño; Dr. Juan Yungano; Mercedes López; Rita Carolina Quiroz; Lic. Lidia Borges; Dr. Pedro Moreno; Dr. Coromoto Delgado; Dr. Juan Carballo; Dr. Carlos Bello; Dr. Miriam Duque Montes; Lic. Dolores de Sandoval; Lic. Saúl Brito; Dra Perazzo; Pr. Pacifico Merchan; Lic. Frank Márques; TSU. Maira Bautista; Dr. Liliana de Molina; Lic. Andreina de Parra; Lic. Pedro Moreno; Mag. Yannina Testa; Lic. Alejandro Pérez; Lic. María Granados; Dr. Miguel Lemus; Tito Jiménez; Lic. Marlene de Sousa; Pr. Edgardo Parra.
List of Administrators
Augusto Sherman (1940–1945); Douglas Prenier (1946–1950); Amilde Hortua Mendoz, Ana Bustamante, Dr. Luis Carlos Ortiz (1950–1954); Dr. Alfonzo Müller Rojas (1954–1995); Dr. Fanny Fleitas (1965–2007); Dr. Liliana de Molina (2007–2015); Dr. Miguel Lemus (2016–2018); Lic. Marlene Sousa (2019– ).
Address: Calle Sur 4, Dolores a Puente Soublette, Adventist Dispensary Building, Quinta Crespo, 1014 Caracas, Capital District.
Sources
Caracas Adventist Clinical Center minutes, 1995–2016. Caracas Adventist Clinical Center archives, Quinta Crespo, Caracas, Venezuela.
Centro Clinico Adventista de Caracas (Caracas Adventist Clinical Center) Facebook page. https://www.facebook.com/Centro-Cl%C3%ADnico-Adventista-134389096674225/.
Freitas, Fanny. Investigation Work, 2000. Not published. In the author's private collection.
Garcia Robayna, Nathanael. SinTemor al Futuro. Caracas: Litobrit c.a., 1989.
Sanchez Silva, D. Sligo XIX en la historia de la medicina venezolana. 2012. http://revista.svhm.org.ve/ediciones/2012/1-2/art-2/.
Schupnik Freitas, Carlos Rafael. Aquí Obro Dios.Yaracuy: Venezuela Adventist University Institute, 2010.
Venezuela Adventist Directory. 2010. Accessed August 14, 2019. https://directorioadventistavenezuela.wordpress.com/2010/12/01/dispensario-adventista-de-caracas/.
Venezuela Adventist Directory: Concordia Adventist Church. Accessed August 15, 2019. https://directorioadventistavenezuela.wordpress.com/2010/10/03/iglesia-adventista-de-la-concordiacaracas/.
Notes