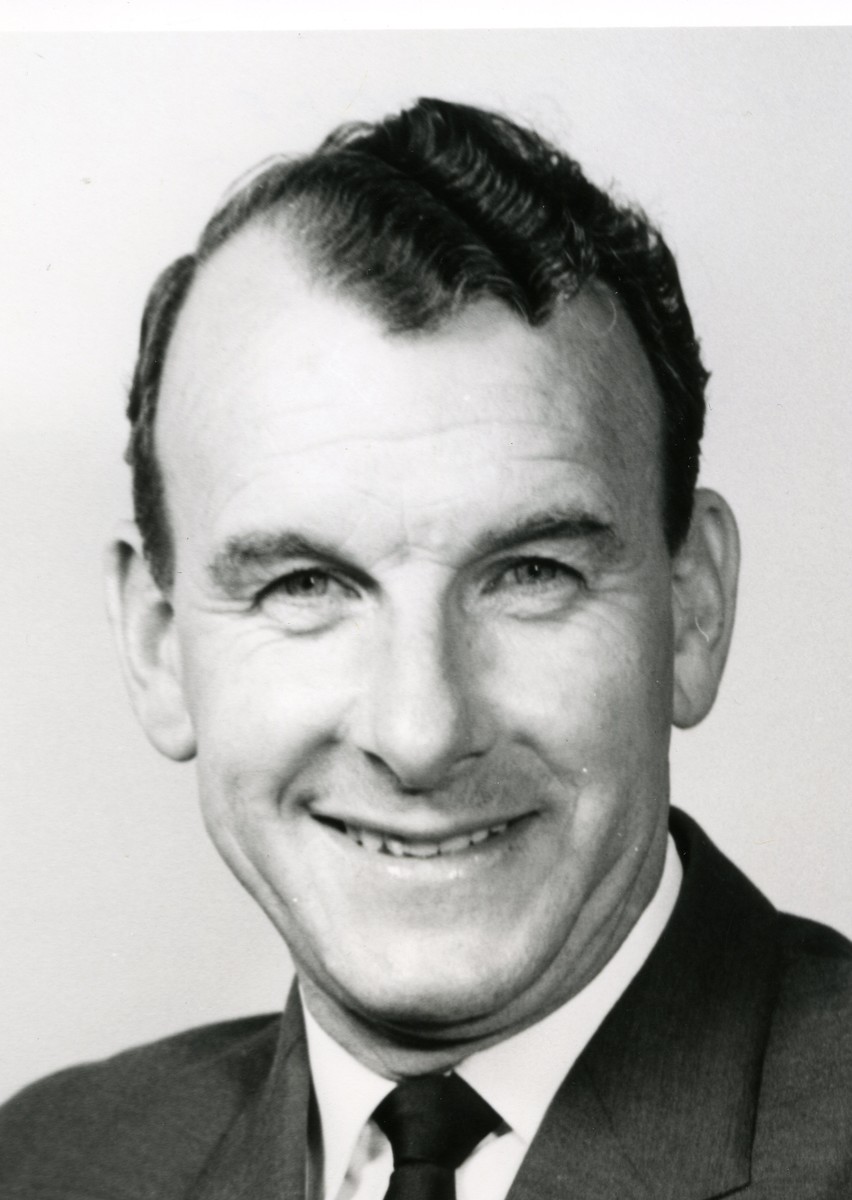 Cooke, Austin Percival (1917–2015)
×
Barry Oliver, Ph.D., retired in 2015 as president of the South Pacific Division of Seventh-day Adventists, Sydney, Australia. An Australian by birth Oliver has served the Church as a pastor, evangelist, college teacher, and administrator. In retirement, he is a conjoint associate professor at Avondale College of Higher Education. He has authored over 106 significant publications and 192 magazine articles. He is married to Julie with three adult sons and three grandchildren.
Austin Cooke was an eminent public evangelist in the territory of the South Pacific Division during the second half of the twentieth century.
Early Life
Austin Percival Cooke was born on July 29, 1917 in Greymouth, New Zealand,1 but grew up in Whangarei in the North Island.2 He was the son of Henry John Cook (born 1884) and Mabel Louisa [Manning] (born 1890).3 He had nine siblings: Phyllis, Mervyn, Athol, Eunice, Claud, Eldred, Enid, Bertram and Jeffrey.4
Cooke was baptized and became a Seventh-day Adventist at 16 years of age, largely as a result of reading The Great Controversy.5 He had been working on a dairy farm near Whangarei, New Zealand, since he was 13. When Cooke was a little over 15, a literature evangelist by the name of Reekie sold Thoughts on Daniel and the Revelation by Uriah Smith to his employer. Cooke read more of it than anyone else at the farm and joined in the Bible studies given to his employer by a Pastor Anderson. Eventually both he and his employer began keeping the Sabbath.6 He was baptized in December 1933.7 No others from his family ever became Seventh-day Adventists.
Years of Service
In order to provide the means to attend college and to gain experience in meeting people, Cooke spent time as a literature evangelist in North New Zealand. He began in September 1935 and worked right through until February 1937.8 Reports in the Australasian Record reveal he was consistently among the top salespersons. In fact, he was still making deliveries after commencing his studies at New Zealand Missionary College. Among the books he sold were This Mighty Hour, The Home Physician, and Bible Pictures and Stories.9
Cooke enrolled at New Zealand Missionary College in Palmerston North in 1937 and 1938 to prepare for ministry. In 1939, he enrolled at Australasian Missionary College in Australia where he graduated from the ministerial training course at the end of 1940.10
On graduation from Avondale College, Cooke again found himself as a literature evangelist, this time in Queensland. He worked through 1941 selling Bible Pictures and Stories exclusively.11 The experience he gained as a literature evangelist was to stand him in good stead in his later experience as a public evangelist.
While a literature evangelist in 1941 in Rockhampton, Cooke was conscripted into the army where he declined to take up duties on Sabbath. The Minister for the Army learned of Cooke's situation and ordered his discharge from the army. Just a few weeks later, further discharges were not permitted. A short time later, the unit he had been in was stationed in Singapore where most of its members were interned by the Japanese army.12
Austin Cooke began his ministerial service on the team of the Adelaide City evangelistic campaign with Lewis Weir 1942-194313. On March 24, 1943, Austin married Mavis Tryphena Wade14 who was born on August 15, 1923 in Renmark, South Australia,15 the daughter of Carol Wolseley Wade (born May 13, 1891) and Tryphena [Maiden] (born April 28, 1890).16 Mavis had become a Seventh-day Adventist when she was 10 years old after her mother attended an evangelistic campaign conducted by Erwin E. Roenfelt.17 The wedding was conducted in the Adelaide City Church by the conference president, W. M. R. Scragg.18 At the time, Mavis was a stenographer in the Sanitarium Health Food factory office in Adelaide, having graduated in 1941 from the secretarial course at Australasian Missionary College.19 Together they were to have three children: Desmond John, Rodney Austin, and Elizabeth May.20
Cooke was ordained in January 1949 in Adelaide, South Australia.21 It was quickly recognized that he had considerable ability as a public speaker and evangelist. In fact, his whole ministerial service was devoted to public evangelism. The family moved to a different location almost every year. This was particularly challenging for the children as they grew through their school years. All were to remain Seventh-day Adventists, however, all serving in various professional capacities in the work of the Church.22
The service record of Austin Cooke was:23
| | |
| --- | --- |
| 1942-1945 | South Australia |
| 1946-1948 | Western Australia |
| 1949-1951 | South Australia |
| 1952-1959 | South New South Wales |
| 1960-1961 | Western Australia |
| 1962-1963 | South New Zealand |
| 1964-1968 | Greater Sydney |
| 1969-1972 | Victoria |
| 1973-1974 | North New Zealand |
| 1975 | Greater Sydney |
Austin Cooke was one of the first evangelists from the South Pacific region to be granted a visit overseas for the purpose of enhancing his knowledge of methods and places that would feature in his public evangelistic meetings. In April 1956, Pastor and Mrs. Cooke embarked on the SS Orion for the United States. Later the itinerary took them to Europe where he was able to join the first group of Western tourists permitted behind the Iron Curtain. He used this information and experience in his evangelistic campaigns.24 He also toured the Middle East.25 He wrote, "The General Conference Ministerial Department has arranged an itinerary for me in which I will be visiting the leading evangelistic campaigns in U.S.A. Beginning May 6, I will be with Pastor Detamore in Houston, Texas, when he opens a large campaign there. Dr. S. Horn of the seminary has prepared another itinerary for us in the Middle East—the Holy Land, etc., and Dr. Walther of the seminary is giving me an itinerary for the historical places in Europe."26
As a result of this visit, Cooke, along with a number of other Australian and New Zealand public evangelists, utilized an archaeological theme in order to attract the interest and attendance of people from the wider community. "Dead Men Do Tell Tales" was the opening night theme of Australasian evangelistic campaigns by many evangelists for many years to come.
Apart from his emphasis on archaeology, Cooke implemented a number of other methods that enhanced the success of his endeavors. For example, the Australasian Record reported he worked with the ministers' fraternal in the centers where he conducted evangelistic campaigns. Before the Goulburn campaign, for example, "Pastor Cooke paid a courtesy call to every member of the minister's fraternal, and acquainted them with his plans to open a mission."27 Another feature of his campaigns was that whenever possible, he ensured that he had a singing evangelist on his team. Arthur Duffy assisted in this way in Dubbo in 1955, Canberra in 1957 and Goulburn in 1958,28 as did David Currie in Perth (1960/61) and Allan Lindsay in Christchurch (1962/63).29 Often, he gathered a team of ministers, whom it was his purpose to train in evangelistic methods and equip them for their own evangelistic endeavors. Cooke's team in Perth in 1960/61 were David Currie, Bob Possingham, John Gray, Alfred Jorgensen, Dave Speck, Lionel Smith, and Bert Godfrey.30 The Australasian Record reported, for example, that in 1962, in Christchurch, New Zealand, a team of five young ministers assisted: Allan Lindsay, Les Webster, Jim Johanson, Edmund Parker, and Ross Goldstone.31 Then in 1970, in a city-wide evangelistic campaign in Melbourne, Australia, there were seven ministers on the Cooke evangelistic team: Jim Johanson, Don Self, Bill Townend, Peter Raymer, Eion Giller, Tom Potts, and Kenneth Wright.32
He conducted city-wide evangelistic campaigns in major cities in Australia and New Zealand including Canberra, Perth, Christchurch, Sydney, Melbourne and Auckland. He also conducted evangelistic campaigns in provincial cities such as Renmark and Mount Gambier, South Australia; Wagga Wagga, Bathurst, Dubbo, Goulburn, and Orange, New South Wales. Over a span of 46 years, Austin Cooke conducted 31 evangelistic campaigns yielding over 1400 baptisms.33 The family moved to a new house 29 times.34
Cooke retired in 1975. Mavis whose musical talent had complemented his evangelistic ability and who had worked as a secretary in 10 conference offices retired 13 years later in 1988.35
Later Life
In retirement Cooke developed a number of evangelistic resources. These included a set of 48 CDs of Bible studies and a set of 97 DVDs on the teachings of the Seventh-day Adventist Church. He also authored a number of biblical expositions dealing with difficult theological topics including the latter chapters of the book of Daniel.36 In 2015, he published An Enduring Vision—Revelation Revealed, an historicist exposition of John's Apocalypse.37
In retirement, Austin and Mavis Cooke lived at Balcolyn, New South Wales. Mavis died on January 20, 1990.38 Austin subsequently married Margaret Jean [Nash] on May 27, 1991. Margaret was commonly known as Peggy. They went to live in Nimbin, New South Wales; Tamborine Mountain, Queensland; and Cann River, Victoria. Margaret died on April 19, 2011 and was buried in the Cann River cemetery on April 21.39 Austin then married Margaret's daughter Patricia Robyn [Nash]. He died at Bairnsdale, Victoria on August 8, 2015.40 He is buried in the Cann River cemetery.41
Sources
"A note from Pastor F. T. Maberly. . ." Australasian Record, June 6, 1960.
"A telegram received. . ." Australasian Record, April 4, 1960.
"Adventist Church Opened in Federal Capital." Australasian Record, January 26, 1959.
Allen, Keith F. "The Cooke Programme Comes to Dandenong." Australasian Record, April 21, 1969.
"Austin P. Cooke obituary." Record, October 3, 2015.
Austin Percival Cooke Personal Service Records, South Pacific Division Archives, Folder: Cooke, Austin Percival. Document: "Biographical Information Blank."
Austin Percival Cooke Personal Service Records. South Pacific Division Archives. Folder: Cooke, Austin Percival. Document: "Biographical Record."
Austin Percival Cooke Personal Service Records, South Pacific Division Archives, Folder: Cooke, Austin Percival, Document: "Service Record."
"Big City Mission Opens in New Masonic Centre, Melbourne." Australasian Record, March 16, 1970.
"Colporteur Monthly Summary." Australasian Record, March 2, 1942.
"Colporteurs' Summary, October 1935." Australasian Record, December 9, 1935.
"Colporteurs' Summary, March 1937." Australasian Record, May 10, 1937.
Cooke, Austin. An Enduring Vision – Revelation Revealed. Fort Oglethorpe GA: Teach Services, 2015.
Cooke, Austin P. "Life Story." Unpublished autobiography held in the South Pacific Heritage Centre, Avondale College of Higher Education, Cooranbong, New South Wales, Australia. Box 2316.
"Evangelist A. P. Cooke of the South. . ." Australasian Record, May 14, 1956.
"Goulburn business centre. . ." Australasian Record, April 21, 1958.
"In a letter. . ." Australasian Record, October 18, 1954.
"Pastor Austin Cooke reports. . ." Australasian Record, March 29, 1954.
"Pastor Austin Cooke reports. . ." Australasian Record, April 6, 1964.
Raymer, Peter C. "George and the Drag-In." Australasian Record, September 14, 1970.
Scragg, W. M. R. "Cooke – Wade." Australasian Record, April 26, 1943.
Self, Veronica May. "Melbourne City Mission – 7th Week." Australasian Record. May 4, 1970.
Speck, D. A. "Outstanding Evangelistic Campaign in Perth." Australasian Record, January 2, 1961.
Stratford, S. V. "South Australian Camp-meeting." Australasian Record, April 4, 1949.
Townend Robson, Lorraine P. "'I'd Rather Be a Doorkeeper:' Highlights of the Christchurch City Mission." Australasian Record, July 2, 1962.
"Word has been received. . ." Australasian Record, April 20, 1959.
Wright, Ken. "Mavis Cooke obituary." Australasian Record, March 3, 1990.
"You will probably be interested. . ." Australasian Record, September 4, 1961.
Notes