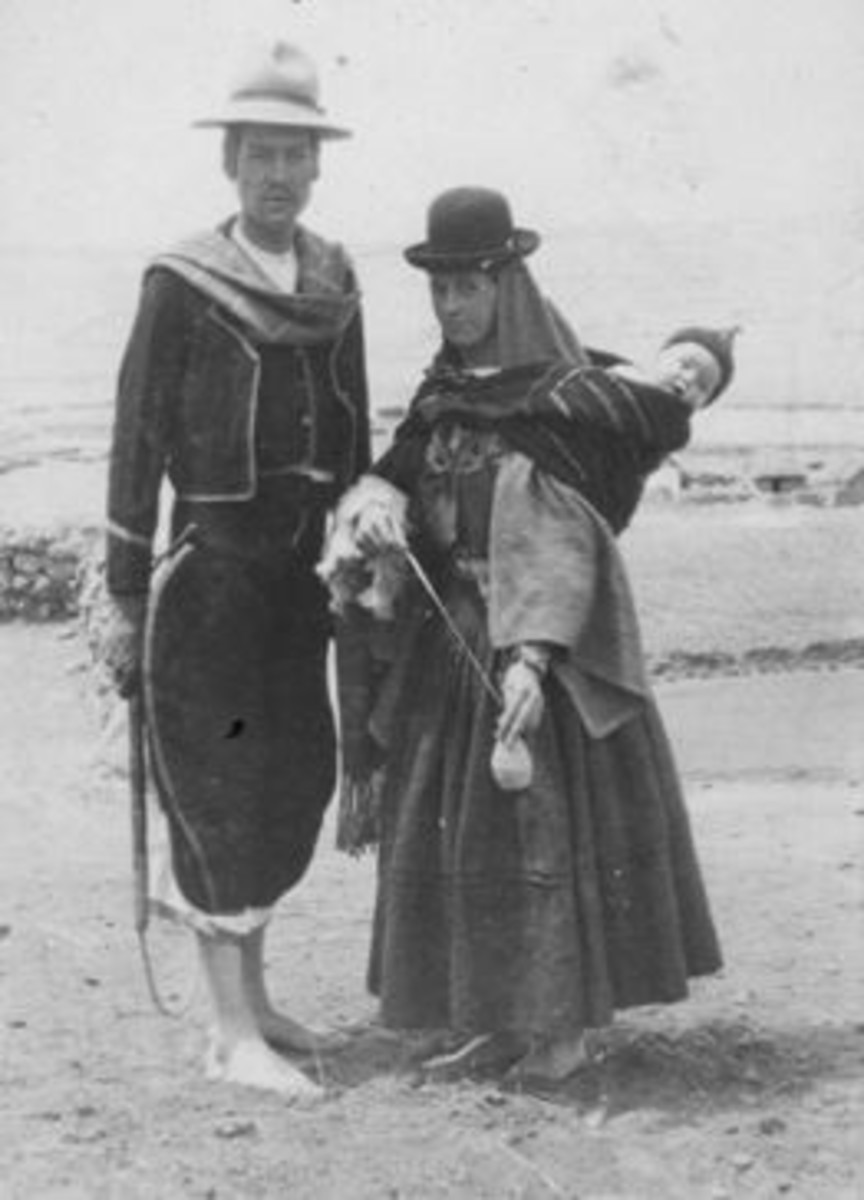 Ford, Lillian Gertrude (Shafer) (1894–1990) and Orley (1893–1972)
First Published: January 29, 2020
Lillian and Orley Ford devoted their entire adult lives to mission service in South America and Central America.
Early Life
Lillian Gertrude Shafer was born December 29, 1894, in Burdett, Kansas. She had an older sister and three brothers. Her mother and older siblings became Adventists when she was a child, but her father remained Catholic. Her sister, Pearl, took on the role of encouraging a Christian education and Adventist identity and Lillian recalled feeling a calling to be a missionary teacher in her teen years. She finished one year of normal school training at Walla Walla College and while there became involved with the Missionary Volunteer Society, focusing on South America as the place she wanted to work.1
Orley Ford was born December 29, 1893, in Pullman, Washington.2 His parents were Willis Ford, born in Oregon to parents who had worked with the pioneering missionaries Marcus and Narcissa Whitman, and Rhoda Andross, from Minnesota. He was raised an Adventist and baptized in Idaho in 1907 when he was fourteen years old. He attended Milton Academy, starting in 1910, and then Walla Walla through his college years, finishing with a BA in 1917.3
Family
Orley and Lillian met at Walla Walla and married on July 22, 1917, in College Place, Washington.4 They had six children, three of whom died in childhood and one of which was adopted at age three. Theodore Willie died as an infant at Pomata Indian Mission in Peru on December 17, 1919.5 Robert Elden (1919-1998) followed his parents into mission work and, with his wife Venessa, spent more than forty years working in Central America. Arlis Elizabeth died while the Fords were on furlough in 1922. Sylvia Marilyn was born July 10, 1927, in Cajabamba, Ecuador, and also went into mission work with her husband as an adult. Donald Deane was born in Costa Rica and died at age of nine in that same country. On their fourth furlough in 1945, they adopted three-year-old William Orley ("Billy").
Career
Both Lillie and Orley Ford were early members of the Student Missionary Volunteer movement and pursued calls to South America in 1917. They served in Pomata Indian Mission in Peru (1917-1920), Ecuador (1920-30), and then went to Central America for the rest of their careers. In Peru, Lillie Ford started a mission school and served as a midwife, and Orley Ford was the director of the mission, preaching and practicing basic medical care. In Ecuador, they were officially "Indian workers," which meant they focused on indigenous communities rather than Ecuadorians of European descent. In 1923, Orley Ford was ordained, and took on the additional role of president of the Ecuador mission in Cajabamba, while Lillie Ford taught at the mission school.6
Throughout their time in Peru and Ecuador, the Fords worked primarily with the Indians. While they did some basic healthcare, the primary desire of the Indians was to have teachers. These proved very hard to recruit and keep. Orley Ford's brother, John, came to relieve the couple in 1924 so they could take a furlough and receive more medical training. While back in the United States, Orley Ford tried to recruit teachers to join them in Ecuador. More than anyone else, he desired his brother to associate with him in the mission work, but John was unwilling to stay on after the Fords returned.7
During their furlough in 1930, Lillie Ford wrote a book about their time in South America entitled In the High Andes. It was written for a general Christian audience, published in 1932 by the Southern Publishing Association. In it she describes the many challenges they experienced, but hastened to assure her readers that by the time they left, conditions were much better and that visitors would not have to sleep on the ground or ride recalcitrant horses.8
The Fords encountered a great deal of opposition from the Ecuadorians and Peruvians of European descent, who benefitted from the Indians remaining illiterate, as well as from the Catholic clergy. Lillie Ford credited their Indian comrades with much of their success in evangelism. She also explained that it was the medical work as well as several clear and public answers to prayer that created fertile ground for the gospel. After five years in Ecuador, they baptized their first converts.9
Lillie Ford's book was intended to build sympathy for the exploited Indians of the Andes as well as those around the Amazon (the book ends with a description of their trip down that river) and to educate its audience about the people, customs and geography of South America.10 She acknowledged that the work was hard and difficult, even when one loved the local people, but it was worth it. Further, she wrote that "two of our little ones laid to rest are urging us to stay by this great mission task till it is all over."11
Orley Ford served the Guatemala Mission as president from 1931 to 1941.12 From 1943 to 1945, he was president of the Costa Rica Mission while Lillie Ford was preceptress of Costa Rica Academy.13 In 1945, he was transferred to El Salvador as president until he retired in 1959.14 During these years, Lillie Ford consistently served as secretary of the Missionary Volunteer organization and was employed in the conference's youth work.15 She organized youth camps, wrote articles, and provided training in the United States as well as Central America for Pathfinders and other leaders.16
When he reflected on their work in 1951, Orley Ford wrote that he was proud of the fact that by the 1950s most of the work was being done, not by North Americans, but by nationals who were so much more effective. The Fords saw themselves as belonging in Central America, less as missionaries and more as emigrants who had chosen a new land in which to work.17
It was fitting that less than twenty-four hours before he died, Orley Ford was active in the first ever Brotherhood Day celebrations in San Salvador, El Salvador, where he preached and exhorted his audience to be faithful to the gospel. Both Orley and Lillie Ford were honored for their work at that event, and it was comforting that he ended his long life of service while still in the thick of engagement with his beloved people in Central America.18
After Orley Ford's death in 1972, Lillie Ford stayed on in El Salvador and received a retirement ("sustentation") from the General Conference.19 She also maintained her work with the Adventist youth in Central America. Ford continued to host people at what was known as "the Ford Hotel" and work with Missionary Volunteers and young adults until she retired from this ministry in 1984 at the age of ninety. She remained in El Salvador, living in her son's home until her death on December 8, 1990.20
Sources
Ford, Lillian. In the High Andes. Nashville, TN: Southern Publishing, 1932.
Greenleaf, Floyd, The Seventh-day Adventist Church in Latin America and the Caribbean, Vol.1, Berrien Springs, MI: Andrews University Press, 1992.
Larson, Sylvia. "Lillian Ford obituary." Inter-American Division News Flashes, February 1991.
Leonor, Luis E. "SDA's Celebrate Brotherhood Day in El Salvador." Inter-American Division News Flashes, December 19, 1972.
"Orley Ford." Biographical information blank, 1957. Secretariat Missionary Files, RG 21, General Conference Archives, Silver Spring, Maryland, USA.
Retzer, Fernon. "Forty One Years of Service." The Inter-American Messenger, July 1959.
von Pohle, Donald J. "Pioneer Youth Worker Still Training Leaders." The Youth's Instructor, February 4, 1964.
Westphal, Barbara. These Fords Still Run. Boise, ID: Pacific Press, 2012.
Notes