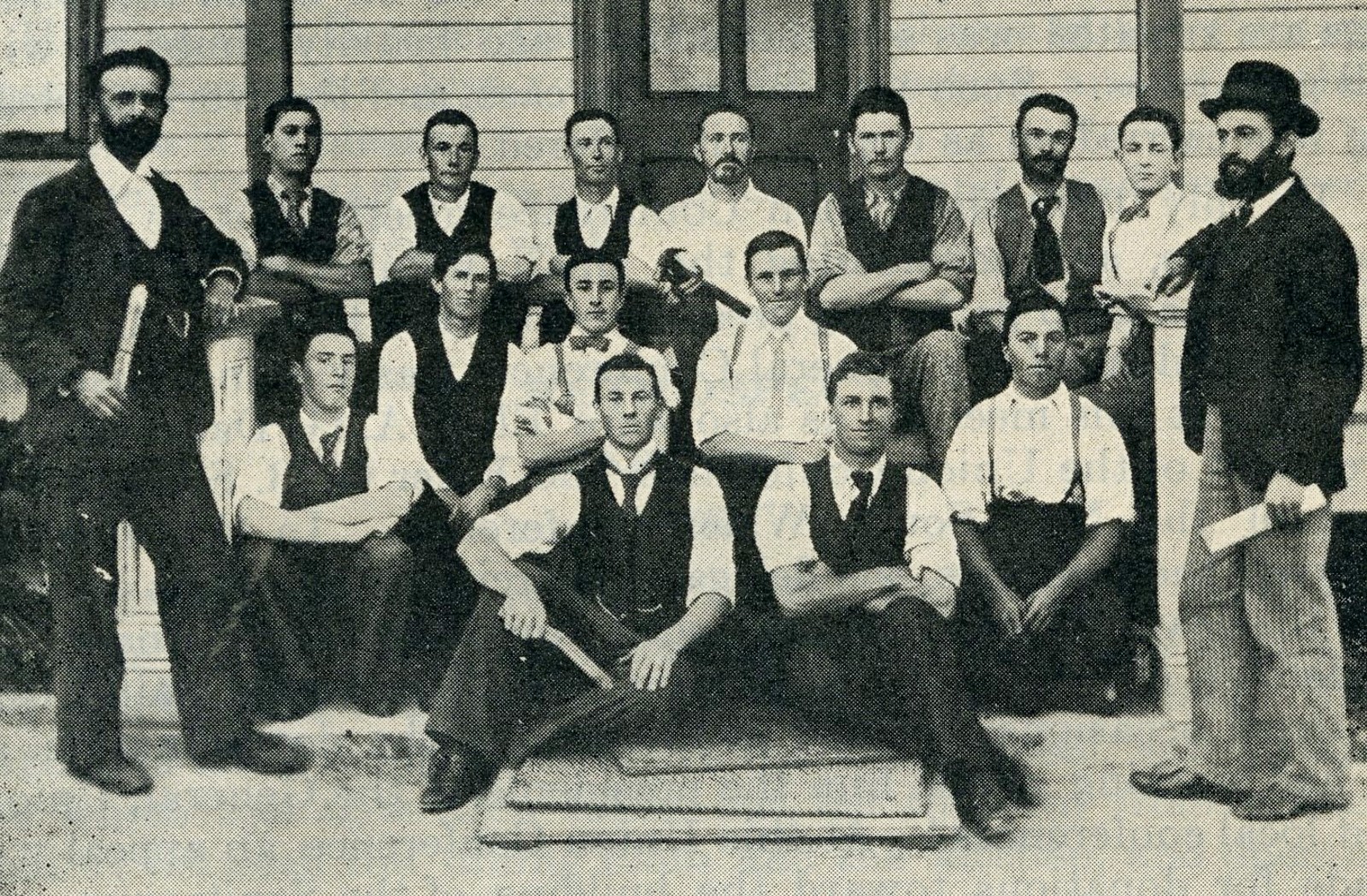 Hughes, Cassius Boone (1859–1921) and Ella (Evans) (1864–1962)
×
Milton Hook, Ed.D. (Andrews University, Berrien Springs, Michigan, the United States). Hook retired in 1997 as a minister in the Greater Sydney Conference, Australia. An Australian by birth Hook has served the Church as a teacher at the elementary, academy and college levels, a missionary in Papua New Guinea, and as a local church pastor. In retirement he is a conjoint senior lecturer at Avondale College of Higher Education. He has authored Flames Over Battle Creek, Avondale: Experiment on the Dora, Desmond Ford: Reformist Theologian, Gospel Revivalist, the Seventh-day Adventist Heritage Series, and many magazine articles. He is married to Noeleen and has two sons and three grandchildren.
First Published: September 14, 2020
Cassius Boone Hughes was a missionary and educator in North America, Australia and Jamaica.
Early Life
Cassius Boone Hughes was born on July 2, 1859, in Jefferson Township just north of St. Joseph, Missouri. His parents were John Samuel Hughes and Elizabeth Martha (Miller). Cassius was the eldest of six children, his younger siblings being Willard Douglas (b.1861), Rosa Alice (b.1866), twins Arthur Franklin and Luther James (b. 1870) and Florence Martha (b.1872).1 All were raised on the family farm, a situation that proved to be especially advantageous for Cassius during his career. William Miller, the initiator of the Millerite Adventists, was an ancestral relative of mother Elizabeth (Miller) Hughes.2 Cassius was about sixteen years of age when his parents accepted Seventh-day Adventism3 as a result of the witness of Elder Levi Long and from that time onwards the entire family was raised in the Advent hope.4
As a teenager Cassius attended Battle Creek College for two years but struggled to pay the fees so he suspended his education. To enable Cassius and his siblings to continue their schooling the family moved to Battle Creek and father John supported them by canvassing denominational books. Cassius graduated about 1884.5
Church Career
After his graduation Cassius began work in the Kansas Conference, possibly as an elementary school teacher.6 By 1888 he was engaged in evangelism at Elizabethtown, Kentucky.7 During the next four years he ministered in Battle Creek, Michigan.8 He was appointed to teach history at Walla Walla College (WWC) for 1892/1893. It was there that he met Ella Evans again, a fellow alumni of Battle Creek College who had taught in public schools and at South Lancaster Academy.9 She had transferred to WWC to teach the Natural Sciences and serve as preceptress.10 During the summer vacation they married on August 7, 1893, Elder Robert Donnell performing the service.11 Cassius was ordained to the gospel ministry in the same year.12
Marriage and ordination were significant milestones for Cassius and he made yet another by agreeing to join a pioneering educational venture in Texas as principal, an institution that became known as the Keene Industrial School.13 Its objective was to provide a boarding facility with quality classes coupled with manual labor that would not only subsidise the student's fees but also balance mental and physical exercise. Cassius, with his early farming experience, was well-suited to the task. At the 1897 General Conference Session at Lincoln, Nebraska, Cassius gave a lecture outlining the progress made at Keene but he gently chided the church for its dilatory pace in educational reform along the lines of the work-study model. Other groups, he observed, were already using the same methods.14 Elder William White, who was in the audience, was galvanized to dash off a letter to his mother in Australia. He wrote,
Prof. Hughes is full of the spirit of reform and feels the importance of combining labor with study. His school has done this successfully….

There now seems to be some prospect that we can get Prof. Hughes and his wife to come and help in our Avondale School. He has had excellent experience, in just where we need help the most. He is good in business, has a practical experience in farming, and could take charge of much of our business. His wife is an excellent teacher in the common branches.

I had some talk with him today, and while he would prefer to stay in America, I think he will consent to go to Australia….15
Cassius and Ella did agree to accept the challenge of pioneering the Australian school along similar lines to the Keene Industrial School. They sailed from America on the "Monowai,"16 arriving in Sydney on May 24, 1897.17
In her letters to her parents and younger sister, Ada, Ella wrote excitedly of the idyllic bushland estate at Cooranbong where the school was still under construction. She described the tall eucalyptus trees shedding slivers of bark, the white orchids in the crevices of the branches, frogs croaking in the creeks, shy bellbirds calling to each other, koalas sleeping in the forest canopy and kangaroos grazing in the early morning mist.18 Cassius served as principal, history teacher and farm manager.19 With student assistance he planted an orchard, vineyard and vegetable gardens to supply the tables of staff and boarding students.20 He developed an apiary that yielded copious amounts of honey.21 Ella was given charge of the elementary school in which some students received their teacher training experience.22 She was, at times, preceptress and a teacher of senior English classes.23 Soon after her arrival she recognised the dire need of suitable school desks and raised money to have seventy-five shipped from America.24 Ella's responsibilities were curtailed in 1900 when she gave birth to their first child, Emma, named after her mother.25 In all respects Cassius and Ella excelled as the pioneering leaders of the Avondale School for Christian Workers (now Avondale University College). It was with much regret that the Australasian field bid them bon voyage when they returned to America at the close of the 1902 school year.26
Back in their homeland Cassius and Ella were appointed to the Huntsville Training School, Alabama, a relatively new institution for African Americans. They had scarcely settled when, after five months, an urgent call was made for them to return to Keene27 where Cassius would be principal and teacher of rhetoric and Bible subjects. Ella would fill the role of preceptress and teacher training.28
In 1907 Cassius accepted another overseas appointment. He was asked to establish the West Indian Training School at Bog Walk, Jamaica. He served as its initial principal for three years.29 During their time there, in 1908, their son John was born. The birth certificate recorded Cassius as a "planter," an apparent acknowledgement that he was commonly thought of solely as an agriculturalist because of his establishment of the orchard and gardens that supported the school.30
Cassius and Ella returned to Keene Industrial Academy in 1910, a third term that would last for five years. Once again he served as principal and also taught philosophy and New Testament Greek. Ella took charge of the teacher training department.31 An eighteen month interval followed with Cassius serving as preceptor and grounds improvement supervisor at Pacific Union College.32 He and Ella were then appointed to establish Battleford Academy in Saskatchewan, Canada. Two school years, mid-1916 through mid-1918, were spent in this endeavour with Cassius as principal and Bible teacher and Ella as preceptress.33 They then returned to Jamaica to resume their leadership for a final two years at the West Indian Training School.34
On return to America in 1920 Cassius and Ella settled in Live Oak Canyon, California. Retirement was not on their minds. Instead, Cassius began to assist in the intermediate school at Loma Linda but his health deteriorated. Despite the best medical care he passed away on August 2, 1921, and was laid to rest in the Hillside Memorial Park, Redlands, California.35 Ella and her children remained near Loma Linda and eventually both Emma and John qualified as medical doctors. In 1942 Ella moved east to be with daughter Emma who was then serving in the Washington Sanitarium and Hospital. Ella enjoyed a long life, passing away at ninety-eight in Washington, D.C., on December 23, 1962.36 Her remains were brought back west to be interred with Cassius at Hillside Memorial Park. Daughter Emma rests with them after she passed away in 1996.37
Sources
"Avondale School." Australasian Record, October 15, 1902.
Cassius and Ella Hughes Letter Collection. South Pacific Division of the General Conference Archives, Cooranbong, New South Wales. Box 123. Folder: "Cassius and Ella Hughes Letter Collection."
"Cassius Boone Hughes." FamilySearch.org. Intellectual Reserve, 2020. Retrieved from https://www.familysearch.org/tree/pedigree/landscape/KZWD-S34.
"Ella Evans." FamilySearch.org. Intellectual Reserve, 2020. Retrieved from https://www.familysearch.org/ark:/61903/1:1:QP9S-8TXM.
"Ella (Evans) Hughes." Find A Grave Memorial.com. 2020. Retrieved from https://www.findagrave.com/memorial/23780782/ella-hughes.
"Ella (Evans) Hughes." ARH, March 7, 1963.
Gilbert, F[rederick ] C. "Cassius B. Hughes." ARH, September 22, 1921.
Hughes, C[assius] B. "Educational Reform." General Conference Daily Bulletin, February 24-25, 1897.
"Jamaica Civil Registration, 1880-1999." FamilySearch.org. Intellectual Reserve, 2020. Retrieved from https://www.familysearch.org/ark:/61903/1:1:XN3P-MYP.
"Largely through the energy and efforts…" Bible Echo, July 4, 1898.
Longacre, C[harles] S. "John S. Hughes." ARH, January 30, 1913.
O[lsen], O[le] A. "The Camp Meeting in Texas." ARH, September 3, 1895.
Seventh-day Adventist Yearbook. Battle Creek, Michigan: Review and Herald Publishing Association, 1888-1893.
"The Avondale School." Australasian Record, January/February 1898.
The Avondale School for Christian Workers Annual Calendar. Cooranbong, New South Wales: Avondale Press, 1899.
White, William C. to Ellen G. White, February 24-26, 1897. Ellen G. White Estate, Avondale University College, Cooranbong, New South Wales.
W[ilcox], F[rancis] M. "Elizabeth M. Hughes." ARH, May 6, 1926.
"Word comes of the safe arrival…" Bible Echo. May 31, 1897.
Notes