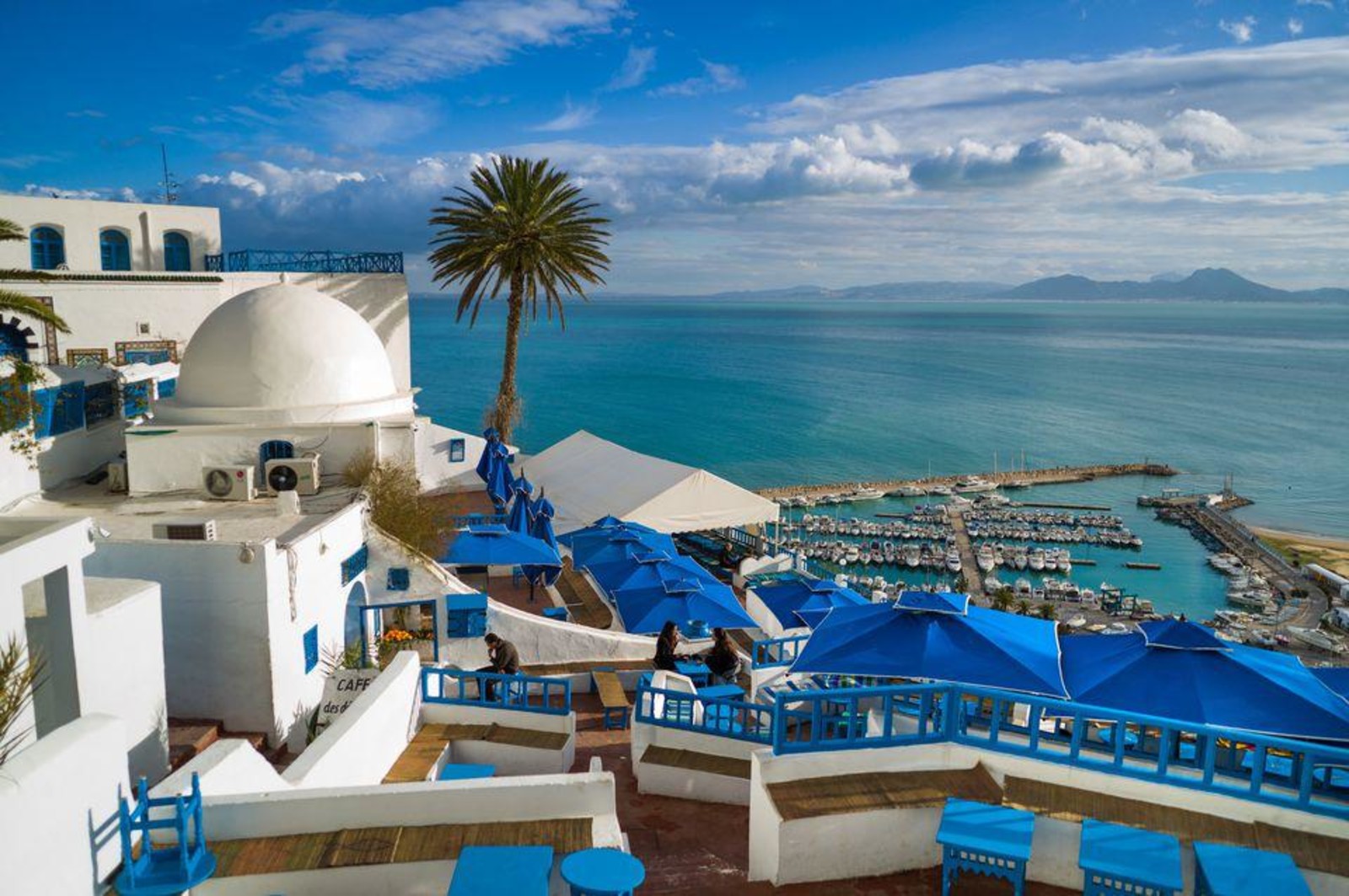 Tunisia, Republic of
×
Gideão Gonçalves Santiago (M.A. in Theology, Brazil Adventist University) served in Brazil as a chaplain, assistant pastor and senior pastor for 12 years. He also served as a missionary in Guineau Bissau and Switzerland. In 2017 Pastor Santiago moved to Tunisia where he is currently working as a pastor of the Seventh-day Adventist church in the capital city of Tunis. He is married and has two children.
First Published: March 5, 2021
Tunisia, officially the Republic of Tunisia, is the northernmost country in Africa. It is bordered by Algeria to the west and southwest, Libya to the southeast, and the Mediterranean Sea to the north and east. Tunisia is a part of the Maghreb region of North Africa covering 163,610 square kilometers (63,170 square miles). Cape Angela, a rocky headland in Bizerte, Tunisia, is the northernmost point on the African continent. Tunisia's population was 11.435 million in 2017. Its name is derived from its capital city, Tunis, which is located on its northeast coast.1
Background
From 2000 BCE, Tunisia was primarily inhabited by Berbers, nomadic people who the Greeks and Romans called "barbarians" because they spoke neither Greek nor Latin. Phoenician immigration began in the 12th century BCE, establishing several centers in Tunisia, whose name is derived from the word 'Tanit' or 'Tanis', one of the Greek goddesses Astarte's names. Around the 11th century BCE, the Phoenicians founded the city of Utica (meaning "old" in Phoenician) in today's Bizerte Governorate. They also founded Hippo Ziarite (current Benzerte), Leptis Minor or Ras Dimasseh, Hadrumete (today's Soussa), and Djerba. Kerkouane was founded by the Phoenicians in the 7th century BCE, where the site of the largest complete Punic sanctuary was discovered in the western Mediterranean.2
In 814 BCE, Phoenicians from the city of Tyre founded Carthage, one of the most powerful of their colonies. It became the heart of a big empire that dominated the western Mediterranean for nearly five centuries.3
After several attempts that started in 647, the Muslims conquered the whole of Tunisia by 697, followed by the Ottoman Empire between 1534 and 1574.4
The French colonization of Tunisia occurred in 1881. Tunisia gained independence with Habib Bourguiba and was declared the Tunisian Republic in 1957. In 2011, the Tunisian Revolution resulted in the overthrow of President Zine El Abidine Ben Ali, followed by parliamentary elections.5
Arabic is the official language and Tunisian Arabic, known as Tounsi, is the national language, French also plays a major role in Tunisian society. Tunisia's economy is based on the production of oil, phosphates, agri-food products (for example, olive oil and grain), car parts manufacturing, and tourism.6
The majority of Tunisia's population (around 98 percent) are Muslims, while about 2 percent follow Christianity and Judaism or other religions.7 Being that it is an Islamic country, it is forbidden to build religious buildings or engage in any act of proselytism.8
Arrival of Seventh-day Adventists and the Growth of the Church in the Country
The history of the Adventist church in Tunisia began in 1928 when it was organized as part of the "MISSERM" (Mission and Services in Trans-Mediterranean Countries). Its headquarters was in Paris, France. The objective was to make the Seventh-day Adventist church grow in three countries: Algeria, Morocco, and Tunisia, under the coordination of the Southern European Division.9 In the same year the "North African Union Mission" was organized, and its headquarters was established in Algiers.10
By 1937 a separate "Tunisia Mission" was organized.11 In the following year, Tunisia had one recognized church, 47 members, one ordained minister, one licensed minister and one missionary.12 Ten years later, in 1947, the Tunisia Mission had two churches in Tunis, with a total membership of 60,13 all Europeans.14 The first report of Arabs being baptized in Tunis was made in 1950.15
In 1954, the Tunisia Mission had three churches in the whole country, with a membership of 83, this being the highest number recorded in the history of the Adventist church in Tunisia.16 The Tunisian Mission and the Algerian Mission merged together in 1955 to form the Algerian-Tunisian Mission.17 Things changed for the fledgling church in 1957 when Tunisia became a republic. At that time most of the members left the country. From then on, the Tunisian government began to take over the church's property.18 In 1958 it was reported that the Algerian-Tunisian Mission had 12 churches or companies with a membership of 540. However, the majority of members lived in Algeria.19
In 1966, the North African Union Mission was discontinued, and it was reorganized as a detached mission field operated under the Southern European Division.20 This changed again in 1971 when the detached mission was included in the new Euro-Africa Division that was responsible for the administration of both European and North African countries, including Tunisia.21
The Euro-Africa Division gave up the Middle East and northern African countries in 2012. At this time the Middle East and North Africa Union (MENA) was established. Originally called the Greater Middle East Union Mission it is now attached directly to the General Conference of Seventh-day Adventists and as of 2012 it is not a part of the Euro-Africa Division.22
In 1995, the Adventist Trans-Mediterranean Association (ATMA) was created and located in Paris, France, giving continuity to the ideas of MISSERM, with the aim of providing materials and programs in the countries of Northern Africa such as radio, television, web, and literature. In 2011 the ATMA was discontinued, and the project ended.23
The Algerian-Tunisian Mission was reorganized in 2001 as the Maghreb Field. The Maghreb Field underwent some changes in 2012, 2015, and 2016 and eventually became the North Africa Region that includes the countries of Algeria, Libya, Tunisia, and Morocco.
Early Pioneers
In 1928, the president of the Algerian Mission reported, "We have one member in Tunisia." In the same year, Alphonse Gissler was sent to Tunis, Tunisia to do evangelistic work, and the next year four colporteurs were sent there. Other workers followed, but progress was slow. Finally, in 1937, Tunisia was organized as a mission with one church in Tunis, which had 30 members, and a company in Bizerte. A small clinic dispensary was operated for a number of years and made a good impression on the public.24
By 1946, a field was purchased in Ferryville (now Menzel Bourguiba),25 and a group of seventeen people were baptized there. They started a new congregation on the property.26 This brought the total to three churches for the Tunisia Mission in 1948.27 The next year, the church started a new group with three Jews and two Arabs.28 This group met in Nabeul, about 60 km from Tunis.
In 1952, Raymond Meyer, president of the Tunisia Mission, started a radio broadcast. It was carried by Radio-Tunis and Radiodiffusion, where the message reached both Morocco and Algeria.29
After Tunisia became a republic in 1957, most of the members left the country because of political changes. Nevertheless, in 1960 the church purchased a villa in the very center of Tunis. This place became a chapel and pastor's house,30 but, after some years, all the church property was taken over by the government.31
In 1969, the Adventist church in Tunisia had just eight members, mostly elderly women. Three members lived in Tunis and the others were isolated members. The church in Ferryville, a beautiful building, was occupied by local families. The church service was conducted in an apartment where three or four persons gathered each Sabbath. Tunisia no longer had their own pastor. Instead, an elderly minister who lived in Algeria, visited and encouraged the isolated members from time to time.32 This difficult situation continued until 1975 when the Adventist church reported that there was no longer a pastor or any organized church or mission project in Tunisia.33 The last member of the Adventist church passed away in 1984. From then on, there were no other members in this country.34
Over time, several evangelistic efforts were made to reach the Tunisian people. For example, both the Arabic broadcast from Radio Trans-Europe and the Bible correspondence course originating in France were aimed at reaching the country of Tunisia with seemingly little success.35 In 1990, the Euro-Africa Division started a broadcast radio project in partnership with World Radio Italy in Sicily to cover and reach Tunisia. 36
In 1982, MISSERM was recreated under the direction of Jean Kempf.37 By 1992, it comprised three organizations or institutions: The North African Mission based in Algiers, the Voice of Prophecy based in Paris, and the evangelization center (the international meeting point), with its head office in Lyons (Lyon), France. 38
Spread and Development of the Adventist Mission Work
In 1993, Pastor Reynold Agathe and his wife Rosiane were sent to Tunis as ADRA workers. They helped establish some charity work and liaised with the ministry of social affairs. Pastor Agathe met two people who were receiving distance Bible studies from France and began to study the Bible with them. After a period of time, Agathe's Tunisian housemaid was baptized.39
Pastor Agathe was replaced in 2001 by Evelyne Nielsen. She extended the work of ADRA to the rural areas of Sbeitla, Kasserine, and Gafsa. At that time the government in Tunisia became increasingly suspicious of foreign movements or ideologies, especially when it was related to Christianity. However, Nielsen managed to get in touch with some French Adventists who had returned to Tunisia after their retirement in France and who were initially born in Tunisia or lived in Tunisia during the French protectorate. Together they began a prayer meeting on Sabbath in her house.40
Nielsen's prayer group got an unexpected boost by an interesting turn in African politics. In 2002, the civil war in the Ivory Coast started, and the African Development Bank (ADB) was transferred from Abidjan to Tunis. This transfer meant that a number of employees of the bank moved to Tunisia. In 2003,41 among the first group who arrived in Tunis were five Adventists. As soon as they landed in Tunis, they sent a letter to the Euro-African Division asking if there was any representative of Adventism in the country. While they were waiting for a response they gathered to study the Bible, pray and worship on the Sabbath.
Finally, a letter came to their leader and they got in touch with Evelyne Nielsen who at that time was conducting a worship service at her apartment. Nielsen invited the group each Sabbath and a regular worship service was established in her apartment. During the song service, the congregation was content to read the hymns instead of singing out loud which would draw unwanted attention. As more African Development Bank personnel started coming to Tunis with their families, more members joined the group and Nielsen's apartment became too small to welcome the congregation every week without raising the suspicions of the local authority.42
The leader of the congregation, who was a senior staff member at the ADB and a former ambassador of Rwanda, asked the Catholic Church to allow the congregation to worship in the local Catholic Church. This request was approved and they started the service inside the Catholic Church in La Goulette. They thanked God that they were able to conduct their worship service and to sing hymns. The group requested the division to send them an Arabic-speaking pastor.43
In 2005, Pastor Fady Ghafary from Lebanon received a call from the Association Trans-Mediterranean Adventist (ATMA) to serve in Tunisia as a pioneer pastor. In 2006, he was appointed as the president of the Maghreb Field, Tunisia Section. This was the first pioneer pastor to enter the field after Tunisian independence in 1956.44 At that time no official Seventh-day Adventist church was established in Tunisia, yet he was still able to initiate and prepare the official documents for the Ministry of Interior and eventually obtained a residence permit with pastor status. He worked on registering the Adventist church before the Tunisian authorities.45
Pastor Ghafary worked with local people and established an Arabic Bible study group. He also established friendships and good relations with other religious leaders, including some Imams.46
In August, 2008 Pastor Ghafary took his annual leave. ATMA sent a French pastor, Ahmad Ben Jarou, to replace him during this time. Pastor Ahmad Ben Jarou had the joy of baptizing the first indigenous people in Tunisia.47 These Adventists continue to worship each week to the present time.48
Pastor Ghafary had good success in Tunisia. As a result of his pastorate, 18 people were baptized. When he left in May 2011 to serve at the Middle East Union, an elder of the church became the first indigenous pastor of the Seventh-day Adventist church in Tunisia.49 When Evelyne Nielsen retired in 2012, she was replaced by Alex Balint who managed to register ADRA as an association.50
In 2013, the civil war ended in the Ivory Coast and the ADB bankers began returning to Abidjan. The last group to leave was in 2015.51 In 2020, there was one congregation in Tunis with 45 members and one small group outside of Tunis.
Institutions
Officially, the Adventist church was established at two different times. It was first established in 1928 but then closed in the 1960s.52 It was then reestablished in 1993 after 30 years of inactivity.53
The first Adventist institutions were created in 1937. This included an institution for children with special needs and a small clinic dispensary.54 Another clinic was founded in Ferryville in 1951, next to the small chapel that already existed there.55 However, after Tunisia become a republic in 1957, the church lost all its properties because of the changes in the political system.56
After many years, when Adventists reentered the country in 1993, the first Adventist activity was done by ADRA Tunisia, albeit without government authorization. ADRA Tunisia obtained the official authorization in 2012.57 ADRA's project in 2013 was to open an ADRA Jobs Center, a professional training center to support young professionals and recent graduates to help make them become more employable.58
Challenges to Mission in Recent Times
As of the late 1960s the church is not recognized officially as an entity. The constitution of Tunisia forbids evangelism or the preaching of the gospel. Missionaries are not granted visas and security is an issue for those who work in the country. In addition, Tunisia is the most secularized country of the Arab world which has resulted in a lack of interest in religious issues due to people wanting freedom from religious rules.59
Sources
Adventist Digital Library. Accessed April 1, 2021. https://adventistdigitallibrary.org/.
Beach, W. R. "Desperate Needs in Europe." ARH, November 14, 1946.
Beach, W. R. "Out of the Devastation of War." ARH, November 21, 1946.
Beach, W. R. "Southern Europe." ARH, May 15, 1950.
Euro-Africa Division of Seventh-day Adventist. "Mission and Service to Moslems, (MISSERM)." Mission, 81, no. 1 (First Quarter, 1992).
Euro-Africa Division Annual Council Highlights: meeting votes." Seventh-day Adventist Church Inter-European Division, Nov 15, 2011. Accessed May 22, 2020, https://news.eud.adventist.org/en/all-news/news/go/2011-11-15/2011-euro-africa-division-annual-council-highlights-meeting-votes/.
Franz, Clyde O. "New Euro-Africa Division Authorized." Pacific Union Recorder, November 1, 1971.
Fridlin, Marius. "Among the Mohammedans of North Africa." ARH, May 15, 1952.
General Conference of Center for Adventist Research. Accessed April 1, 2021. http://www.centerforadventistresearch.org/.
_____. "Minutes of Meetings of General Conference Committee." May 5-12, 1964 - May 26, 1964. Silver Spring, MD: General Conference of Seventh-day Adventists, 2018.
_____. Office of Archives and Statistics. Seventh-day Adventist Yearbook 1948, 1954. Accessed April 1, 2021. https://www.adventistyearbook.org/. Silver Spring, MD: General Conference of Seventh-day Adventists, 1948, 1954.
_____. Office of Archives and Statistics. Annual Statistical Reports. Accessed April 1, 2021. http://adventiststatistics.org/. Silver Spring, MD: General Conference of Seventh-day Adventists, 1938.
_____. Office of Archives and Statistics. Seventh-day Adventist Online Yearbook. Accessed April 6, 2021. https://documents.adventistarchives.org/Yearbooks/YB2018.pdf. Silver Spring, MD: General Conference of Seventh-day Adventists.
Harb, Antoine Khoury, Najwa Nasr, Farid Khoury, and May Maalouf. History of the Lebanese Worldwide Presence: The Phoenician Epoch. [Volume 1], Beirut, Lebanon: The Lebanese Heritage Foundation, 2017.
Limbach, Eugenie. "Sabbath, August 12, The Dispensary in Tunis." Missions Quarterly, 33, no 3, (Third Quarter, 1944).
Ludescher, Edwin. "Africa." ARH, July 11, 1990.
Ludescher, Edwin. "Our Work in Africa." ARH, July 1, 1985.
Ludescher, Edwin. "Radio Work." ARH, July 11, 1990.
Monnier, S. F. "Work Limited in North Africa since Area Achieved Independence." ARH, July 31, 1969.
_____. "News from North Africa." ARH, May 26, 1949.
Seventh-day Adventist Encyclopedia. Hagerstown, Md.: Review and Herald Publishing Association, 1969.
Sofranac, D. "Our God Is a God of Miracles." ARH, July 5, 1962.
Steele, Allen R. "SDA Church Faces Challenge of the Middle Sea." ARH, October 23, 1975.
"Tunisia." Wikipedia, Wikimedia Foundation, March 1, 2020. Accessed March 5, 2020. https://en.wikipedia.org/w/index.php?title=Tunisia&oldid=943387853.
"Religion in Tunisia." Wikipedia, Wikimedia Foundation, March 1, 2020. Accessed March 5, 2020. https://en.wikipedia.org/w/index.php?title=Religion_in_Tunisia&oldid=943405390.
Notes
Wikipedia, s.v. "Tunisia," accessed March 5, 2020, https://en.wikipedia.org/w/index.php?title=Tunisia&oldid=943387853.↩

Antoine Khoury Harb, Najwa Nasr, Farid Khoury, and May Maalouf. History of the Lebanese Worldwide Presence: The Phoenician Epoch, [Volume 1]. Beirut, Lebanon: The Lebanese Heritage Foundation, 2017.↩

Wikipedia, s.v. "Tunisia,"↩

Ibid.↩

Ibid.↩

Ibid.↩

Ibid.↩

Wikipedia, s.v. "Religion in Tunisia," accessed March 5, 2020, https://en.wikipedia.org/w/index.php?title=Religion_in_Tunisia&oldid=943405390.↩

Seventh-day Adventist Encyclopedia (1969) (SDAE), s.v. "Tunisia."↩

Ibid.↩

SDAE, s.v. "Tunisia."↩

"Tunisia," General Conference of Seventh-day Adventists Office of Archives and Statistics, Annual Statistical Report of Seventh-day Adventist Conferences, Missions, and Institutions (Silver Spring, MD: General Conference of Seventh-day Adventists, 1938) 16.↩

"Tunis Mission," General Conference of Seventh-day Adventists Office of Archives and Statistics, Seventh-day Adventist Yearbook, (Silver Spring, MD: General Conference of Seventh-day Adventists, 1948) 205.↩

SDAE, s.v. "Tunisia."↩

W. R. Beach, "Southern Europe," ARH, 127, no. 21 (May 15, 1950), 19.↩

"Tunis Mission," General Conference of Seventh-day Adventists Office of Archives and Statistics, Seventh-day Adventist Yearbook (Silver Spring, MD: General Conference of Seventh-day Adventists, 1954) 226.↩

SDAE, s.v. "Tunisia."↩

Ibid.↩

SDAE, s.v. "Algeria."↩

"Minutes of Meetings of General Conference Committee," May 5-12, 1964 - May 26, 1964 (Silver Spring, MD: General Conference of Seventh-day Adventists, 2018), 1504.↩

Clyde O. Franz, "New Euro-Africa Division Authorized," Pacific Union Recorder, November 1, 1971, 1.↩

Ibid., 411.↩

"2011 Euro-Africa Division Annual Council Highlights: meeting votes," Seventh-day Adventist Church Inter-European Division, Nov 15, 2011, accessed May 22, 2020, https://news.eud.adventist.org/en/all-news/news/go/2011-11-15/2011-euro-africa-division-annual-council-highlights-meeting-votes/.↩

SDAE, s.v. "Tunisia."↩

W. R. Beach, "Desperate Needs in Europe," ARH, November 14, 1946, 16.↩

W. R. Beach, "Out of the Devastation of War," ARH, November 21, 1946, 16.↩

Statistical Report (1948), 16.↩

"News from North Africa," ARH, May 26, 1949, 24.↩

Marius Fridlin, "Among the Mohammedans of North Africa," ARH, May 15, 1952, 15.↩

D. Sofranac, "Our God Is a God of Miracles," ARH, July 5, 1962, 19.↩

SDAE, s.v. "Tunisia."↩

S. F. Monnier, "Work Limited in North Africa since Area Achieved Independence," ARH, July 31, 1969, 15.↩

Allen R. Steele, "SDA Church Faces Challenge of the Middle Sea," ARH, October 23, 1975, 17.↩

Edwin Ludescher, "Our Work in Africa," ARH, July 1, 1985, 15.↩

SDAE, s.v. "Tunisia."↩

Edwin Ludescher, "Radio Work," ARH, July 11, 1990, 20.↩

Edwin Ludescher, "Africa," ARH, July 11, 1990, 20.↩

Euro-Africa Division of Seventh-day Adventist, "Mission and Service to Moslems, (MISSERM)", Mission, 81, no. 1 (First Quarter, 1992): 21.↩

Evelyne Nielsen, email message to author, June 5, 2019.↩

Ibid.↩

Ibid.↩

Feriel Benhissi, interview by author, Tunis, Tunisia, May 18, 2019.↩

Ibid.↩

Ibid.↩

Neji Ouni, interview by author, Tunis, Tunisia, March 13, 2020.↩

Tarak Kadachi, interview by author, Tunis, Tunisia, May 25, 2019.↩

Neji Ouni, interview by author, Tunis, Tunisia, April 21, 2019.↩

Evelyne Nielsen, email message to author, June 5, 2019.↩

Feriel Benhissi, interview by author, Tunis, Tunisia, May 18, 2019.↩

SDAE, s.v. "Tunisia."↩

Evelyne Nielsen, email message to author, June 5, 2019.↩

Eugenie Limbach, "Sabbath, August 12, The Dispensary in Tunis," Missions Quarterly, 33, no 3, (Third Quarter, 1944): 6.↩

Fridlin, "Among the Mohammedans of North Africa," 15.↩

SDAE, s.v. "Tunisia."↩

Evelyne Nielsen, email message to author, June 5, 2019.↩

Feriel Benhissi, interview by author, Tunis, Tunisia, May 18, 2019.↩

Dilson Bezerra (current president of NAR), email message to Melanie Wixwat, April 26, 2021.↩