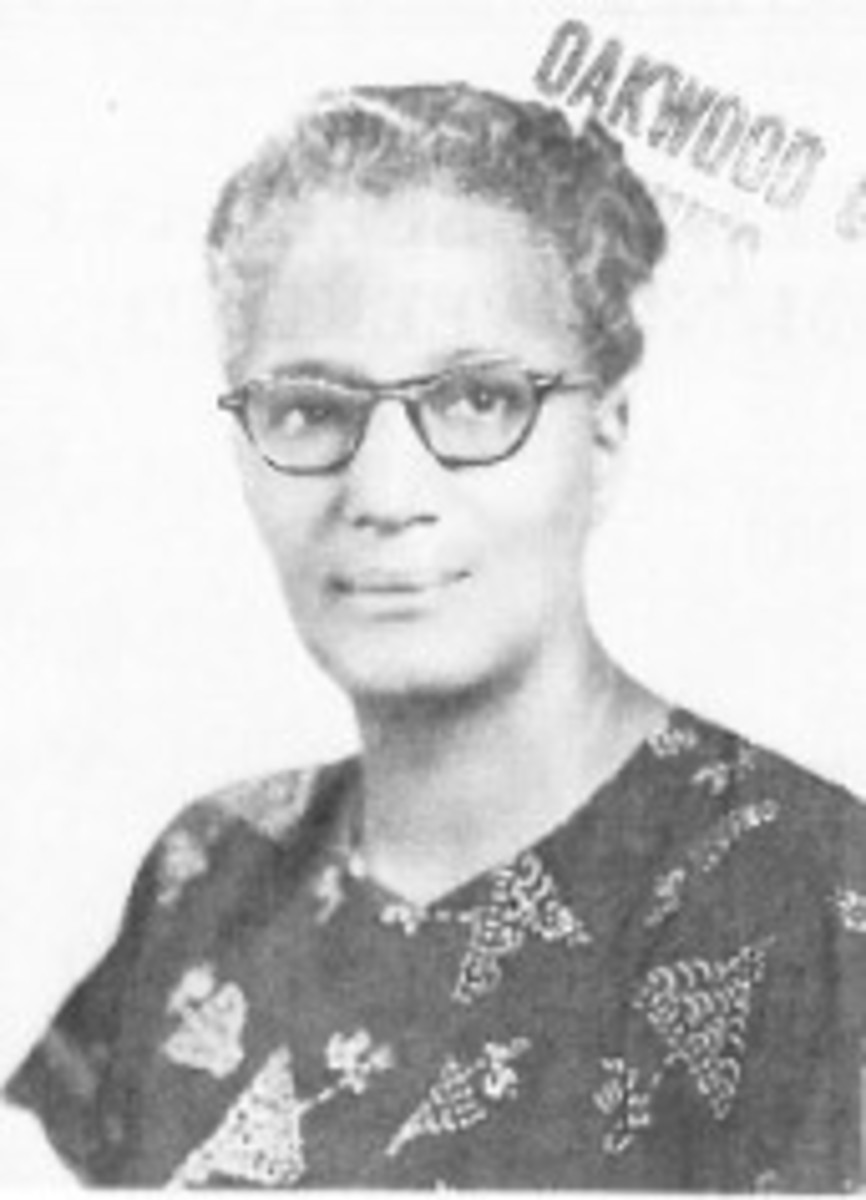 Burrell, Natelkka Izetta Edith (1895–1990)
×
Samuel London, Ph.D., is a professor and chair of the Department of History and Political Science at Oakwood University, Huntsville, Alabama. He is the director of the Oakwood Office for the Encyclopedia of Seventh-day Adventists. London wrote the book Seventh-day Adventists and the Civil Rights Movement (University Press of Mississippi, 2010). Samuel and his wife Laura reside in Priceville, Alabama.
First Published: January 29, 2020
For more than fifty years Natelkka Izetta Edith Burrell served in the Seventh-day Adventist educational system as a teacher, principal, department chair, professor, and residential dean.
Natelkka was born on February 8, 1895, to William Tad and Alberta Dabney Burrell in Brooklyn, New York. When she was three, her father died. At five Burrell attended a kindergarten school operated by a local Baptist church. It was here that her aspiration to become a teacher began. Afterward she went to Brooklyn Public School 11 and completed her elementary education. In 1907 a family friend introduced the Burrells to the teachings of the Seventh-day Adventist Church. On July 4, 1913, James K. Humphrey baptized mother and daughter. Burrell attended South Lancaster Academy and Lancaster Junior College in South Lancaster, Massachusetts, where she completed her secondary education and obtained a teaching certificate in 1917.1
Burrell obtained a bachelor's degree in elementary education and English in 1943 from Emmanuel Missionary College in Berrien Springs, Michigan. In 1947 she received a master's degree in the same disciplines from the University of Wisconsin in Madison, Wisconsin. In 1959 Burrell earned a doctorate in education from the Teachers College of Columbia University in New York City. In the early 1920s she married Joseph Hamilton Bishop (1886–1929) in New Haven, Connecticut.2 Burrell had one adopted daughter, Katrina V. Nesbitt.3
In 1917 Burrell accepted an offer from the Southern New England Conference of Seventh-day Adventists to teach in their church school in Guilford, Connecticut.4 Two years later the conference reassigned her to New Haven, Connecticut, as a Bible worker.5 This assignment did not last long. Successful evangelism among the city's blacks necessitated the establishment of a school, and the conference hired Burrell to teach.6 She stayed for a year, and then moved to Baltimore, Maryland, where she served as principal of Baltimore Academy in the early 1920s.7 From 1930 to 1934 Burrell taught seventh and eighth grades at Harlem Academy in New York City.8 Afterward she taught briefly at a business school startup on Long Island, New York.9 Following this, Burrell worked as a city clerk and a receptionist.10 In 1939 President James Lewis Moran invited her to become the residential dean of women at Oakwood Junior College, in Huntsville, Alabama. As dean she challenged young women to develop their talents to the glory of God and use them to spread the gospel to all the world.11 The following year she became the head of the Education Department and soon developed a new curriculum for teacher education. Burrell also functioned as the principal of the campus laboratory school, where teachers in training instructed elementary students.12 To facilitate professionalism and purpose in education majors, in the 1940s she organized Alabama's first Future Teachers of America Club, an affiliate of the National Education Association.13 Moreover, her persistence persuaded the Oakwood College administration to construct a new elementary school building, Anna Knight Hall.14 In 1961 Burrell resigned her position at Oakwood College and moved to Washington, D.C., where she and Ethel Young edited a multicultural reading series for the primary grades produced by the General Conference Education Department.15 She continued as coeditor of the primary series until its completion in 1964.16 Beginning in the summer of 1964 Burrell taught education and psychology courses at Andrews University in Berrien Springs, Michigan, until her retirement in 1977.17 During 1969 to 1971 she completed a series of readers designed for seventh and eighth graders.18
In retirement Burrell would on occasion teach a special course or address students in training on the Andrews campus.19 In recognition of her service as a renowned educator, she received the title of professor emeritus from both Oakwood College and Andrews University.20 Moreover, in her lifetime she received the following commendations: 1945, Teacher's Life Certificate presented by the Southern Union for the General Conference; 1958, Professional Elementary Certificate presented by the General Conference; 1972, Citation of Honor from the General Conference Education Department; 1973, election to Andrews University Hall of Fame; 1975, General Conference Citation as one of the 10 most outstanding women in the Seventh-day Adventist Church; 1984, Andrews University Alumna of the Year; and in 1988, Atlantic Union College Presidential Citation for Outstanding Alumna and Distinguished Educator.21
Furthermore, in 1982 Oakwood College named a building in her honor, Burrell Hall. That year the Pacific Press Publishing Association published her autobiography, God's Beloved Rebel. In 1988 the Review and Herald Publishing Association published her book, Katrina Stands Alone, the story of her adopted daughter. Burrell died on February 21, 1990, at the age of 95 in her home in Berrien Springs, Michigan.
Burrell will always be remembered as a remarkable educator and academic administrator; an accomplished author; and a warm counselor, friend, mentor, and surrogate mother, who made a tremendous impact on every life she touched. Her work in Christian education is world-renowned.
Sources
Burrell, Natelkka E. God's Beloved Rebel: An Autobiography. Mountain View, California: Pacific Press Publishing Association, 1982.
"Dr. Natelkka Izetta (Edith) Burrell obituary." 1990. Oakwood University Archives.
Knott, Ronald "God's Beloved—Still a rebel." Columbia Union Visitor, February 1, 1988.
"Natelkka E. Burrell: Educator." Oakwood University Archives.
Norcliffe, Mary. "To Make God Central in Our Lives." Atlantic Union Gleaner 87, no. 7 (July 7, 1988).
Philadelphia, Pennsylvania. Death Certificates. Commonwealth of Pennsylvania Department of Health, Philadelphia, Pennsylvania.
"Portrait of a Great Lady." North American Regional Voice 12, no. 2 (April 1990).
Robertson, Gwen E. "Natelkka Burrell: Contributing Guest Teacher." Andrews University Focus, November-December 1971.
Seventh-day Adventist Yearbook. Washington, D.C.: Review and Herald Publishing Association, 1930–1932.
Smart, Larry. "Honor to Whom Honor is Due," AUC Accent, January-March 1981.
Notes