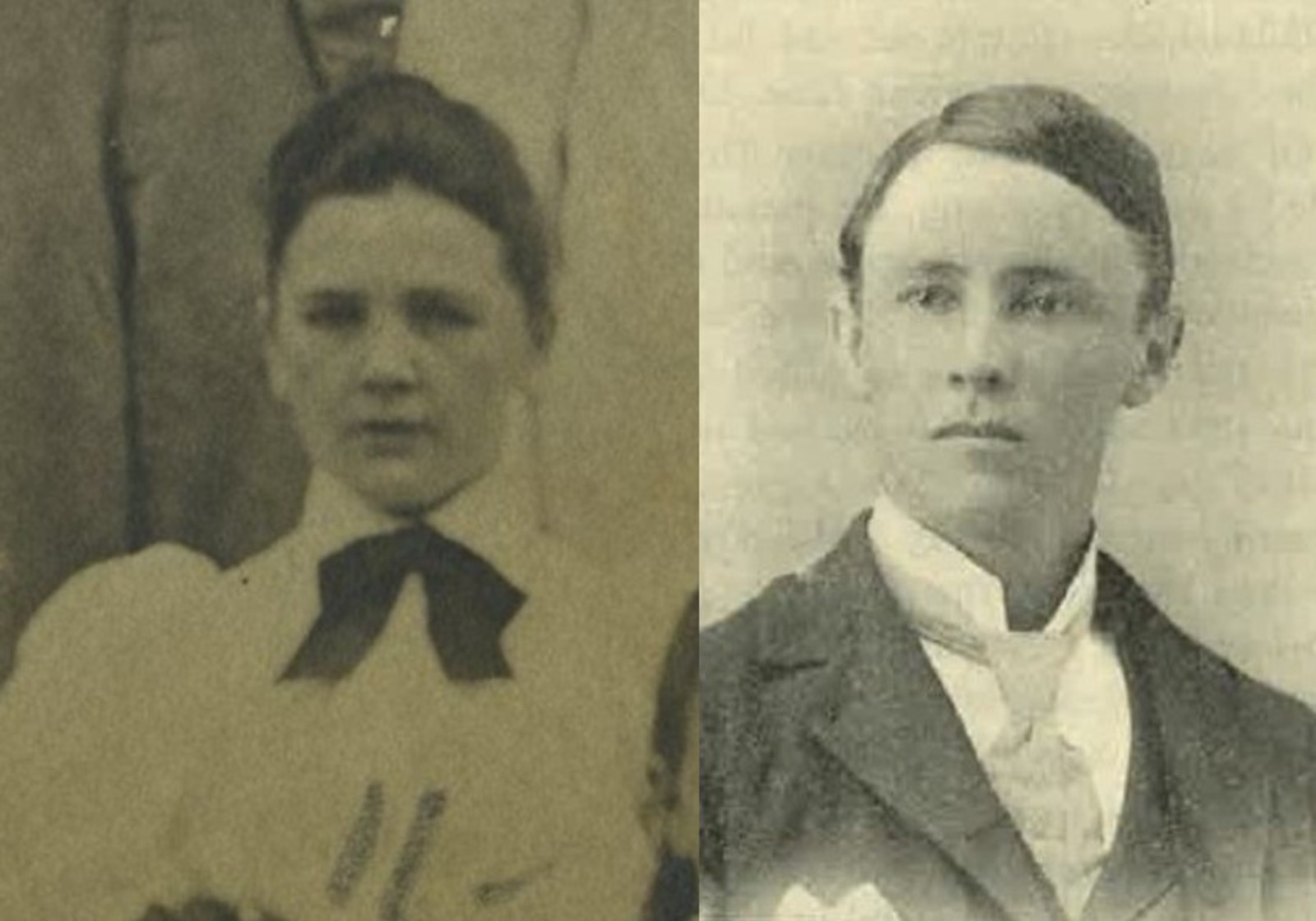 Quantock, Martha May (Taylor) (1863–1952) and Walter W. (1875–1904)
×
Gordon E. Christo, Ph.D. in Old Testament and Adventist Studies (Andrews University). Christo is retired and working on contract as assistant editor of the Encyclopedia of Seventh-day Adventists and assistant editor of the Seventh-day Adventist International Biblical-Theological Dictionary. He is currently setting up a heritage center for Southern Asia Division. Some of his research on Adventist history can be seen at https://sudheritage.blogspot.com/ and https://www.facebook.com/SUDHeritage/.
Rosenita M. Christo
First Published: August 2, 2021
Martha May Taylor Quantock served as an officer of the India Mission/Union Mission from its inception in 1895 to 1915.
Early Life and Education
Martha May, known commonly as May, was born on December 27, 1863, to Isaac C. Taylor and Sarah K. Taylor at Ridge Rd., New York. Her early years were spent at Rome and Lockport, New York, where she attended school from 1868 to 1879.1
May was converted through the influence of her older sisters during the winter of 1880, 2 after which in 1882 to1883 she joined the first batch of students to enter South Lancaster Academy.3 She was baptized in 1883 by D. A. Robinson.4
Ministry
Miss Taylor entered denominational work at the Conference School in Rome, New York, as a teacher from 1883 to 1884. Next she worked as secretary of the New York Tract Society in 1884-1886. After that she went overseas to teach and also to do some office work in Basel, Switzerland. A year later she transferred to London, England, as a Bible and office worker, serving there from 1889-1895.5
While in England, May Taylor studied the Bible with Marion Vallentine, a governess in Queen Victoria's palace who was converted and who later with her husband Griffith Jones pioneered the message to the many islands of the South Seas.6 May Taylor had an invitation from the Foreign Mission Board to go to South Africa as a teacher, a call that she declined. In England she came in contact again with D. A. Robinson, who had baptized her earlier. Robinson recommended to the Foreign Mission Board the advisability of a Bible worker accompanying him when he went to India to open the work there, and suggested the name of May Taylor.7 The board promptly took such an action,8 and later appointed her secretary and treasurer of the India Mission. 9
Martha May sailed for India from London with D. A. Robinson and family. They reached Calcutta in November 189510 and settled into the building that Georgia Burrus had arranged for at 154 Bow Bazar opposite the Sealdah railway station. The workers lived in quarters on the upper floor and conducted work on the ground floor. Martha May promptly began her work with the orphanage and the treasury. When the orphanage moved to Karmatar in 1899, she and Mrs. Brown started the English school in the same ground floor rooms of the 154 Bow Bazar building.11
On Mar 2, 1899, Walter W. Quantock (born November 7, 1875)12 arrived in India to take up colporteuring.13 After a few months of canvassing in Allahabad, Walter was called back to Calcutta to act as secretary and treasurer of the International Tract Society, caring for the literature work and the colporteurs in India,14 while May worked as secretary and treasurer for the mission and its employees. Martha May and Walter were married in 1900.
The Quantocks moved to Karmatar to care for the orphanage and farm there,15 replacing F. W. Brown who with D. A. Robinson had just died of the dreaded smallpox. Walter continued to travel, promoting Adventist literature and seeing to what was done and what more needed to be done in various parts of India.16 The Quantocks had a daughter, Edna, who was born in 1902.17
In 1904 the Quantocks went on furlough to Missouri, U.S.A., on account of the health of Brother Quantock, who had become "seriously impaired."18 They arrived in September, and Walter underwent a complex surgery at Boulder, Colorado. 19 Though they were full of hope and optimism for his recovery, he passed away on December 3, 1904.20
May Quantock then returned to India in 1907 to resume her work in the office. 21 She continued as secretary-treasurer of the India Mission from 1907 to 1910 and thereafter as treasurer of the India Union until 1915.22 Her work as treasurer involved auditing the books of various missions and institutions and necessitated travel all over the India Union.
When she left India in 1915, the India Union president H. R. Salisbury said "we doubt if anyone has left the field who will be more sincerely missed by the workers in all parts of our mission than Sister Quantock." Salisbury spoke of her experience and counsel, which he valued highly. May had even stayed an extra year at his request but felt she had to leave soon for the education of her only child Edna.23
Mrs. Quantock took up work as matron at Washington Missionary College in 1915.24 After six years of labor there, she moved to Atlantic Union College and also worked as matron there for another six years. While there she appears to have contributed actively to the social life of the college.25
Later Life
May retired in South Lancaster where she served as treasurer of the local South Lancaster church starting in 1933 till she was eighty years old, in1946. On Feb 8, 1946, the church held a special Friday vespers service honoring her life of service. Professor Louis Hartin spoke in recognition of her years of service at home and as a foreign missionary. Pastor Stephen Olney spoke in appreciation of her years of service to the local church and presented her with a bouquet of flowers and a purse of US$100. A ladies quartet sang the song "My Task." Finally Mrs. Nellie Dodge read the following poem "composed for the occasion."26
A Tribute to Sister Quantock
She might have walked the beaten path
     Made smooth by steady tread:
Instead she chose the rugged road,
     Where love and duty led.
She might have lived a sheltered life,
     But no, she chose to climb
By toilsome paths, on weary feet,
     To lofty heights sublime.
She chose to serve in any place
     Where love the way might lead:
She faltered not when asked to meet
     The call to India's need.
She labored with untiring zeal
     The Master's work to do;
As treasurer and matron,
     She proved her worth so true.
She coveted no honor,
     She won no loud acclaim,
A life of faithful service
     Is her monument of fame.
A priceless heritage thus gained
     Will have a rich reward;
She may, in simple faith and trust,
     Leave the results with God.
Although she lays her burden down
     To claim a well-earned rest,
We trust that richer, fuller joys
     Will make her life more blest.
The One who guided in the past
     Will not His watchcare cease;
He will her every need supply
     And grant to her His peace.
On June 30, 1952, Martha Mae Taylor Quantock passed away while she was at the Massachusetts General Hospital in Boston. She was survived by daughter, Mrs. Edna Seymour, and her grandchildren—Martha, Cecil, Jean, and Phyllis.27
Legacy
Martha May, a woman of great ability, served as treasurer of the India Mission/Union Mission for nearly twenty years, associated with four presidents: D. A. Robinson, W. A. Spicer, J. L. Shaw, and H. R. Salisbury. She trained Marion Belchambers, who later served as treasurer for several unions in India.28
Sources
Belchambers, Marion H. "Bro. Jewell, a nurse . . . ." Eastern Tidings, April 1906.
Brende, Albert E. "Obituaries." Atlantic Union Gleaner, July 22, 1952.
"Brother and Sister W.W. Quantock . . . ." ARH, September 22, 1904.
Christo, Gordon E. "Not Afraid to Go Alone." ARH, February 10, 2011.
Christo, Gordon E. "The Way it Began." ARH, April 12, 2001.
Currow, Stephen J. "Jones, Griffith Francis (1864-1940) and Marion (Vallentine) (1860-1939)." Encyclopedia of Seventh-day Adventists. Accessed May 20, 2021. https://encyclopedia.adventist.org/article?id=BAWG&highlight=Jones,|Griffith|.
Daniells, A. G. "The President's Address at the General Conference." ARH, Thursday, May 11, 1905.
"In Appreciation." Atlantic Union Gleaner, February 8, 1946.
"Martha May Taylor Quantock." Biographical Blank, General Conference of Seventh-day Adventists Archives, Silver Spring, Maryland, U.S.A.
Minutes of the Foreign Mission Board, July 16, 1895; October 25, 1896. Southern Asia Division Archives, Krishnagiri District, Tamil Nadu, India.
Mookerjee, L. G. "Retrospect of our Work in the Southern Asia Division." Eastern Tidings, January 15, 1946.
Morgan, Violet E. "Atlantic Union College." Atlantic Union Gleaner, December 3, 1924.
Quantock, W. W. "India." ARH, September 30, 1902.
Quantock, W. W. "Letter From India." ARH, May 30, 1899.
Porter, R. C. "Quantock, W.W.," obituary. ARH, December 29, 1904.
Robinson, D. A. "Progress … Calcutta, India." ARH, April 11, 1899.
Salisbury, H. R. "Returning Workers." Eastern Tidings, April 1915.
Spicer, W. A. "Another Missionary Grave." ARH, December 15, 1904.
Spicer, W. A. "Since the last preceding report . . . ." ARH, September 11, 1900.
Supplement to the Review and Herald, May 2, 1899.
"Washington Missionary College." Columbia Union Visitor, November 4, 1915.
Notes