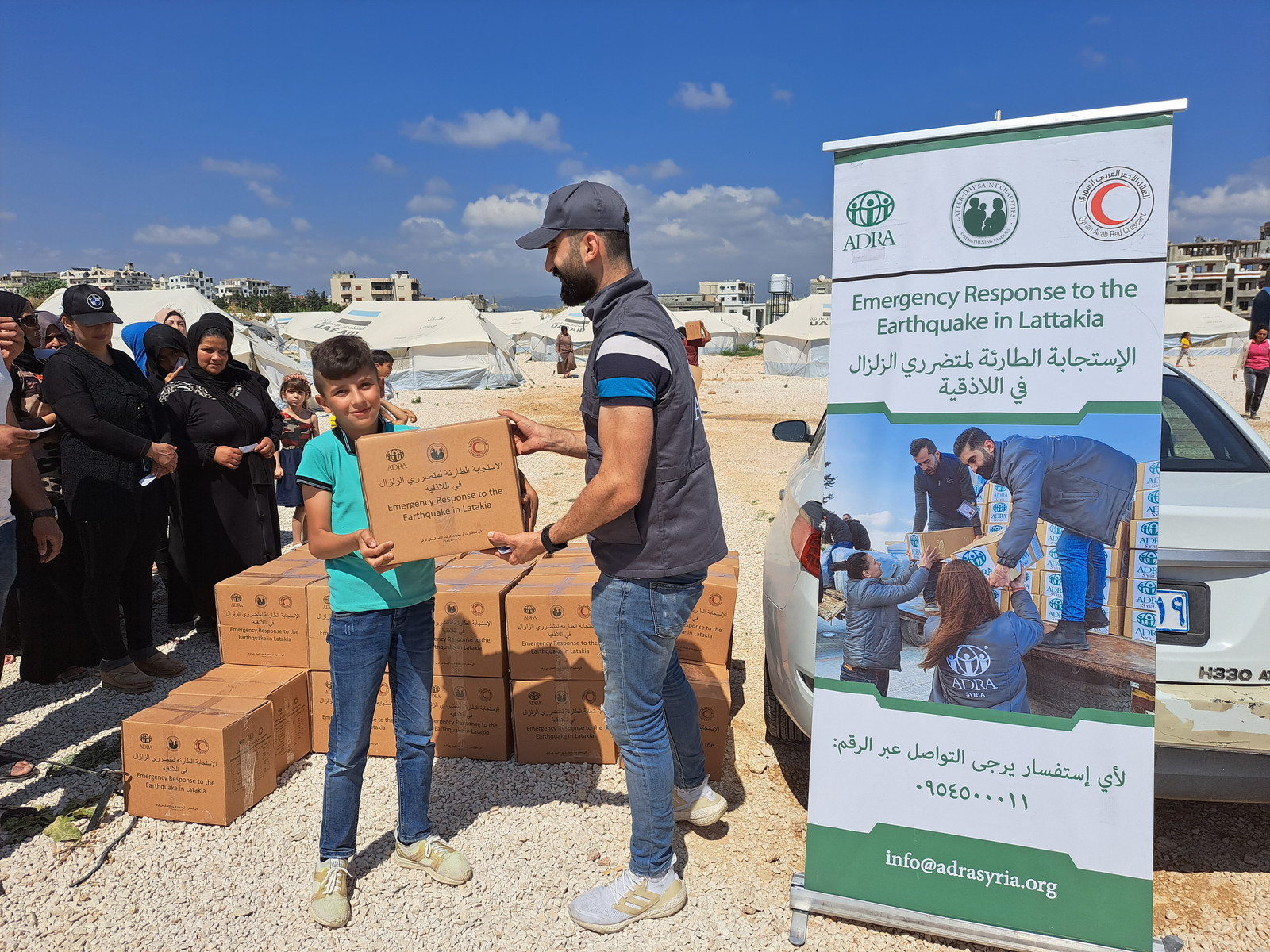 ADRA MENA
×
Sven Hagen Jensen, M.Div. (Andrews University, Berrien Springs, Michigan, USA) has worked for the church for over 50 years as a pastor, editor, departmental director, and church administrator in Denmark, Nigeria and the Middle East. Jensen enjoys reading, writing, nature and gardening. He is married to Ingelis and has two adult children and four grandchildren.
First Published: June 20, 2023
Adventist Development and Relief Agency Middle East and North Africa (ADRA MENA) is a regional office of the global humanitarian ADRA network and a service of the Middle East and North Africa Union Mission (MENAUM), with an office in Beirut, Lebanon. ADRA MENA was established to provide administrative and programmatic support to national ADRA offices and coordinate relief work throughout its territory. Countries comprised in MENAUM are Algeria, Bahrain, Egypt, Iran, Iraq, Jordan, Kuwait, Lebanon, Libya, Morocco, Oman, Qatar, Saudi Arabia, Sudan, Syria, Tunisia, Turkey, United Arab Emirates, Western Sahara, Yemen, and North Cyprus.
Background and Early History
The predecessor to ADRA was the Seventh-day Adventist Welfare Service (SAWS), organized by the General Conference in 1956. The name change from SAWS to ADRA took place in 1984.1 Craig Newborn was appointed the first SAWS director for the Middle East Union Mission (MEUM) in 1981, with a headquarters office in Beirut, Lebanon.2 In 1982 a SAWS/ADRA project, directed by Jerald Whitehouse, established a health clinic in the Munuki Compound of the Seventh-day Adventist Church in Juba, Sudan. It focused primarily on mother-child health and became well-known for saving the lives of mothers and their infants.3
In 1983 Dr. Whitehouse, with the support of the Middle East Union leadership and some local Sudanese workers, registered ADRA in Khartoum, Sudan, under the name ADRA Sudan. David Taylor became the first ADRA Sudan country director in 1984.4 Under his leadership a food distribution program was initiated to meet the needs of victims suffering from a famine in the country.5 In 1986 the focus from emergency relief programs for famine victims changed to long-term development programs.6
In 1984 the regional office for the Middle East Union moved to Nicosia, Cyprus, due to the Civil War in Lebanon,7 and returned to Beirut in 2007.8 New country offices were opened based on demand as needs arose over the years. Some existed for a short time while others over a more extended period. In 1990 an earthquake in Northern Iran led to the opening of a country office in Tehran to monitor an ADRA rehousing project.9 In the 1990s ADRA Sudan operated one of the worldwide ADRA projects,10 which fed the internally displaced refugees in the Omdurman camps outside Khartoum. It continued its training and development programs in other parts of Sudan, especially in agriculture. In 1994 a country office was opened in Nairobi, Kenya, which brought relief by air and road to the population in rebel-controlled Southern Sudan. They also supported the Church-run elementary schools in the building of the Eyira Adventist Vocational Academy in Maridi, Equatoria province. ADRA South Sudan opened the way for the Adventist church to rebuild its organization and grow new churches.11
In 1995 an ADRA office was established in Amman, Jordan, thanks to funds from a donor organization, to assist the Palestinian refugees in camps on the outskirts of the capital.12 That same year, the ADRA Yemen office opened in Sana'a,13 and in 2003, an ADRA Iraq office was established in Baghdad.14
ADRA offices were organized in other territories which were not part of the MEU at the time. Under Trans-Mediterranean Territories (MISSERM) in the Euro-Africa Division, country offices opened in Tunisia in 1995,15 Iran and Morroco in 1999,16 and in Turkey in 2001.17 When a reorganization of the Church in the Middle East and North Africa took place in 2012, only ADRA Tunisia remained active.
The Middle East North Africa Region
On January 1, 2012, ADRA Sudan and ADRA Yemen from the MEU and ADRA Tunisia from MISSERM became part of the newly formed Greater Middle East Union Mission (GMEU). Robert J. Kloosterhuis served as an interim director for five months until May 24, 2012, when Nagi Khalil was appointed the permanent director for ADRA GMEU.18
In October 2012 the GMEU ADCOM authorized Nagi Khalil to take steps to register ADRA Iraq, Lebanon, and Syria. On November 2014 Khalil was appointed to serve as ADRA Lebanon/Syria country director and ADRA GMEU director. In May 2016 Gunther Wallauer was appointed ADRA MENAUM regional director, while Khalil remained country director for ADRA Lebanon/Syria. In March 2018 ADRA International was requested to grant a license to ADRA Kurdistan, and in June 2018 ADRA Kurdistan was officially recognized in the Kurdistan Region (Iraq) by the local government.
In October 2019 the first ADRA staff retreat was held in Jaresh, Jordan, in an attempt to provide emotional care for the Seventh-day Adventist ADRA workers scattered across the MENAUM region. In August 2020 ADRA took part in a major emergency response after the Beirut blast of August 4, 2020. In July 2021 MENAUM ADCOM approved the separation of ADRA Lebanon and ADRA Syria, with Stephen Cooper as the new country director for ADRA Lebanon and Naji Khalil remaining as country director for Syria. In November 2021 MENAUM ExeCom voted to reorganize the ADRA work with a new ADRA MENA Regional Board of Directors under the chairmanship of the President of ADRA International. In February 2022 the first ADRA MENA Leadership Council was held in Beirut, Lebanon, with participation from church leadership across MENAUM, representatives from ADRA MENA country offices, invitees from various ADRA supporting offices, and ADRA International leaders. In March 2022 the members of the new ADRA MENA Regional Board of Directors were appointed by the MENAUM ExeCom.19
ADRA Country Offices
The six ADRA country offices in MENAUM have carried out various projects to meet the situation of refugees and internally displaced persons, natural disasters, epidemic emergencies, and improving food security, livelihoods, water, and sanitation. In 2019 alone, there were 56 different projects serving 2.4 million people, with funding received in the amount of US$ 75.2 million.
Kurdistan
ADRA Kurdistan provided emergency care to people in West Mosul and internally displaced people (IDP) living in camps nearby. A field emergency unit and a primary health care clinic were operating around the clock with Kurdish and IDP staff and many international medical volunteers. A permanent medical humanitarian program offered comprehensive psychological support for the IDP, and a Youth Friendly Space (YFS) project addressed the educational needs of Syrian children living in refugee camps in Erbil. ADRA Kurdistan also facilitated the distribution of essential food items to different communities in war-torn west Mosul. There were activities to enhance employability and improve livelihoods through the provision of vocational training and access to small start-up businesses.20
Lebanon
In a country crowded with Syrian refugees and experiencing internal conflicts, ADRA Lebanon (2023) assists in various ways. Programs operate to reduce hunger among vulnerable population groups and increase food security. There are also programs to retain children in school and cover learning gaps and psychological support. Combined with this, efforts to tackle and eliminate child labor are in place through education. Programs in the Bekaa and Baalbek-Hermel seek to help refugees and vulnerable locals through the harsh winter conditions. In addition, ADRA operates programs to strengthen the livelihood of small-scale farmers. For the Syrian refugees, access to safe and affordable water infrastructure is provided to enhance hygiene practices. When a cholera outbreak occurred in 2022, ADRA participated in the Cholera Outbreak Response Emergency program.21
Sudan
Sudan has had many years of political instability, followed by the military coup in 2019 and culminating in the current crisis that started on April 15, 2023. ADRA Sudan has worked in Sudan for some 40 years, one of the longest-serving NGOs in the country.22 Currently (2023), there are projects in Khartoum, Blue Nile Region, White Nile State, and West Darfur. The 110 staff work on emergency and development projects with activities ranging from food, water, and necessities for refugees to literacy and agricultural development for the host communities of Sudan. Donors include several UN agencies, USAID/BHA, DANIDA, and Canada through various agencies. Projects in Khartoum and West Darfur are currently (2023) on hold as the conflict prevents the ADRA teams from working. ADRA Sudan hopes to secure additional funding from Nairobi, Kenya, to help the hundreds of thousands of internally displaced people that the crisis has generated.23
Syria
The earthquakes in Turkey and the northwest region of war-torn Syria in February 2023 left millions of people in urgent need of necessities like shelter, food, clean water, and sanitation. ADRA Syria distributed food baskets, provided hot meals, gave away household hygiene and cleaning kits, and established shelters with electricity, windows, and wooden partitions for privacy. They also rehabilitated several schools and installed portable shower blocks with water pumping stations. ADRA Syria has provided means for the education of children with out-of-school children programs, remedial classes, and non-formal education complementary activities in several locations. Food security and livelihood programs have been initiated and cash assistance has been given to vulnerable families and persons with disabilities.24
Tunisia
ADRA Tunisia was opened officially in 2012 and stayed open with activities until the middle of 2020. In the aftermath of the Arab Spring, unemployment rates and the population of impoverished citizens continued to rise amid the country's political unrest. ADRA Tunisia worked in partnership with UNHCR to help refugees from 2016 to 2017 and has been active in implementing livelihood programs.25 Since 2011 it ran a successful ADRA Jobs Center under the motto "Justice, Compassion, Love," which provided professional training and orientation for the unemployed. This program was implemented in collaboration with the Ministry of Labor and assisted job seekers in finding jobs in a competitive labor market through teaching language competency and providing training.26
Yemen
ADRA opened its activities in Yemen in 1995 and has continued to help people by assessing their needs, submitting proposals, and seeking funding from various donor organizations. ADRA Yemen has developed to be the largest ADRA in the world. ADRA Yemen has participated in school lunch programs and basic health projects and operated a vaccination program during a polio outbreak in 2005. ADRA Denmark and ADRA Germany have implemented health programs throughout the country and currently maintain 12 health facilities that act as centers when help is needed.27 Yemen has been experiencing a humanitarian crisis since the civil war in 2014. It is among the poorest countries with the greatest humanitarian needs in the world. The current programs include Community Development Project for Refugees, Self-Reliance, and Support for Urban Refugees.28
As of 2023, the offices in Lebanon, Sudan, Syria, and Yemen continue to be a part of the ADRA network, while the offices in Kurdistan and Tunisia have been closed. ADRA Yemen is by far the largest. In 2019 the Lebanon, Sudan, Syria, and Yemen country offices' projects had a combined 736 paid employees. ADRA Yemen alone had over 1,000 volunteers.29
Regional Directors
Craig Newborn (1981-1983); Gerald D. Karst (1984); David Taylor (1985-1986); James Neergaard (1988-1995); Gerald B. Lewis (1995-1998); Basim Aziz (1998-2000); T. Michael Porter (2004); TED directors Ray Richardson; Rafaat Kamal; and Stephen Cooper (2006-2011); Robert J. Kloosterhuis (interim 2012); Nagi Khalil (2012-2016); Gunther Wallauer (2016-2021);30 Denis Baratov (2023 - ).
Sources
ADRA Kurdistan Situation Report. Erbil, Kurdistan Region of Iraq, August 2017 and October 2018.
ADRA Lebanon Situation Report and ADRA Lebanon Capacity Statement. Beirut, Lebanon, February 2023.
"ADRA South Sudan-SAWS." Encyclopedia of Seventh-day Adventists. Accessed May 31, 2023. https://encyclopedia.adventist.org/article?id=AF6R.
ADRA Syria Situation Report. Damascus, Syria, March 2023.
ADRA Tunisia. Accessed May 10, 2023. Https://adratunisia.org.
"Annual Council Actions of Major Interest." Action H 25. ARH, November 24, 1983.
Instagram ADRA Tunisia. Accessed May 10, 2023. https://www.instagram.com/adratunisia/?hl=da.
Jensen, Sven H. "Sudan." Encyclopedia of Seventh-day Adventists. Accessed May 29, 2023. https://encyclopedia.adventist.org/article?id=6E00.
Johansen, Svein B. "President's World Report, Middle East Union." ARH, June 8, 1995.
Mawa, Clement Joseph Arkangelo. "ADRA-South Sudan-SAWS." Encyclopedia of Seventh-day Adventists. Accessed May 29, 2023. https://encyclopedia.adventist.org/article?id=AF6R.
Seventh-day Adventist Yearbook, various years. https://www.adventistyearbook.org/.
Sox, Aileen Andres. "ADRA Shifts Gear in Sudan." ARH, August 21, 1986.
Visser, Conrad. "ADRA to Feed 400,000 in Sudan." ARH, August 29, 1985.
Wallauer, Gunther. "ADRA MENA Report, November 2019."
"Who is ADRA." ADRA Australia. Accessed May 29, 2023. https://www.adra.org.au/about-us/who-is-adra/.
Wixwat, Melanie Riches. "Yemen." Encyclopedia of Seventh-day Adventists. Accessed May 29, 2023. https://encyclopedia.adventist.org/article?id=9E07.
Notes