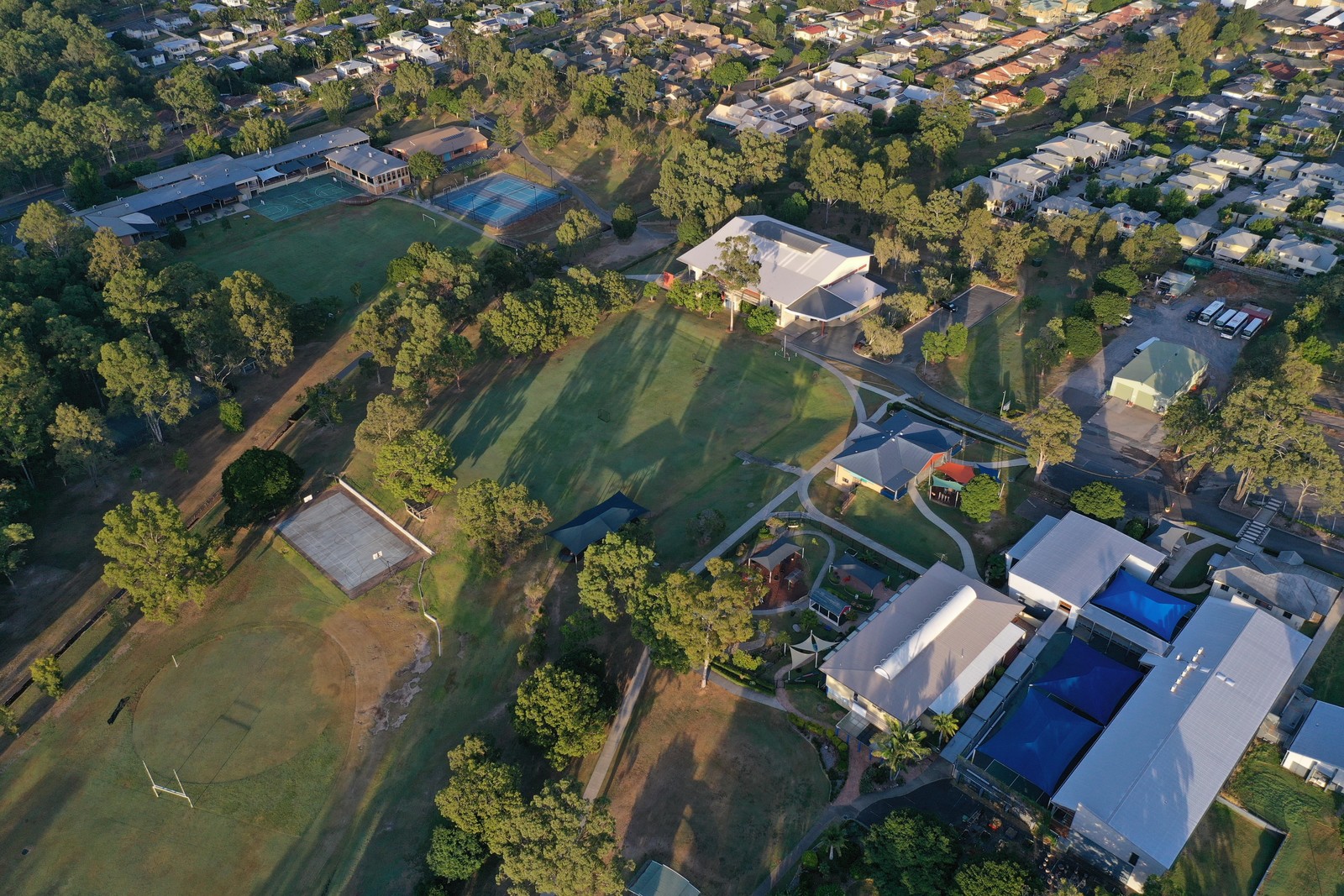 Brisbane Adventist College, Australia
×
Debbie Cosier, M.Ed. (Macquarie University). 
Brisbane Adventist College is a co-educational school offering all grades of primary and secondary education. It is located at 303A Broadwater Road, Mansfield, Queensland, Australia. In its annual report for the calendar year 2017, it reported a total enrollment of 524 students and a teaching staff of 34.1
Early Schools in Brisbane's South
The first school on Brisbane's south side commenced in 1901.2 The second school was started by the South Brisbane church on property adjoining the church in 1924.3 Both of these ventures failed. By 1966, however, there were six Seventh-day Adventist congregations in Brisbane's south, all willing to support an Adventist school.
Establishing the Primary school
The South Queensland Conference purchased 3.64 hectares at 303A Broadwater Road, Mansfield. Adventist builder-architect Evan Coulston drew up plans for a three-classroom school with an additional library and administration office.4 Savings were made when Adventist church members volunteered to help build the school, and this willingness to make personal sacrifices became the dominant force behind the school's financial stability and rapid growth. Southside Adventist Primary School was dedicated on February 6, 1966. Eighty-five students were enrolled with Alex Lowe as teacher-headmaster, assisted by teachers Gem Blank and M. Gibbons.5
Over 400 people watched the official opening with television, press, and radio reporters in attendance.6 The officiating party included David Sibly and Geoffrey Rosenhain from the Trans-Tasmin Union Conference, and Keith Parmenter and Oliver Twist, president and secretary-treasurer of the Queensland Conference. Dr. Rosenhain, who gave the official address, remarked that "true religion is concerned with the development of the whole man, physical, mental and spiritual; therefore, it is impossible to separate education from religion."7
While the first school board meeting recorded the school's official name as "The Adventist Church School, Mount Gravatt," it was shortened to Mount Gravatt Church School in 1967 and became Mount Gravatt Seventh-day Adventist Primary until the high school opened in 1973 as Brisbane Adventist High School. In 1999, the primary and secondary campuses amalgamated and became Brisbane Adventist College.
The combined schools led to rapid growth. By 1967, enrollment had risen to 105 students and by 1968, 150 students. Within three years, there were five staff members. By 1972, school enrollment exceeded 200 students and two classrooms were added.
A High School (1973)
Although the high school occupied space on the same campus as the primary school, it was a completely separate entity with its own school board and home and school association. As the only Adventist high school in southeast Queensland at the time, it drew students from all over Brisbane and the surrounding area, including Adventist primary schools in Ipswich, Pine Rivers, the Gold Coast, and Mount Gravatt.
The high school opened as a single temporary demountable (modular or portable) classroom at the rear of the primary school in 1973 with a staff consisting of principal Desmond Cooke (science and math teacher) and Carolyn Timms (humanities teacher). On the first day of school, thirty-four Year 8 students filled the demountable classroom to capacity.8 An additional demountable classroom was added the next year. The new secondary school building was completed on Wishart Road for the 1976 school year.9 It consisted of four classrooms, a staff room, a science laboratory, a library, a typing room, a manual arts workshop, home economics classroom, and administrative office.10 Growth demanded more expansion and eight more general classrooms on the eastern end of the original block were officially opened mid-1978.11 Another five classrooms and two music studios at the primary school opened at the same time.12
By 1977, Brisbane Adventist High School's first class of Year 12 students had graduated and a second stream of students from Years 8 to 10 were added. Enrollment had expanded to over 200 by 1979.13
The Primary School (1980-1989)
In 1981, Cyril Hill assumed principalship and administered the primary school until 1984. The 1980s were years of consolidation. Several large second-hand buses were added to the school fleet. Other changes included incorporating the verandas facing Broadwater Road into classrooms for increased teaching space.14
Phillip Lomman became principal in 1985. He fostered school pride through maintenance of the campus grounds and student uniforms. Denise Morton, the first learning support teacher, was appointed in 1988.15
During this time, the Seventh-day Adventist education system in the South Pacific moved to accreditation. It was the first time the school faced stringent assessment from both internal and external bodies. Their hard work paid off, however, and the school was granted the maximum accreditation of five years.16
The Secondary School (1980-1989)
Keith Dickens was principal of Brisbane Adventist High School from 1980 to 1982. During Dickens's tenure, the manual arts building was completed, including a dedicated workshop space for woodwork, metalwork, and automotive studies, and an adjoining graphics classroom.17 High school enrollment of 260 was reported in 1981 with a staff of fifteen. It was said to be the second largest Adventist high school in Australia.18
Due to ill health, Dickens's tenure as school principal ended prematurely and Barry Wright was asked to fill the position in 1983. During his nine-year tenure as secondary principal, Wright lifted the profile of the school by hiring the Chandler Sports Stadium for the annual concert.19 He supported initiatives to form a concert band and choirs, quartets, and the handbell choir (1984-1988). The handbell choir visited Vanuatu and raised $5000 for cyclone relief in that country.20 It also performed at the Queensland Performing Arts Centre, Expo 88, and twice on Channel 7 television.21 The handbell choir also produced and sold audio cassettes of their performances.22
Under Wright's leadership, the spiritual and cultural aims of the school program were further bolstered when concerts were transitioned from mostly secular affairs to concerts with secular and sacred sections. Eventually, the events became full sacred concerts with Friday evening vespers programs that saw 800-1000 people in attendance.23
The 1980s also saw the introduction of the first Year 12 trip to Avondale College and Sydney, and several other new, meaningful traditions for graduates.24 Secondary students were encouraged to be involved in annual appeals for ADRA, Cancer Council, and Red Shield. In 1984, Asian Aid was strongly supported by students and staff.25 In 1989, the Duke of Edinburgh Award was introduced, placing emphasis on personal and team challenges, and community service, thus leading to personal growth and character development.26
On May 18, 1986, a new high-set secondary administration block was constructed with offices, a staffroom, a reception area, a sick bay, and amenities on the top level, and a canteen and general-purpose space below.27 A new two-story building housing a library on the top level and an art room and audio-visual theater beneath was opened in May 1990.28
The Primary School (1990-1999)
Peter Michalski was appointed principal of the primary school in 1989 and lead the school for nine years.29 These years were characterized by growth in student numbers, expansion of the physical plant and curriculum development, and creditable academic achievement.30
In December 1994, a library was also opened in the primary school and under this was an early childhood center.31 A preschool and day care center was opened in February 1995.32 Michalski also put his efforts into addressing the special needs of students. He established an ESL Department for students with English as a second language as well as Special Needs Unit for students at each end of the learning spectrum—gifted and talented, learning disabilities and remedial needs—tapping into the available external funding.33
In 1998, Gary Greenland took over the primary school. In his short tenure before the amalgamation of the two schools, he focused staff attention on key learning areas, ensuring that numeracy and literacy were taught in the mornings when students were freshest.34
The Secondary School (1990-1999)
The late 1980s and early 1990s saw volunteer pastor Ken Martin serve as school chaplain following Pastor Keith Miller (1985-1987). David Jack was chaplain for a short time in 1991 followed by Greg Harker.35 Peter Rowney also was chaplain for a time.36 The chaplaincy role provided personal and spiritual support for students, student families, and staff; guidance counselling; and the spiritual program for the school, including the annual week of spiritual emphasis, which featured special guest speakers for both primary and high schools.37
Following Barry Wright's tenure, Brian Robinson became principal of the secondary school in 1992, remaining there until the end of 1994.38 He implemented a Japanese language program and developed a relationship with sister school Shirakawa Junior High School in Japan, which resulted in an exchange program and an emerging tradition of welcoming students and visitors from other cultures to the school. 39
It was under Robinson that the school first ventured into the technological age, establishing a dial-up internet connection and a basic school website. With assistance from the Commonwealth Government, Robinson installed a local server, set up a computer network, and improved access through optic cable. He set up two computer labs and updated the school's curriculum to suit.
While there had been a small concrete ramp over Bulimba Creek facilitating high school students with access to the primary school's athletic facilities since the 1980s, Robinson replaced it with a more elaborate pedestrian walkway. The improved walkway created a more tangible link between the secondary and primary schools, furthering the idea that the schools should become one college.40 Around this time, the seed was planted for a school assembly building that could be used by both schools, separately and as a whole.41
The first official school reunion was held August 31, 1991, and was attended by approximately 400 students.42
The Emergence of Brisbane Adventist College
In 1997, a commission recommended the amalgamation of the two schools into one college with the early education center, primary school, and high school under a single administration. A committee was formed to develop a structure for the new college and a process for the transition.43
Arnold C. Reye, who had come back from retirement the year before, agreed to stay in 1998 to oversee the implementation. Thus, the 1999 school year commenced with the new Brisbane Adventist College brand in place and the administrative staff reorganized. Carolyn Barnett was head of the early learning center, Gary Greenland was Primary Head of School, and Graham Baird was Secondary Head of School.44 With accreditation for the college looming, they were forced to consider what best practice would look like for their new union. The college was awarded the maximum term for accreditation.45
Brisbane Adventist College in the New Millennium
In October 2000, it was reported that Brisbane Adventist College was the largest Seventh-day Adventist School in the South Pacific Division. It had an enrollment of 672 in primary and secondary campuses and sixty-six in the pre-school and day care.46 The increasing enrollment called for the construction of the new student center, which also assisted the process of amalgamation. The $2.3 million project included a combined meeting hall, gymnasium, teacher offices, amenities, and a kitchen.47 Two classrooms and viewing platform existed at a mezzanine level, while a music classroom, music studios, and storage areas were housed underneath. The center was opened by local federal member, and later prime minister, Kevin Rudd.48
In 2006, Jack Ryan was appointed principal. He focused on the continued integration of all departments into a one-school model. He rebranded the college and reimagined its purpose statement with the catch phrase, "the BAC Way." It articulated exactly what the desired culture of the college would look like.49 Buildings were painted a single-color scheme to visually unify the college. A new Prep to Year 12 uniform was rolled out in 2011.50
Under Ryan, negotiations for the new Mount Gravatt Adventist Church/College Chapel also proceeded. The church would be used by a congregation on weekends and by the college during the week. Builder Stuart Hemsley was also influential in the process.51
During Ryan's years, two prep classrooms and a staffroom were also constructed down the hill from the main administration building, the primary learning resource center, primary block A classrooms and two secondary science laboratories were refurbished, and student laptops and interactive whiteboards contributed to 21st Century teaching and learning.52 Ryan supported more community service options, including a biennial SonShip trip to the Solomon Islands, and introduced the STARS program in 2011, which focused on adolescent social-emotional development.53
With Ryan's appointment to the South Queensland Conference as education director in 2015, Leanne Entermann from Ipswich Adventist School was invited to take up the leadership at Brisbane Adventist College. She focused on teaching and learning; raising the spiritual, academic, and social culture across the college; developing supportive networks with local churches; and growing the school at a time when people widely believed state education was just as good as private education.
A new model for learning collaboration, the Professional Learning Community prioritized professional learning and support for and amongst teachers, as well as the symbiotic learning relationship between teachers and students. This provided a strong foundation for a response to the dramatic new developments in the Queensland Certificate of Education (QCE).54 Commencing with a transition period in 2019, the new QCE required a significant overhaul of curriculum and assessment in senior education.
Along with the second decade of the 21st century came a growing need for schools to focus on relationships and the social-emotional wellbeing of students.55 In response, Entermann introduced Restorative Practices, an evidence-based student management system that focuses on restorative rather than punitive principles and practices designed to develop and maintain healthy relationships and constructively repair damaged ones. To support the students' social-emotional welfare, she extended the Student Wellbeing Team (SWoT) to include two full-time and one part-time chaplain and one counsellor who worked closely with the Restorative Practices Team of teachers.56
During her tenure, Entermann also introduced the annual Principal's Prayer Breakfast,57 inviting ministers and elders of local churches to become partners in the school's ministry to students and staff. "Like the early founders of Adventist education, I believe our job is to develop the whole person for the whole of existence possible…. I have confidence in the original vision that has now sustained Adventist Education for over 150 years. This is a special kind of education, offering something uniquely valuable for people facing a complex and uncertain 21st century," said Entermann in a recent principal's blog entitled Charting Course: Adventist Education in the 21st Century?58
The Principals
Mt. Gravatt Adventist Primary School: Alex W. Lowe, (1966-1972); Wal Dawson (1973-1975); Irwin G. Low (1976-1980); Cyril J. Hill (1981-1984); Phillip D. Lomman (1985-1988); Peter Michalski (1989-1994).
Brisbane Adventist High School: Desmond J. Cooke (1973-1979); Keith R. Dickins (1980-1982); Barry J. Wright (1983-1991); Brian L. Robinson (1992-1994).
Brisbane Adventist College: Arnold C. Reye (1999); Gavin R. Williams (2000-2005); Jack Ryan (2006-2014); Leanne Entermann (2015- ).
Brisbane Adventist College: Primary: Peter Michalski (1995-1997); Gary Greenland (1998); Andrew Lawson (1999-2005); Sherry Hattingh (2006-2010); Heidi Mazz (2011-2014); Karl Webber (2015); Damon Quick (2015- )
Brisbane Adventist College: Secondary: Brian L. Robinson (1995-1997); Arnold C. Reye (1998); Graham Baird (1999-2004); Robert Wareham (2005-2006); Rodney Cassie (2007); Bruce Dever (2008- ).
Sources
Adair, A. L. E. "Avondale, Here We Come; There we Go." Australasian Record, April 3, 1978.
"Annual Statistical Report for The General Conference: 2017." Office of the Education Director, South Pacific Division, Wahroonga, New South Wales, Australia.
"Appointments." Record [South Pacific Division], January 25, 1982.
"BAC Is the Biggest." Record [South Pacific Division], October 21, 2000.
"BAHS Reunion." Record [South Pacific Division], June 8, 1991.
"Bell Choir Tour Makes Music and Money." South Pacific Record, June 4, 1988.
"Brisbane Adventist Schools." Australasian Record, June 12, 1978.
"Brisbane High Opened." South Pacific Record, July 19, 1986.
"Brisbane Students Bike for Bibles." South Pacific Record, November 26, 1988.
Cosier, Debbie. "Adventist School Gets Top Marks for Kindness." Record, April 6, 2019.
Dickens, K. R. "New Manual Arts Complex." Australasian Record, September 25, 1982.
Garne, Geoffrey. "Exciting Things in the Sunshine State." Australasian Record, November 30, 1981.
"Golden Moment at Government House." Record [South Pacific Division], October 28, 2000.
"Group Leader/Assistant Director." Record [South Pacific Division], February 18, 1995.
"Handbell Choir Performs at Australia Day Concert." South Pacific Record, March 28, 1987.
Hughes, Lionel R. "High Day for Brisbane High." Australasian Record, May 10, 1976.
Jackson, Clinton. "Students Experience Answers to Prayers." Record [South Pacific Division], August 20, 2011.
"Kids Fight Cancer." South Pacific Record, November 26, 1988.
Lindsay, Deirdre. "Journey of Discovery." Australasian Record, December 23, 1985.
Lipkovich, Yasmin. "A Great Idea!" Australasian Record, July 21, 1984.
"Medal Win for Perfect Score." Record [South Pacific Division], January 18, 1997.
"New Centre for Brisbane College." Record [South Pacific Division], September 20, 2003.
"New Facilities Opened at Brisbane School." South Pacific Record, June 16, 1990.
"Principal's Charting Course blog: Charting Course for Changes Ahead." Brisbane Adventist College. 2019. Accessed November 28, 2019. https://www.bac.qld.edu.au/blog/charting-course-let-for-2019.
"Principal's Charting Course blog: Charting Course to Dealing with Bullying." Brisbane Adventist College, 2019. Accessed November 28, 2019. https://www.bac.qld.edu.au/blog/bullying.
"Principal's Charting Course blog: Charting Course to Holistic Educating." Brisbane Adventist College, 2019. Accessed November 28, 2019. https://www.bac.qld.edu.au/blog/charting-course-to-holistic-educating.
"Principal's Charting Course blog: Charting Course to Holistic Educating." Brisbane Adventist college, 2019. Accessed November 28, 2019. https://www.bac.qld.edu.au/blog/charting-course-what-were-doing-about-social-emotional-literacy.
"Progress of the Cause and the Object of Annual Offerings." Union Conference Record, June 1, 1901.
"Qld Handbell Choir Rings Gospel Bells." South Pacific Record, September 19, 1987.
Reye, Arnold C. Brisbane Adventist College: A Short History. Brisbane: Brisbane Adventist College, 2011.
"Sacred Bells." South Pacific Record, November 7, 1987.
"Social-emotional Literacy." Brisbane Adventist College, 2019. Accessed April 29, 2019. https://www.bac.qld.edu.au/news/class-camps.
Stewart, M. M. "New $40,000 Southside School in Brisbane." Australasian Record, February 6, 1966.
"Student Fundraisers." South Pacific Record, October 18, 1986.
"Teachers." Record [South Pacific Division], January 14, 1989.
"Two Ministers Ordained in South Qld." Record [South Pacific Division], June 1, 1991.
We have to congratulate the South Brisbane Church..." Australasian Record, March 31, 1924.
Wright, B. J. "Success in Brisbane." South Pacific Record, April 26, 1986.
Wright, B. J. "The King Is Coming." Australasian Record, July 27, 1985.
"Youth Minister Ordained." Record, May 23, 1998.
Notes
"Annual Statistical Report for The General Conference: 2017," Office of the Education Director, South Pacific Division, Wahroonga, New South Wales, Australia.↩

"Progress of the Cause and the Object of Annual Offerings," Union Conference Record, June 1, 1901, 9.↩

We have to congratulate the South Brisbane Church...," Australasian Record, March 31, 1924, 6.↩

M. M. Stewart, "New $40,000 Southside School in Brisbane," Australasian Record, February 6, 1966.↩

Ibid.↩

Ibid.↩

Ibid.↩

Lionel R. Hughes, "High Day for Brisbane High," Australasian Record, May 10, 1976, 10.↩

Ibid.↩

Ibid.↩

Desmond Cooke, email to editor, November 29, 2019.↩

"Brisbane Adventist Schools," Australasian Record, June 12, 1978, 15.↩

A. L. E. Adair, "Avondale, Here We Come; There we Go," Australasian Record, April 3, 1978, 1.↩

Arnold C. Reye, Brisbane Adventist College: A Short History (Brisbane: Brisbane Adventist College, 2011), 15.↩

Ibid. 16.↩

Ibid. 17.↩

K. R. Dickens, "New Manual Arts Complex," Australasian Record, September 25, 1982, 4.↩

Geoffrey Garne, "Exciting Things in the Sunshine State," Australasian Record, November 30, 1981, 8.↩

B. J. Wright, "The King Is Coming," Australasian Record, July 27, 1985, 4.↩

"Bell Choir Tour Makes Music and Money," South Pacific Record, June 4, 1988, 13; "Qld Handbell Choir Rings Gospel Bells," South Pacific Record, September 19, 1987, 12.↩

Ibid.; "Handbell Choir Performs at Australia Day Concert," South Pacific Record, March 28, 1987, 10.↩

"Sacred Bells," South Pacific Record, November 7, 1987, 15.↩

Barry Wright, interview with author, November 2019.↩

Deirdre Lindsay, "Journey of Discovery," Australasian Record, December 23, 1985, 1.↩

Yasmin Lipkovich, "A Great Idea!" Australasian Record, July 21, 1984, 10; "Kids Fight Cancer," South Pacific Record, November 26, 1988, 9; "Brisbane Students Bike for Bibles," South Pacific Record, November 26, 1988, 8; "Student Fundraisers," South Pacific Record, October 18, 1986, 16.↩

"Golden Moment at Government House," Record, October 28, 2000, 2; Arnold C. Reye, Brisbane Adventist College: A Short History (Brisbane: Brisbane Adventist College, 2011), 15.↩

B. J. Wright, "Success in Brisbane," South Pacific Record, April 26, 1986, 13; "Brisbane High Opened," South Pacific Record, July 19, 1986, 4.↩

"New Facilities Opened at Brisbane School," South Pacific Record, June 16, 1990, 9.↩

"Teachers," Record, January 14, 1989, 12.↩

Arnold C. Reye, Brisbane Adventist College: A Short History (Brisbane: Brisbane Adventist College, 2011), 24; "Medal Win for Perfect Score," Record, January 18, 1997, 11.↩

Ibid., 23.↩

"Group Leader/Assistant Director," Record [South Pacific Division], February 18, 1995, 15.↩

Ibid., 23, 24.↩

Ibid., 25.↩

"Two Ministers Ordained in South Qld," Record [South Pacific Division], June 1, 1991, 11.↩

"Youth Minister Ordained," Record [South Pacific Division], May 23, 1998, 4.↩

For example, see "BAHS Reunion," Record [South Pacific Division], June 8, 1991, 12.↩

"Appointments," Record [South Pacific Division], January 25, 1982, 8.↩

Arnold C. Reye, Brisbane Adventist College: A Short History (Brisbane: Brisbane Adventist College, 2011).↩

Ibid., 27-28.↩

Ibid., 30.↩

"BAHS Reunion," Record [South Pacific Division], June 8, 1991, 12.↩

Arnold C. Reye, Brisbane Adventist College: A Short History (Brisbane: Brisbane Adventist College, 2011), 28.↩

Ibid., 29.↩

Ibid., 30.↩

"BAC Is the Biggest," Record [South Pacific Division], October 21, 2000, 7.↩

"New Centre for Brisbane College," Record [South Pacific Division], September 20, 2003, 4.↩

Arnold C. Reye, Brisbane Adventist College: A Short History (Brisbane: Brisbane Adventist College, 2011), 31.↩

Ibid., 34.↩

Ibid.↩

Ibid.↩

Ibid., 35.↩

Clinton Jackson, "Students Experience Answers to Prayers," Record [South Pacific Division], August 20, 2011, 3; "Social-emotional Literacy," Brisbane Adventist College, 2019, accessed April 29, 2019, https://www.bac.qld.edu.au/news/class-camps.↩

"Principal's Charting Course blog: Charting Course for Changes Ahead," Brisbane Adventist College, 2019, accessed November 28, 2019, https://www.bac.qld.edu.au/blog/charting-course-let-for-2019.↩

Debbie Cosier, "Adventist School Gets Top Marks for Kindness," Brisbane Adventist College, 2019, Record [South Pacific Division], April 6, 2019, 7; "Principal's Charting Course blog: Charting Course to Holistic Educating, accessed November 28, 2019, https://www.bac.qld.edu.au/blog/charting-course-what-were-doing-about-social-emotional-literacy.↩

"Principal's Charting Course blog: Charting Course to Dealing with Bullying," Brisbane Adventist College, 2019, accessed November 28, 2019, https://www.bac.qld.edu.au/blog/bullying.↩

"Principal's Charting Course blog: Charting Course to Holistic Educating," Brisbane Adventist College, 2019, accessed November 28, 2019, https://www.bac.qld.edu.au/blog/charting-course-to-holistic-educating.↩

"Principal's Charting Course blog: Charting Course: Adventist Education in the 21st Century," Brisbane Adventist College, 2019, accessed November 28, 2019, https://www.bac.qld.edu.au/blog/charting-course-adventist-education-in-the-21st-century.↩