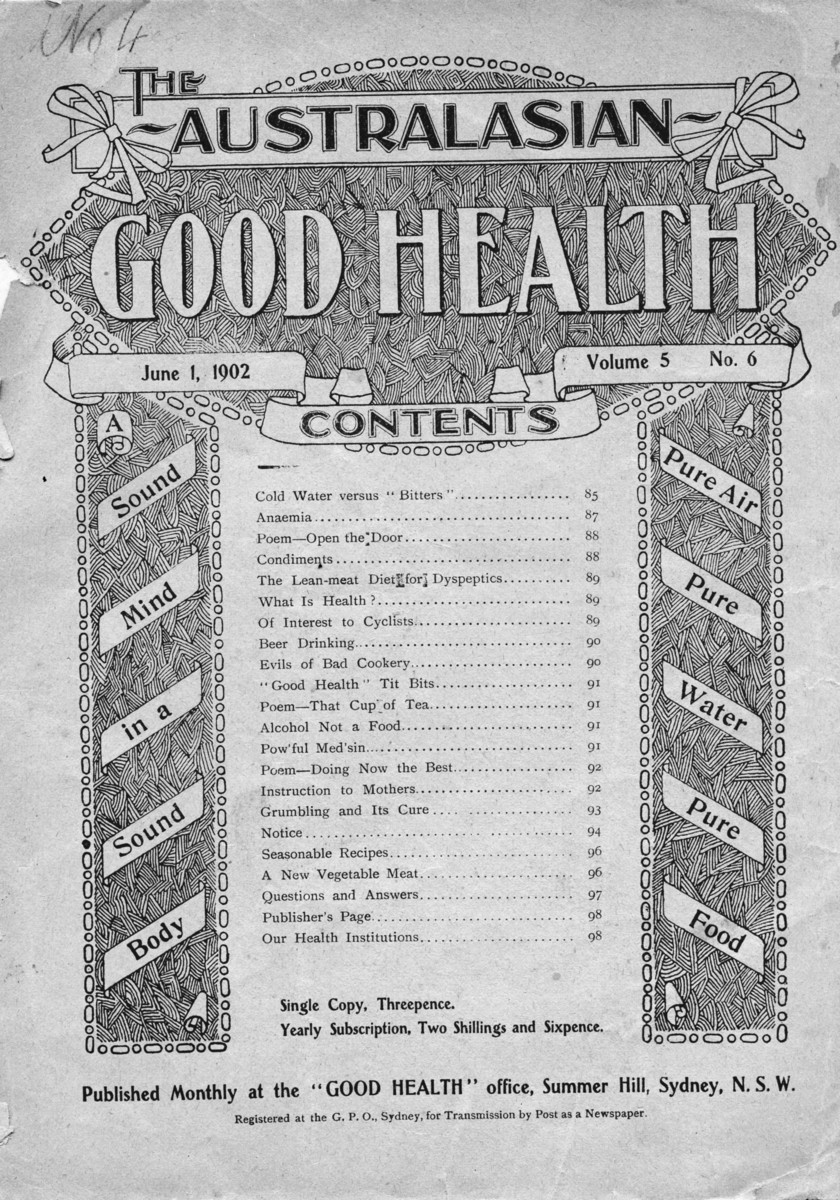 Good Health, South Pacific Division
×
Milton Hook, Ed.D. (Andrews University, Berrien Springs, Michigan, the United States). Hook retired in 1997 as a minister in the Greater Sydney Conference, Australia. An Australian by birth Hook has served the Church as a teacher at the elementary, academy and college levels, a missionary in Papua New Guinea, and as a local church pastor. In retirement he is a conjoint senior lecturer at Avondale College of Higher Education. He has authored Flames Over Battle Creek, Avondale: Experiment on the Dora, Desmond Ford: Reformist Theologian, Gospel Revivalist, the Seventh-day Adventist Heritage Series, and many magazine articles. He is married to Noeleen and has two sons and three grandchildren.
First Published: January 29, 2020
The Australasian Good Health was the Seventh-day Adventist-sponsored popular journal devoted to health education.
Early Efforts
The early Seventh-day Adventist missionaries to Australia were advocates of health principles. Their periodical, The Bible Echo and Signs of the Times, included articles about health and hygiene in addition to frequent advertisements about an American health magazine titled Good Health, edited by Dr. John Kellogg. There were many frustrating delays in the shipment of these magazines from America. To resolve this problem, the American printing plates were shipped via London to Melbourne, Australia, where they were adapted and used to print the periodical at the denomination's Echo Publishing Company.1 The first of what was called "the Australasian edition" was the April 1888 issue.2
The annual subscription for the thirty-two page monthly began at five shillings. For an extra shilling the subscriber would be mailed a health and temperance handbook that included some useful recipes.3 The following year, 1889, the subscription rose to six shillings.4 The periodical did not arouse much interest, and it ceased to be advertised in February 1892.5 Sadly, no copies of the Australasian edition are extant.
A Fresh Start
When Dr. Edgar Caro returned to Australasia, plans were immediately made in October 1897 for him to revive the health journal.6 The first issue, titled Herald of Health, was printed by the Echo Publishing Company in January 1898. Caro acted cautiously making it a sixteen page monthly with an annual subscription of only two shillings and sixpence.7 It was well illustrated and carried a range of advertisements that undoubtedly helped to keep the enterprise financially viable. In retrospect, some advertisements were strange. One was for the Carbolic Smoke Ball that looked like a hand grenade and was reputed to be a cure for influenza, bronchitis, catarrh and croup.8 Another was for a product called Kofe-Kol, an alleged nerve tonic and alternative for coffee, tea and cocoa. The man chosen to give a testimonial about it was named Sergeant-Major William Crooke-- a moniker sure to raise a smile.9
In later issues Caro regularly wrote a medical column titled "Answers to Correspondents."10 He inserted advertisements for the health institutions under his supervision such as the Newcastle Treatment Rooms, the Avondale Health Retreat and the Adelaide Hydropathic Institute.11 These enterprises offered hydrotherapy: therefore, Caro's own health articles promoted water remedies.12 For the same reason he featured an architect's drawing in 1900 of a major sanitarium the denomination planned to build at Turramurra, Sydney.13 He was not to have a part in these plans. His Summer Hill Sanitarium sank under debt and he resigned in 1901. Herald of Health was terminated at the same time. Volumes 1 (1898) and 3 (1900) remain in the Avondale College of Higher Education Heritage Centre.
Some Changes
Church officials, however, continued to print the journal; even using the same sequence of volume numbering but under the title Australasian Good Health.14 They began in 1902 with Dr. Daniel Kress as the editor. Its size and annual subscription rate remained the same, but because Kress was located first at Cooranbong and then at Wahroonga it was more convenient to have the periodical printed by Avondale Press.15 When Kress returned to America then Dr. Franklin Richards served as editor until 1909.16 Circulation in 1908 was reported to be 6,250 copies.17
Further Changes
At the start of 1910 the name of the periodical was modified to Australasian Health Magazine. It remained a monthly, but the annual subscription was increased to three shillings.18 This format only lasted twelve months before more changes took place. No copies of the 1910 issues have survived.
Non-medical Editors
At the end of 1910 it was announced that the magazine paging would be doubled to sixty-four sides but issued only every second month. The annual subscription was increased to three shillings and sixpence. Printed by the Signs Publishing Company in Warburton, Victoria, its new title was Life and Health and the first issue was dated February/March 1911.19 The volume numbers were restarted at number one. The major difference was the beginning of a line of non-medical editors, the first being Elder Albert Anderson.20 Contributing editors such as Doctors Franklin and Eulalia Richards, W. Howard James, and Martin and Florence Keller21 provided confidence for the readers; especially, those Australians living in isolated areas away from medical services. Regular columns such as "Talks with Mothers" and "Chats with the Doctor" in addition to ones on hygiene and preventive medicine lifted the practical value of the publication.
The First World War years saw the annual subscription numbers tumble from 16,255 in 1912 to 8,660 in 1918.22 Every issue carried advertisements for the church-owned sanitariums and for Sanitarium Health Food Company products; these advertisements, in turn, contributed to the finances of the periodical and helped to avoid its collapse. Charles Snow replaced Anderson as editor in mid-1916.23 Almost immediately the periodical began to be issued as a quarterly, and an attractive multi-coloured cover was added.24 These helpful changes, unfortunately, did nothing to reverse the slide in subscriptions. By 1920 the magazine was reduced to forty-eight pages every two months25 and further shortened to thirty-two pages in 1928.26
Alexander King became editor in 1928 and carried the magazine through the Great Depression years in spite of paper shortages.27 Year after year the periodical failed to make a profit, but in 1934 a gain was reported.28 Prospects were good and the decision was made to increase the number of pages.29 In 1936 the title was shortened to Health, the sixth change in its fifty-year history.30
In 1939 Robert "Roy" Wallace began to serve as editor.31 The Second World War caused further paper shortages, and the annual subscription rose to six shillings.32 A decade later the subscription was nine shillings,33 and the circulation suffered an average drop to 5,707 per issue or 34,245 copies per year.34
Slight Improvement
Pavitt Brown briefly wore the editorial mantle in 1955,35 followed by Ross Piper until 1967.36 The circulation total recovered to 10,398 in 1966.37 There followed then a succession of editors, first Robert Parr (1968-1981),38 then Geoffrey Garne (1981- 1986),39 James Rabe (1987-1988),40 Gary Krause (1989-1992),41 Alan Holman (1993)42 and Bruce Manners (1994).43 In its last few years the magazine became a forty-eight page quarterly44 and finally a forty-eight page publication every two months.45 Its title, also, had reverted to Good Health in 1970,46 the same as in 1888.
Holman surveyed the range of health publications available in Australia and, on analysis, found that Good Health did not offer anything unique. Government health department publications, and the secular press made Good Health superfluous.47 On the basis of Holman's assessment the magazine was finally discontinued.
Sources
Adair, R[eginald] H. "Life Sketch of A.L. King." Australasian Record and Advent World Survey, August 10, 1970.
Advertisement. The Bible Echo and Signs of the Times, March 1888.
Advertisement. The Bible Echo and Signs of the Times, June 3, 1889.
Advertisement. The Bible Echo and Signs of the Times, February 1, 1892.
Caro, Edgar R. "Healing Without Drugs." Herald of Health, April 1, 1900.
Chapman, E[lliot] C. "The Good Health." Union Conference Record, September 7, 1908.
Daniells, A[rthur] G. "Australasian Union Conference." Union Conference Record, January/February 1898.
Good Health (Australasian), vols. 5-6, 1902-1903. http://documents.adventistarchives.org/Periodicals/Forms/AllFolders.aspx.
"Good Health." The Bible Echo and Signs of the Times, May 1, 1890.
Herald of Health, vols. 1 and 3, 1898, 1900. Shelf Records. South Pacific Division Heritage Centre, Cooranbong, NSW.
Judd, T[homas] F. "Robert (Roy) M. Wallace." Australasian Record and Advent World Survey, May 8, 1967.
Life and Health (Australasian), vols. 1-10, 1911-1920. http://documents.adventistarchives.org/Periodicals/Forms/AllFolders.aspx.
"Life and Health." Signs of the Times, December 19, 1910.
Masthead, Life and Health, February/March 1911.
Myers, Cecil K. "Home Missions Department." Australasian Record, October 21, 1918.
Pengilley, R[onald] E. "Signs Publishing Company Report." Australasian Record and Advent World Survey, December 12, 1966.
"Personal." Union Conference Record, May 1, 1902.
Piper, A[lbert] H. "Union Conference Secretary's Report." Australasian Record, September 17, 1934.
"Plans and Recommendations." Australasian Record, September 16, 1935.
Seventh-day Adventist Yearbook. Washington, D.C.: Review and Herald Publishing Association, 1904-1994.
"The April number of Good Health…" The Bible Echo and Signs of the Times, July 1888.
"The Australasian Health Magazine." Signs of the Times, January 3, 1910.
Ulrich, C[arl] F. L. "Report of Signs Publishing Company." Australasian Record and Advent World Survey, January 3, 1955.
Westerman, W. J. "Home Missions Department." Australasian Record, September 28, 1936.
Notes