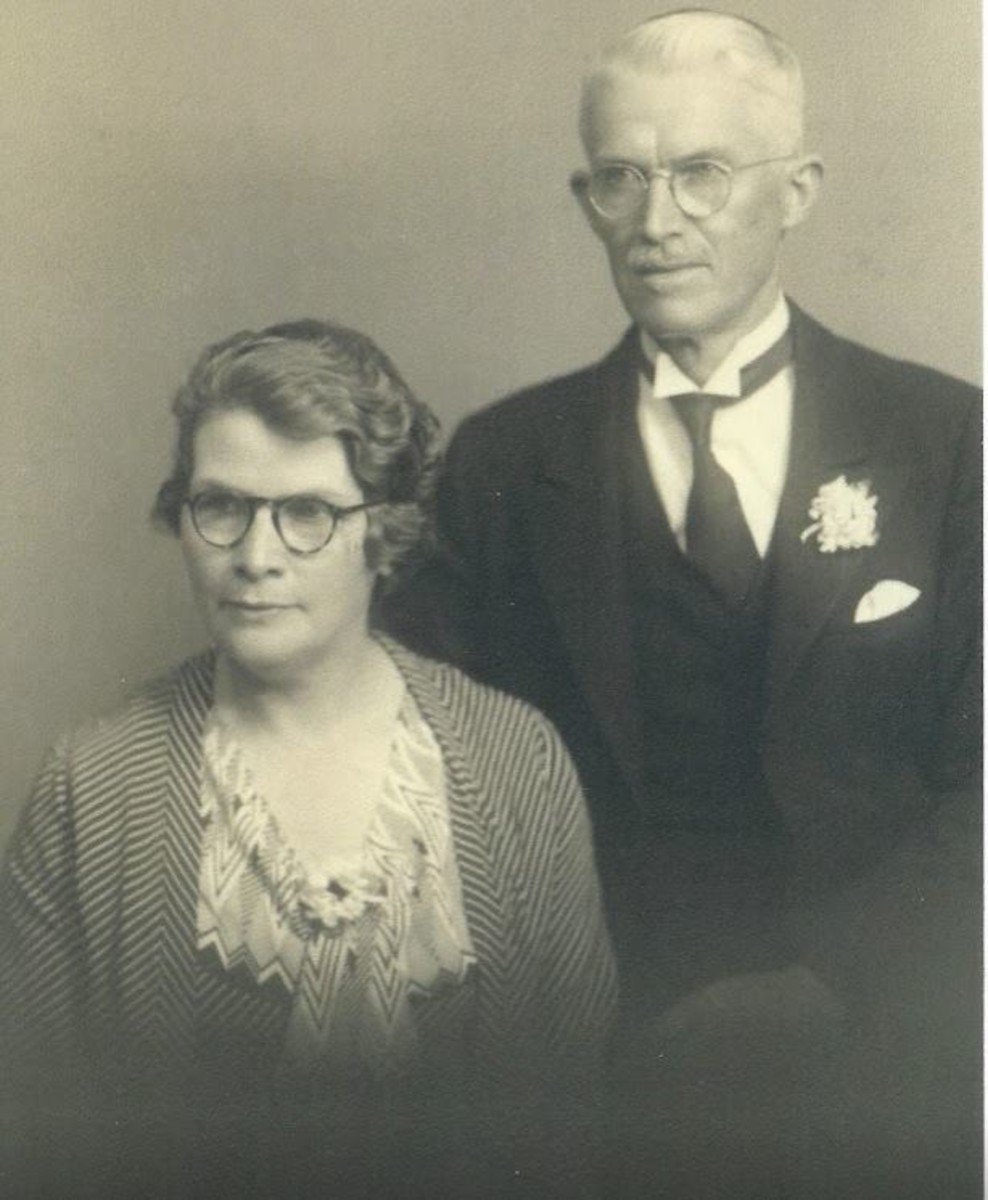 Gillis, Walter Emslie (1874–1954) and Helen Agnes (Chadwick) (1883–1953)
×
Bruce W. Lo is the ESDA assistant editor for the Northern Asia-Pacific Division.
Walter Emslie and Helen Agnes Gillis devoted thirty years of service to the foreign mission fields in Asia. Walter is often remembered as the pioneer missionary who was responsible for the development and construction of major Seventh-day Adventist mission headquarters compounds in Shanghai and Xi'an in China; Seoul in Korea; and Singapore in Southeast Asia. Also, as the early manager of the Signs of the Times Publishing Houses in these countries, he was also responsible for building up the publishing ministries in the Asia-Pacific region.1
Childhood and Youth
As the third in a family of seven children, Walter Gillis was born in Petrolia, Ontario, Canada, on March 15, 1874 to the family of John Alfred Patrick and Anna Jeanette Kerr Gillis.2 When he was still a baby his parents moved to North Dakota, United States and he received most of his early-childhood education in the frontier schools of that state.3 When he was eleven, the Gillis family again moved further west to Vancouver, British Columbia in a covered wagon. Most of the way, young Walter rode bareback on a horse. When they arrived at their destination, Walter helped his father build the first house on the site where Vancouver stands today.4,5
His parents, John and Anna Gillis were Presbyterians. As a result, Walter was confirmed in the faith of that church when he was very young. Later, through reading of Adventist literature he was attracted by the teaching of the Seventh-day Adventist faith and decided to get baptized to join that church.6 He then went to Walla Walla College as a student to further his education, working as a printer to support himself from 1897 to 1898. Later he became the owner, publisher, and editor of a newspaper in Sedro-Wooley, Washington.7 On August 19, 1900, Walter married Helen Agnes Chadwick who was from Chatham, New Brunswick, Canada. Her parents were John Chadwick Sr, and Mary Elizabeth Kelly. From this union they have two children: a son, Ithiel Elwyn Gillis, born on March 24, 1903 in Oakland, California, and a daughter, Berenice Irene Gillis Larson, born on May 31, 1919 in Singapore.8,9
In 1901, Walter and Helen went to St. Helena Sanitarium spending a few months there hoping to be trained as nurses, but when the invitation came in 1902 to join the Pacific Press, they decided to move to Oakland, California, where they remained till 1904 before moving with the press to Mountain View, California. Walter helped with the reconstruction of the press following the earthquake and fire. In 1907 to 1908, Walter accepted an invitation to go to Mexico City, Mexico, as the manager of the denominational publishing house to start the publishing work in that country. Upon return to the US, Helen became the dean of girls at Mount Vernon Academy. It was about that time in around 1909-1910 that the Gillis' received a call to go to China as missionaries. While waiting for their immigration clearance, Walter went to Pitt Meadows, British Columbia, Canada to manage a farm for the owner, Mr. Ford.10
First Call to China (1910-1919)
Walter and Helen Gillis left the United States for China in 1910. Upon arrival in Shanghai, Walter was immediately appointed the assistant treasurer of the China Union Mission. In the following year, he was asked to take up the position of acting manager of the Signs of the Times Publishing House as well. At about that time, the Seventh-day Adventist mission in China purchased a property at Ning Kuo Road, Shanghai with the view to develop it as the mission headquarters, and in 1912, Walter was appointed the architect and builder of the church's compound at that address, a task that he accomplished most ably. In the same year, he was promoted to be the full manager of the Shanghai Signs of the Times Publishing House, a position he held for three years until 1915.11
In 1916, after Walter and Helen Gillis returned from their first furlough in the United States, they moved to Kiukiang, Kiangsu (today's Jiangsu), where Walter took up the position of the treasurer of the Kiangsu Mission. When the new Central China Union Mission was formed in 1917, Walter was appointed the treasurer of that union, with headquarters at Hankow, Hubei. He remained in that post for two years until 1919.12
Time in Singapore-Malaysia (1919-1922)
From 1919 to 1922, Walter Gillis was invited to serve in the Malayan Mission, where he became the manager of the Malayan Publishing House and supervised the construction of the Malayan Signs of the Times Press at 399 Upper Sorangoon Road, Singapore. He also led out in the construction of four family homes on the upper part of the compound as well as in the beginning of the construction of the Malayan Seminary. It was evident that Walter Gillis' practical construction skill was very much appreciated by a growing Adventist mission field in Asia.13 While in Singapore, Walter Gillis reported in 1920 in the Asiatic Division Outlook, that they were expecting the release of the book "Our Day" in Malay with the largest print run coming out of the Signs Press of Singapore.14
Second Time in China (1922-1930)
In 1922, Walter Gillis returned to China from Singapore, and became the Home Missionary Secretary of the Anhhwei Mission with offices in Shanghai, while his wife and children were back in America. Their son, Ithiel, attended Pacific Union College and completed his academy and secretarial course there. After their second furlough and sending Ithiel to Walla Walla College for further study, Walter and Helen Gillis together with daughter Berenice returned to China, where Walter became the director of the Shensi Mission, and supervised the construction of homes in Sianfu (today's Xi'an). He remained in that post till 1926. But no sooner had he completed the new mission homes, civil war broke out at Sianfu, the city in which they were located, sustaining one of the longest sieges in modern Chinese history, when multitudes perished from pestilence and starvation. For the next three years, 1927 to 1930, Walter served as the Home Mission Secretary of the East China Union Mission.15
Years in Korea (1930-1940)
A new phase of their mission service began when in 1930, Walter and Helen answered another S.O.S. call from Korea. They moved to Seoul, Korea, where Walter took charge of the rebuilding of the headquarters of the Korean Mission after the fire. He was responsible for drawing up the plans for the union office, the publishing house, and the headquarters church. He was also involved in the construction of the original Seoul Sanitarium and Hospital and the two doctor's homes and dormitory. He was regarded as the foundation manager of the Korean Signs of the Times Publishing House, known today in Korea as Sijosa, a post that he held for ten years till 1940, just before his retirement.16
Retirement
Walter and Helen officially retired in 1940 and returned to the United States to settle in Caldwell, Idaho. As with most veteran missionaries, Walter remained active for many years after retirement. From 1941 to 1942, Walter taught at Gem State Academy as Bible teacher, specializing in New Testament, Old Testament, Church History, and Prophetic History. For the following four years, 1943-1946, he became a Bible instructor in the Voice of Prophecy Correspondence School at Glendale, California.
But the years of demanding mission service did take a toll on their physical strength, and in 1946 Walter and Helen withdrew from active ministry and moved to Mikkalo, Oregon to live with their daughter Berenice's family, and a few years later, moved to Yerington, Nevada. On January 26, 1953, Walter sustained the loss of his wife, Helen, after which time his health and strength gradually declined. In just a little more than a year later, Walter Gillis peacefully closed his life record at Glendale, California on November 3, 1954 at the age of 80.5 years.17
Sources
Cottrell, R.F. "Life Sketch of Elder Walter E. Gillis." November 5, 1954. Available from Adventism in China, CCAH Collection, W.E. Gillis entry: https://CCAH-Collection.weebly.com/GillisWE.
Gillis, Ithiel Elwyn. "Dates of interest to the Gillis Family." Unpublished manuscript, Glendale, California, April 11, 1982. Available from Adventism in China, CCAH Collection, W.E. Gillis entry: https://CCAH-Collection.weebly.com/GillisWE.
Gillis, Ithiel Elwyn. "Notes for W.E. Gillis Memorial Service." 1954. Available from Adventism in China, CCAH Collection, W.E. Gillis entry: https://CCAH-Collection.weebly.com/GillisWE.
Gillis, Ithiel Elwyn. "Walter Emslie Gillis: Missionary to China." Unpublished manuscript, undated. Available from Adventism in China, CCAH Collection, W.E. Gillis entry: https://CCAH-Collection.weebly.com/GillisWE.
Gillis, Walter E. "Our Day" in Malay, The Field Work, Asiatic Division Outlook, June 1920.
Lo, Bruce W. "Walter Esmlie Gillis (1874-1954) & Helen Agnes Chadwick Gillis (1883-1953)." In Adventism in China. Accessed June 20, 2020. www.adventismin china.org/individual-name/expatriates/gilliswe.
Peterson, Joan. "Summary of Walter E. Gillis Information." February 11, 2015. Available from Adventism in China, CCAH Collection, W.E. Gillis entry: https://CCAH-Collection.weebly.com/GillisWE.
Peterson, Joan. "Walter Emsley Gillis Family Tree." Unpublished manuscript, 2017.
Seventh-day Adventist Encyclopedia, Second revised edition. Review and Herald Publishing Association: Washington, D.C. 1966. S.v. "Gillis, Walter Emsle."
Walla Walla College. "Former Students and Teachers with a Long Mission Service Completed." 60 Years of Progress - Walla Walla College, p. 27, College Place, Washington, 1952.
Notes