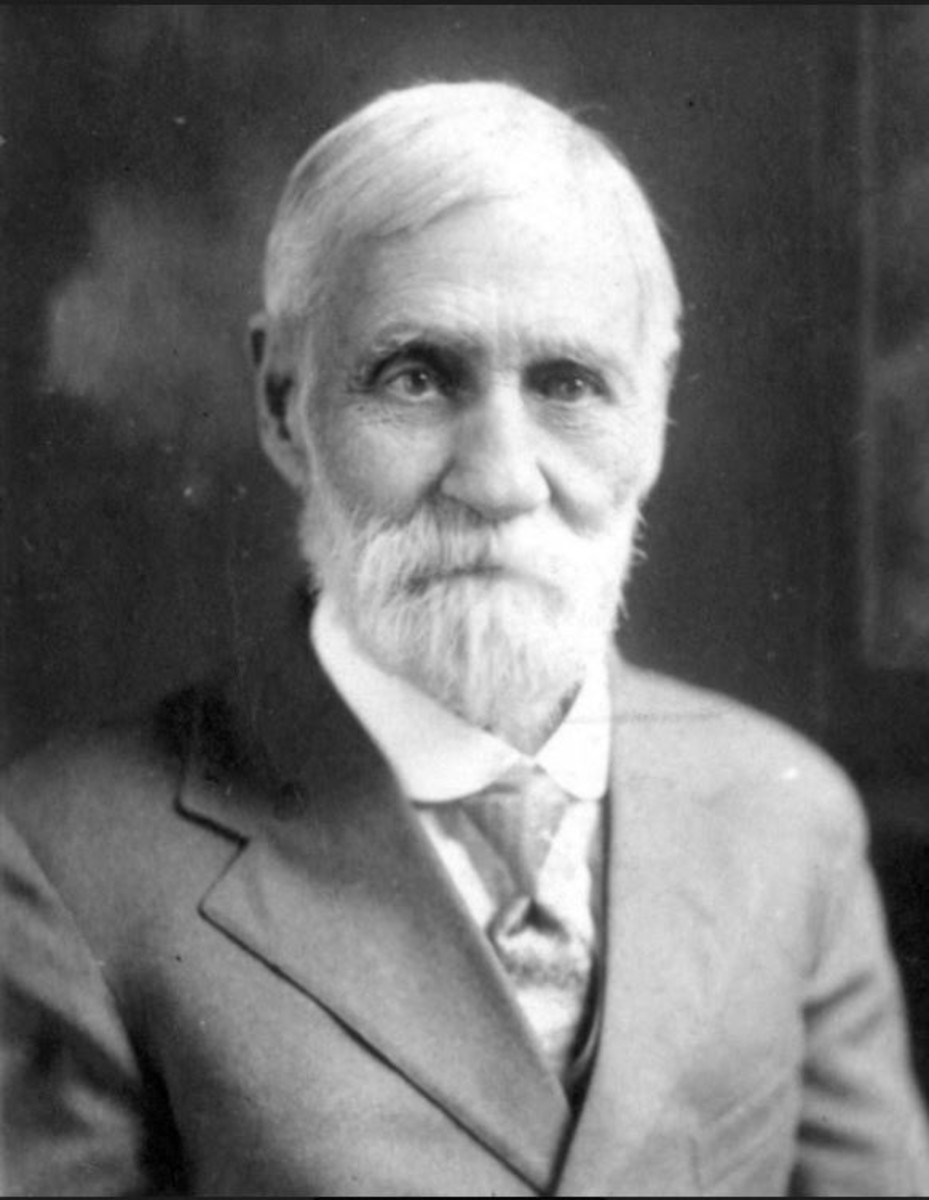 Kellogg, Merritt Gardner (1832–1921)
×
Milton Hook, Ed.D. (Andrews University, Berrien Springs, Michigan, the United States). Hook retired in 1997 as a minister in the Greater Sydney Conference, Australia. An Australian by birth Hook has served the Church as a teacher at the elementary, academy and college levels, a missionary in Papua New Guinea, and as a local church pastor. In retirement he is a conjoint senior lecturer at Avondale College of Higher Education. He has authored Flames Over Battle Creek, Avondale: Experiment on the Dora, Desmond Ford: Reformist Theologian, Gospel Revivalist, the Seventh-day Adventist Heritage Series, and many magazine articles. He is married to Noeleen and has two sons and three grandchildren.
First Published: September 17, 2020
Merritt G. Kellogg, physician and pioneer medical missionary in California and the South Pacific, figured prominently in founding the institutions known today as Adventist Health St. Helena and Sydney Adventist Hospital.
Early Life
Born on March 28, 1832,1 in Massachusetts to John Preston Kellogg and his wife Mary Ann (Call), Merritt was the eldest of six children. His siblings were Smith Moses (b. 1834), Albert (b. 1836), Julia Elvira (b. 1838) and Martha (b. 1840).2
In 1834 the Kellogg family moved to Dickinson Settlement north of Flint, Michigan, pioneering in a log cabin with a stone chimney. Their neighbors in the region included both Native Americans and other white settlers. His parents were devout Baptists. Merritt remembered runaway slaves using their home as a safe haven on their escape to Canada. His mother died of tuberculosis in 1841, leaving instructions with her husband to hire local teenager Ann Stanley to care for the children. Until the marriage took place six months later, much of the cooking and care became Merritt's responsibility. Ann proved to be a much-loved stepmother and an enterprising woman who learned, among other things, to spin yarn from their sheep, make her own dyes, weave cloth and hand-sew all their clothes. Soon after the new marriage the family moved to another farm at Tyrone and they worshipped with a small group of Congregationalists.3 Eleven more children were added to their family, providing Merritt with seven half-sisters and four half-brothers, among them John Harvey Kellogg and Will Keith Kellogg.4
In 1851, Merritt, along with his brother, Smith Kellogg, attended Oberlin College, Ohio, an institution of early educational reform with a Presbyterian heritage, founded in 1832. Its motto was "Learning and Labor," indicative of its method of uniting academics with manual work. It advocated piety, a simple living style, no smoking, no tea or coffee drinking and no jewellery wearing. It was co-educational, abolitionist, and committed specifically to the training of Christian leaders for the American West (referring to Ohio and other states in the Great Lakes region formerly called the Northwest Territory).5 According to one source, Merritt earned a bachelor's degree at Oberlin. At any rate, the institution stood for many of the values that would guide his life.6
Merritt became a member of the Seventh-day Adventist church around 1852.7 On February 12, 1854, he married Louisa Rawson in nearby Stockbridge, Michigan.8 Louisa was ten years older than Merritt, a Baptist who did not become a Seventh-day Adventist until about 1862.9 She brought with her two young children from a previous marriage, Anna and Alvin Wellman.10 Merritt and Louisa had one child of their own, Charles Merritt Kellogg (b. 1856), who became a minister (though apparently not Seventh-day Adventist) and tragically died from tuberculosis when aged only 33.11
An Epic Journey to the West
In 1859 Kellogg was finding it hard to get enough work to support his family. He thought he might have success in Nebraska where Louisa's brother was located. Together with Louisa and the three young children he bundled provisions, belongings and especially his carpentry tools into a covered railway wagon and set out in April. Sleeping on a bed of straw on the floor of the wagon they endured discomfort and privations until the train arrived at Iowa City. From the railhead it was only a trail that led west to Elkhorn. Kellogg hitched up a wagon and team of oxen for the trip. He found Louisa's brother but he found no prospects for work because most people had left on a gold rush to Pikes Peak in Colorado. There was a need to carry supplies to the gold-diggers so Kellogg entered into a deal to help with the transport. The reports about gold proved to be inflated and the venture to transport supplies turned sour. Some members of the trail party wanted to turn back. Kellogg, however, was persuaded by other team members to press on to California where he might find work.12
The party who determined to cross the mountains into California comprised forty-one men, four women, seven children, fifteen wagons, forty yoke of oxen, two cows and a horse. Each man was armed with a rifle, revolver or pistol as protection against Indians and to shoot antelopes, bears and hares for their meat supply. Night-watchmen took it in turn to guard the party and stock. Other parties in front and behind who were not so vigilant lost men and animals to the Indians. They encountered a blizzard, hungry wolves and snakes. Kellogg's son, Charles, fell out of their wagon one day and broke his collarbone. Another time when their wagon lurched Louisa's feet were crushed and she was lame for weeks. Having traversed Utah and Nevada they reached the top of the range about July 10 and arrived safely on September 9 at their planned destination, Marysville, northern California. The trek had taken them five months.13
The 1860 United States Census lists Merritt in Kimshew Township, Butte County, California, still within the vicinity of Marysville. He was simply recorded as a carpenter and Louisa as a dressmaker.14 In this manner they supported themselves, while at the same time holding meetings to present the Adventist message and gathering a small group of converts. The little company sent a request to the General Conference in Battle Creek, Michigan, for "an evangelist" to be commissioned to California, adding $133 to underwrite the man's expenses. Church officials responded with the assurance that the money would be held until someone could be spared for they were pressed with five times as many places for workers than they could fill.15
Health Reform Physician
Kellogg returned to the East Coast in 1867 and spent a year earning a medical degree at the New York Hydropathic and Physiological School conducted by Dr. Russell Thatcher Trall.16 It was the first medical school in America to approach medicine from a holistic and natural perspective, giving special attention to hydrotherapy, diet, exercise and temperance.17
Having completed his degree Kellogg visited Battle Creek and was invited to be a representative of California at the General Conference session, May 12-18, 1868. When the distribution of workers was discussed Kellogg was recorded as making "a strong plea for California." The response was favorable this time. Evangelists John N. Loughborough and Daniel T. Bourdeau were on their way to California just over a month later.18 At the same General Conference session Kellogg was authorized to promote the health reform "department" of the Adventist work because evangelists were too busy with "their other arduous labors."19 He returned to California, settling in San Jose.20
After a year of pioneering evangelism, California's earliest Adventists held a "state meeting" in 1869 as a preliminary step to forming a conference. Kellogg was elected to the three-person executive committee under the direction of Daniel T. Bourdeau.21 When the California Conference was organized in February 1873, Kellogg was unable to attend but sent a written report of the missionary work he had managed to do while engaged in his medical profession.22
Kellogg's success in treating victims of a smallpox epidemic at Bloomfield, 11 miles southwest of Santa Rosa, in 1870, won credibility for his hydropathic treatments.23 He also used a variety of means to advocate the health principles and treatments he learned under Dr. Trall. In 1873, for example, he authored The Hygienic Family Physician: A Complete Guide for the Preservation of Health and the Treatment of the Sick Without Medicine.24 It was the first of several do-it-yourself medical treatment volumes for the home published by Seventh-day Adventists.
Throughout 1877 and 1878, Kellogg helped establish the Rural Health Retreat (later St. Helena Sanitarium) at Crystal Springs in Napa County, California. He was its first resident physician, advertising it as an institution for "invalids or others as may be benefited by an acquaintance with the Hygienic mode of treatment and living."25 With sad irony his devotion to health and medicine could do nothing to save either his own son from tuberculosis or Louisa from some form of paralysis.
Service in the South Seas
The first voyage of the "Pitcairn" into the South Pacific, begun in 1890, returned to the United States with promising reports of mission possibilities. For that reason plans were made in 1892 for a second voyage. Merritt Kellogg was chosen to be among the individuals who would sail in 1893, he being the first of the voyagers to use medical work to allay prejudice. Leaving Louisa in nursing care, Merritt left San Francisco aboard the "Pitcairn" on January 17, 1893.26 The vessel first called at Pitcairn Island followed by Tahiti and Rurutu Island. Kellogg reported, "I have my hands full of medical work when on shore."27 Calls were made at the Cook Islands, Niue Island, Tonga, Fiji, Norfolk Island and finally Auckland, New Zealand, where Merritt chose to stay and continue his ministry.28
At the New Zealand annual camp meeting, November-December 1893, Kellogg was one of the featured lecturers, speaking about health and his experiences in the South Pacific.29 He hurried on to Australia where he gave similar lectures at the large gatherings for the Melbourne and Sydney camp meetings.30 On the last Sunday evening of the Sydney gathering, November 4, 1894, Kellogg was ordained to the gospel ministry.31 Within hours, unbeknown to Merritt, Louisa passed away in California with paralysis, a term in those days often associated with cerebral palsy.32 She was laid to rest in the Evergreen Cemetery, Los Angeles, an impressive tombstone marking the site.33
In 1895 63-year-old Merritt married 21-year-old Eleanor Kathleen Georgina Nolan at Broken Hill, New South Wales.34 The couple sailed among the South Pacific Islands, arriving in Samoa in mid-1896 to find Dr. Frederick Braucht gathering materials to build a sanitarium. Kellogg remained for about twelve months to build the Samoa Sanitarium, short of the finishing touches.35 He and Eleanor then sailed to Tonga, arriving September 1897, to assist Edwin Butz. Merritt built a mission home large enough to accommodate rooms for medical treatments.36 They were still there in July 1899 conducting a clinic when their first child, Merritt George Harold, was born.37 They returned to Sydney, Australia, in June 1900 after an absence of four years.38
It was fortuitous that Kellogg arrived in Sydney at a time when the denominational medical work in that city was undertaking a radical expansion, the aim being to establish a major sanitarium. Kellogg was enlisted to draw plans and was soon appointed as the overseer of its construction. Church members were asked to donate generously and as funds came to hand materials were purchased and utilized. Many members who were tradesmen or apprentices donated their time and gradually the magnificent structure took shape. It was officially opened on New Year's Day 1903 as the Sydney Medical and Surgical Sanitarium. There were no government dignitaries present. After the dedication prayer several church officials addressed the gathering, including Merritt Kellogg who mentioned their building costs were estimated to be £8,000. It was a credit to his workmanship and leadership.39
Final Years in America
The Kellogg family, including Eleanor's mother, Harriett Nolan, returned to California in 1903 and settled at Healdsburg. Merritt and Eleanor added to their family with a daughter, Muriel Kathleen, born on December 29, 1906. It was unfortunate that during the last decade of Kellogg's years he slowly lost his sight and he also became profoundly deaf. He passed away on December 20, 1921, with apoplexy (an old term generally associated with a cerebral bleed or stroke).40 He was laid to rest in Oak Mound Cemetery, Healdsburg. A small headstone with an incorrect birth year simply reads M.G.K. 1833-1921.41
In 1927 Eleanor married Dr. Claude Basford who converted to Adventism later. He passed away in 1940.42 In her senior years Eleanor's daughter cared for her in Los Angeles. It was there that she passed away on March 25, 1949.43
Sources
Andrews, J. N. "Business Proceedings of the Sixth Annual Session of the General Conference of Seventh-day Adventists." ARH, May 26, 1868.
"An Important Event." Australasian Good Health, February 1, 1903.
Bourdeau, D. T. "California State Meeting." ARH, May 4, 1869.
Braucht, F. E. "Samoan Medical Mission." Union Conference Record, July 19, 1899.
Cady, B. J. "News From the Ship Pitcairn." Bible Echo, August 1, 1893.
"Charles Merritt Kellogg." Find A Grave, Memorial no. 74134518. Accessed January 29, 2021, https://www.findagrave.com/memorial/74134518/charles-merritt-kellogg.
"Claude Ransom Basford." Pacific Union Recorder, September 18, 1940.
District of Broken Hill. Marriage Certificates. State Government Department of Births, Deaths and Marriages, Sydney, New South Wales.
"Dr. M.G. Kellogg and wife . . . ." Union Conference Record, July 1, 1900.
Hilliard, E. A. "The Friendly Islands." Union Conference Record, July 24, 1899.
"John Harvey Kellogg." FamilySearch.org. Accessed January 30, 2021, https://www.familysearch.org/tree/pedigree/landscape/99LV-51H.
Kellogg, M. G. "From the Pitcairn." Bible Echo, September 15, 1893.
Kellogg, M. G. "Health Retreat." Signs of the Times, June 13, 1878.
Kellogg, M. G. "News From the Pitcairn." Bible Echo. November 15, 1893.
Kellogg, M. G. Notes Concerning the Kelloggs. Battle Creek: Michigan, np., 1927. Internet Archive. Accessed February 1, 2021, https://archive.org/details/GR_2295/page/n7/mode.2up.
Kellogg, M. G. The Hygienic Family Physician: A Complete Guide for the Preservation of Health and the Treatment of the Sick Without Medicine. Battle Creek, MI: The Health Reformer, 1873.
Kellogg, M. G. "The Rise of the Sydney Sanitarium." Australasian Good Health, February 1, 1903.
Knox, W.T. "Louisa Kellogg." ARH, December 18, 1894.
Loughborough, J. N. "Business Proceedings of the California State Conference." ARH, March 11, 1873.
"Louisa Kellogg: California Deaths and Burials." FamilySearch.org. Accessed January 31, 2021, https://www.familysearch.org/ark:/61903/1:1:HGC1-XHT2.
"Louisa Rawson Kellogg." Find A Grave. Memorial ID no. 41544804. Accessed January 29, 2021, https://www.findagrave.com/memorial/41544804/louisa-kellogg.
"Merritt Gardner Kellogg." FamilySearch.org. Accessed January 29, 2021, https://www.familysearch.org/tree/pedigree/landscape/K8VR-8J7.
"Merritt Gardner Kellogg." Find A Grave. Memorial ID no. 186183994. Accessed January 29, 2021, https://www.findagrave.com/memorial/186183994/merritt-gardner-kellogg.
"New York Hydropathic and Physiological School." History of Health in New York. Accessed January 30, 2021, https://blogs.baruch.cuny.edu/histmed3450/?p=58.
Nolan, W. H. "Eleanor Kellogg." Australasian Record, May 2, 1949.
"Oberlin History." Oberlin College and Conservatory. Accessed January 30, 2021, https://www.oberlin.edu/about-oberlin/oberlin-history.
Reed, H. W. "Merritt Gardner Kellogg." ARH, February 9, 1922.
"Seventh-day Adventist Camp Meeting." Bible Echo, October 15, 1894.
"Seventh-day Adventist Camp Meeting." Bible Echo, December 13, 1893.
"The closing public service . . . ." Bible Echo, November 12, 1894.
"To the Brethren in California." ARH, December 11, 1866.
White, W. C. "New Zealand Notes." Bible Echo, November 8, 1893.
Notes