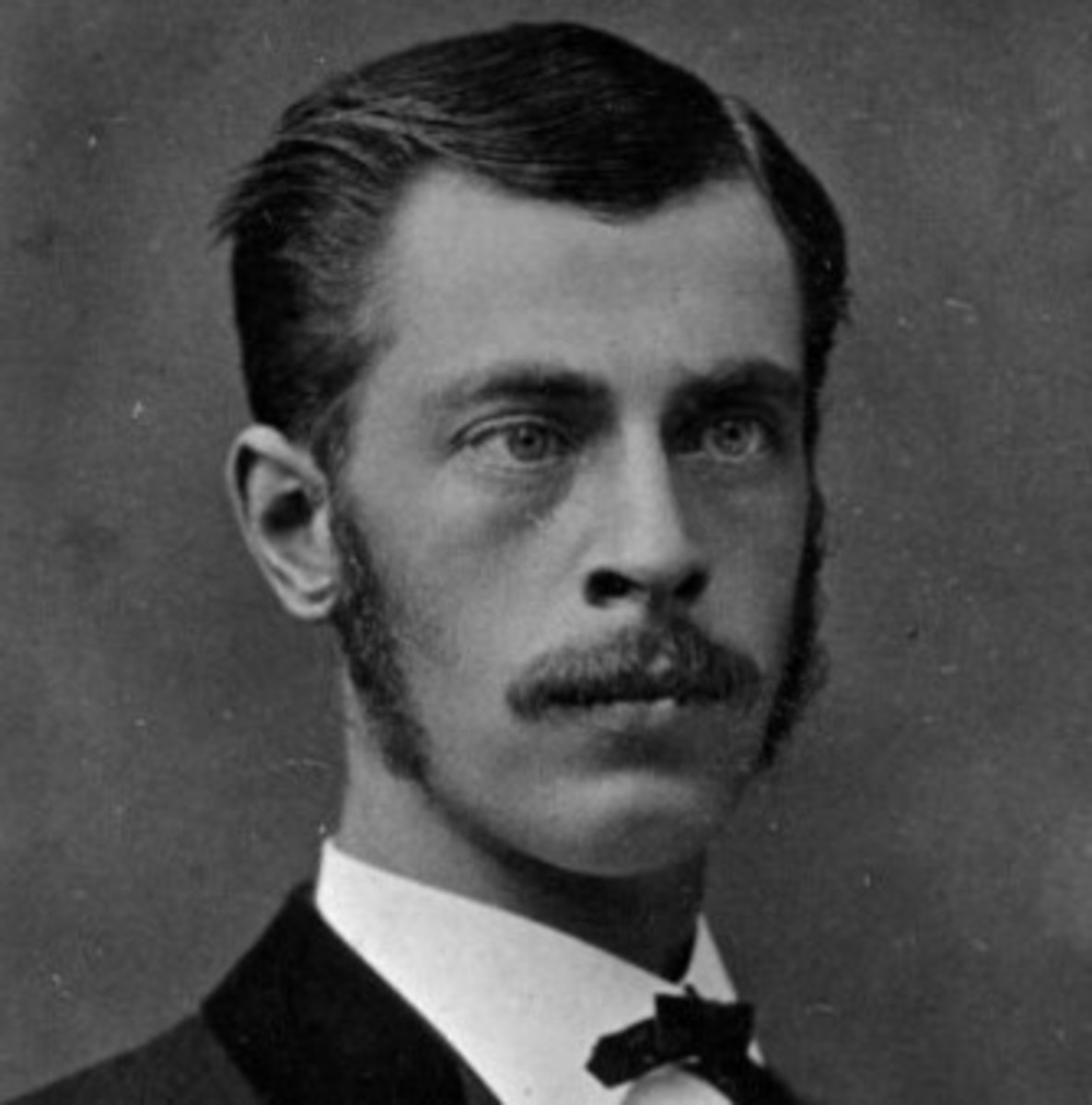 Sisley, William Conqueror (1850–1932)
×
Milton Hook, Ed.D. (Andrews University, Berrien Springs, Michigan, the United States). Hook retired in 1997 as a minister in the Greater Sydney Conference, Australia. An Australian by birth Hook has served the Church as a teacher at the elementary, academy and college levels, a missionary in Papua New Guinea, and as a local church pastor. In retirement he is a conjoint senior lecturer at Avondale College of Higher Education. He has authored Flames Over Battle Creek, Avondale: Experiment on the Dora, Desmond Ford: Reformist Theologian, Gospel Revivalist, the Seventh-day Adventist Heritage Series, and many magazine articles. He is married to Noeleen and has two sons and three grandchildren.
First Published: June 23, 2022
William C. Sisley, architect and builder of many of Adventism's earliest institutions, also served as manager of the church's publishing houses in Battle Creek and London.
Early Years
The seven children of John and Susannah (Gower) Sisley were born in Tonbridge, Kent, Great Britain. They were John (b. 1841), Susannah (b. 1843), Martha (b. 1846), Richard Thomas (b. 1848), William Conqueror (b. 1850), Mary Maud (b. 1851) and Nellie Elizabeth (b. 1854).1
William Conqueror, a very British name, was born on March 28, 1850. His parents were not poor for they employed two female servants. When he was only nine years old his father died. The oldest son, John, had migrated to America. When Richard and William were teenagers they supported their mother and four sisters.2 Richard worked as a wheel-barrow maker and William as a carpenter.3 In 1863 the family joined John on a farm at Convis, near Battle Creek, Michigan, where John persuaded his mother of his new-found Seventh-day Adventist faith.4 After James and Ellen White persuaded them that they would be better off in Battle Creek where Adventist education and employment opportunities were available, the Sisley family moved there in 1867.5
Battle Creek Years
At the age of 21 William was converted.6 He became a key figure in Battle Creek as the foreman on major building projects such as Battle Creek College (opened 1874), Battle Creek Sanitarium (opened 1877) and the Dime Tabernacle, headquarters church in Battle Creek (opened 1879).7 During this period of building activity he married Frederika House on October 27, 1875. Elder Uriah Smith performed the ceremony.8 At the time of their marriage, Freddie House, as Frederika is identified in official minutes, was serving as secretary of the SDA Publishing Association (later Review and Herald Publishing Association), treasurer of the Michigan Conference, and treasurer of the General Conference. She had been elected to these offices for the then-standard one-year term in August 1875.9
During 1879 through 1884 William Sisley was occupied as architect and builder of additions to the Battle Creek Sanitarium and Battle Creek College10 and was a licensed minister in the Michigan Conference. He also served as the Battle Creek agent for the International Tract and Missionary Society (ITMS). At the same time Frederika held the office of corresponding secretary for the General Conference.11 Later, she was an assistant secretary for the ITMS, 1885-1890, and William served as a member of the ITMS executive board.12
International Institution Builder
In 1886 Sisley was located in Healdsburg, California, most likely in connection with the building of the Healdsburg College (later Pacific Union College) campus church with attached rooms for music, art and recitations.13 His next major project was to draw up architectural designs and build Union College in Nebraska, which opened in 1891 with Sisley among its first trustees.14 He hurried on to adopt the same role for Walla Walla College, Washington (opened 1892) and Keene Industrial Academy, Texas (opened 1893).15 He returned to Battle Creek and briefly served as auditor and trustee of Battle Creek College.16
In 1893-1894 Sisley embarked on a very productive world trip, taking part in the planning and establishment of a number of church institutions. His first stop was in London. Then he moved on to Frederikshavn, Denmark, laying plans for what became known as Frydenstrands Sanitorium conducted by Dr. Jacob Ottosen, a protégé of Dr. John Harvey Kellogg. The institution opened in 1897.17 Then he progressed to Hamburg, Germany, to plan for the Hamburg Publishing House that opened in 1895. Leaving Europe, he sailed to the Cape Colony, South Africa, to draw architectural plans for the Claremont Sanitarium which eventually opened in 1897.18
Sisley's journey finally took him to Australia, arriving there on December 14, 1894.19 After consultation about the needs for a senior school and inspection of the proposed site for what became known as the Avondale School for Christian Workers (now Avondale University College) William drew up blueprints for a classroom/chapel building, a ladies dormitory and a men's dormitory. His plans were later simplified due to limited funds.20
Publishing House Manager
When Sisley arrived back in Battle Creek in 1895 he submitted architectural drawings for the Colorado Sanitarium and, soon after, was appointed manager of the Review and Herald Publishing Association, a position he held until 1900.21 With this executive experience to his credit he was then appointed to manage the London Publishing House, starting in 1901. At the same time he was a member of the British Union Conference executive committee.22 These roles were long-term, extending to 1918. During these years the enterprise was moved out of London to Watford and was renamed the British Publishing House (later Stanborough Press).23
Final Years
William and Frederika Sisley were blessed with three daughters: Alice Centennial (b. 1876), Eulalia Statira (b. 1878) and Susan Maud (b. 1881).24 When the couple retired they settled on a small property next door to their eldest daughter and son-in-law, Alice and William White, in the Bordeaux neighborhood of Nashville, Tennessee. It was there that William passed away on September 25, 1932.25 Frederika passed away on January 25, 1934.26 They rest alongside each other in the Bordeaux Adventist Memorial Gardens, Nashville.27
Sources
Boyd, Maud Sisley. "Early Experiences." Australasian Record, June 7, 1937.
Lundblad, Julie. "Frydenstrand Badesanatorium: Europas første," December 5, 2020. Accessed June 6, 2022. https://vores-frederikshavn.dk/a/frydenstrand-badesanatorium-europas-foerste/Oefebaed-Obe2-4ba5-b35d-f7b135648a85.
"On the morning of Dec.14 . . . ." Bible Echo, December 24, 1894.
Seventh-day Adventist Yearbooks. General Conference of Seventh-day Adventists Online Archives (GCA). https://documents.adventistarchives.org/Yearbooks/Forms/AllItems.aspx.
Swanepoel, L. Francois. "The Origin and Early History of the Seventh-day Adventist Church in South Africa, 1886-1920." M.A. thesis, University of South Africa, 1972.
Thurber, Robert B. "Frederika Sisley obituary." Southern Tidings, February 14, 1934.
Thurber, Robert B. "William Conqueror Sisley obituary." ARH, November 3, 1932.
"William Conqueror Sisley." FamilySearch. Accessed May 20, 2022. https://www.familysearch.org/tree/pedigree/landscape/93DC-LSX.
"William Conqueror Sisley." Find A Grave, Memorial ID 35496531, April 3, 2009. Accessed May 20, 2022. https://www.findagrave.com/memorial/35496531/william-conqueror-sisley.
William C. Sisley Sustentation File. Sustentation Files, RG 33. General Conference Office of Archives, Silver Spring, Maryland, U.S.A. (GCA).
Notes