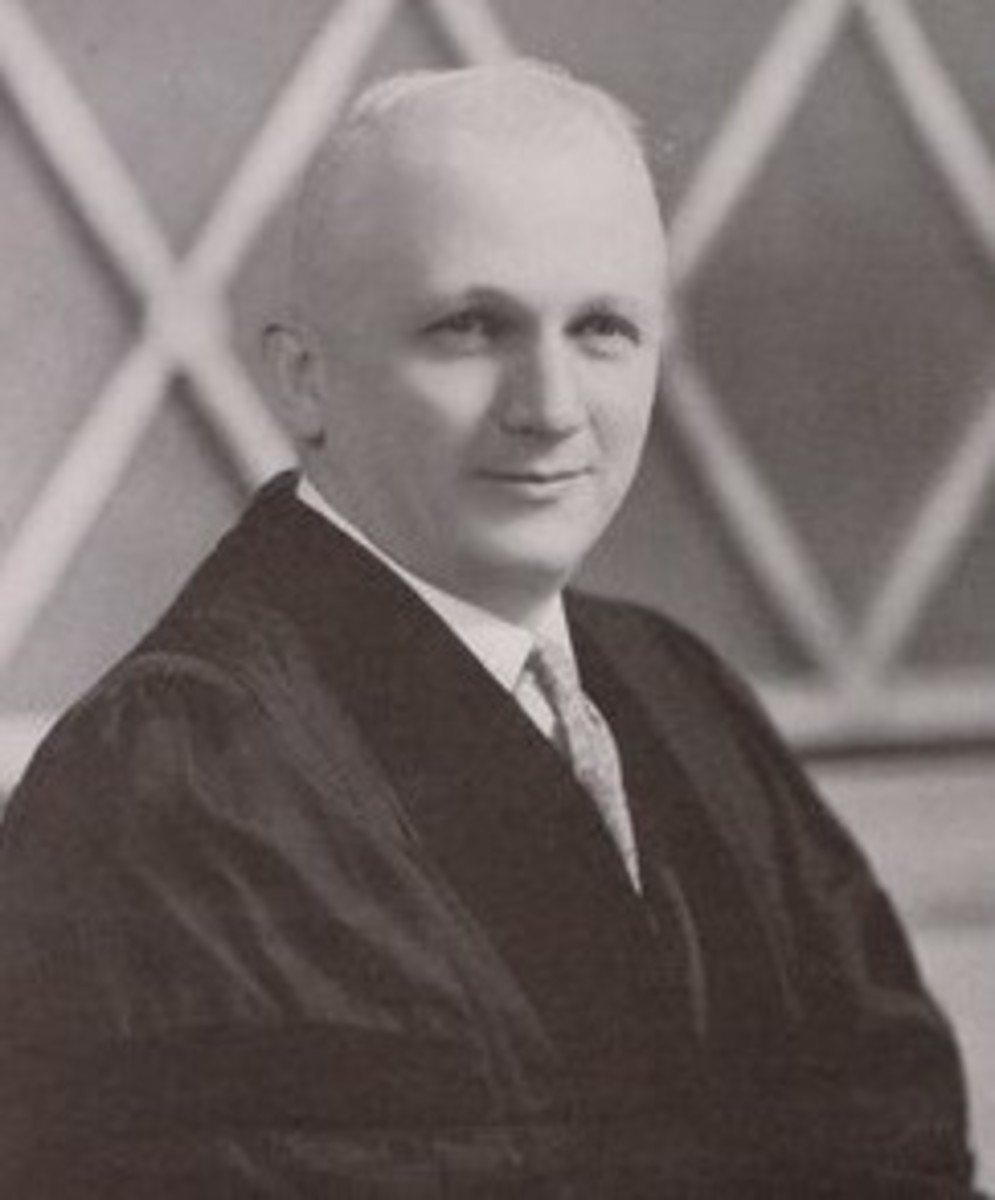 Thompson, Paul Lamont (1889–1976)
×
Sabrina Riley was born in Auburn, New York and raised in Dowagiac, Michigan. She received a B.A. in history from Andrews University and an M.A. in information and libraries studies from the University of Michigan. Riley was a member of Andrews University's library staff from 1998 to 2003, library director and college archivist at Union College from 2003 to 2016, and is presently a freelance researcher, author, and information professional.
First Published: January 29, 2020
Paul Lamont Thompson, an Adventist educator and administrator, left the Adventist Church in 1931 after having served as president of two Adventist colleges.
Early Life
Paul Lamont Thompson (often referred to as Lamont Thompson) was born September 26, 1889, in Zionsville, Indiana, to Luzerne and Lillian Thompson (1856–1941; 1870–1921).1 Luzerne Thompson was a Seventh-day Adventist minister. The oldest of five children, Paul Lamont Thompson's siblings were Frank Elwell (1890–1970), Fred Seward (1890–1977), Martha Elizabeth (1899–1984), and Julia Marita (1901–1977), who married Clyde Smith. Frank Thompson became a minister and served, among many positions, as a missionary in southern Africa and as Minnesota Conference president.2
Education and Marriage
As early as at least 1910 Thompson enrolled in classes at Emmanuel Missionary College.3 Attending sporadically for a number of years, he finally graduated with a Bachelor of Arts in 1918.4 Thompson also pursued graduate courses at the University of Colorado5 and the University of Nebraska.6 After resigning from the presidency of Union College, Thompson studied at Colgate-Rochester Divinity School, where he was granted a Bachelor of Divinity degree in 1933.7 Franklin College in Franklin, Indiana, conferred an honorary LL.D. on Thompson in 1935.8
Thompson married Ruth Frances Peel, whom he met at Emmanuel Missionary College, on July 19, 1915, in Grand Rapids, Michigan.9 The daughter of Melvin Peel and Catherine Mary Ayrs, Ruth Peel was a teacher who also graduated from Emmanuel Missionary College in 1918.10 They had two children, Lamont Luzerne (1917–2009), an FBI agent, and Edward Peel (1922–2008), an attorney.
Adventist Employment (1910–1931)
Thompson demonstrated early talent for the ministry. In April 1909 he was an active participant in a Missionary Volunteer convention at Beechwood Academy, where he led discussions on the topic "Christ associated with the world yet partook not of its spirit," and the importance of reading and the Bible's value as literature.11 By the following year Thompson was granted a license by the Indiana Conference and began assisting tent evangelism teams in places such as Elkhart and Franklin, and visiting new churches.12 He also worked as a colporteur in not only Indiana but also Michigan and Iowa.13
In 1914 Thompson began his career in education as preceptor at Bethel Academy (a forerunner of Wisconsin Academy), where he also taught history and civics.14 Three years later Thompson returned to Emmanuel Missionary College to finish his undergraduate degree, following which he briefly returned to evangelistic work in the North Michigan Conference in 191815 before moving to the Atlantic Union Conference. In Massachusetts, Thompson served first as the young people's department secretary for a year16 and then became Missionary Volunteer and education secretary in 1920.17
In 1923 Thompson returned to academia as president of Southwestern Junior College.18 During his five years at Southwestern Junior College he championed campus industries, which provided employment for students. Thompson became president of Union College in 192819 in the midst of the college's effort to gain regional accreditation. He made a number of changes to Union College's policies, improving academic standards and ethical practices.20
Employment Outside of the Adventist Denomination (1931–1948)
Upon leaving Union College, Thompson also left the Adventist Church and joined the Baptist. After attending Colgate-Rochester Divinity School, he subsequently served two Baptist colleges as president: Shurtleff College from 1933 to 193821 and Kalamazoo College from 1938 to 1948. At both colleges Thompson's legacy included placing the campuses on a sound fiscal foundation through the Great Depression. He founded Kalamazoo College's annual fund and led a capital campaign that resulted in the construction of Harmon Hall, Stowe Stadium, Angell Field, and Welles Dining Hall.22 Thompson resigned from Kalamazoo College in 1948, allegedly over disagreements with the board of trustees regarding administrative policies.23
Thompson was an affable man and popular speaker, appreciated for his "wit, wisdom, and gentle manner."24 He frequently spoke at high school graduations and other venues. At Union College his chapel talks were regularly published in the student newspaper. Throughout his lifetime he was a member the Rotary Club, president of the Association of Presidents of American Baptist Colleges, and president of the Association of Church Related Colleges.25
Apostasy
Why Thompson resigned from the presidencies of Union College in 1931 and Kalamazoo College in 1948 is not entirely clear. His departure from the Adventist Church is even less understood. One theory is that when his request to pursue further education was declined by the Union College board, he chose to resign. His resignation from Kalamazoo College, presumably over a disagreement with the governing board, supports this theory. In his farewell letter to students and staff published in the Union College student newspaper, Thompson reassured readers that he was not leaving with animosity, but rather for personal and financial reasons.26 However, none of these reasons explain why he took his departure a step further by leaving the Adventist Church. Instead, Everett Dick suggested in his history of Union College that Thompson's theologically liberal views called the college's religious orthodoxy into question. Mildred Rhoads Bennett, a Union College senior in 1931 who was also disenchanted with her conservative Adventist upbringing, later recalled a conversation with Thompson that year in which he expressed that he "no longer believed the church doctrines."27 This, then, better explains why Thompson left the church.
Retirement
In retirement Thompson resided in Orlando, Florida, before returning to Michigan, where he lived with his wife in a retirement community in Grand Rapids. He died in Grand Rapids, Michigan, on March 21, 1976.28
Sources
Annual Calendar 1918–1919. Berrien Springs, Michigan: Emmanuel Missionary College, 1918.
Bennett, Mildred Rhoads. The Autobiography of Mildred Rhoads Bennett, The Early Years: The Winter Is Past. Lewiston, New York: Edwin Mellon Press, 1989.
Catalogue, 1927–1928, With Announcements for 1928–1929. University of Colorado Bulletin 28, no. 10 (General Series 259, Boulder Colorado, 1928).
Christman, H. K. "Luzerne Thompson obituary." Review and Herald, September 25, 1941.
Dick, Everett Newfon. Union: College of the Golden Cords. Lincoln, Nebraska: Union College, 1967.
"Dr. Thompson Accepts Post at Kalamazoo." Alton Evening Telegraph, June 13, 1938.
"Election of Offices." Lake Union Herald, September 21, 1910.
"Emmanuel Missionary College." Lake Union Herald, December 13, 1911.
"Emmanuel Missionary College." Lake Union Herald, June 12, 1918.
"Former President Now Shurtleff College Head." Clocktower, November 9, 1933.
"Frank Elwell Thompson obituary." ARH, May 7, 1970.
"Franklin Gives Diplomas to 27." Indianapolis News, June 10, 1935.
Grand Rapids, Kent County. Paul Lamont Thompson and Ruth Frances Peel. Michigan Department of Community Health Division of Vital Records and Health Statistics, Lancing, Michigan.
Grey, Robert. "Seelyville and Franklin," Lake Union Herald, July 17, 1912.
"Indiana." Lake Union Herald, June 1, 1910.
"Iowa Canvassers' Report." Worker's Bulletin, July 11, 1924.
"Kalamazoo College Gets New President." Escanaba Daily Press, June 14, 1938.
"Kalamazoo College President, Dean of Men Resign." Time Herald, June 17, 1948.
"Kalamazoo College President Resigns." Battle Creek Enquirer, June 16, 1948.
"Lillian Thompson obituary." Lake Union Herald, April 13, 1921.
McMahan, Mrs. R. W. "Missionary Volunteer Convention at Beechwood Academy." Lake Union Herald, May 19, 1909.
"News Notes." Lake Union Herald, July 17, 1912.
"Paul Lamont Thompson obituary." Kalamazoo Gazette, March 22, 1976.
Rees, David D., and Everett Dick. "Chapter XI: The Presidents." In Union College: 1891-1941. Lincoln, Nebraska: Union College Press, 1941.
"Sermon Urges High Standard for Graduates." Democrat and Chronicle, May 22, 1933.
Seventh-day Adventist Yearbook. Washington, D.C.: Review and Herald Publishing Association, 1915–1924.
"The Paul Lamont Thompson Memorial Lecture." Kalamazoo College, 2017. Accessed July 23, 2019. https://reason.kzoo.edu/religion/events/thompson/.
Thompson, P. L. "Outgoing President's Farewell Message." Clocktower, July 29, 1931.
Thompson, Paul Lamont, and Charles Turzak. Thoughts on the Way. N.p.: Ruth Peel Thompson, 1970.
"Union College President Assumes New Duties." Clocktower, August 1, 1928.
Notes