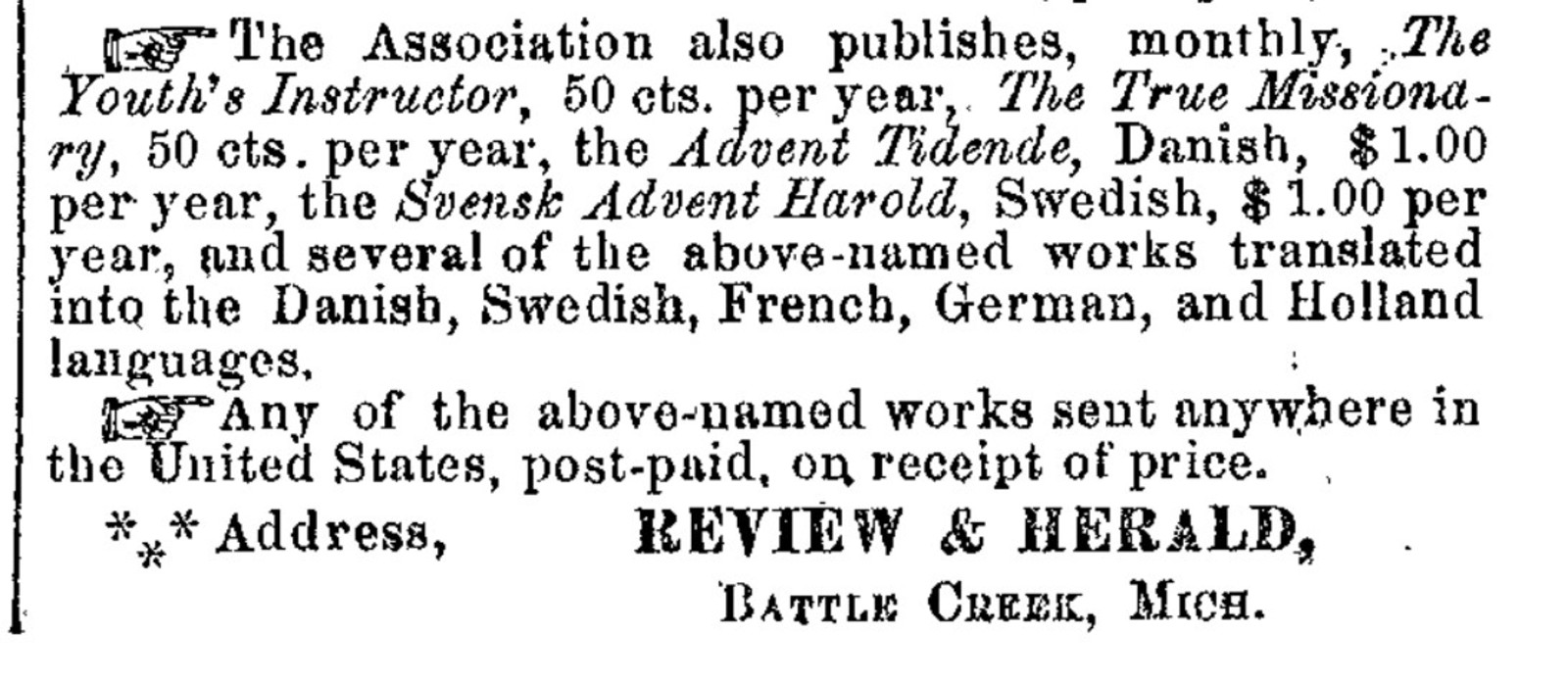 The True Missionary began monthly publication in January 1874 as the periodical of the General Tract and Missionary Society, newly organized to promote denomination-wide development of state and local societies for dissemination of Adventist literature and mobilization of members for individual missionary work.1
James White, president of the Seventh-day Adventist Publishing Association in Battle Creek, Michigan, announced in November 1873 that in this "monthly sheet . . . the system of organized effort in the line of tract and missionary work will be fully explained, appeals for vigorous action will be made, and reports of progress will be given." A one-year subscription to the periodical, White wrote, would cost "the trifling sum of fifty cents."2
Much of the content in the True Missionary came from S. N. Haskell, the prime mover in the development of the tract and missionary societies.3 In the April 1874 issue, Haskell discussed the characteristics of those "most successful in tract distribution." One characteristic was an understanding that the conversation in a missionary contact "should not be to debate some doctrinal point, but to call the individual to the subject of religion" and then "let the tract to the advocating of the doctrinal point." In the same issue Haskell summarized the two-fold purpose of the tract and missionary work: "It should ever be remembered that judicious labor is one object of the system of tract distribution; and another object is to bring every true lover of the cause of truth into a position where he can do something to help forward this cause."4
Another major theme was the importance of careful and detailed recordkeeping of literature distributed and the sending of reports and funds up through the prescribed channels from the local society to the district secretary to the state tract society secretary. To those, who, regrettably, did not see the importance of the detailed and rigorous system of reporting, Haskell said: "If we have adopted the right system as far as we have gone, and the results clearly indicate that we have, then we should heartily support it."5
Though the tract and missionary societies would thrive for decades to come, the True Missionary turned out not to be a lasting part of the system. James White had hoped for 5,000 subscriptions to come in quickly at the outset of the publication and move forward from there. However, the subscription total stalled at around 2,000. By November 1874 White concluded the True Missionary was not going to be viable as a separate publication, after all, and would be "merged in[to] the Review at the close of the present year."6 However, a substantial portion of its content would be used in the Missionary Department (section) of the new periodical Signs of the Times in 1875.
Sources
Seventh-day Adventist Encyclopedia. 2nd rev. edition. Hagerstown, MD: Review and Herald, 1996. S.v. "True Missionary."
White, James. "The True Missionary." ARH Supplement, November 25, 1873.
L[oughborough], J. N. Missionary Department. Signs of the Times, January 14, 1875 and March 25, 1875.
Notes