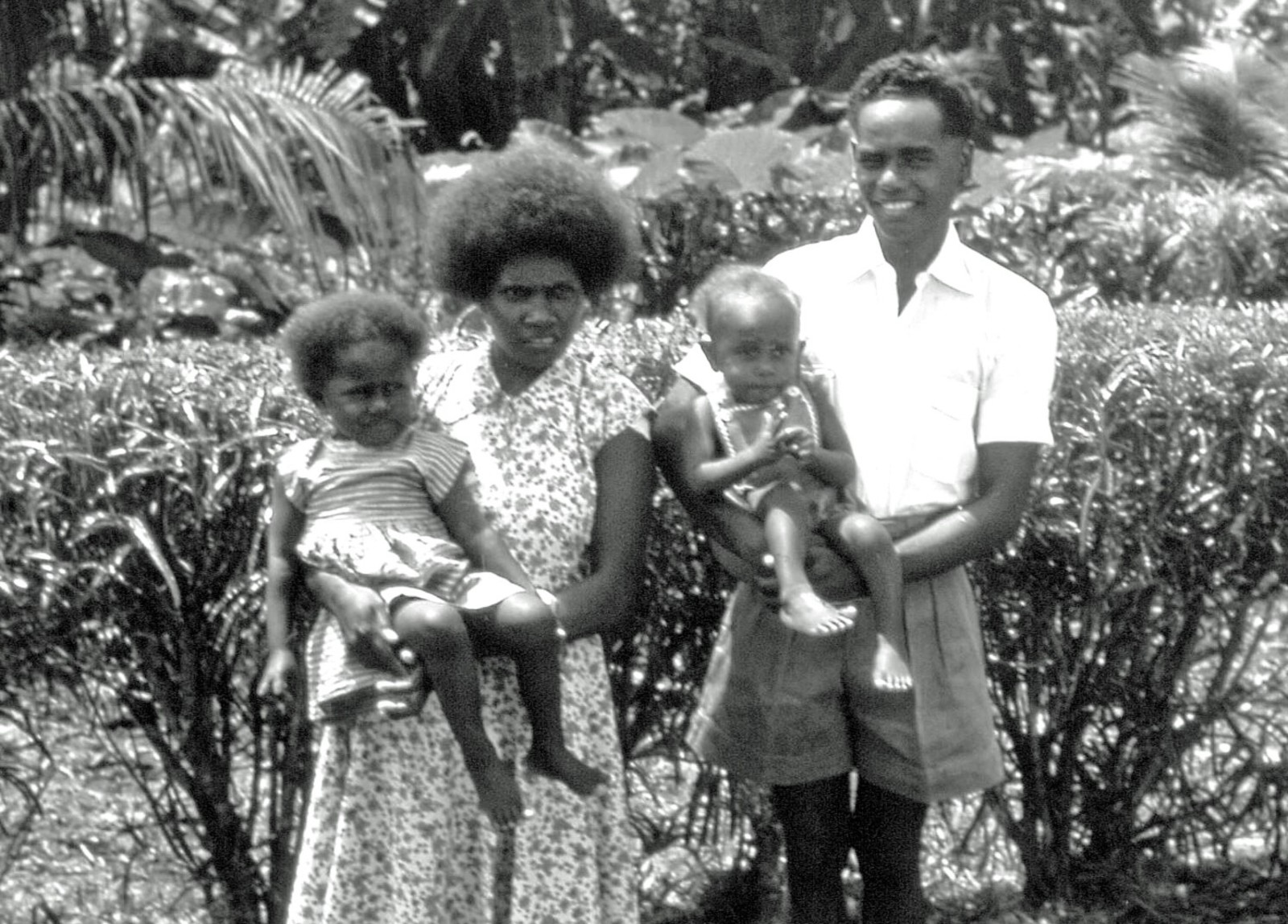 Rusa, George (1932–2003)
×
Milton Hook, Ed.D. (Andrews University, Berrien Springs, Michigan, the United States). Hook retired in 1997 as a minister in the Greater Sydney Conference, Australia. An Australian by birth Hook has served the Church as a teacher at the elementary, academy and college levels, a missionary in Papua New Guinea, and as a local church pastor. In retirement he is a conjoint senior lecturer at Avondale College of Higher Education. He has authored Flames Over Battle Creek, Avondale: Experiment on the Dora, Desmond Ford: Reformist Theologian, Gospel Revivalist, the Seventh-day Adventist Heritage Series, and many magazine articles. He is married to Noeleen and has two sons and three grandchildren.
First Published: November 18, 2020
George Rusa, a Solomon Islander, was significantly involved in the care, maintenance and operation of the fleet of mission vessels operated by the Seventh-day Adventist Church in the Solomon Islands and New Guinea Islands during the second half of the twentieth century.
Early Years
On December 24, 1932, George Rusa was born at Batuna Mission Station, Vangunu Island, Solomon Islands, and raised by his parents, Rusa and Ina, at their home village of Sobiro on Nggatokae Island.1 He had a younger brother named Pulekana. His father was a mission ship captain. Consequently, George Rusa became very familiar with boats and the waterways in vicinity of his home from an early age. He vividly remembered the Second World War years of his boyhood, moving from place to place in the forest to avoid Japanese soldiers, watching the planes go overhead on the way to battle, and occasionally burying or rescuing downed airmen. Five Seventh-day Adventist mission boats were hidden in different small rivers with dense leafy canopies. Extra precautions were taken with the pride of the fleet, the mission vessel Portal, by removing its fuel pump and injector to render it inoperative.2
In late 1947, the mission's headquarters and school were transferred to Guadalcanal Island. Rusa attended the school, named Betikama Missionary School, during 1949 and 1950. He only completed grade three elementary level. He found formal studies difficult, his aptitude being along practical lines of work. When his father visited Guadalcanal Island with the mission boat in early 1951, Rusa travelled with him back to Batuna. It was there that Jack Radley offered Rusa an apprenticeship in marine engineering. At the time, Radley was about to transfer maintenance headquarters for the mission boats from Batuna to Rugen Harbor, East New Britain, Papua New Guinea.3
A Career with Mission Boats
Rusa accepted Radley's offer and began his mission service on May 31, 1951.4 He helped to prepare two boats loaded with timber and sago palm leaves for roofing, and in October 1951 they sailed from Batuna to pioneer Rugen Harbor. Rusa was put in charge of oiling the engines during the trip. On arrival, he cleared the mangroves and forest, carried stone to build a wharf, and assisted Radley with construction of a slipway, workshop, boat shed, living quarters, and a small church.5
Rugen Harbor was operational by 1953. Radley sent Rusa to nearby Kambubu Training School for more formal instruction, but his stay was brief for in March 1954 Radley required him to join a group to go to Australia and bring back three boats from Brisbane. First, they went to Sydney and Cooranbong before boarding a train to Brisbane. It would be Rusa's only experience in a Western country. The boats, named Dani, Diari II, and Daba-reri II, sailed together up the Queensland coast to Papua New Guinea, Rusa being a crew-member of the Daba-reri II.6
In early 1955, Rusa was granted furlough. He returned to his village, Sobiro, and married Ivy Siloko.7 Together they settled at Rugen Harbor. Radley returned to Australia that same year and was replaced by Ray Masters who began some training classes for government examinations that enabled Rusa to gain his "Fifty Ton Cargo Ticket." It qualified him to captain the mission boats, just as his father had done. A few years later, Masters arranged for Rusa to take a correspondence course in marine engineering from the Brisbane Technical Institute. He scored 91% in his final theory exam. His practical exam, taken in Rabaul in 1963, involved reassembling an engine that had been taken apart and jumbled in a pile on a bench top. He amazed the examiners by putting it all back together in eight hours and starting it up to perform in perfect running order. For this exercise, he earned a Diesel Engine Operator Certificate. In 1966, he was permitted to spend some time in the Tobai Boat Yard in Rabaul, improving his carpentry and boat building skills under a Chinese tutor.8
In the years 1968 through 1972, Rusa continued to ply his skills at Rugen Harbor, broken by two special assignments. The first was a short period at Ambunti on the Sepik River to assist in the construction of the mission vessel Pathfinder II, a mobile clinic and home quarters for missionaries to service the many remote villages along the river. The second involved an air flight to Kikori in Papua in order to sail the mission vessel Vinaritokae to Rabaul for sale in 1971.9
The Rugen Harbor facilities were closed in 1972. Rusa was transferred to the Vanuatu Mission to refit their boats until 1979.10 By 1980, he was back working in the Solomon Islands Mission at Batuna. On one occasion, he was taking the mission vessel Varivato to Nissan Island with a full load of building materials when the ship's compass gave false readings and they became lost at sea. The cause of the malfunction proved to be some corrugated iron on board that threw the compass off course. Search aircraft found them after five days in high seas and a patrol boat was dispatched to guide them to safety.11 The 1980s were spent as captain of the mission vessels Lipari and Batuna Enterprise, towing logs across Marovo Lagoon for the timber mill in addition to repairing boats on the old slipway.12
Retirement
Rusa retired in 199013 and returned to his familiar home territory on Nggatokae Island. He died in Honiara Hospital on January 17, 2003. He and Ivy had been blessed with six children, Sharon, Geoffrey, Audrey, Jephthah, Joanne, and Alphie.14 The Western Pacific Island missions were fortunate to have such a skilled man as George Rusa to dedicate his life to the smooth running of their shipping. The continual transportation of personnel and supplies depended on his talents.
Sources
Andrews, Bryce. "Lost and Found." Australasian Record and Advent World Survey, August 4, 1980.
George Rusa Work Service Records. South Pacific Division of the General Conference Archives.
Rusa, George. The Floating Log. Morisset, New South Wales: Private edition by Heather Dixon, 2005.
Stephen, Adrian. "George Rusa obituary." Record, March 22, 2003.
Notes