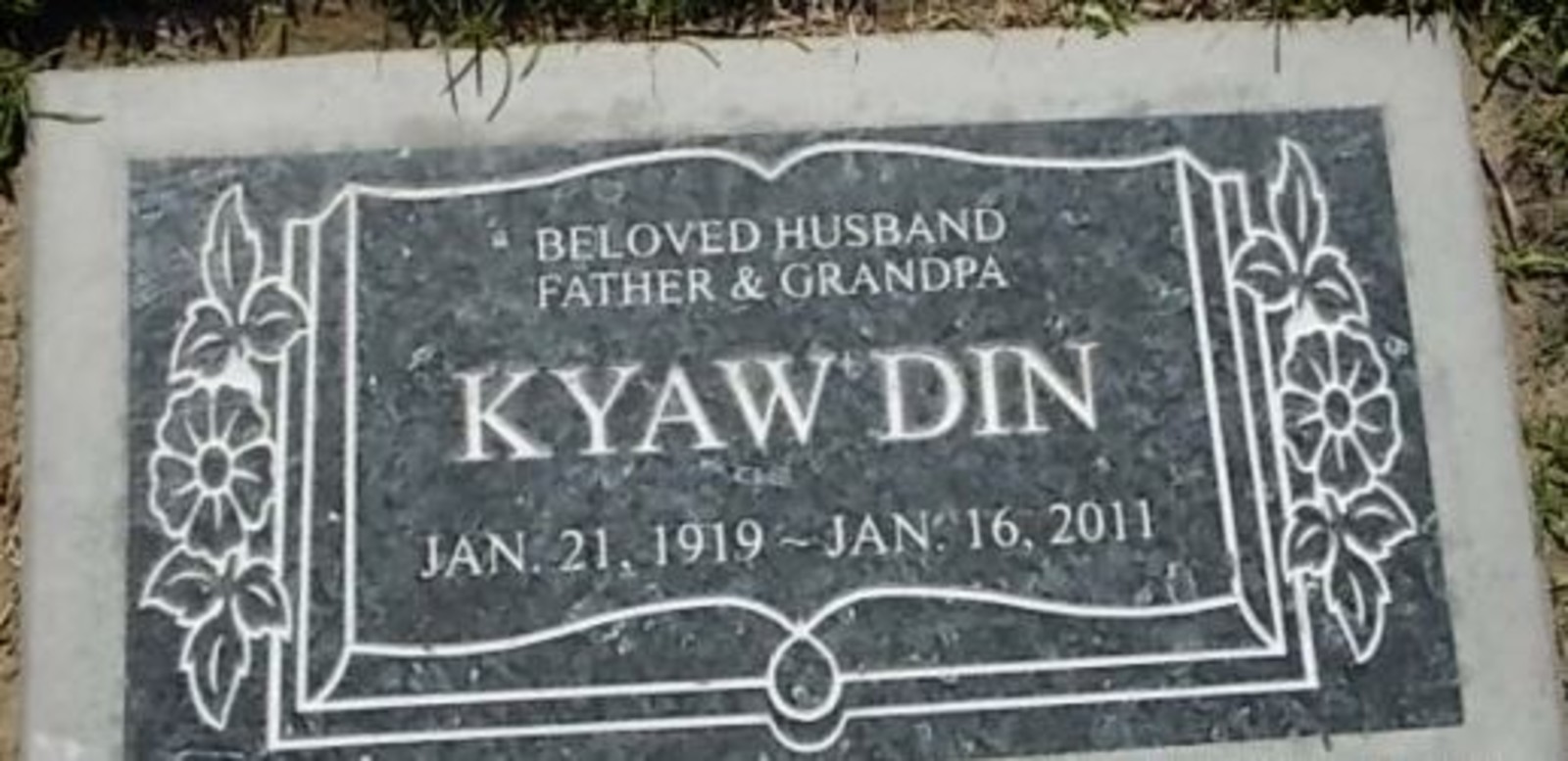 Kyaw Din I (1919–2011)
First Published: January 29, 2020
Kyaw Din I was the second national principal of the Burma Union Bible Seminary in Myaungmya and also served as the associate secretary of the Education department of the Burma Union in 1975 and 1976.
Early Life
Kyaw Din I was born in Kyon Sauth village, Kayin State, on January 21, 1919, the son of U Lu Ga Lays. Kyaw Din had four siblings: Daw Sein May, U Shwe Maung Lay, U Ba Tin Lay, and U Chit Htwe. They were the Pa-oh clan of the Karen tribe. His parents were farmers. When Kyaw Din was six years old, his family moved to Minzee Village, Hpa-an township.
Education and Marriage
Minzee village is in an isolated area, so Kyaw was not able to attend school until he was 11. Then, he went to Ohndaw Adventist School, where he finished standard 8. After that, he attended Meiktila Technical School and passed the government exam for standard 10. To pay for his schooling, he worked four hours a day during the week and eight hours on weekends except during Sabbath hours. Even so, he skipped some grades and was on the honor roll.1
Kyaw Din was baptized in 1934. He married a nonbeliever, Ms. Ohn Sein, on December 1, 1943. His wife was baptized in 1945. She was a nurse by profession. They were blessed with three children: Ruby Din (b. November 4, 1944), Darlington Din (b. March 6, 1949), and Victor Din (b. June 22, 1960).
He took an advanced bookkeeping course in Yangon with support from the Burma Union Mission in 1947.2 He furthered his education at the government adult college in Yangon Arts and Science University and finished intermediate arts in 1956. In addition, he studied business accounting at Yangon Business School and obtained the diploma of accounting.3
Career/Ministry
Kyaw Din began his mission service in 1941 at Chaung Sauk as a teacher evangelist. He was a product of Meiktila Training School. During World War II (1942–1945), he went through a miraculous survival and escape in Myaungmya, Ayeyarwady Region. After the mission work resumed after the war, he was assigned to work in the church institutions.4 In the early reorganizing and distribution of mission work, he was assigned to be the bookkeeper for the Book Depot and a part-time school teacher in Yangon.5
He served in the church as secretary-treasurer of Irrawaddy Delta Mission Field (now Ayeyarwady Mission) from 1947 to 1949.6 He was then called to serve as the accountant for the Rangoon Mission Hospital in 1949. He continued in that position until 1956, when he began to serve as the hospital's business manager. He remained there until 1963.7
In 1964, he was nominated to be the secretary-treasurer of the Tenasserim Section of the Burma Union, and he served in that position for one year while also being the secretary of the Educational and Young Peoples Missionary Volunteer (Y.P.M.V.) departments.8 His service was suspended by the Burma Union Committee from April 1964 to April 1967 because of his children's Sabbath problem.9 During that break, he worked as an English teacher in the government school at Myaungmya.
Kyaw Din was called back for mission service on May 1, 1967, as an evangelist. After being an evangelist for two years (1967–1968), he became an instructor at what was then called the Burma Union Bible Seminary for two years (1969–1970).10 He was ordained for the gospel ministry on December 22, 1970.11 Then, from 1971 to 1973, he served as the principal and director of the Burma Union Bible Seminary.12 In 1974, he was assigned as building supervisor for the Myanmar Union, a post equal to director of the seminary.
Kyaw Din was appointed as the associate secretary of the Education department of the Burma Union for two years (1975–1976).13 He served in the reading committee of Burma Union that oversaw and checked all the books that had been translated from English into Burmese.14 He retired in April 1977.15
Later Life
Kyaw Din immigrated to the United States of America in 1985. He peacefully passed away on January 16, 2011 at the age of 92.
Sources
Guild, Cecil. B. "Burma Constituency Appoints Youthful Leaders." Southern Asia Tidings 66, no. 2 (February 1971).
———. "Eleven Ordained in Burma." ARH, March 4, 1971.
Minutes of the Burma Union Mission Committee. 1946; 1947; 1964; 1967;1975; 1976. Myanmar Union Archives.
Seventh-day Adventist Encyclopedia. Washington, D.C.: Review and Herald Publishing Association, 1976.
Kyaw Din I Service Records, Myanmar Union Archives. Document: "Kyaw Din I."
Yearbook of the Seventh-day Adventist Denomination. Washington, D.C.: Review and Herald Publishing Association, 1964.
Notes