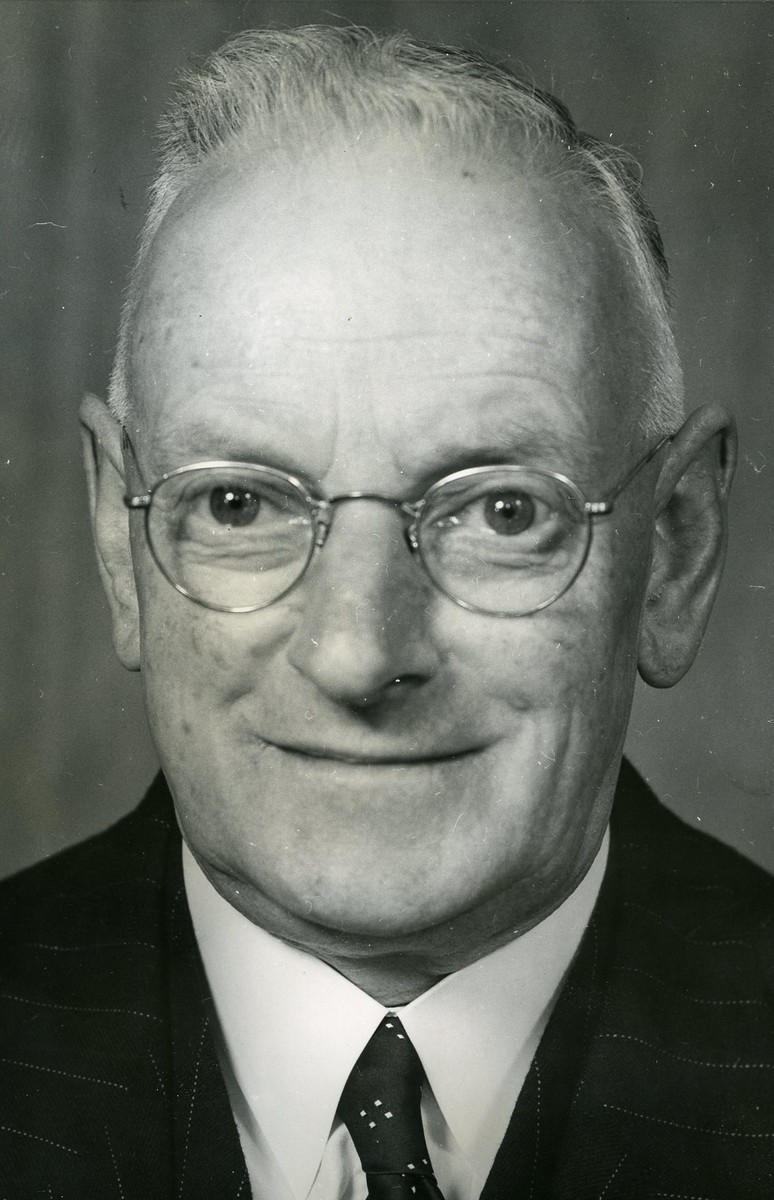 Blair, Ross Ewin Goodall (1891–1979)
×
Milton Hook, Ed.D. (Andrews University, Berrien Springs, Michigan, the United States). Hook retired in 1997 as a minister in the Greater Sydney Conference, Australia. An Australian by birth Hook has served the Church as a teacher at the elementary, academy and college levels, a missionary in Papua New Guinea, and as a local church pastor. In retirement he is a conjoint senior lecturer at Avondale College of Higher Education. He has authored Flames Over Battle Creek, Avondale: Experiment on the Dora, Desmond Ford: Reformist Theologian, Gospel Revivalist, the Seventh-day Adventist Heritage Series, and many magazine articles. He is married to Noeleen and has two sons and three grandchildren.
First Published: December 8, 2021
Ross Ewin Goodall Blair was a secretary/treasurer for several conferences and sales manager for the Signs Publishing Company in Warburton.
Ross Ewin Goodall Blair, becoming known as "Reg" because of the initials of his given names, was born on February 12, 1891, in Milton, Otago District, New Zealand, to Hugh and Elizabeth Janet (Goodall) Blair. He was the eldest of the children. His five sisters were Isabella Murphy (b.1893), Wilhelmina Mary May (b.1895), Robina Ruby Ruth (b.1899), Jessie Connell (b.1903) and Latta (b.1908).1 It is thought his parents were Presbyterians but his mother converted to Seventh-day Adventism, chiefly persuaded by reading copies of The Bible Echo and Signs of the Times.2 Ross himself was baptised as a thirteen-year-old in 1904.3 At his own request he was later re-baptised, coming to better understand its significance.4
Church Career
The Blair family had moved north to Wellington when Ross was a babe and in 1906 he began work in the office of the New Zealand Tract Society in Wellington. In 1911 he received a transfer to the Australasian Union Conference (AUC) office, Wahroonga, Australia, arriving in Sydney on December 5.5 For fifteen months he served in the headquarter's office before filling a temporary vacancy in the New South Wales Tract Society office.6 At the AUC Annual Council of September/October 1913 he was appointed to transfer to the Western Australian Conference to fulfil the role of secretary/treasurer.7 All his training was in-service rather than through formal college studies.
On December 9, 1914, Ross married Irene Mabel Sharp in the Perth Seventh-day Adventist church. The ceremony was performed by the Western Australian Conference president, Elder Albert Piper.8 Ross and Irene had worked together in the New Zealand Conference office when she was secretary/treasurer of the Tract Society.9 At the next Western Australian Conference session, 1915, Irene's experience was utilised when she was elected as the Western Australian Tract Society secretary/treasurer.10
At the September/October 1919 AUC Council Ross was appointed to transfer from Western Australia to the Tasmanian Conference and serve as their secretary/treasurer.11 He spent three years in this role before connecting with the South New South Wales Conference for one year12 followed by a further transfer to the newly-formed North New South Wales Conference office for five years.13
After many years as secretary/treasurer in various conferences Ross agreed to accept the role as sales manager for the Signs Publishing Company in Warburton, Victoria. He held this position for seven years, 1927 through 1934, a difficult period that included the Great Depression.14 During this time he attended the 1930 AUC Quadrennial Session in Melbourne. He took along a leather case full of glass lantern slides depicting hymns for the meetings and some advertising of the company's wares. An opportunist stole the case from behind a book display, possibly thinking its weight indicated it contained bundles of coins. A season of prayer was called and a few days later the case was found in a vacant lot far from the meeting hall. Everything was returned intact by the police and more prayers followed as thanks.15
In 1935 Ross returned to the North New Zealand Conference as secretary/treasurer.16 Headquarters for the conference had moved to Auckland since he had begun his career as a teenager in the church office in Wellington. For almost fourteen years he served in Auckland, a time of family fellowship in view of the fact that Irene's parents were living there also, Elder Frederick Sharp being a member of the conference team. They were able to witness the ordination of Ross in 1943.17
On one occasion Ross sent his office boy to the bank with a small case of coins, cheques and banknotes, on the back of a bicycle. Unbeknown to the lad the case flew open and the cheques and notes scattered everywhere in the wind. Discovering his dilemma on arrival at the bank the hapless lad told the manager who then phoned Ross to break the news. Ross immediately set out for the bank to cancel the numbered cheques, picking up a few notes on the way. Prayers in the office were held and gradually honest people found every cheque and note and handed them in at the bank.18
A return to the North New South Wales Conference as secretary/treasurer in 1948 proved to be a temporary term of only ten months because when the Trans-Commonwealth Union Conference was formed in 1949 he was appointed to be the auditor and secretary/treasurer for the new entity, offices being located in Melbourne, Victoria. He held this position until his retirement, so called, in March 1959. For the next eleven years, 1959 through 1970, Ross was happily engaged as manager of the Coronella Homes for the Aged at Nunawading, suburban Melbourne, on the basis that his and Irene's accommodation would be subsidised.19 While resident at Nunawading Irene passed away on November 26, 1966. Ross and Irene had two children, Russell and Elma, both church school teachers.20
Full Retirement
After sixty-four years in church employ and with Irene deceased Ross chose to live with his son-in-law and daughter, Elder Leslie Coombe and wife Elma. He passed away in the Sydney Adventist Hospital on September 25, 1979, aged in his eighty-ninth year.21 He was laid to rest in the Avondale Memorial Cemetery, Cooranbong, New South Wales.22
Sources
"Brother R.E.G. Blair…" Australasian Record, March 24, 1913.
Brother Ross Blair, who for some years…" Australasian Record, December 18, 1911.
"Distribution of Labour." Australasian Record, October 13, 1913.
"Distribution of Labour." Australasian Record, October 27, 1919.
"Distribution of Labour." Australasian Record, October 16, 1922.
Jorgensen, A[lfred] S. "Ross Ewin Goodall Blair." Australasian Record and Advent World Survey, December 10, 1979.
Judd, T[homas] F. "Irene M. Blair." Australasian Record and Advent World Survey, January 30, 1967.
"On the afternoon of Wednesday…" Australasian Record, January 11, 1915.
Piper, A[lbert] H. "Western Australian Conference." Australasian Record, December 6, 1915.
Piper, H[arold] E. "Elizabeth Janet Blair." Australasian Record, November 4, 1935.
"Ross Ewin Goodall Blair." FamilySearch.org, Intellectual Reserve, 2020. Retrieved from https://www.familysearch.org/tree/pedigree/landscape/G91C-TPV.
Seventh-day Adventists Yearbooks. Washington, D.C.: Review and Herald Publishing Association, 1909-1958.
Uttley, S[tuart] M. "Life Sketch of Ross Ewin Goodall Blair." Australasian Record and Advent World Survey, December 10, 1979.
Notes