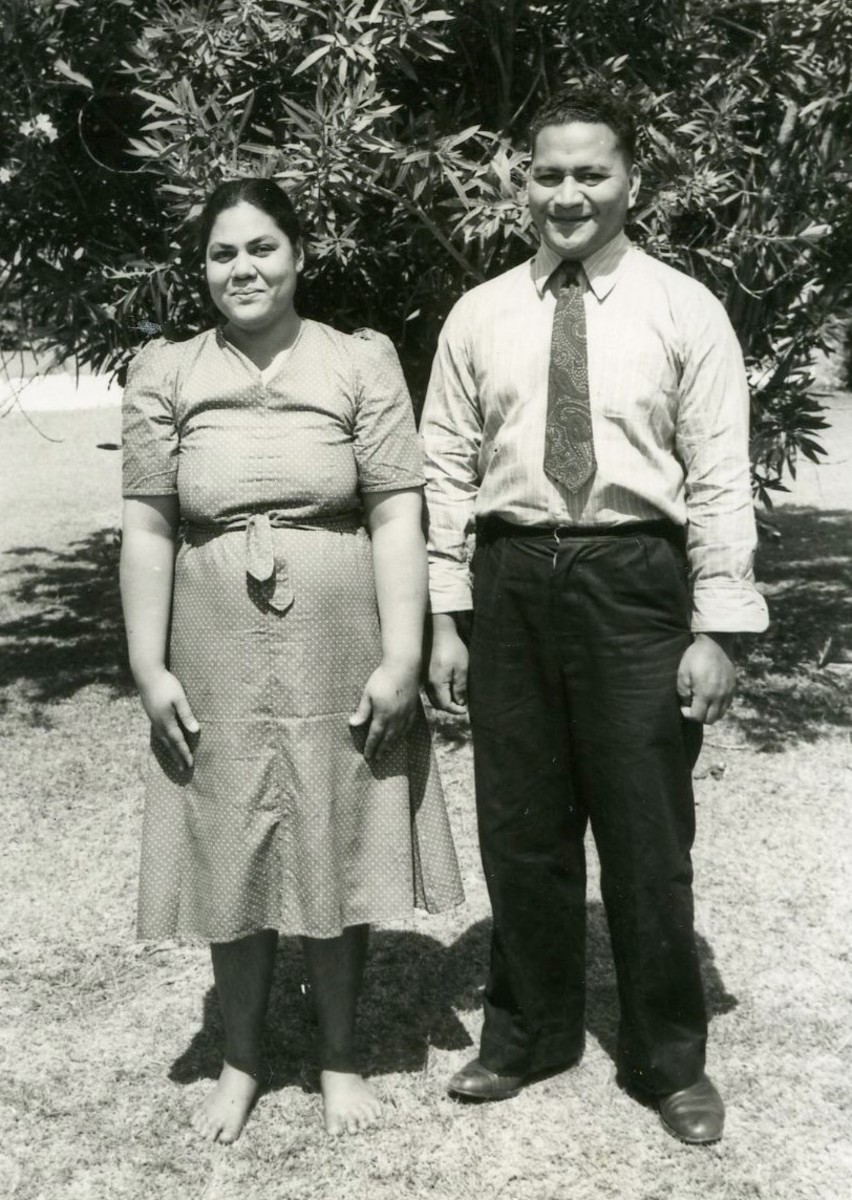 Moala, Henele Foti (1921–1984)
×
Milton Hook, Ed.D. (Andrews University, Berrien Springs, Michigan, the United States). Hook retired in 1997 as a minister in the Greater Sydney Conference, Australia. An Australian by birth Hook has served the Church as a teacher at the elementary, academy and college levels, a missionary in Papua New Guinea, and as a local church pastor. In retirement he is a conjoint senior lecturer at Avondale College of Higher Education. He has authored Flames Over Battle Creek, Avondale: Experiment on the Dora, Desmond Ford: Reformist Theologian, Gospel Revivalist, the Seventh-day Adventist Heritage Series, and many magazine articles. He is married to Noeleen and has two sons and three grandchildren.
First Published: December 25, 2021
Henele Foti Moala was a teacher in Tonga, Gilbert and Ellice Islands, and American Samoa, and a minister in Tonga and New Zealand.
Early Life
Henele Foti (Henry Ford) Moala, son of Luceane, was born in 1921 in Tonga.1 A Ford motor car, the first vehicle imported to Tonga, was a novelty at the time and prompted his naming. When his father abandoned Luceane and she married Semisi Moala he was adopted by Semisi as an infant with the Moala surname. Seven siblings were subsequently born into his Seventh-day Adventist home, established mainly on Vava'u and Ha'ano lslands in Tonga where his adopted father was working as an evangelist. They had no money for higher education so Henele trained as a teacher at the Nuku'alofa government college. After graduation he began his teaching career in the government service.2 On May 19, 1941, Henele married Taumohe. A Free Church of Tonga minister performed the ceremony.3
Ministry
The first time Henele was mentioned in denominational sources occurred in 1947 as headteacher at Beulah College, Vaini, on Tongatapu Island.4 Having natural Polynesian musical talent Henele readily adopted the additional role of conducting the college choir, rendering John Stainer's oratorio "The Crucifixion" for the 1948 graduation service.5
In 1949 Henele accepted a transfer overseas to the Cook Islands Training School (later Papa'aroa College). He began as assistant teacher to the headmaster, Donald Watson, and remained for six years.6
A further transfer occurred in 1955 when Henele and his young family sailed to Abemama in the Gilbert Islands (later Kiribati). It was an isolated outpost, their first leg of the journey taking them to Fiji. On April 21 they departed Fiji aboard the little inter-island trading boat "Tungaru," arriving safely to take up duties. The mission cause had struggled for years under adverse government regulations but by the time Henele started work the difficulties had eased, enabling a strong educational program to be established in the Gilbert and Ellice SDA Missionary School (later Kauma Adventist High School).7 By the time he completed six years at the institution Henele was serving as the headteacher. It had grown to the extent that two local assistants were employed and Taumohe was contributing as matron.8
Henele and his family returned to teach at Beulah College, Tonga, during 1962 and 1963. At the same time he served on the executive committee of the Tongan Mission.9 Once again, Henele accepted an overseas appointment, sailing to American Samoa where he was headmaster at the Satala mission school for two years, 1964 and 1965.10 Returning to Tonga he became involved in pastoral work and was ordained in 1971.11 He was appointed to the most southerly island of the Tongan group, Eua Island, nurturing the members and initiating the construction of an attractive two-story mission home and church.12 Later, back in Tonga, he ministered on Vava'u Island and finally at Vaini church on Tongatapu Island.13
At sixty years of age Henele decided to go to Auckland, New Zealand, and gather together a group of church members who had migrated from Tonga. He arrived in 1982 and volunteered his services. His fellow countrymen were officially formed into a company, meeting each Sabbath in a part of the Ponsonby church. The venture proved to be his final achievement for the cause he loved. He passed away in Auckland on October 9, 1984, and was laid to rest in the Mangere Public Cemetery. Eighteen ministers from other denominations attended the services, an indication of the high esteem which he had generated in the community over such a brief period. Left to mourn were Taumohe and their five children, Lute (Ruth), Taniela (Dan), Makaleta (Margaret), Lusi (Lucey) and Enitoni (Anthony).14
After Henele's death Taumohe eventually moved to Sydney, Australia, to be with family members.15 She passed away peacefully in September 2000 and was interred in the Avondale Memorial Cemetery at Cooranbong, New South Wales.16
Sources
Cernik, J[ohn]. "No Longer Cinderella." Australasian Record, September 20, 1948.
Ferris, W[alter] G. "Soul Goal Exceeded on Division's Rim." Australasian Record and Advent World Survey, January 2, 1961.
Howse, E[ric] W. "A Significant Sailing for the Gilbert and Ellice Islands." Australasian Record and Advent World Survey, June 20, 1955.
Millsom, R[eginald] A. "Faith and Mountains - In American Samoa." Australasian Record and Advent World Survey, August 2, 1965.
Murray, Betty. "The House That Many Jacks Built." Australasian Record and Advent World Survey, March 17, 1980.
Piper, H[arold] E. "Visiting Tonga." Australasian Record, September 8, 1947.
"Taumohe Moala." Find A Grave Memorial, 2020. Retrieved from https://www.findagrave.com/memorial/209277620/taumohe-moala.
Thompson, C. R. "North to the Gilberts." Australasian Record and Advent World Survey, January 4, 1960.
Watson, D[onald] H. "The Cook Islands Training School." Australasian Record, August 15, 1949.
Way, Ritchie. "Henry Foti Moala." Australasian Record and Advent World Survey, November 10, 1984.
Notes