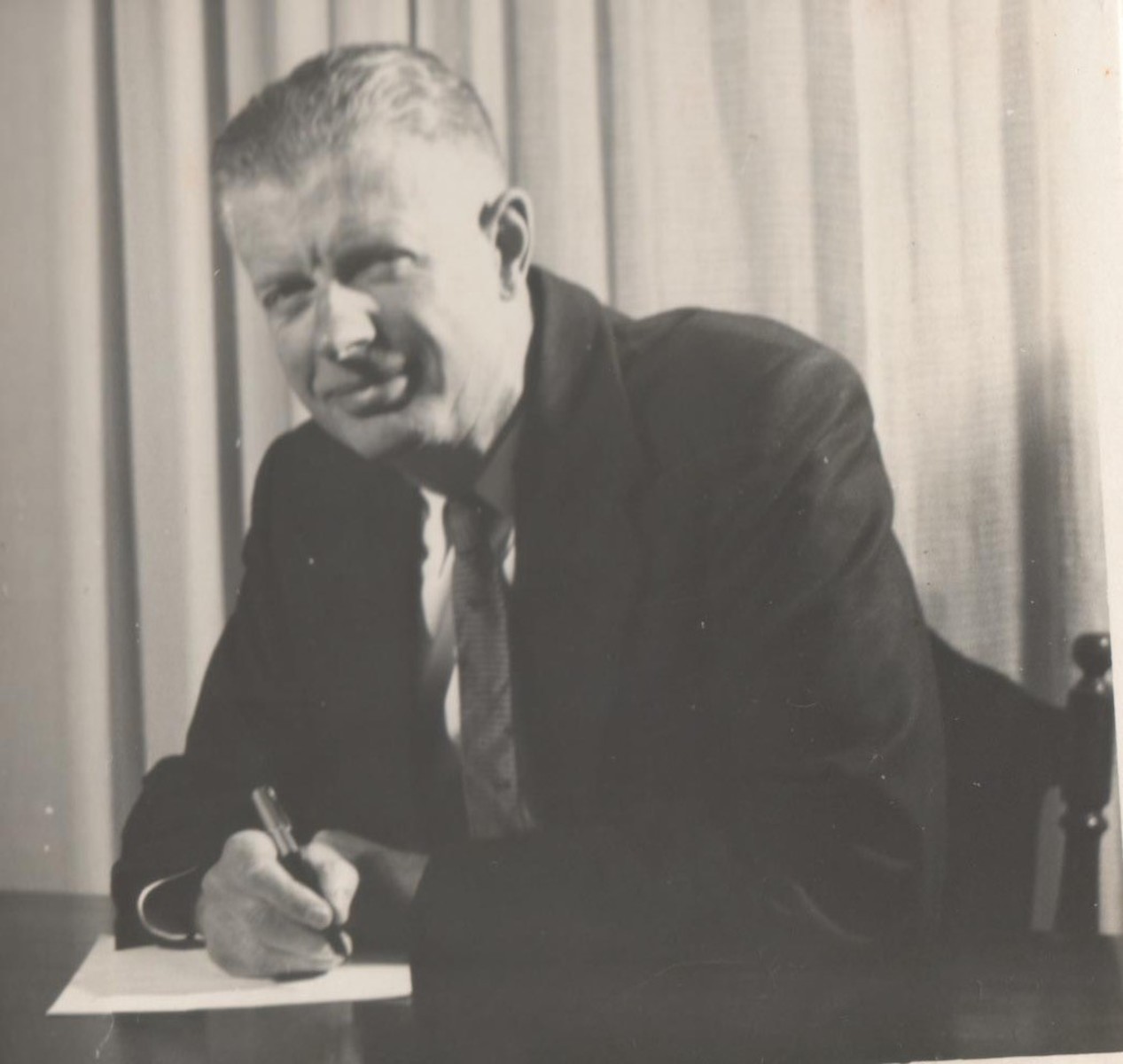 Clapham, Noel Pavitt (1917–1994)
×
Shirley Tarburton, M.Litt. (Distinction) (University of New England, Armidale, New South Wales, Australia) retired in 2008 after 40 years teaching church-school (mainly high school but including eight years at university). An Australian, she has taught in four mission fields, Australia, and New Zealand. She has authored five books and co-authored one on church history, biography and family history, as well as several magazine articles. She is married to Dr. Michael Tarburton with two adult children and four grandchildren.
First Published: January 29, 2020
Doctor Noel Pavitt Clapham, Ph.D., Dip. Ed. Admin., was a Seventh-day Adventist (SDA) educator who spent more than three decades lecturing at Avondale College in New South Wales, Australia, also contributing strongly to the music program of the college and in the community.
Background and Early Life
Noel Clapham was born in Hastings, New Zealand on March 31, 1917.1 He was the second child of George Spencer Clapham (March 22, 1876 - November 23, 1918),2 and his wife, Beatrice Jane Greenfield (January 1877 - January 30, 1953).3 His older brother was Eric Spencer Clapham (January 31, 1914 - February 17, 2010).4
His mother had been brought up as an SDA after about eleven years of age. At that time, Pastor A. G. Daniells ran his second series of evangelistic meetings in a tent in Napier.5 Beatrice and her friends crawled under the side of the tent to see what was going on and Pastor Daniells invited them to come to the meetings. She came back with her mother, who joined the church and attended with her three girls.6 Beatrice trained as a nurse and served as the matron of the Christchurch SDA Sanitarium. To obtain further training, she studied and worked at the Sydney Sanitarium (San) under the Doctors Kress and was a member of the San's third graduating class.7 By the time she married George Clapham (a Hastings businessman) in 1912, she was thirty-five years old.
Her younger sister married William G. Turner (a long-time SDA Church administrator), the elder married Alexander T. Brown, both SDAs, but Beatrice's husband, George, was a member of his father's church, an Anglican.8 Nevertheless, there was no religious conflict in the home. However, when Noel was just twenty months old, his father died of influenza in the 1918 world-wide pandemic.9 Beatrice and her boys went to live with her parents in Hastings, and later, with Beatrice's widowed sister and family in Paremata, Wellington.
Education
In Paremata, Noel completed his elementary schooling.10 His secondary schooling was obtained at a college in Wellington, where he gained his university entrance certificate.11 Following this, in 1934, he spent a year at New Zealand Missionary College, Longburn, studying Bible subjects.12 Here, he particularly appreciated the influence of the preceptor, Harry Streeter, and the time there consolidated his faith.13
He then enrolled at Victoria University College in Wellington and completed a bachelor of arts degree in 1940.14 In 1941, Noel attended the Australasian Missionary College at Avondale in Australia, taking education subjects. With the credits gained through his BA degree, at the end of the year he was able to graduate from the teaching course and received his teaching diploma.15
Commencing Teaching
Noel began his teaching career at West Australian Missionary College (WAMC) at Carmel, Western Australia, in 194216 and taught there until the end of 1947.17 In 1946 he also supported the program of the Advent Correspondence School.18 During this time, while carrying a full teaching load, he worked on his Master of Arts degree at the University of Western Australia and completed it in 1947.19 WAMC, being a boarding college, enabled Noel to interact with students outside of school hours, at which time he gave expression to his love of music by conducting a chorus20 and teaching singing and voice training.21 Boys could often be found in his apartment listening to the music of great musicians being played on his record player.22
Marriage and Family
At the beginning of the 1946 school year, a new music teacher arrived at WAMC. Joyce Virgo Ashton (Joy) was born in Tauranga, New Zealand on February 13, 1920.23 She was the youngest of the five children of Maurice Ashton (1879-1965)24 and his wife Ann Smithson (1877-1961).25 In 1906, Maurice and Ann with their infant daughter, Doris, emigrated to New Zealand from England on the Corinthic.26 They spent the first few years in Ashburton on the South Island, where their next four children were born, but by the time Joy was born, fourteen years later, they had moved to Tauranga in the north of the North Island.27 Joy's siblings were Doris (August 15, 1905 - May 30, 2002) who married William Lloyd Willis in 193428; Nora (1906 - November 28 1980) who married Pastor Thomas Stewart Brash in 194229; Florence (1907 - September 19, 1995) who married Kenneth William Last in 194530; Sedman Stanley (April 16, 1909 - August 27, 1998) who married Olive Costar in 194431; and John (1910 - 1910).32
Joy, who was an accomplished musician (held licentiate performance and teaching diplomas from the Royal Schools of Music and Trinity College, London) had been teaching for two years at New Zealand Missionary College at Longburn, NZ, but requested a transfer to a warmer climate for health reasons.33 She and Noel met at the North New Zealand Camp Meeting in 1940 when she played the piano accompaniment for Noel's violin solo during one of the meetings.34 Their renewed acquaintance culminated in their marriage in the Bickley SDA church on January 7, 1947.35 Two children were born to the marriage, Bronwyn and John.
Career
At the end of 1947, Noel transferred to Australasian Missionary College (AMC) at Avondale, New South Wales.36 Here, his initial responsibility was teaching English for the Teacher Training Department,37 with history being added later.38 However, right from the start he participated in many other aspects of the college program such as the Appeal for Missions collection campaign,39 support for social activities40 and, as would be expected, the Avondale Symphonic Choir.41
In 1949 he was involved in the establishment of the college yearbook, the Jacaranda, which is still an important publication of the college 70 years later.42 Then at the end of December, 1949, he was involved in helping provide special music for the first SDA Youth Congress held in the Australasian Division.43 In 1951 he took on the leadership of the Avondale Brass Band, and also pioneered the establishment of a chamber orchestra at the college.44 When George W. Greer, the music director, left, Noel stepped into the breach in 1952 and took on that responsibility in addition to his already full program45 holding it until Alan Thrift took over as the college Director of Music in 1957.46 Noel then accepted directorship of the choir of the Avondale Village Church.47
During 1962-3 he engaged in distance education with the University of New England while continuing his teaching at Avondale and completed his Diploma in Educational Administration.48 Then, in August of 1964 the Clapham family moved to Nebraska, USA, where he taught part-time at Union College while studying at the University of Nebraska for a doctorate in Modern European History.49 Upon the completion of this degree, he rejoined the faculty of Avondale College at the commencement of the 1968 academic year.50 He was appointed as head of the Humanities Department and retained that position until he retired at the end of 1982.51
Throughout his career at Avondale, Dr. Clapham took a strong interest in supporting other aspects of Avondale College's program. In 1969 he instituted a public appeal to provide a swimming pool at the college. He, himself, had been a life-saving instructor for the college branch of the Royal Life Saving Club, and wanted better facilities for training lifesavers than those provided by nearby Dora Creek.52 He spoke at the first Avondalian's Reunion in August 196953 and regularly contributed to the program of subsequent homecomings.54 In 1972 he joined Pastor Arch Hefren in running an evangelistic outreach program in Kanwal.55 In 1973 he ran a School for the Enjoyment of Music in association with the Australasian Division Festival of Music and Art, which was held at Avondale College in December of that year.56 He also taught supporting subjects in summer schools featuring international scholars, run by the college.57
Retirement and Death
After 41 years of employment, most of them at Avondale College, he retired on December 31, 1982.58 Avondale College acknowledged his contribution by bestowing on him the title of Senior Lecturer Emeritus, the first person to be so honored.59 He remained intellectually active, continuing to teach part-time at the college60 and taking on a number of research and writing projects, the first of which was a book commemorating the 100th Anniversary of the Adventist Church in Australia and New Zealand. He accepted the task of chief editor in 1983,61 and the book, Seventh-day Adventists in the South Pacific 1885-1985, was published in 1985, the centenary year.62
In October 1985, he participated in the first Adventist History Symposium to be held in the South Pacific Division, by presenting a paper entitled, "Local Option in Australia."63 He also presented a paper at the second Symposium,64 which was held in 1988, on the topic of "Australian and New Zealand Missionaries to Asia."
In 1987 he was asked to write a chapter about the Seventh-day Adventist Church for a comprehensive resource book on different faith groups in Australia, that was being prepared as part of the commemoration of the nation's bicentennial to be celebrated in 1988.65 The book, Many Faiths: One Nation, edited by Professor Ian Gilman, became available in March, 1988.66 Also in 1987, Dr Clapham was commissioned to write a history of Avondale College.67 The project took a lot of time and effort in his last years but was interrupted by illness68 and was never finished.69
He had an active interest in issues arising in the church, and between 1990 and 1994, had a number of "Letters to the Editor" published in the Record, his last being published in the October 15, 1994 issue.
Just two months after making his last presentation as a guest-lecturer at Avondale College, Dr Noel Pavitt Clapham died at home in Cooranbong on December 8, 1994. His final illness had been impacting his life since 1976 but it says much for his dedication and commitment that he refused to allow it to prevent him from contributing in any way he could.70
Notes
Bronwyn Slade, e-mail message to author, September 28, 2017.↩

Ibid.↩

Ibid.↩

Ibid.↩

H. S. Streeter, "Clapham, Beatrice Jane." Australasian Record, March 23, 1953, 7.↩

Bronwyn Slade, e-mail message to author, September 28, 2017.↩

H. S. Streeter, "Clapham, Beatrice Jane." Australasian Record, March 23, 1953, 7.↩

Bronwyn Slade, e-mail message to author, September 28, 2017.↩

Ibid.↩

Ibid.↩

Noel Pavitt Clapham, Worker's Biographical Record. South Pacific Division of the General Conference Archives. Folder: "Clapham, Noel Pavitt." Document: "Worker's Biographical Record."↩

Ibid.↩

Bronwyn Slade, e-mail message to author, September 28, 2017.↩

Noel Pavitt Clapham, Worker's Biographical Record. South Pacific Division of the General Conference Archives. Folder: "Clapham, Noel Pavitt." Document: "Worker's Biographical Record."↩

Ibid.↩

"Nominations, Appointments and Transfers." Australasian Record, October 6, 1941, 8.↩

"Appointments and Transfers, 1947 Annual Meeting." Australasian Record, October 20, 1947, 8.↩

A. W. Anderson, "The Advent Correspondence School." Australasian Record, September 9, 1946, 8.↩

Bronwyn Slade, e-mail message to author, September 28, 2017.↩

A. W. Westerman, "Inspecting Church Schools in West Australia." Australasian Record, August 31, 1942, 6.↩

"Omission." Australasian Record. July 5, 1943, 7.↩

Ibid.↩

Bronwyn Slade, e-mail message to author, September 28, 2017.↩

N. E. Bolst, "Ashton." Australasian Record, January 31, 1966, 14.↩

C. T. Potter, "Ashton." Australasian Record, December 4, 1961, 14.↩

https://jeandavidisabellaandjohn.files.wordpress.com/2011/06/balfour-shipping-list.jpg accessed January 8, 2019.↩

Bronwyn Slade, e-mail message to author, September 28, 2017.↩

Gary Roberts, Athal Tolhurst, Lloyd Willis, "Willis." Australasian Record, January 31, 2004, 15.↩

Robert Granger, "Brash." Australasian Record, February 9, 1981, 15.↩

Ron McGrath, Merv Chapman, "Last, Florence." Australasian Record, October 21, 1995, 14.↩

Jan Veld, Bryan Vickery, "Ashton, Sedman Stanley." Australasian Record, October 3, 1998, 13.↩

New Zealand Death Registrations, 1910 No. 14881.↩

Bronwyn Slade, e-mail message to author, September 28, 2017.↩

Ibid.↩

G. W. Rollo, "Clapham – Ashton." Australasian Record, February 10, 1947, 7.↩

"1947 Annual Meeting, Appointments and Transfers." Australasian Record, October 20, 1947, 8.↩

B. H. McMahon, "Education Department Government Commendation." Australasian Record, August 16, 1948, 5.↩

"Faculty." Australasian Record, September 10, 1951, 7.↩

N. P. Clapham, "Australasian Missionary College Appeal for Missions £600 in Excess of 1947 Figures." Australasian Record, May 10, 1948, 4.↩

John Trim, "Ethics Week." Australasian Record, July 25, 1949, 3.↩

N. P. Clapham, "Avondale Symphonic Choir, Southern Tour." Australasian Record, November 8, 1948, 4-5.↩

N. P. Clapham, "Avondale." Australasian Record, October 24, 1949, 6.↩

Mrs T. W. Hammond, "The Congress Opens." Australasian Record, January 30, 1950, 2.↩

N. P. Clapham, "Avondale Rebuilding." Australasian Record, September 10, 1951, 4.↩

Constance M. Greive, "Avondale Fulfilling Its Purpose." Australasian Record, December 14, 1953, 6-7.↩

Brenton Stacey, "Record Number Graduate at Avondale." Australasian Record, January 23, 2016, 9↩

"It seemed appropriate . . ." Australasian Record, May 30, 1960, 8.↩

"Special congratulations . . ." Australasian Record, May 27, 1963, 16.↩

"Brother N. P. Clapham . . ." Australasian Record, August 17, 1964, 16.↩

"Some time ago. . ." Australian Record, March 11, 1968, 16.↩

Noel Pavitt Clapham, Sustentation Application. South Pacific Division of the General Conference Archives. Folder: "Clapham, Noel Pavitt." Document: "Sustentation Application."↩

Milton Hook, Avondale: Experiment on the Dora. (Cooranbong, NSW: Avondale Academic Press, 1998), 255.↩

"Avondalians Reunion." Australasian Record, August 18, 1969, 14.↩

"A Homecoming highlight . . ." Australasian Record, September 4, 1982, 16.↩

K. S. Parmenter, "Headquarters Men are Evangelists." Australasian Record, June 3, 1972, 12.↩

M. G. Townend, "Festival of Music." Australasian Record, June 18, 1973, 18.↩

Dr John Cox, "Renowned Scholar to Teach at Avondale Summer School December 28 - January 5." Australasian Record, November 16, 1981, 12.↩

"Roll of Honour." Australasian Record, June 4, 1983, 14.↩

"Dr Noel Clapham, . . ." Australasian Record, February 11, 1995, 12.↩

Milton Hook, Avondale: Experiment on the Dora. (Cooranbong, NSW: Avondale Academic Press, 1998), 195.↩

Russell Kranz, "Eyes on '85." Australasian Record, December 24, 1983, 7.↩

Alan Holman, "The Book of the Century!" Australasian Record, July 6 1985, 1.↩

G. E. Garne, "History Makes History." Australasian Record, November 30, 1985, 1.↩

Reg Brown, "Division Preserves Local History." Australasian Record, December 17, 1988, 10.↩

"Bicentenary Article." Australasian Record, February 21, 1987, 16.↩

https://www.amazon.com/Many-Faiths-One-Nation-Denominations/dp/0732224063 accessed January 13, 2019.↩

"Avondale's History." Australasian Record, July 18, 1987, 9.↩

"Avondale History." Australasian Record, September 21, 1991, 9.↩

Milton Hook, email message to author, January 12, 2019.↩

"A 'Christian Gentleman' Dies." Australasian Record, February 11, 1995, 12.

Sources

"1947 Annual Meeting, Appointments and Transfers." Australasian Record, October 20, 1947.

"A 'Christian Gentleman' Dies." Australasian Record, February 11, 1995.

"A Homecoming highlight . . ." Australasian Record, September 4, 1982.

Anderson, A. W., "The Advent Correspondence School." Australasian Record, September 9, 1946.

"Appointments and Transfers, 1947 Annual Meeting." Australasian Record, October 20, 1947.

"Avondale History." Australasian Record, September 21, 1991.

"Avondale's History." Australasian Record, July 18, 1987.

"Avondalians Reunion." Australasian Record, August 18, 1969.

"Bicentenary Article." Australasian Record, February 21, 1987.

Bolst, N. E., "Ashton." Australasian Record, January 31, 1966.

"Brother N. P. Clapham . . ." Australasian Record, August 17, 1964.

Brown, Reg, "Division Preserves Local History." Australasian Record, December 17, 1988.

Clapham, N. P., "Australasian Missionary College Appeal for Missions £600 in Excess of 1947 Figures." Australasian Record, May 10, 1948.

Clapham, N. P., "Avondale Rebuilding." Australasian Record, September 10, 1951.

Clapham, N. P., "Avondale." Australasian Record, October 24, 1949.

Cox, Dr John, "Renowned Scholar to Teach at Avondale Summer School December 28 - January 5." Australasian Record, November 16, 1981.

"Dr Noel Clapham, . . ." Australasian Record, February 11, 1995.

"Faculty." Australasian Record, September 10, 1951.

Garne, G. E., "History Makes History." Australasian Record, November 30, 1985.

Granger, Robert, "Brash." Australasian Record, February 9, 1981.

Greive, Constance M., "Avondale Fulfilling Its Purpose." Australasian Record, December 14, 1953.

Hammond, Mrs T. W., "The Congress Opens." Australasian Record, January 30, 1950.

Holman, Alan, "The Book of the Century!" Australasian Record, July 6 1985.

Hook, Milton, Avondale: Experiment on the Dora. Cooranbong, NSW: Avondale Academic Press, 1998.

https://jeandavidisabellaandjohn.files.wordpress.com/2011/06/balfour-shipping-list.jpg accessed January 8, 2019.

https://www.amazon.com/Many-Faiths-One-Nation-Denominations/dp/0732224063 accessed January 13, 2019.

"It seemed appropriate . . ." Australasian Record, May 30, 1960.

Kranz, Russell, "Eyes on '85." Australasian Record, December 24, 1983.

McGrath, Ron, Merv Chapman, "Last, Florence." Australasian Record, October 21, 1995.

McMahon, B. H., "Education Department Government Commendation." Australasian Record, August 16, 1948.

New Zealand Death Registrations, 1910 No. 14881.

Noel Pavitt Clapham, Sustentation Application. South Pacific Division of the General Conference Archives. Folder: "Clapham, Noel Pavitt." Document: "Sustentation Application."

Noel Pavitt Clapham, Worker's Biographical Record. South Pacific Division of the General Conference Archives. Folder: "Clapham, Noel Pavitt." Document: "Worker's Biographical Record."

"Nominations, Appointments and Transfers." Australasian Record, October 6, 1941.

"Omission." Australasian Record. July 5, 1943.

Parmenter, K. S., "Headquarters Men are Evangelists." Australasian Record, June 3, 1972.

Potter, C. T., "Ashton." Australasian Record, December 4, 1961.

Roberts, Gary, Athal Tolhurst, Lloyd Willis, "Willis." Australasian Record, January 31, 2004.

"Roll of Honour." Australasian Record, June 4, 1983.

Rollo, G. W., "Clapham – Ashton." Australasian Record, February 10, 1947.

"Some time ago. . ." Australian Record, March 11, 1968.

"Special congratulations . . ." Australasian Record, May 27, 1963.

Stacey, Brenton, "Record Number Graduate at Avondale." Australasian Record, January 23, 2016.

Streeter, H. S., "Clapham, Beatrice Jane." Australasian Record, March 23, 1953.

Townend, M. G., "Festival of Music." Australasian Record, June 18, 1973.

Veld, Jan, Bryan Vickery, "Ashton, Sedman Stanley." Australasian Record, October 3, 1998.

Westerman, A. W., "Inspecting Church Schools in West Australia." Australasian Record, August 31, 1942.↩