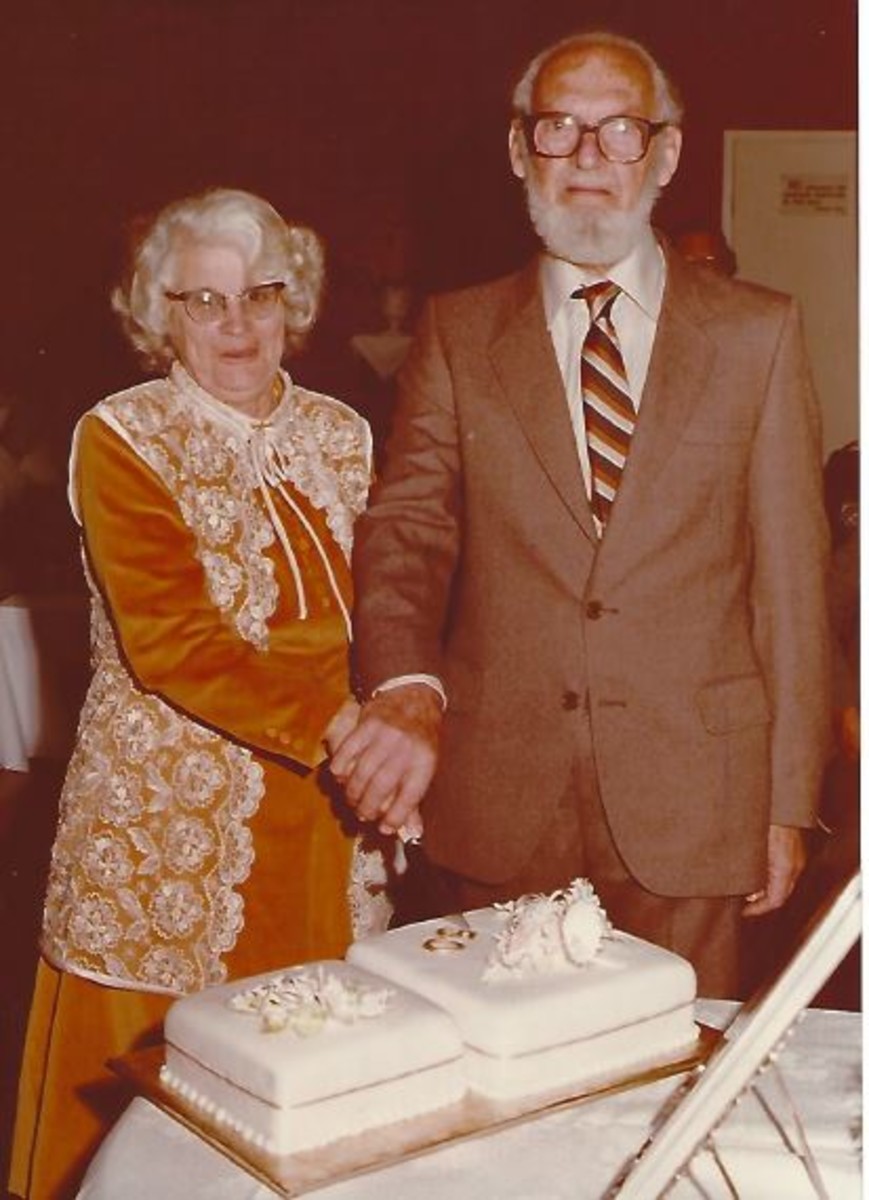 Hughes, Ralph Clarence (1905–2001) and Marjorie May (Barnett) (1909–1991)
×
Lionel Hughes, M.A. (Macquarie University, Sydney, Australia) retired in 2001 as Departmental Head of Religion, Sydney Adventist College. An Australian by birth, Lionel served as a denominational teacher and principal for 40 years across Australia and completed two-year term as Principal of Beulah College, Tonga. In retirement, he served the church as a church elder and as a volunteer pastor. He is married to Joy with two adult daughters, a son, and four grandchildren.
First Published: January 29, 2020
Ralph Clarence Hughes served the Seventh-day Adventist (SDA) Church and was employed in the Sanitarium Health Food Company in Australia. He was an exceptionally gifted innovator and inventer. In retirement he contributed to Church institutions in Pakistan, Jamaica, Papua New Guinea, India, and Sri Lanka. The family of Ralph and Marjorie Hughes occupy positions of influence and responsibility in the Church.
Early Years
Hughes was born on November 26, 1905 in Rylstone, New South Wales, Australia. At this time his father Harold Ernest Hughes, and mother Adelaide (Gooding) were selling Seventh-day Adventist message books door to door. Harold Hughes later settled in Wahroonga, New South Wales near the Sydney Sanitarium and Hospital and church headquarters of the Australian Inter Union Conference.1
Hughes had two younger brothers, Milton (1908-1990) and Llewllyn (Lyn) (1912-1993), and a sister, Mercy (1917-1999). He spent much of his childhood at Wahroonga apart from brief periods at Bankstown, Sydney, and in Newcastle where his father worked in furniture construction. After attending SDA elementary schools in Wahroonga and Newcastle, he later became a pupil at the first SDA High School at Concord, Sydney in 1919. After just six months at high school he became an office assistant at the Adventist Australian Inter Union Conference office until the death of his grandmother provided a legacy enabling his father to move north. The Hughes family settled on a banana farm near Maleny, Queensland.
Hughes' inventive nature came to the fore while he lived with his parents on the family banana farm. He invented a small hydro-electric scheme to power house lights, installed a pulley system to transport banana bunches up the steep terrain, and also made the first radio receiver in the district. This inventive capacity was to be evidenced in much of his later career. On the banana farm, he also designed and built a small sawmill and assisted his father in the construction of a small wooden farmhouse.
Between the age of 19 and 21, Hughes worked in a stone quarry, obtaining a steam ticket and driving a small train. He also developed skills as a springboard axeman, felling trees up to seven feet in diameter. In 1926 he returned to the banana farm near Maleny, purchased a Model T Ford, and used his mechanical skills to convert the motor vehicle into a working machine on the farm.
Marriage and Early Employment
Hughes had planned to attend Avondale College as his father had done in 1898 and 1899 but, due to financial pressures which led to the Great Depression in 1929, he took work in the Timber Industry again and during this time, as an isolated SDA, he decided to attend the annual SDA Convention in Brisbane where he met his future wife, Marjorie Louisa May Barnett (1909-1991). After a two year courtship during which time he sold Adventist Message books in the Maryborough and Gympie district in Southern Queensland, they married at the Red Hill SDA Church, Brisbane on May 30, 1930.2 Eight children were to be born to Ralph and Marjorie Hughes.3
The young couple set up home near Maleny, Queensland on the family banana farm. Unfortunately the farm failed due to disease and financial depression. Hughes' ability to invent and create enabled him to offset financial losses associated with the farm, and he established a company "Australian Home Requisites" to manufacture and sell some eleven household products. He also made a small printing press to print labels for this merchandise. During the latter part of this period Ralph returned to work in the stone quarry and also began to transport timber logs for a local saw mill.
Sanitarium Years
In 1937, Hughes accepted an offer to work as a driver and storeman at the Sanitarium Health Food Depot in Brisbane. While employed in various roles in the food factory, he continued experimenting with improved methods of food production. In 1937 in his home in Brisbane, he worked to develop the first charcoal gas producer to power a motor vehicle in Queensland, completed in 1939.4 He subsequently sold the rights to manufacture gas producers because of conflict between business and Sabbath Observance. During this period Hughes held senior positions in the local churches he attended, giving strong support to city-wide evangelistic series popular in Australia at that time. His strong bass voice and involvement in choirs supporting the city evangelist were an important feature in the Hughes household. In 1944, he was commissioned by the South Queensland Conference President to produce on-stage a depiction of the "Dark Day" (1780) and the "Falling of the Stars" (1833). Ralph's inventive mind gave a vivid stage representation of these events which were a feature of the centenary recollection of 1844, held at an SDA convention in central Brisbane in 1944.
By 1948, Hughes was a foreman at the Brisbane factory. Because of his engineering expertise, Sanitarium transferred the Hughes family to the first fully automated Weet-bix factory in Australia located in Hobart, Tasmania. He spent the years 1949 and 1950 refining production of cereals in that factory. Then came a period of ten years as a Sanitarium Company travelling salesman with good success. In the early 1950s he was largely responsible for the wholesale branch of the Sanitarium business in Hobart being awarded the annual Challenge Cup on 4 occasions. The Cup was awarded to a wholesale branch of the Company in Australia or New Zealand based on percentage of increase in sales for a calendar year.5
After twelve years in Tasmania, the family moved to Newcastle and Tamworth, regional cities in New South Wales, where Ralph continued as a Salesman for Sanitarium Health Food Company. Ralph became the Superintendent of the Lewisham, Sydney, factory for Sanitarium before retiring in 1970. 6 Thus he spent all of his working life in the Church (a total of 33 years and 2 months) employed by the Sanitarium Health Food Company. A summary of the years of service of Ralph Clarence Hughes as preserved in the sustentation records of the South Pacific Division is as follows:
| | | | |
| --- | --- | --- | --- |
| Sanitarium Health Food Company | Brisbane | Foreman | Nov 1937 – Dec 1948 |
| Sanitarium Health food Company | Hobart  | Traveller | Jan 1949 – Dec 1961 |
| Sanitarium Health Food Company | Lewisham | Foreman  | Jan 1962 – Dec 19707 |
Retirement and Sustentee Overseas Service (SOS)
After building his own house in Cooranbong, NSW, his inventive skills were still put to use in retirement years. In 1972 Ralph and Marjorie volunteered their services at the food factory attached to the Pakistan Adventist Seminary located near Lahore, Pakistan.8 For two years Ralph helped to produce and market cereals produced at the Pakistan Adventist Seminary, travelling in Northern Pakistan and even to Kashmir and Afghanistan. So much was their contribution appreciated that it was especially noted that "Mr and Mrs Hughes used their meagre stipend of $50 a month on whatever project was in progress at the time when the schools' pay day arrived. During the 2 years here, they invested nearly $2000 in the school and donated all their time as well."9
At age seventy Ralph undertook a one-year period of voluntary service in Kingston, Jamaica serving as the factory manager at West Indies College, located at Mandeville. During the 1980s Ralph and Marjorie also gave voluntary service in the food industry in Sri Lanka,10 Bangalore (Sunshine Orphanage)11 and Papua New Guinea (Sonoma College).12
Later Years
Marjorie died on December 13, 1992 in Melbourne, Victoria, and was buried in the Avondale Adventist Cemetery, Cooranbong, New South Wales.13 Ralph married his sister-in-law Edna Barnett (Whereat) in the Mitchelton SDA Church, Brisbane, Australia on September 26, 1993. The service was conducted by Ralph's son-in-law, Pastor Andrew Kingston.14
At 88 years of age Hughes made a final service trip to Rwanda visiting an Adventist Orphanage. This venture was cut short by the civil war in Rwanda. Ralph and Edna were evacuated by the United States army, returning to live a quieter life at the Adventist Retirement Village at Victoria Point, Brisbane, Queensland.
Legacy
Ralph Hughes died on August 8, 2001 in Brisbane and was buried beside his first wife, Marjorie in the Avondale Adventist Cemetery, Cooranbong, New South Wales. Edna died just a few months later on March 1, 2002.
His keen inventive mind, hard work and integrity represent a generation which helped to establish and build up the work of the Seventh-day Adventist Church in Australia.
Not only is the contribution of the Hughes noteworthy in itself, but so also is the ongoing contribution of their eight children and their descendants.
Sources
Babcock, Fern, "Retirement Benefits Pakistan." Australasian Record and Advent World Survey, June 14, 1976.
Coombe, Les C. and Clive Barritt. "Marjorie May Louisa Hughes obituary." Record, February 13, 1993.
"Eight Children Celebrate Parents 60th." Record, September 29, 1990.
"Food Post for Retired Man." The Lake Macquarie Herald, August 17, 1973.
Greive, Constance M. "The Happy Hughes Family." Australasian Record and Advent World Survey, December 1, 1980.
Kingston, Andrew. "Hughes – Barnett." Record, November 8, 1993, 14.
Ralph Clarence Hughes Sustentation Records. South Pacific Division of the General Conference Archives. Folder: "Hughes, Ralph Clarence." Document: "Sustentation Monthly Rates."
Smith, Ralph C. H. "Another Sanitarium Health Food Company Success." Australasian Record and Advent World Survey, June 1, 1953, 5.
"To Bangalore." Record, July 25, 1987, 8.
Voles, A. L. "Motors Daily on Producer Gas." Brisbane Telegraph (Evening), October 17, 1939.
Notes