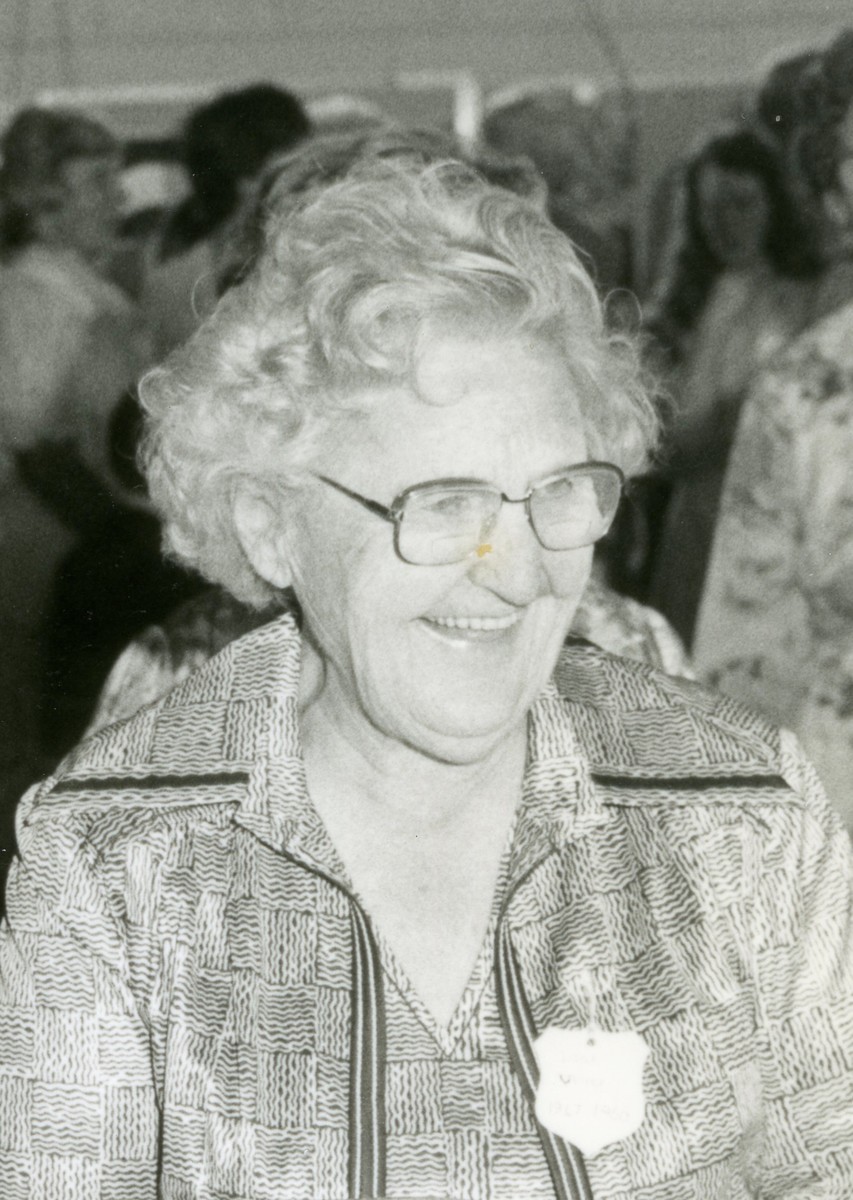 Vetter, Luise Elizabeth (1900–1999)
×
Lindsay Morton, Ph.D. (Victoria University of Wellington, New Zealand), works in academic administration at Pacific Union College. Her research interests include the intersection of ethics and epistemology in narrative non-fiction, and the roles of the imagination, experientially, and affect in literary journalism. Lindsay is an active member of her scholarly community, and has held professional roles such as the Research Chair and on the Board of Advisors for the International Association for Literary Journalism Studies. She is also currently Vice Chair of the SDA Partnership of Faculty Developers. 
First Published: January 29, 2020
Luise Vetter held a number of positions in the institutions of the Seventh-day Adventist Church in Australia. She was best known as the matron of the Australasian Missionary College (Avondale). In 1997, she received the Centenary Medal for her contribution to the College.
Early Life and Conversion
Luise Elizabeth Vetter was born on September 11, 1900, in Kalgoorlie, Western Australia. Her parents were both European immigrants, Ludwig Maximilian Vetter, a bookkeeper from Germany, and Marie Elisabeth Riedl, from Austria.1 Vetter had two younger siblings, Hans and Margherita (Rita) Emma. Shortly after Hans was born, the family moved from Western Australia to Sydney where Rita was born at the Sydney Sanitarium (Sydney Adventist Hospital).2 In 1912, Their mother took Luise and Hans Vetter for an extended stay in Austria and then Germany where several of her family still lived. The children walked several miles to school each day, often in the snow. When the family returned to Australia in 1914, they alternately lived in Sydney and the family farm in Ourimbah.3 It was during this time that the family had their first contact with Seventh-day Adventists. Luise Vetter, along with her brother Hans, was sent to get apples from a neighbor whom she saw kneeling to pray.4 Later the circular "Signs of the Times" was delivered to the family home, and continued visitation from lay members resulted in Luise Vetter's acceptance of the Adventist message. She was baptized at Stanmore Church in 1921, shortly after her father passed away.5 The family returned briefly to Ourimbah to sell the farm before moving permanently to Oatley in Sydney.6
Education and Career
Between 1917 and 1920, Luise Vetter worked as an apprentice dressmaker, followed by two years working at the Sanitarium Café in Hunter Street, Sydney.7 In 1923, she moved to Cooranbong to study at the Australasian Missionary College (now Avondale College of Higher Education).8 Here Vetter packed Weetbix in the Sanitarium Health Food Factory,9 while undertaking various units of study, including English under the tutelage of Miss Rhae Allbon. She was among a group of students that demonstrated their academic achievements during the annual council of the Australasian Union Conference in 1924,10 a choice that reflected a life-long love of reading literature and theological texts.11 Vetter completed her studies in 1926, and was one of eight women and three men to graduate with a teaching license.12 She was called to work as preceptress and matron at the West Australian Missionary School (now Carmel College) in 1927, where she remained for two years.13
In 1929, Vetter became domestic matron at the Sydney Sanitarium in Wahroonga.14 Between 1934 and 1936, she opened her own café in Liverpool Street, Sydney, then worked as a nurses' assistant during 1936 at Chatswood Hospital,15 before returning to the Sydney Sanitarium as supervisor of the food department, a position she held for the next 10 years.16 On January 16, 1947, Vetter sailed with her mother on an extended holiday to visit her sister Rita and husband. Clifford McClintock, in Timaru, South New Zealand.17 Later that year, she became matron of Australasian Missionary College, a position she held for 19 years and for which she is best known.
The wide range of duties Vetter undertook at Australasian Missionary College reflected her many areas of competence. The primary duties of the matron included managing the college's cafeteria, ordering food, supervising food preparation, and managing and training assistant supervisors—some of whom were students carrying considerable responsibilities.18 Additionally, Vetter wrote all of the college recipe books, catered for special occasions, and managed the cafeteria's finances. She was known for her efficiency and skill in handling finances; her upbringing and war experiences had taught her the importance of economy.19 During this time the college ran its own dairy, farm and bakery, so a typical day would see Vetter accepting the delivery of milk at 6:00 a.m. in anticipation of breakfast, followed by the delivery of seasonal fruit and vegetables from the college's farm and orchard.20 She oversaw the running of the bakery, which daily produced enough bread for 500 people, the quality of such was that locals from the wider community would come to the college to buy their bread.21 Vetter also taught dietetics and cooking for a number of years,22 filled in as preceptress in the girls' dormitory, ran cooking demonstrations and worships, and sat on the industrial committee throughout her time at Australasian Missionary College.23 She was known for her Friday night sweet breads, potato soup, excellent gluten steaks, and for making student banquets and special occasions very memorable.24
Vetter expected her student workers to meet high standards; her encouragement and direction helped students perform to the best of their ability. She was felt by many to have the highest work ethic on campus.25 As a supervisor, Vetter took an interest in the lives of the students, regularly taking the time to get to know them personally. She maintained a professional but happy and genial working relationship with her staff, and was known for her laugh which was often heard in interactions with her kitchen staff, student directors, and checkers. Her role at times called for her to take disciplinary action with students, but at these times she exercised her gift for encouraging students in a positive direction.26 Vetter was also observant of students in need, at times providing clothing or other material needs for students who did not have family or financial support at hand.27
During her time at Avondale, Vetter's mother lived with her on campus; her nephew Peter also found a home with his aunt on numerous weekends throughout his childhood.28 While she was not outspoken on issues affecting the college, as an avid reader Vetter kept abreast of Church politics and was sympathetic to the complexities of the issues, particularly those that rocked the community throughout the 1980s.29 She reportedly travelled to the United States in 1950 to attend the General Conference in San Francisco on the R. M. S. Aorangi,30 and 1951 saw Vetter travel through a number of European countries on the Western Continental Express.31 In 1959, the Australasian Missionary College Jacaranda honored Vetter's contributions by dedicating that year's edition of the yearbook to her: "the matron whose twinkling eye, keen discernment, unruffled patience, and kindly understanding of students and their problems, have endeared her to the hearts of all at Avondale."32 Vetter left AMC in 1966 to briefly take up a reappointment as director of food services at the Sydney Sanitarium,33 before retiring to Browns Road, Wahroonga.
Later Life and Legacy
During retirement Vetter continued to volunteer her time at the sanitarium and made food for people in need.34 Her time at home was spent looking after her mother, who died at age 99, and tending her vegetable garden which produced generous crops. Vetter often gave these away.35 In 1978, Pam and Tom Ludowici moved to the Sydney Sanitarium and began a long and close friendship with Vetter. In her later years she also travelled overseas, including trips to Canada and New Zealand to visit former students and family.36 In June 1996, Vetter moved to Elizabeth Lodge, and was known to sit on the verandah each morning studying her Sabbath School lesson and Bible.37 Three years later, she suffered a stroke and went into care at the Charles Harrison Memorial Home where she would spend her final days. She passed away on September 1, 1999.38
Vetter was renowned for her warm interactions with Australasian Missionary College students, excellent leadership, and stewardship, and for being a mother figure to many. While she preferred to work behind the scenes, Vetter's outstanding contribution to Australasian Missionary College demonstrated the extent to which servant leadership can deeply impact lives. This was acknowledged twice at homecoming (reunion) services and, in 1997, at centenary celebrations where she was awarded with a centenary medallion and standing ovation for her service to the college.39 Vetter's life was notable, not only for commitment to her family, her work, and her God, but also for the witness she bore that a life of service is one with rich rewards.
Sources
"Abroad with Matron." Avondale Forum, Cooranbong, New South Wales, 1951.
"Accompanied by her mother..." Australasian Record, February 3, 1947.
Anderson, A. W. "A Very Profitable Day." Australasian Record, September 22, 1924.
Dunstan, Lee. "Lecture: Avondale and Its Impact." Record [South Pacific Division], September 20, 1997.
East Coolgardie District of Western Australia. Birth Certificates. Office of the District Registrar, Kalgoorlie.
"Faculty." Australasian Missionary College Calendar, Cooranbong, New South Wales, 1952.
Gilmore, Laurence. "Comings and Goings." Australasian Record and Advent World Survey, April 14, 1969.
"Honour to whom honour..." Australasian Record and Advent World Survey, November 30, 1959.
Juriansz, Allan Russell, Colonial Mixed Blood: A Story of the Burghers of Sri Lanka. Bloomington, IN: iUniverse LLC, 2013.
"Life Sketch of Luise Elizabeth Vetter." Unpublished document written in September, 1999. Held in the personal collection of Russel and Caryl Stanley, Erina, New South Wales, Australia. 
Luise Elizabeth Vetter Service Record. South Pacific Division of the General Conference Archives.
Luise Elizabeth Vetter Worker's Biographical Record. South Pacific Division of the General Conference Archives.
Patrick, Arthur, Tom Ludowici, and Pam Ludowici. "Vetter, Luise Elizabeth obituary," Record [South Pacific Division], October 9, 1999.
Seventh-day Adventist Yearbook. Washington, D.C: Review and Herald Publishing Association, 1929.
"Standing Committees." Australasian Missionary College Calendar, Cooranbong, New South Wales, 1952.
"Travelling by the R. M. S..." Australasian Record, June 19, 1950.
"Union Conference Proceedings." Australasian Record, October 18, 1926.
Notes