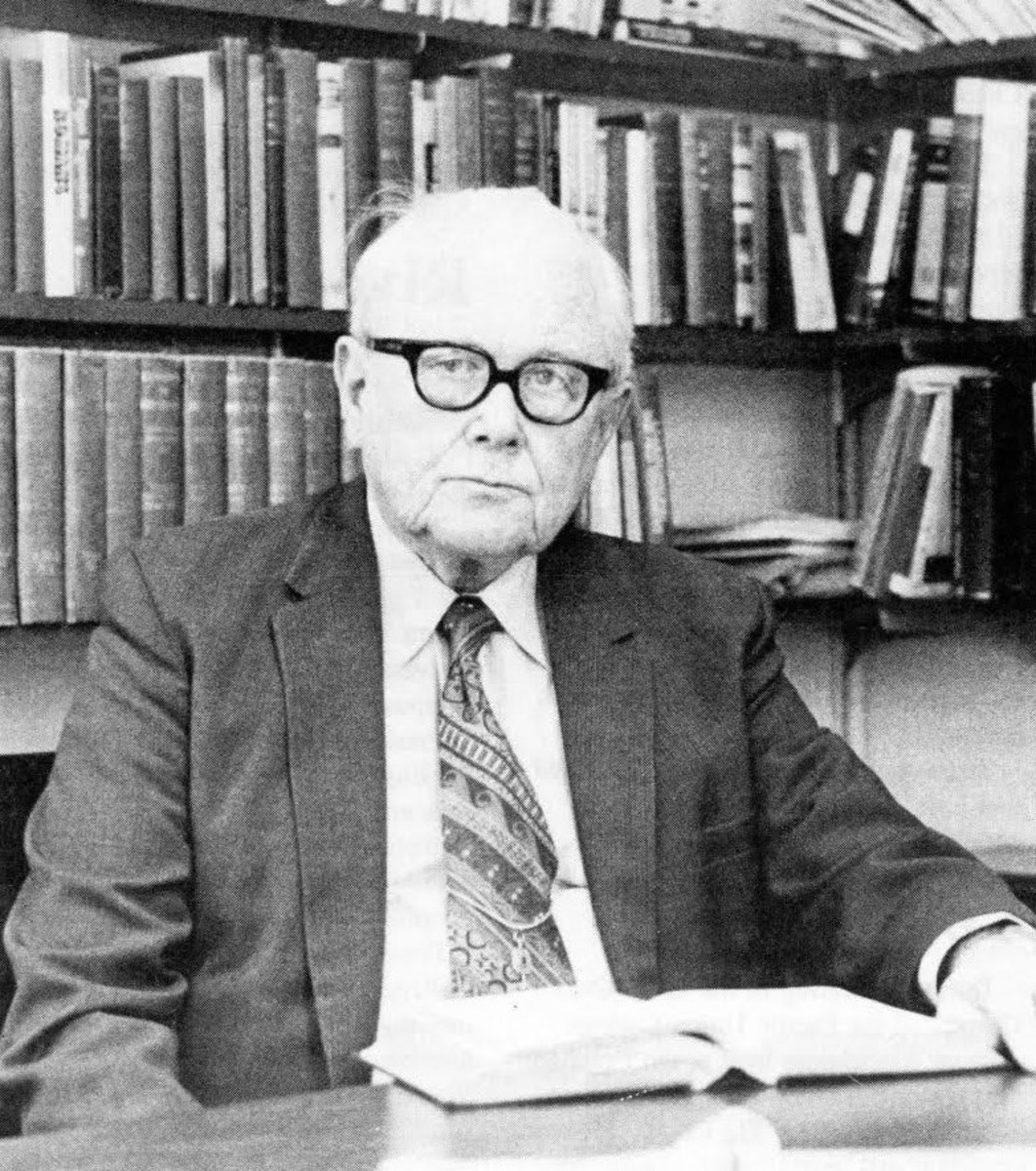 Quimby, Paul Elmore (1894–1987) and Mae Ordelia (Henise) (1900–1997)
×
Milton Hook, Ed.D. (Andrews University, Berrien Springs, Michigan, the United States). Hook retired in 1997 as a minister in the Greater Sydney Conference, Australia. An Australian by birth Hook has served the Church as a teacher at the elementary, academy and college levels, a missionary in Papua New Guinea, and as a local church pastor. In retirement he is a conjoint senior lecturer at Avondale College of Higher Education. He has authored Flames Over Battle Creek, Avondale: Experiment on the Dora, Desmond Ford: Reformist Theologian, Gospel Revivalist, the Seventh-day Adventist Heritage Series, and many magazine articles. He is married to Noeleen and has two sons and three grandchildren.
First Published: November 28, 2021
Paul Elmore Quimby (Chinese name 孔保羅, pinyin Kǒng Bǎoluó) served the Seventh-day Adventist Church as an educator in New York State, China, Tennessee, and California from 1922 to 1971 and beyond.
Early Years
Paul Quimby was born on July 20, 1894, at Lyndonville, upper Vermont, to Gilmer and Ella (McNeal) Quimby. His father was a farmer. There were nine children in their family: Ralph Gilmer (b.1881), Ruth (b.1883), Rose Leona (b.1885), Alpha Willard (b.1888), Martha Sarah (b.1891), Paul Elmore (b.1894), Corilla Jane (b.1895 and died in infancy), John Telford (b.1898), and Harvey Truman (b.1901).1 Paul was baptized by Elder A. J. Clark in 1912 at Manchester, New Hampshire. He attended South Lancaster Academy and advanced to Emmanuel Missionary College (EMC). He completed the theology course in 1921 and continued studies during the summers, graduating in 1924 from the literary course, equivalent to a Bachelor of Arts with a major in Education.2 At EMC he met fellow-student Mae Ordelia Henise, who was born on July 4, 1900, in Illinois.3 They married at Berrien Springs on May 27, 1921, Elder Frederick Griggs performing the service.4 It was a milestone in a number of respects. Not only was it their wedding day, but it was also their graduation day, Paul being the class president and Mae named as class valedictorian.5
Career Beginnings
Prior to his marriage, Paul spent the summers canvassing books to finance his education, and during 1920 he assisted a tent crusade in the West Michigan Conference. His first denominational appointment was as preceptor at Fox River Academy, Sheridan, Illinois, 1921 to1922. Then he accepted a transfer to teach Bible and history units at Union Springs Academy in New York State, 1922-1924.6 It was there that he and Mae received the invitation to serve in China, a role that would prove to be a significant experience for both of them.
Mission Service in China
Paul and Mae sailed on the "S.S. Empress of Canada" from Vancouver, arriving in Shanghai on August 29, 1924, and entered into several months of language study.7 Paul's initial appointment was inland from Shanghai in the province of Hupeh (now Hubei). On arrival he served as education director for the mission territory,8 his chief responsibility being principal of the Hankow Junior Middle School, located in what is called Wuhan today. Mae served as one of seven teachers at the institution.9
China was being torn apart by civil war between the Chinese Communist Party (CCP) and the National Party led by General Chiang Kai-shek. Bridges were being blown up, railways were out of use, telegraphic lines were broken,10 and travelers were likely to get caught in the cross fire or captured for ransom. Christian chapels were targeted and destroyed by the CCP, and intense persecution caused a significant drop in mission membership.11 Conditions deteriorated and warranted many expatriate missionaries to find refuge in Shanghai.12 The unsettled conditions brought about the reappointment of Paul to serve in the China Missionary Junior College located near Shanghai at Qiaotuozhen. Paul was the registrar and a teacher of history. Mae taught in the English department.13 The institution was renamed the China Theological Seminary14 and, later, the China Training Institute,15 all the time being the senior educational facility in the China Division. Paul specialized in teaching evangelism in the three-year period it was conducted as a seminary, 1929-1931.16 He was ordained to the gospel ministry in the same period.17
The war-time period at Qiaotuozhen placed the missionaries between two opposing armies. In hindsight the wisest path was to retreat to Korea or Japan until the conflict was resolved. However, teachers and their families remained at the college. In March 1927 the situation rapidly appeared desperate. Denton Rebok, the principal, believed it was imperative for an inventory of the college property to be lodged with the American Consul in Nanjing. It is difficult to understand the rationale for this belief. If the CCP were victorious, they would confiscate the property regardless of any inventory. If the National Party were victorious, neither they nor the American government were obliged to make compensation. Nevertheless, it was still maintained that the written inventory had to be delivered at all cost, even life itself. Nanjing was a day's journey by bicycle from the college, directly through the front lines of combat. Rebok himself did not offer to take the papers to Nanjing. Instead, he nominated Quimby and Fred Landis, the man in charge of the Industrial Department, to risk their lives. Paul later described the perilous episode of negotiating their way through aggressive CCP troops, arriving at the American consulate and being trapped with no road of return. He and Landis helped the American Consul and his family to escape to a nearby impregnable mountain fortress, running the gauntlet of bullets and thorny hedges, there to wait for General Chiang Kai-shek to eventually repulse the CCP.18
During their time at Qiaotuozhen a son was born to Paul and Mae on March 27, 1929. They named him Donavon Henise.19 It was a difficult birth that resulted in the unfortunate lad suffering permanent physical damage. When he was still a toddler, Mae's mother came to help care for him, releasing Mae to teach some units in English and Home Economics. Mae and her mother took Donavon to America in 1935, seeking specialist treatment.20 They returned to China without success. Donavon remained an invalid all his life and passed away in Collegedale, Tennessee, 1965. The poignant inscription on his tombstone reads "Our Only Son."21
Some summer breaks Paul was busy conducting training institutes for teachers and ministers.22 One summer he engaged in field work among mission stations near Shanghai.23 He was also called on by General Chiang Kai-shek to advise and supervise a government academy similar to the China Training Institute at Qiaotuozhen with its work-study model of education typical of Seventh-day Adventist colleges.24 It was named the Government Institute for the Sons and Daughters of the Revolution, located in Nanjing.25 The close collaboration between Quimby and Chiang Kai-shek was always going to be a doubtful honor because his reputation was linked to a man of war known as "White Terror" for the massacre of numerous CCP sympathizers in and around Shanghai.26
In the late 1930s Paul transitioned from history teaching to specializing in Bible units27 and finally, in 1939, served as president of the China Training Institute. There were more than twenty teachers, both expatriate and Chinese, who were lecturing in Scripture, pedagogy, commerce, science, health, agriculture, and printing.28 Students were enrolled from all over the China Division, including Tibet. The institution was modeled on an industrial program that enabled students to do manual work in payment for their fees.29
Wartime Again
On furlough in 1931, Paul and family had chosen to travel from China to America via Europe. Their final leg was from Liverpool to New York aboard the "S.S. Adriatic." However, in 1939 they elected to sail from China across the North Pacific to California aboard the "S.S. President Coolidge," arriving in June.30 Paul used his furlough time to complete a doctoral degree in history at the University of Southern California with a dissertation titled "A Study of the Foreign Policies of Li Hung-Chang."31
During the Second World War years, Paul was employed first at Southern Junior College in Collegedale, Tennessee, lecturing in Bible.32 In 1943 he transferred to Pacific Union College to teach Bible and evangelism units.33 At both institutions he doubled as the pastor of the campus churches.34 The subject matter of some of Paul's college lectures were published in 1946 under the title Prophetic Interpretation: Daniel and Revelation.35 At approximately the same time, he published Messages of the Prophets.36
Back to China
When World War Ⅱ hostilities were over, plans were quickly laid for missionaries to return to their fields of service. In the fall of 1946, Paul and Mae sailed again for China.37 Paul was under appointment to be Education director and Young People's and Missionary Volunteer secretary for the China Division.38 His work involved the organization of training institutes for teachers and extensive visitation throughout the country.39 After three years in this capacity and with political conditions deteriorating in China, Paul and his family sailed aboard the "S.S. President Cleveland" on permanent return to America, July 13, 1949.40
Further Homeland Service
Paul returned to the halls of Pacific Union College (PUC), Angwin, California, as a member of the Bible Department.41 He served in this capacity for a decade and then made a brief lateral shift into the History Department in 1960.42 In addition to his teaching, Paul accepted the role of vice-president for Development, helping to raise over one hundred thousand dollars for expansion to the Science complex. He transferred to teach at Oakwood College, Huntsville, Alabama, from 1960 to 1964, before returning to PUC.43 It is difficult to pinpoint exactly when he retired because he kept teaching some units on a part-time basis.44 It was announced in 1971 that he was retiring, but it was a retirement of sorts, for he continued to lecture at PUC on the topic of world religions.45 The PUC board of directors voted to name the Religion department building the "Dr. and Mrs. Paul E. Quimby Center for the Study of Religion" in honor of the significant contribution both teachers had made at home and abroad.46
Closing Years
Paul and Mae chose to remain in the vicinity of PUC until finally moving into the Adventist retirement home at Yountville. They both enjoyed good health and became nonagenarians, Mae actively engaged in knitting and sewing quilts for the local church Dorcas Society. Paul passed away on June 13, 1987,47 and was laid to rest in the Saint Helena cemetery.48 Mae survived to be almost ninety-seven, passing away at Saint Helena on May 26, 1997. She rests alongside Paul.49
Sources
"90 Years of Service." Angwin Accent, July 1984.
Crisler, Clarence C. "Institutes in Mid-Summer." Far Eastern Division Outlook, September 1928.
Crisler, Clarence C. "Troublous Times." Far Eastern Division Outlook, September 1924.
"Division Notes." China Division Reporter, August 1949.
"Donavon Henise Quimby." Find A Grave Memorial, 2021. Accessed September 21, 2021. https:www.findagrave.com/memorial/92805251/donavon-henise-quimby.
"Dr. Paul E. Quimby Retires, but Will Serve as a Special Lecturer." Pacific Union Recorder, June 14, 1971.
"Faculty Notes." Pacific Union Recorder, September 26, 1949.
Graham, Harold G. "From a Storm Center of the Revolution." Far Eastern Division Outlook, February 1928.
"Itineraries." China Division Reporter, October 1947.
"Mae Quimby." ARH, October 23, 1997.
"Mrs. Paul E. Quimby and son…" China Division Reporter, August 1935.
Nagel, Florence. "Paul Elmore Quimby" Chinese SDA History. Accessed November 7, 2021. https://www.chinesesdahistory.org/eric-pilquist-1.
"Others of Chiao Tou Tseng…" China Division Reporter, July-August 1933, 16.
"Pastor and Mrs P.E. Quimby…" China Division Reporter, August 1949.
"Paul Elmore Quimby." ARH, October 8, 1987.
"Paul Elmore Quimby." FamilySearch, Intellectual Reserve, 2021. Accessed September 21, 2021. https://www.familysearch.org/tree/pedigree/landscape/LQY4-XC2.
"Paul Elmore Quimby." Find A Grave Memorial, 2021. Accessed September 21, 2021. https://www.findagrave.com/memorial/48243987/paul-elmore-quimby.
Paul Elmore Quimby. General Conference Office of Archives, Statistics, and Research, Silver Spring, Maryland. Work Service Records. Versatile Box 7302. Folder: Paul Elmore Quimby. Document: "Biographical Information Form."
Quimby, Paul E. Prophetic Interpretation: Daniel and Revelation. Angwin, California: Pacific Union College, 1946.
Quimby, Paul E. Messages of the Prophets. Mountain View, California: Pacific Press Publishing Association, c. 1947.
Quimby, Paul E. "Progress at the Institute." China Division Reporter, November 1938.
Quimby, Paul Elmore, "A Study of the Foreign Policies of Li Hung-Chang." Ph.D. diss., University of Southern California, 1940.
Quimby, Paul and Norma Youngberg. Yankee on the Yangtze. Nashville, Tennessee: Southern Publishing Association, 1976.
"Recent Arrivals." Far Eastern Division Outlook, September 1924.
Seventh-day Adventist Yearbook. Washington, D.C.: Review and Herald Publishing Association, 1923-1963.
Sui, Cindy. "Taiwan Kuomintang: Revisiting the White Terror Years." BBC News, Taipei, March 13, 2016. Accessed November 11, 2021. https://www.bbc.com/news/world-asia-35723603.
"The Annual Spring Meeting." Far Eastern Division Outlook, June 1927.
Notes
"Paul Elmore Quimby," FamilySearch, Intellectual Reserve, 2021, accessed September 21, 2021, https://www.familysearch.org/tree/pedigree/landscape/LQY4-XC2.↩

Paul Elmore Quimby. General Conference Office of Archives, Statistics, and Research, Silver Spring, Maryland. Work Service Records. Versatile Box 7302. Folder: Paul Elmore Quimby. Document: "Biographical Information Form."↩

"Mae Quimby," ARH, October 23, 1997, 28.↩

"Paul Elmore Quimby," FamilySearch, Intellectual Reserve, 2021, accessed September 21, 2021, https://www.familysearch.org/tree/pedigree/landscape/LQY4-XC2.↩

"Dr. Paul E. Quimby Retires, but Will Serve as a Special Lecturer," Pacific Union Recorder, June 14, 1971, 8.↩

Paul Elmore Quimby. General Conference Office of Archives, Statistics, and Research, Silver Spring, Maryland. Work Service Records. Versatile Box 7302. Folder: Paul Elmore Quimby. Document: "Biographical Information Form."↩

"Recent Arrivals," Far Eastern Division Outlook, September 1924, 12.↩

"Hupeh Mission," Seventh-day Adventist Yearbook (Washington, D.C.: Review and Herald Publishing Association, 1925), 133.↩

"Hankow Junior Middle School," Seventh-day Adventist Yearbook (Washington, D.C.: Review and Herald Publishing Association, 1926), 232,↩

Clarence C. Crisler, "Troublous Times," Far Eastern Division Outlook, September 1924, 12.↩

Harold L. Graham, "From a Storm Center of the Revolution," Far Eastern Division Outlook, February 1928, 9.↩

"The Annual Spring Meeting," Far Eastern Division Outlook, June 1927, 3.↩

"China Missionary Junior College," Seventh-day Adventist Yearbook (Washington, D.C.: Review and Herald Publishing Association, 1927), 240-241.↩

"China Theological Seminary," Seventh-day Adventist Yearbook (Washington, D.C.: Review and Herald Publishing Association, 1929), 269.↩

"China Training Institute," Seventh-day Adventist Yearbook (Washington.: Review and Herald Publishing Association, 1932), 284.↩

E.g., "China Theological Seminary," Seventh-day Adventist Yearbook (Washington, D.C.: Review and Herald Publishing Association, 1930), 282.↩

"China Theological Seminary," Seventh-day Adventist Yearbook (Washington, D.C.: Review and Herald Publishing Association, 1931), 285.↩

Paul Quimby and Norma Youngberg, Yankee on the Yangtze (Nashville, Tennessee: Southern Publishing Association, 1976), 15-29. Note: This publication is not to be confused with A Yankee on the Yangtze by William Edgar Geal, 1904.↩

"Births," Far Eastern Division Outlook, March 1929, 16.↩

"Mrs. Paul E. Quimby," China Division Reporter, August 1935, 7.↩

"Donavon Henise Quimby," Find A Grave Memorial, 2021, accessed September 21, 2021, https://www.findagrave.com/memorial/92805251/donavon-henise-quimby.↩

Clarence C. Crisler, "Institutes in Mid-Summer," Far Eastern Division Outlook, September 1928, 2.↩

"Others of Chiao Tou Tseng…" China Division Reporter, July-August 1933, 16.↩

Florence Nagel, "Paul Elmore Quimby," Chinese SDA History, accessed November 7, 2021, https://www.chinesesdahistory.org/eric-pilquist-1.↩

Paul Quimby and Norma Youngberg, Yankee on the Yangtzse (Nashville, Tennessee: Southern Publishing Association, 1976), 9.↩

Cindy Sui, "Taiwan Kuomintang: Revisiting the White Terror Years," BBC News, Taipei, March 13, 2021, accessed November 11, 2021, https://www.bbc.com/news/world-asia-35723603.↩

"China Training Institute," Seventh-day Adventist Yearbook (Washington, D.C.: Review and Herald Publishing Association, 1937), 234.↩

"China Training Institute," Seventh-day Adventist Yearbook (Washington, D.C.: Review and Herald Publishing Association, 1939), 248.↩

P[aul] E. Quimby, "Progress at the Institute," China Division Reporter, November 1938, 8.↩

"Paul Elmore Quimby," FamilySearch, Intellectual Reserve, 2021, accessed September 21, 2021, https://www.familysearch.org/tree/pedigree/landscape/LQY4-XC2.↩

Paul Elmore Quimby, "A Study of the Foreign Policies of Li Hung-Chang" (Ph.D. diss., University of Southern California, 1940).↩

E.g., "Southern Junior College," Seventh-day Adventist Yearbook (Washington, D.C.: Review and Herald Publishing Association, 1942), 232-233.↩

E.g., "Pacific Union College," Seventh-day Adventist Yearbook (Washington, D.C.: Review and Herald Publishing Association, 1946), 255.↩

"90 Years of Service," Angwin Accents, July 1984, 1.↩

Paul E. Quimby, Prophetic Interpretation: Daniel and Revelation (Angwin, California: Pacific Union College, 1946).↩

Paul E. Quimby, Messages of the Prophets (Pacific Press Publishing Association, c.1947).↩

"Faculty Notes," Pacific Union Recorder, September 26, 1949, 1.↩

E.g., "China Division," Seventh-day Adventist Yearbook (Washington, D.C.: Review and Herald Publishing Association, 1947), 88.↩

"Itineraries," China Division Reporter, October 1947, 8.↩

"Pastor and Mrs. P.E. Quimby…" China Division Reporter, August 1949, 8.↩

E.g., "Pacific Union College," Seventh-day Adventist Yearbook (Washington, D.C.: Review and Herald Publishing Association, 1950), 281-282.↩

E.g., "Pacific Union College," Seventh-day Adventist Yearbook (Washington, D.C.: Review and Herald Publishing Association, 1961), 264.↩

"90 Years of Service," Angwin Accent, July 1984, 1.↩

"Paul Elmore Quimby," ARH, October 8, 1987, 21.↩

"Dr. Paul E. Quimby Retires, but Will Serve as a Special Lecturer," Pacific Union Recorder, June 14, 1971, 8.↩

Florence Nagel, "Paul Elmore Quimby," Chinese SDA History, accessed November 7, 2021, https://www.chinesesdahistory.org/eric-pilquist-1.↩

Ibid.↩

"Paul Elmore Quimby," Find A Grave Memorial, 2021, accessed September 21, 2021, https://www.findagrave.com/memorial/48243987/paul-elmore-quimby.↩

"Mae Quimby," ARH, October 23, 1997, 28.↩