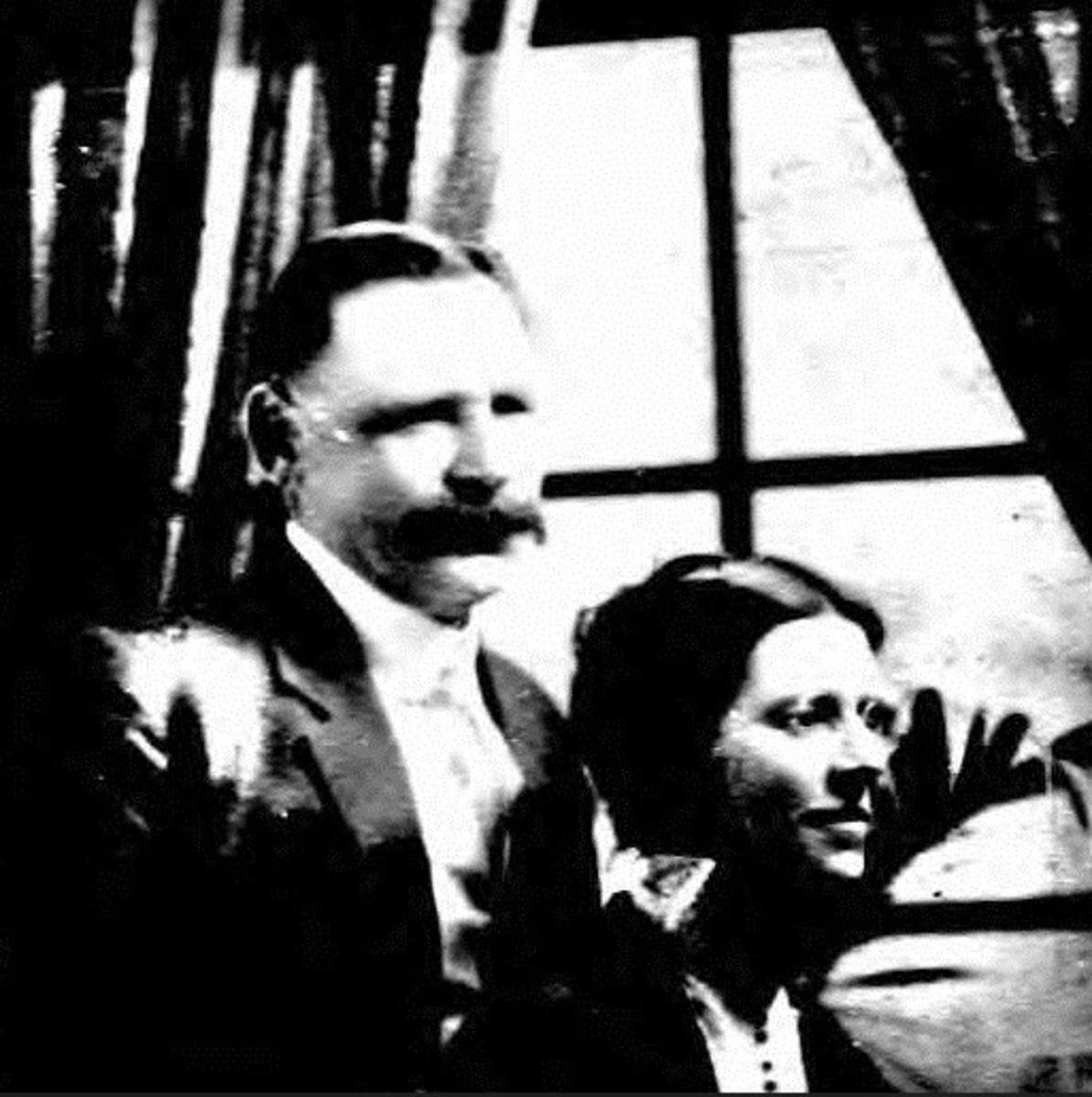 Connerly, Brenton Ernest (1869–1937) and Lillian (Snyder) (1873–1940)
×
Milton Hook, Ed.D. (Andrews University, Berrien Springs, Michigan, the United States). Hook retired in 1997 as a minister in the Greater Sydney Conference, Australia. An Australian by birth Hook has served the Church as a teacher at the elementary, academy and college levels, a missionary in Papua New Guinea, and as a local church pastor. In retirement he is a conjoint senior lecturer at Avondale College of Higher Education. He has authored Flames Over Battle Creek, Avondale: Experiment on the Dora, Desmond Ford: Reformist Theologian, Gospel Revivalist, the Seventh-day Adventist Heritage Series, and many magazine articles. He is married to Noeleen and has two sons and three grandchildren.
First Published: August 31, 2020
Brenton and Lillian Connerly were pioneer missionaries in Puerto Rico, the American Canal Zone and Colombia.
Early Years
Brenton Ernest Connerly was born on February 19, 1869, in the rural, southern Indiana community of Huron to Tilghman Howard Connerly, a farmer, and his wife Maria Clementine (Stigall) Connerly. He was their second child, the first being Elizabeth (b. 1865). His father was a farmer.1 After attending public schools until the age of 16, Brenton studied for two years at a business college and then decided to seek his fortune in the gold mines of Colorado.
A fellow miner who was an unbeliever gifted him a Bible in 1893 and on reading Matthew 6:33, "Seek ye first the kingdom of God and His righteousness . . . ," Connerly determined to be a Christian. He was baptized by Douglas Soggs, a Seventh-day Adventist minister, on May 11, 1894, in Denver, Colorado.2
Canvassing Cowboys and Lifting Up the Destitute
Immediately following his baptism, Connerly began self-supporting gospel work, canvassing denominational literature and assisting with tent evangelism in Denver throughout the summer of 1894. He went on to work "among the cowboys and Mexicans of southern Colo. and northern New Mexico," then shifted to the cattle country of southeastern Colorado, southwestern Kansas and western Oklahoma. There were no gates to open, no steps to climb, no doorbells to ring. Instead he sat around the camp-fires each evening and showed his books and read the Bible to them, sometimes until midnight, and then saddled up the next morning and rode on in search of another group of potential customers.3
In the Fall of 1898 Connerly joined the Chicago Medical Mission, serving as chaplain of the Workingmen's Home, the arm of the mission that sought to assist and rehabilitate men made destitute by unemployment and alcohol addiction.4 Here he met Lillian Snyder, another mission worker who, among her other duties, regularly wrote poetry and articles for the mission periodical, the Life Boat, and served on its editorial committee.5
Born September 25, 1873, in Freeborn, Minnesota, Lillian attended Carlton College, operated by the Congregationalist church in Northfield. After hearing an Adventist sermon for the first time at age 23, she took an intensive course at a General Conference Bible School conducted in the summer of 1896 and was baptized later that year.6
Lillian and Brenton married in Battle Creek on September 27, 1900. A Congregational minister performed the ceremony. After their marriage Connerly served briefly as superintendent of the city mission in Washington, D.C. and then of the Star of Hope Mission in Buffalo, New York. While in Buffalo he began evangelistic work under the auspices of the New York Conference. Connerly was ordained in Buffalo on December 20, 1902, General Conference secretary William Spicer leading the service.7
Pioneer Mission to Puerto Rico
Within days of his ordination the Connerlys, with financial sponsorship from the New York Conference, sailed from New York to pioneer Adventist work in Puerto Rico.8 Brenton was the director of the mission and Lillian developed Sabbath Schools.9 Members of the College View church in Nebraska donated funds for assistants who led the first Sabbath Schools located at Mayagüez and Arecibo.10
Connerly published a Spanish monthly titled El Centinela de la Verdad (The Sentinel of the Truth) and distributed it freely.11 He also wrote five Spanish tracts about key aspects of the Adventist message: La Seguado Venida de Christo (The Second Coming of Christ), Bautismo (Baptism), Porque Soy a Christiano (Why I'm a Christian), Que Creen los Adventistas (What Do Adventists Believe?) and El Subado de la Biblia (The Sabbath of the Bible).12
Through the reading of this literature and personal visitation, pockets of converts arose in towns such as Barceloneta, Bayamón, Cataño and San Juan.13 On occasion when Connerly was ill Lillian stepped in to produce the monthly periodical. Its circulation extended to Santo Domingo in the neighboring Dominican Republic, territory pioneered by canvassing the periodical in 1907.14
The Canal Zone and Colombia
After six years of toil in Puerto Rico, Connerly reported the birth of five churches with a total membership of 123 baptized members.15 He was then asked to explore what could be done in the American Canal Zone in view of the fact that thousands of laborers had gravitated to the area to construct the Panama Canal. He began to increasingly divide his time between the two territories until finally establishing a mission base at Cristóbel at the northern entrance to the Canal. In 1913 Lillian Connerly was called upon to lead the Sabbath School department of the West Caribbean Conference.16
Late in 1914 the Connerlys enjoyed a furlough in the cooler climate of Colorado,17 followed by a return to pioneer mission work in 1915, this time in Colombia. Roman Catholic missions were plentiful and Protestant missions scarce in the country. Connerly reported the people were "genial, polite, delightful" individuals. At the same time he admitted the region was "the hardest field in which I have ever worked."18 Initially he located at Barranquilla on the coast but later moved inland to the second largest city, Medellin.19 The two daughters that the Connerlys adopted in Puerto Rico, Nellie and Ina, had reached their teenage years and there was some concern for their education in a country such as Colombia, so in mid-1917 Lillian took them to a private Spanish school in San Claudio, Cuba, that was conducted by a Seventh-day Adventist woman. Brenton toiled on in Colombia for approximately twelve more months and then the family reunited and returned permanently to America.20
Homeland Ministry
Fifteen years of pioneering in Puerto Rico, the American Canal Zone and Colombia were followed by almost two decades of nurturing homeland churches. Connerly was called to the pastorate of the Capitol Hill (later Capital Memorial church) in the District of Columbia Conference. After the District of Columbia and Virginia Conferences merged to form the Potomac Conference in 1924, Connerly continued in pastoral and evangelistic ministry, building up several congregations in Virginia over the next 13 years. In addition to teaming with her husband in evangelism and training presentations for Sabbath School and home missionary work, Lillian Connerly published numerous poems during these years in church periodicals including the Australasian Record, Christian Educator, Church Officer's Gazette, Review and Herald, and the Youth's Instructor.
Connerly's health began to decline in 1935 and in October 1936 he was relocated from Roanoke to a smaller church in Alexandria.21 He remained actively engaged in his work until two weeks before he passed away on June 24, 1937. A funeral service was held in the small stone chapel that housed the Alexandria congregation22 and he was laid to rest in the local cemetery at Washington Street United Methodist Church. Lillian Connerly remained at Alexandria until shortly before her death on January 11, 1940. She and Brenton rest in the same cemetery plot.23
Sources
"After spending a few months . . . ." ARH, March 18, 1915.
B. E. Connerly. Secretariat Missionary Files, RG 21, Record 114886. General Conference of Seventh-day Adventists Archives, Silver Spring, Maryland [GCA].
"Brenton E. Connerly." FamilySearch. Accessed May 7, 2021. https://www.familysearch.org/tree/pedigree/landscape/9X36-DXD.
Connerly, B. E. "Among the Cowboys." ARH, May 25, 1897.
Connerly, B. E. "At the Workingmen's Home." Life Boat, November 1898.
Connerly, B. E. "Colombia, South America." ARH, December 7, 1916.
Connerly, B. E. "Porto Rico." ARH, June 15, 1905.
Connerly, B. E. "Porto Rico." ARH, October 24, 1907.
Connerly, Lillian. "Porto Rico." ARH, November 30, 1905.
"Editorial Committee." Life Boat. July 1900.
"Lillian (Snyder) Connerly." Find A Grave. Memorial ID No. 148064506. Accessed May 5, 2021. https://www.findagrave.com/memorial/148064506/lillian-connerly.
MacNeil, J[ohn] W. "Brenton Ernest Connerly obituary." ARH, August 19, 1937.
MacNeil, J[ohn] W. "Lillian Snyder Connerly obituary." ARH, August 19, 1937.
"Mrs. B. E. Connerly reports . . . ." ARH, August 30, 1917.
"Quite a number of workers . . . ." ARH, February 10, 1903.
Seventh-day Adventists Yearbook. Washington, D.C.: Review and Herald, 1904-1937.
Snyder, Lillian. "Rock of Ages." Life Boat, June 1898.
Town, N. Z. "Progress in Porto Rico." ARH, September 9, 1915.
Notes