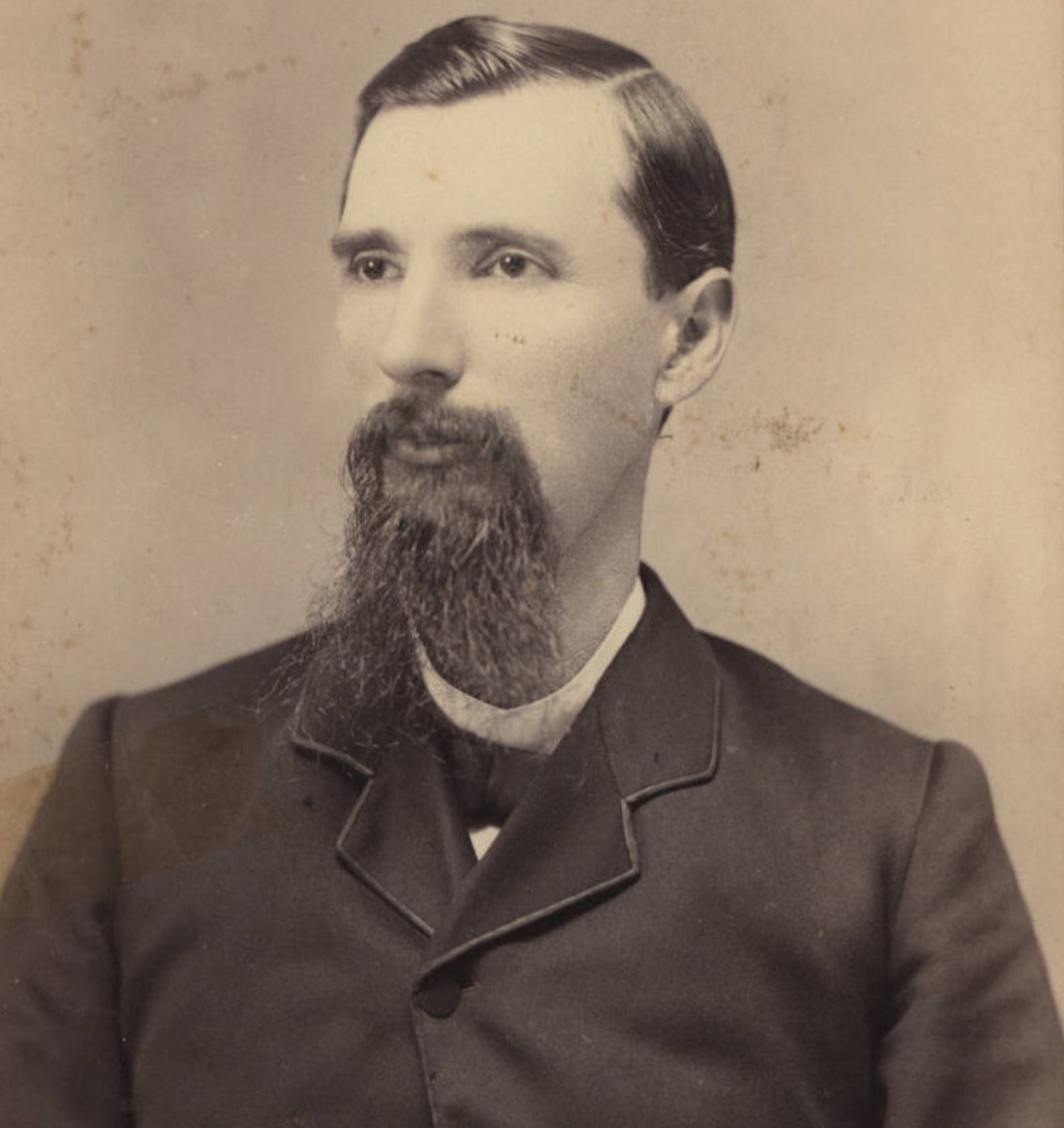 Grainger, William Calhoun (1844–1899)
×
Dennis Pettibone, Ph.D. (University of California, Riverside), is professor emeritus of history at Southern Adventist University. He and his first wife, Carol Jean Nelson Pettibone (now deceased) have two grown daughters. He is now married to the former Rebecca Aufderhar. His published writings include A Century of Challenge: the Story of Southern College and the second half of His Story in Our Time.
First Published: September 7, 2020
William Calhoun Grainger was an educator, college president, and pioneer missionary to Japan.
Early Years
William Calhoun Grainger was born January 21, 1844, in Warrensburg, Johnson County, Missouri.1 His parents were Andrew B. Grainger (1812-1894) and Susannah Egan Grainger (1818-1893). He had four brothers and four sisters.2
When he was about 17 years old, Grainger enlisted in the Union Army and fought in the American Civil War. He served in Company B of the 27th Missouri Mounted Infantry and then in the 45th Missouri Volunteer Infantry before becoming a prisoner of war.3
After the war, Grainger became a public school teacher.4 When he was about 28 years old, on January 4, 1872, he married Elizabeth5 in Johnson, Missouri.6 He and Lizzie had three children: Susana M. Grainger, born in 1873,7 Andrew D. Grainger (1874-1894), and Gertrude Grainger Crane (1878 -1911).8 Unlike her siblings, Gertrude was born in California.9
Grainger headed for California after grasshoppers devastated the Missouri school district where he had been teaching. His first California teaching post was in Ukiah; his second was in Anderson Valley, where his neighbor, Abram LaRue, shared Adventist literature with William and Lizzie. This led to their conversion.10
Soon after his conversion, Grainger began holding evangelistic meetings. Shortly before the opening of Healdsburg College, the forerunner of Pacific Union College (PUC), Ellen White spoke to him during a camp meeting and told him that the new institution would need both him and his wife as teachers.11
Healdsburg College
After teaching at Healdsburg for four years, Grainger was chosen to be the college president. During Grainger's first year as president, Healdsburg had thirteen teachers and 223 students.12
PUC historian Walter Utt suggests there is "general agreement that the heyday of old Healdsburg was the Grainger administration (1886-1894)." Utt says, "There were close relations between students and teachers, warm constituency cooperation with the school, and, consequently, the high-esprit de corps found in dedicated small groups with a common purpose." Paraphrasing one former student, Utt describes the college in those days as "a sort of mutual admiration society."13
"By his example," continues Utt, "the students learned kindness, sympathy, and consideration for others." He was always ready to help a student, whether it be assisting with school work or bringing a seriously ill student to his home for convalescence. When a load of peaches, which needed immediate attention, arrived after the cook had left for vacation, rather than calling her back, he "put on a big apron and canned them himself."14
"Tall, dark, and Lincolnesque in appearance," to his students Grainger was a virtual "walking encyclopedia."15 His administration has been described as "paternal." He reportedly "ran the school with Western informality, unvarying kindness, and firm principle."16
"Western informality" did not mean indifference to etiquette and courtesy. On several occasions, using a napkin, a plate, and silverware, he would give the assembled students etiquette lessons. When a student wrote a rude letter to the school cook, Grainger reprimanded him for, among other things, showing disrespect to a woman. "I grieve that any student in this school should be discourteous to a woman," he said.17
Nor did it mean a relaxed attitude about the interaction between male and female students. Healdsburg had separate sidewalks for boys and girls; boys and girls were not allowed to walk together. Nor were they allowed to pass "tender notes" to each other. If these notes were confiscated, Grainger would punish the authors by reading those notes aloud in chapel.18
Speaking at the Oakland camp meeting on the morning of October 13, 1887, Grainger said the supreme object of the college's work was the "development of workers for the cause of Christ." The Oakland Tribune reported that more than 250 students were enrolled at this time, and that students were being taught, in addition to the standard curriculum, "different trades and industries such as carpentering, printing, painting, blacksmithing, shoemaking gardening, dressmaking, laundering, cooking, and housekeeping."19
It all seemed so wonderful, but the "mutual admiration society" was doomed. Unknowingly, Grainger had offended the wrong person. W. W. Prescott, the General Conference educational secretary, "undoubtedly a New England gentleman," was shocked by "Western informality." He considered Grainger's "open door" office policy "undignified" and was appalled that the boys could go in and out of the dormitory with their boots on. He considered Grainger a good man who lacked "culture." Eventually, it dawned on Grainger that Prescott would not be unhappy if Grainger resigned. In 1894 he was replaced as president of Healdsburg. 20
Japan
Teruhiko Okohira, who had been a Healdsburg student from Japan, was converted to Adventism by Grainger.21 He invited Grainger to accompany him back to his homeland to spread the Advent message there.22 Grainger was ordained to the gospel ministry in 1894. In 1896 the Foreign Mission Board agreed to send him to Japan.23 He arrived at Yokohama Harbor24 on November 19, 1896.25 He was 52 years old at that time.26
Before long he and Okohira had opened Shiba Japanese-English Bible School in Tokyo. Among the school's students were two Japanese military personnel, Hide Kuniya and Dr. Mokutaro Kawasaki. According to P.D. Chun, former president of the Northern Asia-Pacific Division of Seventh-day Adventists, Kawasaki "was deeply impressed by Grainger's Christian character." He resigned from the military so that he could keep the Sabbath. On April 24, 1899, Grainger baptized Kawasaki, Kuniya, and two other Japanese men. Before the end of that year, the first Seventh-day Adventist church in Japan was organized with thirteen members.27
Also in 1899, Grainger started a monthly publication, Owari no Fukuin (The Gospel for the Last Days). This was the first Adventist periodical in the Japanese language.28
After an illness that lasted four weeks,29 Grainger passed away from uremia on Tuesday, October 31, 1899, at 1:27 p.m. His daughter, Gertrude, reported that he was calm, alert, and "trusting in the arms of God all the time."30 He was 55 years old.31 Okohira preached the funeral sermon,32 and Grainger was buried in the foreign section of Aoyama Cemetery in Minato-ku, Tokyo Metropolis, Japan.33 Elizabeth, his widow, returned to the United States and, in 1907, married former General Conference president George I. Butler, a widower.34
Sources
"Another Worker Fallen." Australasian Union Conference Record, February 1, 1900.
Chun, P. D. "Light Dawns in Eastern Asia." Adventist World, NAD edition, November 2013.
Ellen G. White Encyclopedia. Hagerstown, MD: Review and Herald Publishing Association, 2013.
Lee, Jairyong. "Extraordinary Dedication Needed." Northern Asia-Pacific Division, News and Views, July/August 2009.
Oakland Tribune (Oakland, CA). Accessed December 19, 2021. https://www.newspapers.com/clip/637135/william-calhoun-grainger.
Seventh-day Adventist Encyclopedia. 2nd rev. ed. Hagerstown, MD: Review and Herald Publishing Association, 2013.
Utt, Walter. A Mountain, A Pickax, A College: Walter Utt's History of Pacific Union College. 3rd ed. [Angwin, CA:] Pacific Union College, 1996.
"William C Grainger." https://www.findagrave.com/memorial/16323525/william-c%20grainger. Accessed November 23, 2021.
"William Calhoun Granger (Abt. 1844-1899)." Wikitree. Accessed November 23, 2021. https://www.wikitree.com/wiki/Granger-1755.
"William Grainger." MyHeritage.com. Accessed November 23, 2021. https://www.myheritage.com/names/william_grainger.
Notes