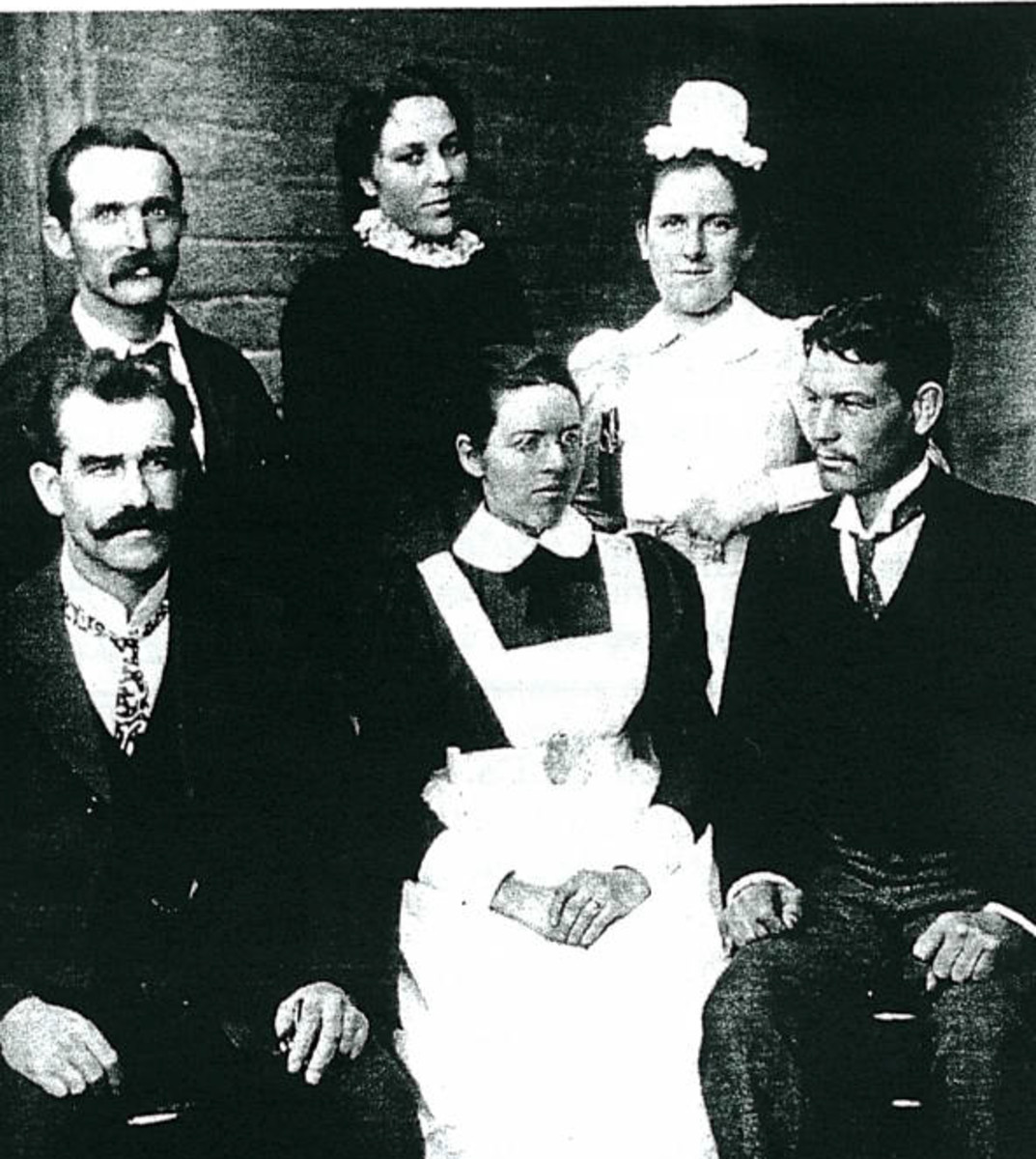 Currow, Louis (1867–1947) and Elizabeth Maude (Hubbard) (1874–1959)
×
Stephen Currow, D.Min. (Fuller Theological Seminary, Pasadena, California, the United States), is the vice president (academic) at Avondale College of Higher Education, Cooranbong, NSW, Australia. Trained as a pastor, he has worked in various ministry positions including pastor, lecturer, and administrator in Australia, New Zealand, Fiji, Papua New Guinea and the United Kingdom. His research interests and publications have been in the areas of congregational life, youth ministry and Adventist mission history. He is married to Narisa and has two adult daughters.
First Published: January 29, 2020
Louis and Elizabeth Currow were the first self-supporting Seventh-day Adventist medical missionaries to Fiji.
Early Years
Louis Currow was born in Queenscliffe Victoria, Australia on August 6, 1867 to Salvator and Elizabeth Currow (nee Wayth).1 He had eight brothers and three sisters, with only five of the brothers surviving childhood.2 Of these twelve children, Louis, Arthur (1872-1964), and Miriam (1880-1965) became Seventh-day Adventists and all three were to serve as missionaries in the South Pacific.3 As an infant Louis was baptized an Anglican.4 He left school at the age of fourteen and worked on a farm and then as a butcher while also pursuing his interest as a boxer.5 He then joined the Victorian (Submarine) Engineers on HMS Vulcan at nearby Swan Island.
One Sunday, while on exercises at Williamstown, he had a close encounter with a moving train. That evening he decided to go to church - but only to sing. He joined a number of his friends in the Salvation Army Chapel. At the end of the service an appeal was made to which he, grateful to be alive, responded.6 Soon afterwards, he was dismissed from the navy because he refused to serve alcohol and then entered the Salvation Army Training College. He served with the Salvation Army in various capacities in Victoria, Tasmania, and finally being made a captain in South Australia.7 During this time, his younger brother Arthur, after reading the Great Controversy, became a Seventh-day Adventist (SDA), attended the St. Kilda Bible School, and worked for the Bible Echo. No doubt Arthur shared his new found faith with his family, including Louis. So it ws not surprising when William Booth visited Melbourne in 1895, Louis challenged him on why the Salvation Army didn't worship on Sabbath. According to Louis' affidavit, Booth replied, "Friends, don't you know we are not keeping the true Sabbath?" after which Louis left the Salvation Army.8 Around this time the War Cry published "Give me a Love for Souls," a song Louis composed.9 Having left the Salvation Army, Louis worked with his brother Arthur canvassing in Queensland,10 attended the Stanmore Camp, and was baptized by Pastor R. H. Hare in Stanmore in 1896.11 Meanwhile, Elizabeth (Lizzie) Hubbard (later to become Louis' wife) and her family accepted the SDA message presented by Corliss, Israel, Farnsworth, and Daniels.12
Employment
Later in 1896, Louis, along with his brother Arthur and Lizzie Hubbard, attended the first training program at the Summer Hill Institute.13 Louis and Lizzie both enrolled in the Avondale School for Christian Workers in 1898.14 On completing studies at Avondale, Louis was assigned to the Helping Hand Mission - first in Melbourne (one started by his future father-in-law George Hubbard)15 and then Adelaide.16 As the health work was often voluntary, Louis also canvassed in South Australia.17 Louis and Lizzie were married in Preston by Pastor R. H. Hare on February 14, 1900.18 Soon after their marriage, Louis and Lizzie were appointed to manage the newly established bath institution in Hamilton, New South Wales under the direction of Dr. Rand.19 After changes to the operation of the Health Institutes under Dr Caro,20 Louis relocated back to the Helping Hand Mission in Melbourne, prior to undertaking canvassing work throughout Victoria.21
In 1903, Louis and Lizzie, encouraged by his brother Arthur - the first Australian Adventist missionary to Fiji, went to Fiji where they were pioneer self-supporting medical missionaries.22 In November 1903, soon after their arrival in Fiji, Louis was involved in the first Fijian Council.23 His work in the community primarily focused on health treatments for Europeans and Indians.24 During some of this time they also had patients staying at a health retreat.25 In addition to his own work, Louis was very supportive of the other mission activities, including being the major donor for the cutter Ramona, built in 1904 to service the eastern islands,26 as well as leasing the Suvavou property so the church could pay the rent at Buresala, on the Island of Ovalau. This facilitated the establishment of the Fiji Training Institute at Buresala - the forerunner of Fulton College.27
On their return to Australia in March 1906, Louis was appointed to the evangelistic team at Marrickville, Sydney.28 In 1908, Louis assisted E. S. Butz in an evangelistic series in Adelaide and the following year in Alberton, South Australia. Louis subsequently spent at least two years canvassing in South Australia. In 1912, Louis attended the camp meeting in Kelvin Grove, Brisbane Queensland, and was appointed to North Queensland,29 where he served at Charters Towers, Halifax, Cairns, Herberton, and Townsville.30 Louis, along with J. W. Kent, was ordained at the Kangaroo Point (Brisbane) camp meeting on September 30, 1916.31 Louis later worked in Sydney (1918-21), North New Zealand (1922-26), overlapping the time when his son George also worked there and grandson Elwin was born, and then Victoria (1927-30), from where he retired from ministry.32
Later Years
Louis passed away on July 29, 194733 and Lizzie passed away on September 19, 1959, at the age of eighty-five.34 Both are buried in the Avondale SDA Cemetery, Cooranbong, New South Wales.
Sources
Adams, Miriam, "By Faith Alone." Six part series Australasian Record, April 30-June 4, 1956.
"Brother Louis Currow . . ." Australasian Record, March 1, 1900.
"Brother L. Currow . . ." Australasian Record, April 2, 1906.
Clifford, Bert and Noel Clapham, "Health & Healing." In Noel Clapham, ed., Seventh-day Adventists in the South Pacific 1885-1985. Warburton, Victoria: Signs Publishing Company, c. 1985.
Currow, A. "Council Meeting in Fiji." ARH March 3, 1904.
Currow, L. "How the Message Came to Me." Australasian Record, September 8, 1941.
Currow, L. and L. Currow. "News from the North." Australasian Record, January 15, 1917.
Currow, L. and L. Currow. "News from Far North." Australasian Record, December 3, 1917.
Currow, Lou, "To the Editor." Bible Echo and Signs of the Times, April 4, 1898.
Currow, Louis. "Affidavit before F. A. Cooper, JP, Ballarat Victoria, May 10, 1934." Personal collection of the author.
Currow, Louis. "Give Me a Love for Souls." War Cry, December 14, 1895.
Currow, Louis. "Prize from the Ring." War Cry, April 20, 1892.
Currow, Stephen J. "Pioneer Australian Adventist Missionaries to Fiji: Arthur & Louis Currow (1901-04 & 1903-06)." Journal of Pacific Adventist History, vol. 2, no. 2, December 2002, 29-37.
"Distribution of Labour." Australasian Record, September 16, 1912.
"Fiji Training School." Australasian Record, May 1, 1905.
Fulton, J. E. "The Work in Fiji." Australasian Record, January 1, 1904.
Gates, E. H. "Notes from the Field." 4th Sabbath Reading, April 23, 1904. Personal collection of the author.
Guillard, E. H. "Louis Currow obituary." Australasian Record, August 25, 1947.
Hook, Milton. Rescue Homes and Remedies with Water: Adventist Benevolent Work in Australia. Seventh-day Adventist Heritage Series, no. 15. Wahroonga: South Pacific Division Department of Education, n.d.
"Louis Currow." Australian Births, Baptisms, 1792-1981, St Georges, Queenscliffe, February 8 1868.
"Louis Currow Personal Service Record." South Pacific Division of the General Conference Archives. Folder: "Currow, Louis." Document: "Personal Service Record."
"Louis Currow Sustentation Records." South Pacific Division of the General Conference Archives. Folder: "Currow, Louis." Document: "Sustentation Fund Application."
"Notes from the Field." 4th Sabbath Reading, May 28, 1904, Personal collection of the author.
Parker, C. H. "Mualevu, Fiji." Australasian Record, February 15, 1904.
"Public Notice - Suva Vou Health Home." Fiji Times, May, 1904; and May 11, 1904.
"Queensland Conference." Australasian Record, October 21, 1912.
Rosendahl, E. "Lizzie Currow obituary." Australasian Record, October 26, 1959.
"The Descendants of Salvator Currow and Elizabeth Caroline Wayth." Unpublished document in the personal collection of the author.
Notes