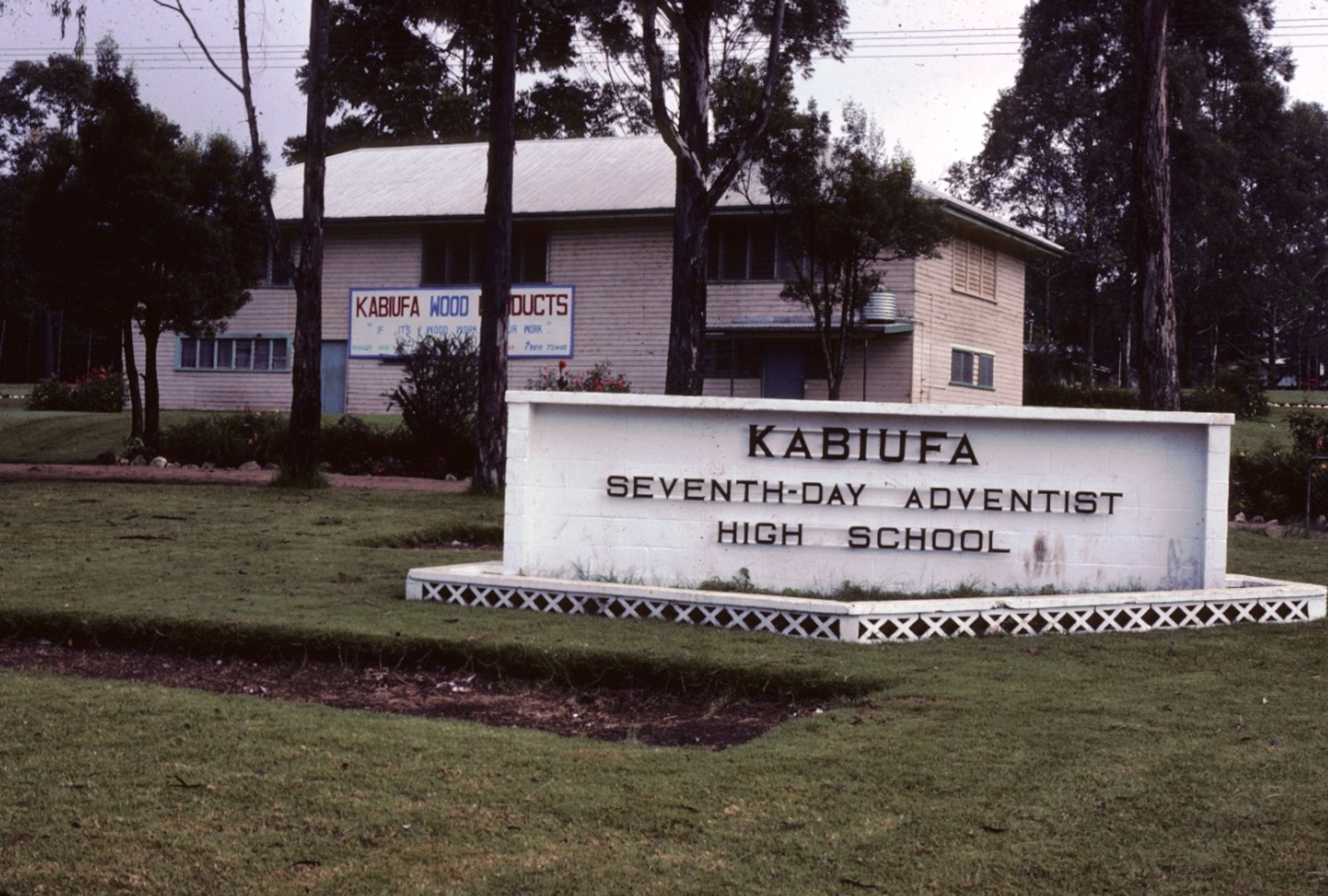 Kabiufa Adventist Secondary School, Papua New Guinea
×
Milton Hook, Ed.D. (Andrews University, Berrien Springs, Michigan, the United States). Hook retired in 1997 as a minister in the Greater Sydney Conference, Australia. An Australian by birth Hook has served the Church as a teacher at the elementary, academy and college levels, a missionary in Papua New Guinea, and as a local church pastor. In retirement he is a conjoint senior lecturer at Avondale College of Higher Education. He has authored Flames Over Battle Creek, Avondale: Experiment on the Dora, Desmond Ford: Reformist Theologian, Gospel Revivalist, the Seventh-day Adventist Heritage Series, and many magazine articles. He is married to Noeleen and has two sons and three grandchildren.
First Published: January 29, 2020
Kabiufa Adventist Secondary School is located on the Highlands Highway, 10 km (c. 6.2 mi) north of Goroka, in the Eastern Highlands province of Papua New Guinea. The school is 1750 m (1.087 mi) above sea level and has a pleasant climate. It offers all levels of secondary education. It is an institution of the Papua New Guinea Union Mission in the South Pacific Division.
A Pioneering Effort
When expatriate missionaries returned to the highlands of Papua New Guinea after World WarⅡ,a committee meeting was held at Kabiufa station near Goroka in August 1949 when the decision was made to develop the site as a major training center. Omaura station had previously been considered, but its small size and poor-quality soil were distinct disadvantages. Kabiufa had excellent soil and a good water supply that would cater to a large number of students and render the institution largely self-supporting. Lyndon Thrift was appointed to establish a school on the site. He arrived in September 1949 to organize a deep perimeter trench around the property to prevent pigs from spoiling the garden crops. He organized the local men to cut a road over which heavy equipment could be hauled to build a sawmill. Logs were felled nearby for construction of two European houses and the main school building.1
Two teachers from Mussau Island, Moses and Masibau, did their best initially to hold classes with very little equipment. Frank Maberly arrived to spend most of his time on the school work, releasing Thrift for general oversight and further development of the premises.2 This arrangement existed until Thrift was transferred in 1952. They called the institution the New Guinea Highlands Missionary School.3
Continued Growth
Alexander Campbell briefly replaced Thrift and Maberly,4 followed by Kenneth Gray in 1954. In the same year the institution's name was changed to Coral Sea Union Training School. Gray had a staff of eight teachers to assist him.5 Alfred Chapman served as principal in 1957,6 and John Lee replaced him in 1958.7
In 1959 two West Australian builders, John Fitzclarence and Maurice Fairall, constructed a large block of seven new classrooms in addition to office space and a library. It was officially opened on April 20, 1960, church and government officials in attendance for the occasion. These enlarged premises were urgently needed, because enrollment numbers had risen to two hundred students. In the late 1960s an American volunteer, Dr. Jacob Mittleider, greatly improved the 99 ha (245 acre) farm.8  
By 1962 the institution was officially functioning under the name Coral Sea Union Mission College,9 although the church press had referred to it as a college as early as 1960. The first graduation of young adults took place at the end of 1962, twenty-five men and one woman receiving diplomas in teaching and Bible instruction.10
For seven years, 1965 through 1971, the institution was named Kabiufa Adventist College,11 and then became known as the Kabiufa Adventist High School.12 During the 1970s the first four levels of high school were offered,13 but in the 1980s it was increased to six levels.14  In 1984 there were 277 students, 209 boys and 68 girls in grades 7 to 12. Most of the parents (56 percent) were substinence farmers. The students were cared for by 15 teachers and 40 other staff when they worked on the farm, in wood products and other places. Teaching staff continued to be composed of both expatriates and nationals, numbers fluctuating between 16 and twenty.15 Garden produce was supplied in abundance to Port Moresby and Lae markets, verifying the wise choice made in the 1940s to develop the property. Charted planes flew vegetables to Port Moresby and trucks took them to Lae weekly. The proceeds made a significant contribution to school finances.16
The first national Papua New Guinean principal was Samson Kuku in 1991.17 A further name modification occurred in 1999 with the adoption of Kabiufa Adventist Secondary School.18 In 2007 there were 24 staff members to care for a total of 514 students.19 The following year enrollment numbers reached 649 without the addition of extra staff.20 This school continues to be coeducational and consists of all levels of secondary education. It provides quality tuition in English, mathematics, the sciences, history, geography, economics, business studies, religion, and physical education.21 Successful graduates may apply to attend a university, including Pacific Adventist University.
Kabiufa Principals
Lyn Thrift (1950); Frank Maberly (1951-1952); Ken Gray (1953-1955); Alf Chapman (1956-1957); John Lee (1958-1964); Bert Cozens (1965-1969); Ian Rankin (1970-1972); John Wilson (1973-1976); Archie Steel (1977-1981); Graham Webster (1982); Laurie Meintjes (1983-1984); David Potter (1985-1986); Max Ferguson (1987-1989); Dr. Samson Kuku (1990-1993); Stuart Barons (1994-1995); Uma More (1996); Joseph Morimai (1997-1999); Jones Taos (2000-2002); Joe Ponduk (2003-2007); Terry Haru (2008-2012); Donoun Newaget (2013-2014); Stainer Korarome (2015-2020)
Sources
"Everybody knows that Kabiufa . . ." Australasian Record and Advent Word Survey, September 6, 1976.
"Kabiufa College Block." Australasian Record and Advent World Survey, June 6, 1960.
"Kabiufa Adventist Secondary School." Papua New Guinea Education News, March 9, 2014. Retrieved from https://edu.pngfacts.com/secondary-schools-in-png/kabiufa-adventist-secondary-school.
McClintock, Wilfred M. "Graduation Time at Our Colleges." Australasian Record and Advent World Survey, January 28, 1963.
Seventh-day Adventist Yearbook. Hagerstown, Maryland: Review and Herald Publishing Association, 1984-2014.
Seventh-day Adventist Yearbook. Washington, D.C.: Review and Herald Publishing Association, 1950-1983.
Thrift, Lyn[don]. "A Triumph of Improvisation." Journal of Pacific Adventist History, June 2007.
"World Report 2008: Adventist Education Around the World." General Conference of Seventh-day Adventists, Department of Education, December 31, 2008. Retrieved from https://education.adventist.org/wp-content/uploads/2017/10/Adventist-Education-Report-2008.pdf.
"World Report 2007: Adventist Education Around the World." General Conference of Seventh-day Adventists, Department of Education, December 31, 2007. Retrieved from https://education.adventist.org/wp-content/uploads/2017/10/Adventist-Education-World-Report-2007.pdf.
Notes