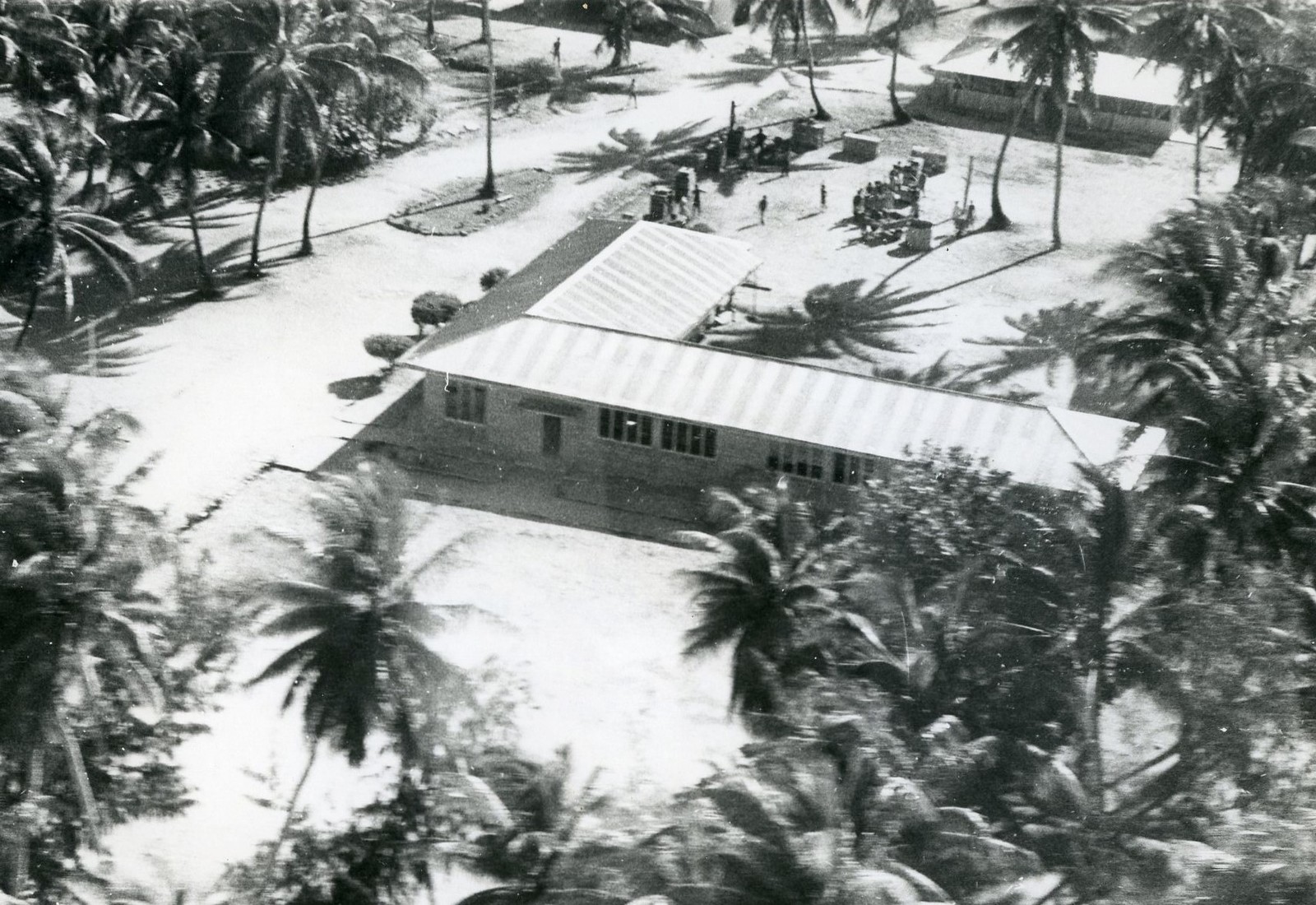 Kauma Adventist High School, Kiribati, South Pacific Division
×
Allen Sonter, Ph.D. (University of New England, New South Wales, Australia). Sonter retired (1994) as the principal and business manager of Pacific Adventist College (now University), Papua New Guinea. An Australian by birth, Dr. Sonter has served the church as teacher, principal, education director and college administrator. In retirement he has managed a development project for the Adventist School and Glenvale Church in Toowoomba. He is married to Margaret MacLennan, with three adult daughters and one son, eight grandchildren and six great-grandchildren.
First Published: January 29, 2020
Kauma Adventist High School is the main Seventh-day Adventist educational institution in the Republic of Kiribati. It is situated on Abemama Atoll, on the Kauma estate, a strip of some 35 acres of land spanning the half-mile from the lagoon to the ocean on the north-east section of the atoll.1 The co-educational high school offers education from years six to twelve, drawing its students from across the Kiribati group. In 2018 it had an enrollment of almost 200 students and a teaching staff of 21.
What was eventually to become Kauma school commenced in 1949 as a primer class on the north-eastern end of the Kauma property where the original mission house was located. It was taught by J. T. Howse assisted by her daughter Joan, and Samuel (surname unknown), an Ellice Islander who had been educated in the Adventist training school in Samoa.2 Further classes were added until 1952 when the school was moved to its present location on the lagoon side of the property, where two open timber classrooms and buildings of native materials were constructed.3 Frank W. Gifford was appointed principal in 1953, and in 1953 and 1954 Forms 1 and 2 were added, and boarding facilities opened. 4 When W. M. Dawson was appointed principal in 1955 he had the school registered with the colonial government.5 The school was then known as "The Gilbert and Ellice SDA Missionary School."
Allen Sonter was appointed principal in 1957, and a concrete-block aluminium-roofed classroom and office block was built by a volunteer builder, Laurence Grafham in 1959.6 In 1960 an open-sided aluminium-roofed boys' dormitory was added, together with a new girls' dormitory.7 Robert Sutcliffe was appointed principal in 1962, and the school continued to grow under his leadership.8 A Form 3 was added in 1970 under the leadership of his successor, Arthur Clover, who served as principal from 1969 to 1971.9 When the government nationalized primary schools in 1970, Kauma changed its name to "Kauma Adventist High School."10 Clover was followed as principal by Robert Cole who served from 1972 to 1974.11
A major upgrading of facilities was undertaken over several years from 1975, when an Australian builder, Ray Wiltshire, built several new concrete buildings, including staff and student accommodation, and a principal's house, during the principalship of Brian Hamilton (1975–1976), financed by a portion of the Fourth Quarter Thirteenth Sabbath offering in 1975.12 Hamilton was followed as principal by Greg Dawkins (1977–1978).13
Since its beginning, Kauma has relied heavily on volunteers, both for teaching positions, and for the supply of services such as building, water and plumbing, agricultural activities (specifically a hydroponic garden established in 1983 by Brian and Mervyn Bultitude), and electrical facilities. 14 In the mid-1980s ADRA helped Kauma to improve its water system, supplying a diesel pump and piping.15 In the early 1990s, a 20 percent share of the Annual ADRA Appeal (1989–1990) was allocated to Kauma for upgrading the kitchen facilities.16 Since then, Kauma has been assisted by a supportive independent Adventist mission initiative called "Search for One." The organization has been led by Garry Morgan, who has been based on the Kauma property, and has operated a 30-foot yacht and an Aztec aircraft for mission activities in Kiribati.17
Several other individuals and groups have supported Kauma. One individual has been Pastor Ken Wright, who worked in the Gilbert Islands in the early days of the mission. He sent at least three trucks for the school, where the salt-laden atmosphere makes the life of a vehicle relatively short. Brian and Mervyn Bultitude established a highly successful hydroponic garden,18 and Bill Miller and Wattie Leeming also committed much time and resources between 1990 and 1995 in the development of Kauma.19 Ron and Nita Clarke have made it their life's work since 2000 to provide services and facilities to the Kauma school. Sadly, Nita passed away in 2019, but Ron continues (2019) to travel to Kiribati and the kindergarten which the Clarkes provided in 2019 is named the "Ronnita Kindergarten."20 The school also has an effective solar electricity system provided by its overseas supporters.21
Another individual to whom tribute should be paid is Tekemau Ribabaiti. He was the first Kitibati Adventist to earn a university degree (from the University of the South Pacific in Suva, Fiji), and he has served as Principal of Kauma for four different terms. He achieved international fame in 2002 for surviving for more than four weeks in a drifting boat with two passengers before being found 300 nautical miles from his home island, and for surviving alone in a 4.2 metre aluminium dinghy in 2005 when the boat sprung a serious leak and the motor broke down in the open ocean. His story is one of remarkable courage, ingenuity, and faith.22
When the government nationalized junior secondary schools in the late 1980s, Kauma added Forms 4 and 5 and became a Senior High School.23 The enrollment of Kauma has varied across the years. It was about 160 in 1985, but climbed to over 400 in 1999.24 In 2019, enrolment was between 200 and 250.25 The school continues to provide a strong spiritual emphasis as it implements an Adventist philosophy emphasizing holistic education. It has been the primary source of baptisms in the Kiribati Mission throughout its history. 26
Principals who have served the school over the years were:
J. T. Howse (1949–1952); F. W. Gifford (1953–1954); W. M. Dawson (1955–1956); A. J. Sonter (1957–1961); R. N. Sutcliffe (1962–1968); A. W. Clover (1969–1971); R. L. Cole (1972–1974); Brian Hamilton (1975–1976); Greg Dawkins (1977–1978); Clem Reitze (1979?); Warwick Lawson (1979–1980); David Potter (1981–1983); Tekemau Ribabaiti (1984–1987); Charles Viva (1987–1988); Tekemau Ribabaiti (1988–1993); Tiaon Cocoran (1994–1996); Tekemau Ribabaiti (1997–2004); Harold Panda (2005–2010); Banabati Kabwaritaake (2011–2017); Tekemau Ribabaiti (2018 – 2019).
Sources
Branster, G. "The Gilbert Islands." Australasian Record and Advent World Survey, August 30, 1954.
Corcoran, John. "Finding Education of Value: The Influence of Kauma Adventist High School on My Life." Journal of Pacific Adventist History 6, no. 1 (June 2006).
Ferch, Arthur J. "Church in Island Republic Thrives Despite Problems." Columbia Union Visitor, April 1, 1989.
Ferch, Arthur. "Kiribati Faces an Uncertain Future." Record, April 22, 1989.
Ferris, W. G. "Salute to the Brave." Australasian Record and Advent World Survey, February 19, 1962.
Hamilton, June. "A Mansion Just Over the Atoll," Australasian Record and Advent World Survey, July 21, 1975.
Hamilton, June, "A New Name for an Old Place." Australasian Record and Advent World Survey, July 21, 1975.
Howse, J. T. "First-fruits from the Gilberts." Australasian Record, July 4, 1949.
Howse, J. T. "Waiting Only to be Gathered In." Australasian Record, October 11, 1948.
Miller, Zita. "News of the Gilbert and Ellice Islands." Australasian Record, September 15, 1952.
Seventh-day Adventist Yearbook. Washington, D.C.: Review and Herald Publishing Association, 1948–2016.
Sutcliffe, Robert and Rosemary Sutcliffe. "School Work on the Gilberts." Australasian Record and Advent World Survey, February 20, 1967.
Thomson, Alec C. "From the Captain's Log-book." Australasian Record and Advent World Survey, May 24, 1965.
Thomson, Alec C. "Progress in the Gilbert Islands." Australasian Record and Advent World Survey, November 15, 1954.
White, Alan W. "Glimpses of the Gilbert and Ellice Islands Mission." ARH, January 4, 1973.
Notes