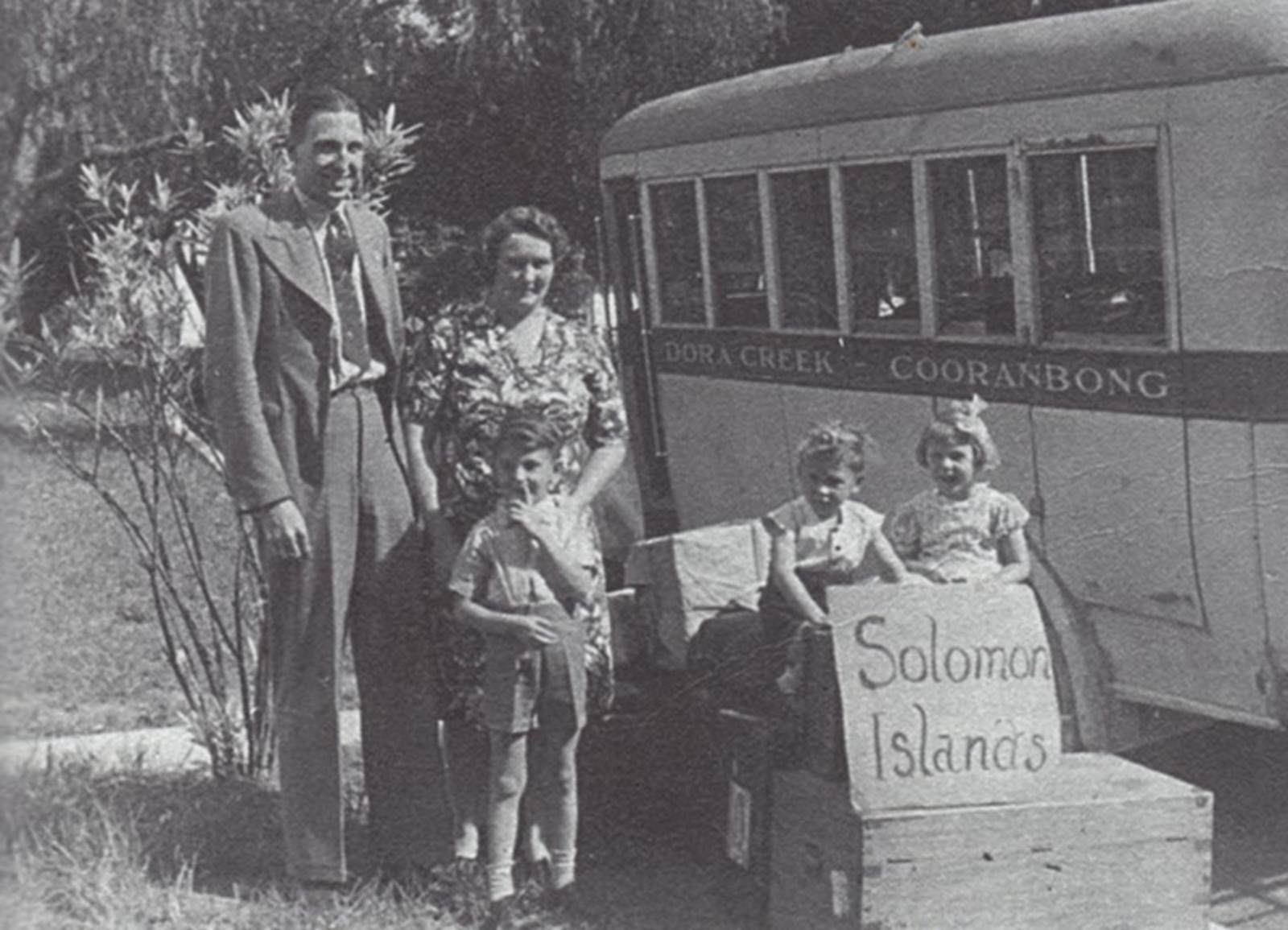 Lock, Lester Norman (1916–2011)
×
Glynn Lester Lock was born in Mackay, North Queensland. He is third generation missionary to Papua New Guinea and the Solomon Islands, and is now retired after working in primary, secondary, tertiary and aviation education. He was married to Bette-Joy (Rosendahl), now deceased and mother of his two adult children, Joyanne and Kent, for forty-eight years, six of those in the Solomon Islands and PNG. Lock enjoys visiting family, including three grandchildren, and friends, woodwork, caravanning, gardening, volunteering and participating in music. He now lives with his wife, Lorraine, in Swansea, NSW.
First Published: January 29, 2020
Lester Lock was an educator and administrator in Papua New Guinea and Australia. He translated the Sabbath School Quarterly into Motu and Tok Pisin for 26 years.
Early Years1
Lester Norman Lock was born at Subiaco, Western Australia on April 24 1916.2 He was the second child and first son of William and Marguerite (Molly) Lock of South Australia who were working in the West Australian Conference where William was the Publishing Director.3 Before Lester's birth Molly had been reading the story of James Chalmers, a missionary to Papua. So taken was Molly with the story that she promised God that if the child was a boy she would dedicate him to the Lord as a missionary.4
In 19245 the William Lock family was invited to go to Papua as missionaries spreading the gospel along the Kokoda Trail.6 The mission station would be at Efogi.7 Before climbing halfway up the Owen Stanley Range, the Locks spent several weeks at Bisiatabu learning something of the Papuan culture and language and preparing for the trek up the Kokoda trail.8 One day while spending time with the students attending the Bisiatabu School and listening to them converse in the local Koiari language, Lester mused to himself, "You've got to think in English, why don't you talk in English."9 His fascination with language became a core of service throughout his life.
The trek up the range to Efogi took six days10 of relentless climbing and descending steep, slippery tracks and crossing numerous rivers. Arriving at Efogi they rested the next day, Sabbath, and then work started. William worked in the villages along the trail building up the church and developing interest in numerous communities.11 Meanwhile Lester was learning the Koiari language as he played with the children on the station. 12
At the end of 1926 William travelled to Sydney to attend the annual Australasian Union Conference meeting and was ordained to ministry.13 After two and a half years14 at Efogi the family moved back to Bisiatabu after the transfer of Pastor and Mrs. Peacock to the Solomon Islands.15 While at Bisiatabu, Lester spent considerable time with one of the student families, the Meanous. As they conversed, he learned and became fluent in the Motu language,16 the second Papuan language he acquired.
Education and Marriage
Year 1934 saw the break-up of the family when Lester travelled to Avondale College to study, preparing for service.17 During vacations in study years, he worked as a literature evangelist travelling east and west from Port Moresby with his father William in the mission ship Diari. He earned two scholarships helping to pay his college fees.18 While at Avondale he worked in the printing press in the Sanitarium Health Food Factory,19 learning a valuable skill. After graduation from the ministerial course in 1938, he was appointed as a literature evangelist in the New South Wales (NSW) Conference.20 He assisted Pastor Bullas around Parkes, NSW.
Near the end of 1939, he was invited to transfer to Papua; he married his college sweetheart, Edna Murray, on January 4, 1940. Immediately they were sent for medical training at the Sydney Sanitarium and Hospital. Edna was also sent to the Crown Street Women's Hospital to do some training in midwifery. Three children were to be born to Lester and Edna: Darryl Murray Lock, born in Port Moresby, Papua; Linette Ruth Lock, born in Mackay, Queensland, and Glynn Lester Lock, also born in Mackay Queensland.
On arrival in in Papua, the couple worked at Bisiatabu; part of Lester's work was the translation of the Sabbath School Quarterly into Motu. Once translated, the lessons were sent to Mirigeda, where the press was located. There they were printed and then distributed to the churches.
With the coming of World War II, Edna and their first child, Darryl, were evacuated to Australia. Lester followed later with other missionaries in the mission ship Diari. Lester and Edna spent the war years in North Queensland where Pastor William Lock was the Superintendent.
In July 1944, Lester was sent back to Papua to open a temporary training school at Korela, to restart the printing of the Motu Sabbath School Lesson Quarterly, and to translate and produce the Lesson Quarterly. While in the Korela district of the Marshall Lagoon, he learned another local language, his third Papuan language. Lester spent about 12 months at Korela without his family who had remained in North Queensland. A decision by the Australasian Union Conference in late 1945 saw the family transfer from the Marshall Lagoon in Papua to the Solomon Islands.
In the remaining months while at Marshall Lagoon before sailing to the Solomon Islands, Lester worked with Pastor Ngava, a Solomon Islander. Lester became a student once again as Pastor Ngava taught him the Marovo language, the language widely used in the Solomon Islands by the Adventist Church. Thus he acquired a fourth language other than English. The text they used was the Marovo New Testament, translated into Marovo by pioneers, local workers, and people from the Marovo Lagoon.
When the family arrived at their post at Kopiu in 1946, the indigenous people were surprised to hear Lester preach and communicate in the Marovo language. While at Kopiu Lester used the mission ship G F Jones to work around his field. He was ordained to the ministry in 1946.21 After just a short time the family moved from Kopiu to Honiara, where Lester was Education Director, and then to Betikama where he was the principal of the growing school.
In 1950, the family were transferred to Kambubu, New Britain Island, New Guinea, where Lester was principal of the fledgling school. That year, a decision was made to develop Kambubu into a training school for mission workers and it was named Adventist Union College. In 1953 the name was changed to Jones Missionary College. Two years of post-primary school education were added to prepare students as mission workers. Lester's responsibilities included developing curriculum, running the school, and recruiting students from Papua, New Guinea and the Solomon Islands. Expatriate and local staff were added to the school community, and new buildings provided teaching spaces and student accommodation.
A bold venture was initiated when girls were accepted into the school despite significant opposition from the men back in the villages. Stories abound of efforts to discourage and frighten the girls with many paranormal events occurring in their first year at Kambubu, but, with much prayer, the girls remained at school, and a significant victory was won. Also, while at Kambubu, Lester continued translating the Sabbath School Quarterly into Motu.
After this, came a series of appointments to administrative work in Local Missions and at Union Headquarters. First was an appointment in 1958 to Bougainville as Mission president and teacher. The mission ship Devare was used to transfer the family from Kambubu to Inus. The journey across open sea took two days and one night. While President of Bougainville Mission, Lester continued to translate the Sabbath School quarterly into Motu. Thungea Biliburuku, a student from Kopiu and Kambubu days, assisted with the translation work. Later Thungea became better known as Pastor Wilfred Bili.
By this time the three Lock children had finished their elementary education and were enrolled at Avondale High School to continue their secondary education. This was a difficult time for both children and parents, particularly Edna who very much missed her family. The children would travel home only for the Christmas break and then south again for a new school year.
So the pattern was set, with each appointment, whether in Papua New Guinea or in Australia, Lester would translate the quarterly lessons into Motu and later Tok Pisin (Melanesian Pidgin) which was his fifth language not including English. Towards the end of 1960, the family was transferred to the Coral Sea Union office in Lae, Papua New Guinea to care for four departments including Sabbath School and Publishing. After 3 years at the Union office, Lester was appointed as president of the Eastern Highlands Mission in 1963. It was during this time that Edna suffered two heart attacks requiring hospitalisation in Goroka. At the end of the year the missionary couple returned to Australia and were appointed to ministry in the Victorian Conference.
While in Victoria, with access to good medical care, Edna's health improved significantly. Darryl was nearby at the Signs Publishing Company in Warburton, and for some of the time one of the twins, Linette, was in Melbourne gaining a midwifery qualification.22 The other twin, Glynn, spent time with his parents while recovering from a shoulder injury.23 It was gratifying for the family to be in close proximity after such a long time separated by mission service. Throughout this period, Lester continued to translate the Sabbath School Lessons into Motu.
Lester and Edna were invited to return to Papua in 1967.24 There he was the president of the Central Papuan Mission for 5 years until the family transferred back to Lae in 1972 to serve in the Sabbath School Department and care for translation. During this time Lester commenced producing the Sabbath School quarterly in Melanesian Pidgin which, by this time, had become the lingua franca of Papua New Guinea. In 1973 Edna was diagnosed with a melanoma on one leg. The melanoma was excised at Lae hospital but Edna's health gradually deteriorated until at the end of 1975 the couple were granted permanent return to Australia and appointed to ministry at Thornleigh, and later Waitara churches in the Greater Sydney Conference.
Later Years
In 1978, while ministering at Thornleigh Lester was commissioned by the Division to search out a parcel of land near Port Moresby on which to establish a Seventh-day Adventist tertiary institution to serve the island nations of the South Pacific. A parcel of land was identified, leased and Pacific Adventist College, later Pacific Adventist University, was developed and opened. Lester was invited to the opening.
The ravages of malaria, heart attacks and melanoma impacted on Edna until one night, after just 11 months of retirement, she slipped into a coma. Just a few days later in the early hours of December 18, 1981 Edna died and was buried in the Avondale Cemetery.
Lester lived in their Thornleigh home for a short time after Edna's death. He married Moina Tanner, and they moved together to Dunnoon near Lismore, so that she could be located nearer to one of her children. Tragically, Moina separated from Lester and they were subsequently divorced. Lester moved to Port Macquarie where his son Glynn and his daughter-in-law Bette-Joy lived. On February 12, 1992, he married June Muriel Glaspell at John's River, New South Wales. Lester and June set up home at the Avondale Retirement Village, Cooranbong, New South Wales. But wherever he went, he continued translating with the Motu Sabbath School quarterly his chief focus. Lester also translated drama for the Covenant Players, Revelation Seminar material, and was involved with the Bible Society in translating and producing the Tok Pisin Baibel (Melanesian Pidgin Bible). He worked with Dr. Glynn Litster to produce a Motu Hymn Book translating selected hymns from various Adventist hymnbooks and song book publications. He also translated the book of Daniel into Melanesian Pigin. During these years he made a number of visits to Papua New Guinea, catching up with friends and helping train and consolidate translators for the Church.
Death and Legacy
Almost thirty years after Edna died Lester died on December 17 201125 and was buried in the Avondale Cemetery beside Edna. June died on July 4, 2014. When packing up his office a small mantelpiece clock, with the following inscription, was found on his study desk.
Pr Lester Lock

On behalf of the South Pacific Division Sabbath School Department

we would like to thank you for your 26 years of voluntary

service (1981-2007) for translating the Bible Study Guide

Manuscripts into Hiri Motu, true Motu and Tok Pisin
This plaque on the little clock from his desk tells something, but not nearly enough, of a man committed to extending the kingdom of God, sharing the Gospel and making the world a better place.
Sources
Adair, R. A. 'Graduation at Jones Missionary School, New Guinea." Review, March 27, 1958.
"Appointments and Transfers Made at the Annual Meeting, 1948 – Final Meeting." Australasian Record, January 24, 1949.
Boehm, E. A. "Bisiatabu Trains Mission Leaders." Australasian Record, January 15, 1962.
"Carrying on in Papua." Australasian Record, November 9, 1942.
"Colporteurs' Monthly Summary." Australasian Record, June 12, 1939.
"Colporteurs' Monthly Summary." Australasian Record, July 10, 1939.
"Colporteurs' Monthly Summary." Australasian Record, August 14, 1939.
"Colporteurs' Monthly Summary." Australasian Record, September 18, 1939.
Fraser, A. M. "Adjustments in the Solomons and Papua-New Guinea Mission Territories." Australasian Record, July 7, 1947.
"From Home to the Front Line." Review and Herald, November 19, 1970.
Gray, K. J. "Establishment of Coral Sea Union Mission Headquarters." Australasian Record, March 14, 1949.
Grieve, Constance M, "Missionaries in Fellowship." Australasian Record. March 19, 1951.
"Half-yearly Meeting of the Coral Sea Union Mission." Australasian Record, October 2, 1950.
Ham, A. L. "Jones Memorial College in the South Pacific." Review, December 30, 1954.
Kambubu College…" Australasian Record, November 30, 1953.
"Kila Wants Two Hymn Books." Australasian Record, January 1, 1945.
"Leaving Brisbane on…" Australasian Record. October 12, 1953.
Lock, Lester N. "A College for the Fuzzy-Wuzzies." Review, August 30, 1951.
Lock, Lester N. "A Native Teacher Reports." Australasian Record, November 9, 1942.
Lock, Lester N. "A Pioneer and Catalyst - Gapi Ravu of Eastern Papua." Journal of Pacific Adventist History, Vol 5, No 1.
Lock, Lester N. "Adventist Mission College, Kambubu, New Guinea." Australasian Record. December 14, 1953.
Lock, Lester N. "After Fifty-one Years, Farewell." Australasian Record, January 26, 1976.
Lock, Lester N. "Esther, One among Six." Review and Herald, February 11, 1971.
Lock, Lester N. "Faole." Journal of Pacific Adventist History, Vol 1, No 2, December 2001.
Lock, Lester N. "In Trouble Often." Australasian Record, May 5, 1958.
Lock, Lester. N. "It Was a High Day." Australasian Record, April 18, 1949.
Lock, Lester N. "Kairi Kekeao; An Early Papuan Pioneer." Journal of Pacific Adventist History, vol. 8, no. 1, September, 2008.
Lock, Lester N. "Let Us Away and Labour." Australasian Record, February 15, 1954.
Lock, Lester N. "Publishing." Australasian Record, March 8, 1976.
Lock, Lester N. "That I May Know Him." Australasian Record, December 11, 1944.
Lock, Lester N. "The Wind Plays its Part." Australasian Record, April 2, 1973.
Lock, Mrs Lester N. "Primary Sabbath School." Australasian Record. October 1, 1951.
Lock, William N. "Around the Field." Australasian Record, January 11, 1943.
Lock, William N. "Jenkins." Australasian Record, October 23, 1944.
Mote, F. A. "Coral Sea Union Mission Re-organisation" Australasian Record, May 25, 1953.
Moulds, H. G. "Onward in the Solomons." Australasian Record, November 14, 1949.
"News from the Bismarck Archipelago." Australasian Record, August 8 1949.
"On furlough from…" Australasian Record, January 20, 1964.
Peterson, A. W. "In the Coral Sea Union." Australasian Record, September 5, 1949.
"Reinforcements for the Solomons." Australasian Record, October 7, 1946.
Richter, R. W. "Betikama Missionary School – consolidation and progress in the 1950's." Journal of Pacific Adventist History, vol.5, no. 1.
Richter, R. W. "Closing Exercises at Betikama." Australasian Record, February 27, 1950.
Saunders, Alan and Titus Rore. "Pastor Lester Norman Lock obituary." Adventist Record, June 2, 2012, 22
Sherriff, J. M. "Bisiatabu to Kokoda." Australasian Record, July 9, 1962.
Stewart, A. G. "Revisiting the Solomons." Australasian Record, May 5, 1947.
Thrift, R. "Survey of the Work in Papua." Australasian Record, June 6, 1945.
Tolhurst, L. P. "The Kokoda Trail." Australasian Record, February 23, 1985.
"Travelling on the…" Australasian Record, April 20, 1953.
Tutty, R. H. "Looking Back Over Thirty-two Years." Australasian Record, October 24, 1949.
"When the Morinda… Australasian Record, January 16, 1950.
Notes