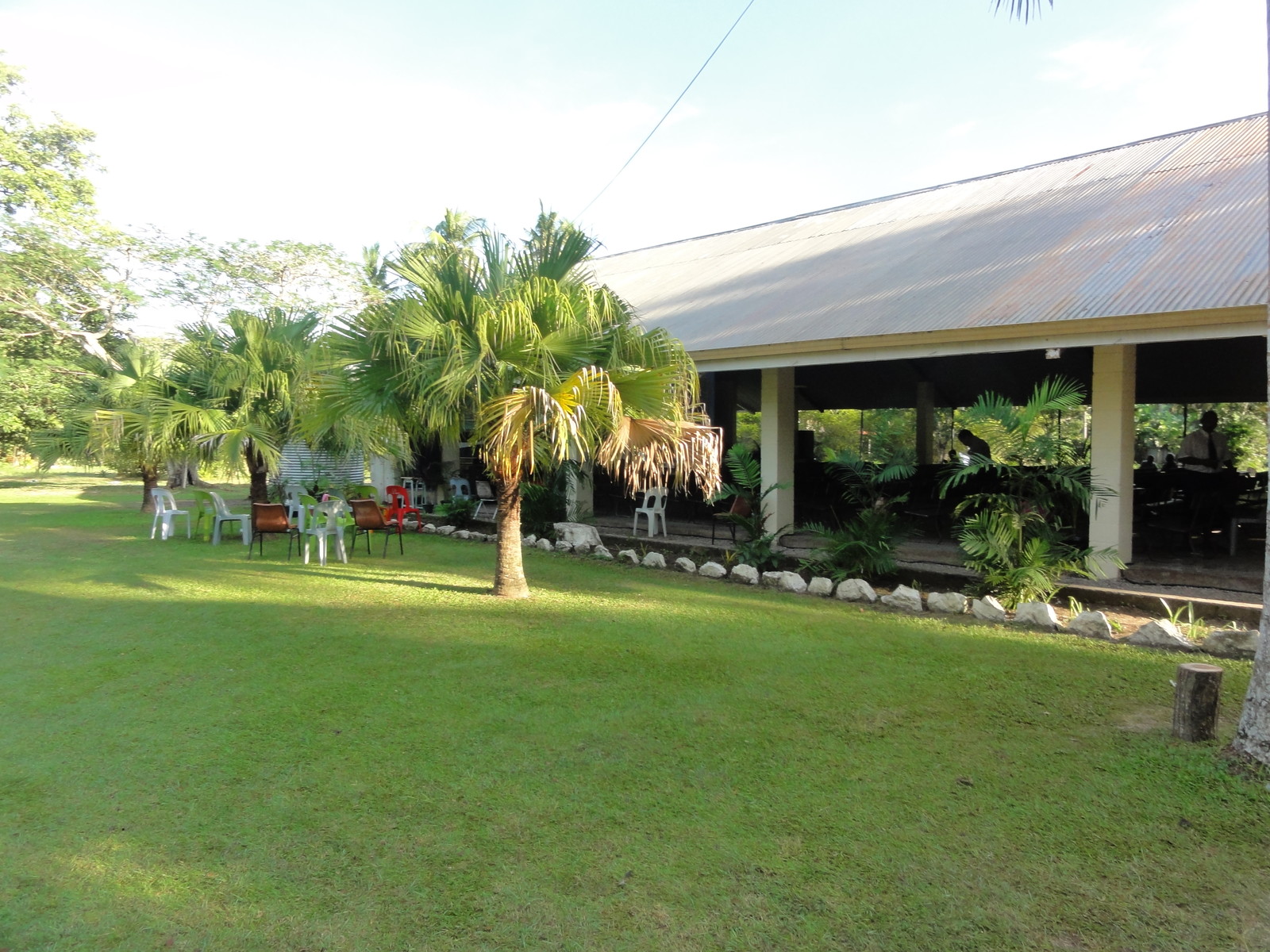 Mount Diamond Adventist High School and Agriculture Centre, Papua New Guinea
×
Donald J. Dickins, M.A. (Curriculum and Instruction), M.Comm. (Marketing), diploma in workplace training & assessment. He grew up in Rabaul with missionary parents and began his church employment in 1972 in Betikama Adventist Secondary School in the Solomon Islands. In 1977 he took up an appointment as principal at Navesau Junior Secondary School in Fiji and in 1981-1983 was the principal of Mt Diamond High School. He spent his last 12 years of his 41-year teaching career as a lecturer and course coordinator in the Faculty of Business, Avondale University College.
First Published: July 11, 2020
Mount Diamond Adventist High School is located on 300 hectares of land 30 kilometers east of the capital of Papua New Guinea, Port Moresby, and 6 kilometers off the Rego Highway. The school was originally located at Miregeda. After World War II the school moved to a site known as Bautama. In 1972 the school moved to its present location on the Mount Diamond estate, which is mainly flat land bordered by a small creek, suitable for agriculture and appropriate for a growing educational precinct.
Mirigeda
As mission work expanded along the coast of Papua, leaders saw a need for a training school to prepare Papuan teachers for schools in the developing areas.1 Pastor William N. Lock, the mission superintendent, made a search for land on which a training college might be established. At that time it was difficult to obtain a mission lease, even though mission bodies conducted all village schools in Papua.2 Mea, also known as Meanou, a student from Tubusereia, offered land for a school.3
Towards the end of 1932 the lieutenant governor of Papua visited Mirigeda, and was so impressed with progress under Lock that he directed that the equipment that the government had previously provided for the now-closed school at Bootless Bay Copper Mines be provided to the Mirigeda school.4
Once a year a government inspector made an inspection of these schools. Pastor Lock took the inspector on the mission vessel Diari to visit some schools. The inspector was favorably impressed with the Adventist schools and appreciated the help given by the mission boat. This helped some government officials to think that maybe the time had come for Seventh-day Adventists to obtain land on a mission lease. An application was made for this land and the government granted the Adventist Church its first mission lease.5
The school was established at comparatively little cost, as buildings were purchased from the closed Copper Mining Company in Bootless Bay, moved across in sections, and rebuilt on Nagina Hill, only some two kilometers away. Cecil J. Howell was the first principal, and on August 21, 1933, twenty one students met in a newly built classroom for the first time.6
Among the first students at Mirigeda in 1933 were Peruka Mea; Hibo (father of Pastor Yori Hibo, who served as president of Central Papua Mission and Papua New Guinea Union Mission); Paiva; and Maneva Golo, who was from Wanigela village. Hibo and Maneva were appointed to work at Efogi. Peruka and Paiva stayed back at Mirigeda, and Paiva later became a missionary.7
The mission vessel Diari made a trip to Vailala and other villages two hundred miles to the west, and another trip to Vilirupu and other villages a hundred miles to the east, to bring students willing to attend the new training school. Some young women were reported to be in this first group. In 1934 the enrolment rose to 32, with many being married, which challenged the housing situation at the school.8 In 1938 Ken Gray took over from Stanley Pennington, serving until war came.9
Robert Frame recollected living conditions at Mirigeda:
We were settled at Mirigeda, the headquarters of the mission located approximately 30 kilometres inland from Port Moresby. Our neighbours were Pastor William N. Lock, the Mission Superintendent, and Mrs Molly Lock, and Mr and Mrs Ken Gray who were in charge of the school. Their support and guidance was in the form of a very practical orientation—on the job! Our fellow workers were certainly a blessing to us. Our home comprised two rooms with a separate galvanised iron kitchen containing a wood stove for cooking. We were ready to face the challenge!10
In early February 1942, the school had to be closed with the onset of World War II.11 The campus suffered heavy damage during the war.
Bautama
In August 1947, under the direction of Ken J. Gray, G. Johnson, and a group of indigenous workers, buildings consisting of temporary materials secured from army disposals were erected at Bautama, a site near the coast about 6 kilometers from Mirigeda.12
By February 1948, staff housing and the classroom block at Bautama had been completed. Construction, with the help of George Johnson, an Australian carpenter with six Papuan laborers, had proceeded to a point where it was possible to begin the school program. The school was under the direction of Roderick M. Ellison, with the help of Tutuo, a pastor, and his wife Naru, a teacher from the Solomon Islands.13
Other expatriate staff soon arrived: teacher Barbara Wiseman, to look after the lower primary grades; Hilton and Emmy Myers, with Hilton responsible for technical instruction and garden supervision; and nurse Hilary Cooper, responsible for student needs and the sick from the local villages. Nita Ellison became the local midwife and instructor in childcare. The produce shed served as the Ellison's home. The Ellisons were neighbors to Robert and Peg Frame, Roy and Ivy Stratford, and Ken and Dorothy Gray.14
Like Mirigeda, Bautama served as a training school for the entire Papuan field, and thus continued for several years until training courses began at Kabiufa and Kambubu in the early 1950s. The school then become known as Bautama Central School, enrolling students as a primary school.
During the tenure of Eric and Colleen White (1963–1966), Yori Hibo was deputy principal, his wife Zita was a nurse, and Vagi Ravu was farm manager. Students were encouraged to conduct evangelistic programs in Tuberseria Village. A girls' choir led by Colleen White supported the senior male students, who preached under the leadership of Yori Hibo. With the encouragement and support of the Mae brothers the Tuberseria church was established.15
During this time, Harry and Mavis Toepher and their family leased Mirigeda, which had been left vacant. There they established a farm growing vegetables and fruit for trade in Port Moresby. The Toephers worked closely with the school at Bautama. Toepher would buy food from villages on the Sogeri Plateau to sell in Port Moresby, and any food left over on a Friday afternoon was donated to students at Bautama for preparation for Sabbath meals.16
Eric White took a great interest and leadership in Pathfinders, and established the first Pathfinder Club in Central Papua. Clubs were established at Korela and Bisiatabu, where the first Central Papua Mission Pathfinder Fair was held. In 1964 the first Pathfinder Camporee was held on the Mount Diamond site. Special guests were Ron Vince from the South Pacific Division, John Lee and Hugh Dickins from the Coral Sea Union Mission, and Central Papua Mission President Ernest Lemke.17
The school continued until 1972, when it moved to a new site about 6 kilometers inland known as Mount Diamond.18
Mount Diamond
In the Australasian Record of March 22, 1971, it was reported that "the Thirteenth Sabbath Offering overflow this first quarter of 1971 goes to the rebuilding of Bautama, in Papua, near to Port Moresby. The new school at Mount Diamond will be a boarding primary school, but we are planning that very soon it will also take high school students."19
The name Mount Diamond dated back to a sapphire copper mine that operated in the area around 1920. The land was purchased in 1946 from a Mr. Osborn for one pound per acre. Nevell Tosen, principal between 1972 and 1976, wrote, "The present Diamond Road, leading off from the Rigo/Magi Highway was used to support 7 kilometres of locomotive rails (some of which can be seen in the cattle grid at the entrance gate) for a small copper train from the mine-shaft workings to the coast. The remains of an overhead cable-trolley system can still be seen over the hills to the Sogeri Road."20
A number of people made a significant impact in the early days of the school. Anthony Voigt, who transferred from Kabiufa High School, ran an agricultural training course which assisted with food production for the ever-growing institution. Bill Dihm, a manual arts teacher from Port Moresby; Dr Geoff Gibson, from the University of Papua New Guinea; and Allan Smith assisted in writing meaningful teaching programs. Pastors Lui Oli and Yori Hibo gave strong support. John McMahon, the first deputy principal, shouldered many extra chores. Marion Gardner came from Alberta, Canada, to set up the library.21
The building program was conducted under the direction of Gordon Javis, bricklayer; George Eakin, plumber; Ray Blackburn, electrician; and, early on, E.G. Greenfield, carpenter. They were assisted by skilled Papua New Guinea tradesmen, Oriui, a bricklayer from Bougainville; Murray, a licensed plumber; and Edwin of the Papuan Gulf, an electrician. Roger and Don Beveridge, volunteers from Victoria, assisted, as did a large contingent of students already at the school.22
By mid-1973 it was reported that the following buildings were constructed and operational on site:23
Five cement-brick three-bedroom houses for staff.

Two small three-bedroom fibro-cement houses on six-foot piers, with laundry downstairs.

Three boys' dormitories, approximately 60 by 20 feet.

Two girls' dormitories, 60 by 20 feet.

One boys' ablution block including shower, washrooms, and toilet.

One girls' ablution block including shower, washrooms, and toilet.

One large T-shaped classroom block with seven classrooms, as well as offices, staffroom, and library.

One building incorporating three classrooms, and an office. This was one wing of a second T-shaped building.

One sewing-industry building, approximately 60 by 30 feet.

One technical building for woodwork and joinery, 60 by 30 feet.

One dining-room, 60 by 40 feet.

One kitchen attached to the dining room.

One powerhouse, including a Gardner engine driving a 62 KVA alternator.

A 40-foot windmill with a 17-foot fan connected to a bore and a large storage tank.

A number of temporary structures in addition.
It was reported that the whole project had come at a cost of A$110,000, approximately A$10,000 over budget.
With the organization of the Papua New Guinea Union Mission in 1972, Mount Diamond Adventist High School was designated as one of its three senior high schools. The others were Kabiufa High School near Goroka, in the eastern Highlands, and Kambubu High school near Rabaul in East New Britain. At Mount Diamond, as with the others, extensive gardens were established to support the needs of the school community. The school had a farm of approximately 300 hectares. About 250 hectares was cultivated and planted with staples such as corn, sweet potato, tapioca, and pumpkins. Vegetables such as pac choi, saladeer, wong bok, cabbage, tomatoes, capsicum, eggplants, and cucumbers were grown for the school kitchen, and for local consumption and sale to outlets in town.24
The school also operated a number of small industries. The objective was not only to earn an income for the school, but to give the students a sound background in practical skills. The school's program was built on the holistic educational philosophy characteristic of Seventh-day Adventist educational institutions.
In 2016 operation of the school was transferred from the Papua New Guinea Union Mission to the Central Papuan Conference.25 As of 2018 Mount Diamond had 754 students: 229 in Grade 10, 180 in Grade 11, 217 in Grade 12, and 128 in Grade 13. The school had 27 teaching staff members. The previous year, 179 of the students had been baptized.26
Contact Details
Mount Diamond Adventist Secondary School. P.O. Box 1753; Boroko Central Province, 111, Papua New Guinea.
Principals
Mirigeda: Cecil J. Howell (1930); Stanley Pennington (1931–1938); Ken Gray (1938–1941).
Bautama Central School: Ken Gray (1947); Rod M. Ellison (1948–1949); Ernest Lemke (1950–1951); Alfred Chapman (1952–1955); M. McLaughlin (1956-1958); Douglas Oemke (1961–1973); Eric White (1964–1966); Alexander Campbell (1967); Kevin Silva (1968–1972).
Mount Diamond High School: Neville Tosen (1972–1976); Donald Dickins (1981–1983); David McClintock (1984–1986); Alan Clark (2002–2007); Geoffrey Kombil (2008–2014); Martin Seve (2015–2018); Sainimili Suwary (2019–).
Sources
Boehm, Ken A. "Mt. Diamond School Takes Shape." Australasian Record, May 15, 1972.
Chapman, Alfred G. "Forward Thinking & Practical Plans - establishing training schools in Papua and in the Mandated Territory of New Guinea in the 1930's (Part 8)." Journal of Pacific Adventist History 4, no. 2 (December 2004): 8-12.
Chapman, Alfred G. "Education - the Church and the Administration (Breaking New Ground - Part 10)." Journal of Pacific Adventist History, June 2006.
Chapman, Alfred. "Breaking New Ground: the entrance of the Adventists into Papua New Guinea (Biographical Information of the Author)." Journal of Adventist Pacific History, June 2001.
Lorenzo, Fred. "The History of Mt Diamond Adventist School." Ediarimu Tenth Anniversary, December 1983.
Davai, Thomas. "Meanou Peruka--providential leading in the spread of the Gospel, Papua in the Early 1930s." Journal of Pacific Adventist History, December 2004, 17-18.
Ellison, Rod. "Post World War II Education in Papua: A Recollection and Reflection." Journal of Adventist Pacific History, August 2014, 9-14.
Frame, Robert. "Mission and Memories of the Life and Service in the Pacific." Journal of Pacific Adventist History, June 2006: 42-48.
Piez, E. R. "New School at Mt Diamond." Australasian Record, May 28, 1973.
Richter, R. W. "An Ensign in New Guinea." Australasian Record, March 22, 1971.
Seventh-day Adventist Yearbook. Accessed February 11, 2020. http://documents.adventistarchives.org/Yearbooks/YB2017.pdf.
Tosen, Neville. "The History of Mount Diamond Adventist High School." Ediarimu 10th Anniversary School Annual, December 1983.
Notes