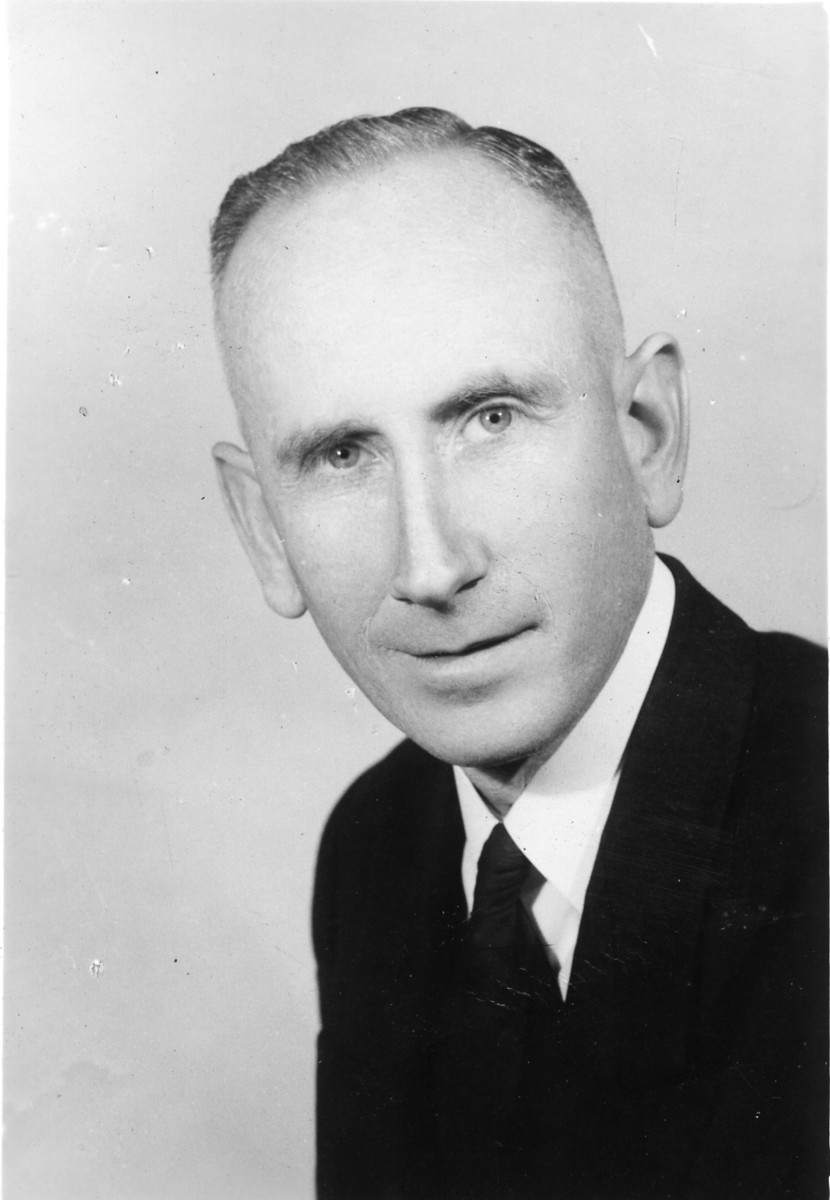 Pascoe, William Lewis (1912–2004) and Mona (O'Connor) (1912–1997)
×
Wilfred Henry Pascoe, B.A. Theology (Avondale College, New South Wales, Australia) retired in 2012 after 44 years of service. An Australian by birth, Pastor Pascoe served the Adventist Church as pastor, evangelist, and school Chaplain in the North New South Wales and West Australian Conferences. He also served as president of South West Papua Mission. Pastor Pascoe is married to Michelle (Rampton). They have three adult sons and three adult daughters with 14 grandchildren.
First Published: January 29, 2020
William Lewis Pascoe held a number of clerical and financial positions in the Australasian Division before becoming an assistant treasurer of the General Conference of Seventh-day Adventists in Tacoma Park, Washington, D.C.
Early Life
William Lewis Pascoe was born in Auckland, New Zealand, on February 11, 1912.1 His parents were William Henry Pascoe and Olive May (Bree).2 There were five boys in the family: Arthur Lesley; Henry Vincent; William Lewis; Helier Martin; and Lindsay Oliver.3 The family had united with the Seventh-day Adventist (SDA) Church in Tokanui, South New Zealand, in 1896.4
William learned firsthand the challenges of gaining an education as a pastor's child. He commenced school in 1919 at the South Brisbane Church School. When his father was appointed president of the New South Wales Conference, William attended the local public school in Pennant Hills, Sydney. In 1922, when his father was appointed president of the South Australian Conference, he attended the Prospect School and then the North Adelaide Boys School. In 1924 the family moved to Hobart, Tasmania, where he attended the Hobart High School. In mid-1925 there was a move to Melbourne, VIC, where he attended the Mont Albert Central SDA School and Melbourne Boys High School, and completed the intermediate certificate. At the end of 1926 his father was transferred to be the pastor of the Avondale village church, Cooranbong, NSW.5
In February 1927, at the spot known locally as "Dry Log" on Dora Creek, William was baptized by his father.6 The following year he enrolled in the business course at the Australasian Missionary College at Avondale. He graduated from that course at the end of 1929.7
On graduation he was appointed by the Australasian Division to accounting duties at the Sanitarium Health Food factory office at Cooranbong.8 He was paid two pounds and five shillings per week, with a 5 percent cut because of the great financial depression.9 He remained at the factory until 1934.
Realizing the importance of having a full knowledge of accounting, auditing, legal and business affairs, and in order to become a professional accountant recognized by law, he enrolled in a study program, which led to two fellowships: fellow of the Australian Society of Accountants, and fellow of the Chartered Institute of Accountants.10
Marriage and Family
In early 1932, while working at the factory, William developed a friendship with an Avondale student, Mona O'Connor, who was also working part-time in the factory press.11 Mona had been born on May 31, 1912, at Melbourne, Victoria.12 Her parents were William John O'Connor (died 1921), and Florence May (Humbustone) (died 1971). The family lived in Warburton, VIC, where they attended a series of meetings conducted by A. W. Anderson and Robert Hare in 1915. After she finished high school, Mona was employed by the Signs Publishing Company until going to the Australasian Missionary College in 1932.13
Three children were to be born into the family of William and Mona: Pascoe Frances May (Kench) (born April 16, 1936); Margaret Valmai (Wylie) (born December 16, 1940); and William Bryce (born November 20, 1943). They were all born at the Sydney Sanitarium and Hospital.14
Life and Service to the SDA Church
William Pascoe served the SDA Church in the following capacities and places:
| | |
| --- | --- |
| December 1, 1929–January 25, 1934 | clerical and bookkeeping, SHF Factory, Cooranbong |
| January 26, 1934–September 30, 1936 | accountant, Australasian Division, Wahroonga |
| October 1, 1936–September 30, 1942 | associate treasurer, Australasian Division |
| October 1, 1942–June 30, 1954 | treasurer, Australasian Division |
| July 1, 1954–July 29, 1962 | treasurer, Far Eastern Division, Singapore |
| July 30, 1962–December 31, 1977 | assistant treasurer, General Conference |
William was ordained to the gospel ministry at Avondale College on December 4, 1948.15 He officially retired on February 1, 1978, after more than 48 years of service for the global SDA Church.16
Retirement and Later Years
Following his retirement William continued to make a contribution by taking Sustentee Overseas Service (SOS) assignments from the General Conference from time to time to fill specific needs. These assignments included:17
| | |
| --- | --- |
| January 1980 to July 1980 | acting secretary-treasurer, Uganda |
| November 1981 to April 1982 | acting secretary-treasurer, Bermuda |
| February 1983 to August 1983 | acting treasurer, South China Inland Union |
| January 1985 to April 1985 | auditing, Egypt |
| January 1986 to October 1986 | treasurer, Adventist World Radio, Guam |
| January 1988 to April 1988 | acting treasurer, Sri Lanka Union of Churches |
| November 1988 to March 1989 | Far Eastern Division, Singapore |
| October 1990 to March 1991 | financial consultant, Russian Division |
| September 1992 to February 1993  | treasury consultant, Southern African Union |
Mona died on January 7, 1997.18 William died on April 13, 2004.19 They are both buried in the Avondale Adventist Cemetery, Cooranbong, NSW, Australia.
Sources
"Items From the Special Session." Australasian Record, January 10, 1949.
Pascoe, Mona. "Summary of My Life." Unpublished manuscript held in the personal collection of Francis Kench, daughter of William and Mona Pascoe.
Pascoe, William L. "Autobiography." Unpublished manuscript held in the personal collection of Francis Kench, daughter of William and Mona Pascoe.
Radley, T. J., and R. E. Jerrard, "Mona Pascoe obituary." Record, March 15, 1997.
Tolhurst, Athal, Malcolm Allen, and Bert Cozens. "William Lewis Pascoe obituary." Record, May 22, 2004.
William Henry Pascoe Biographical Records. South Pacific Division of the General Conference Archives. Folder: "Pascoe, William Henry." Document: "William Lewis Pascoe."
William Lewis Pascoe Biographical Records. South Pacific Division of the General Conference Archives. Folder: "Pascoe, William Lewis." Document: "Biographical Information Blank."
William Lewis Pascoe Biographical Records. South Pacific Division of the General Conference Archives. Folder: "Pascoe, William Lewis." Document: "Biographical Record."
William Lewis Pascoe Service Records. South Pacific Division of the General Conference Archives. Folder: "Pascoe, William Lewis." Document: "Pascoe, William Lewis."
William Lewis Pascoe Sustentation Records. South Pacific Division of the General Conference Archives. Folder: "Pascoe, William Lewis." Document: "Pascoe, W. L. (Gen Conf)."
Notes