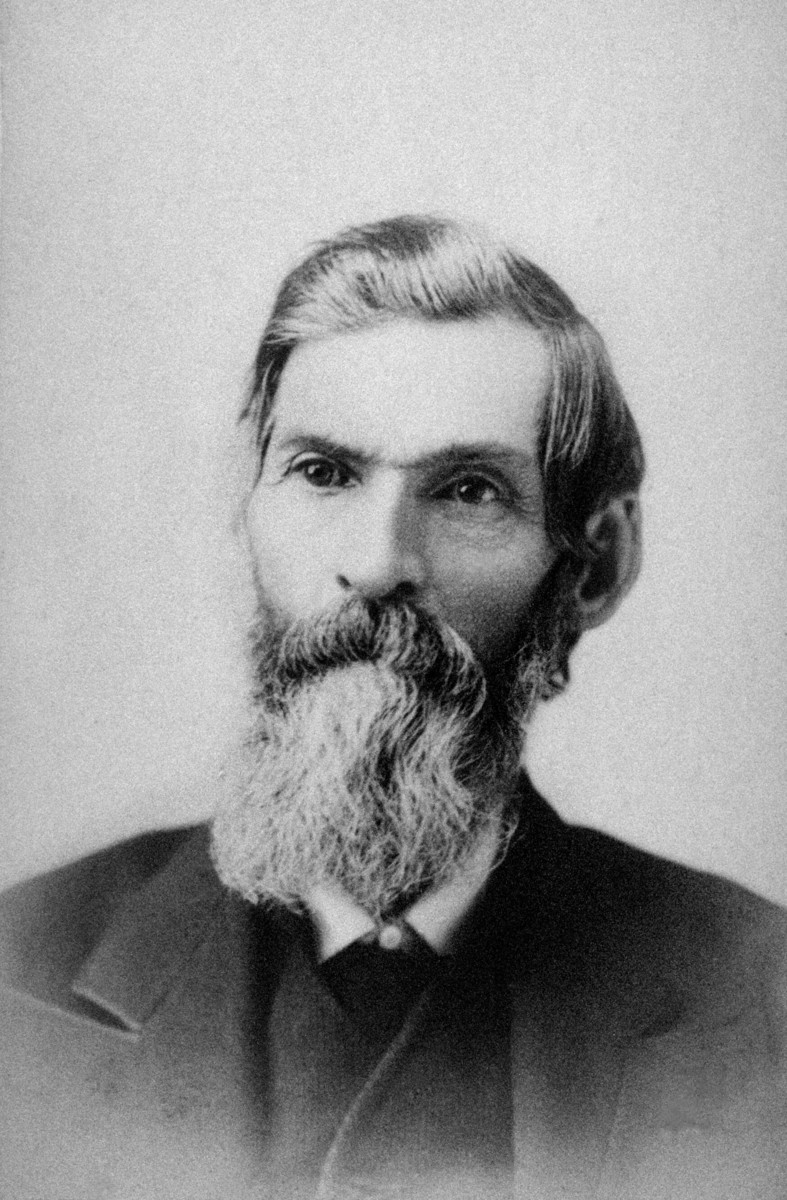 Haughey, John Quincy Adams (1829–1909) and Lavina (Paullin) (1836–1917)
×
Michael W. Campbell, Ph.D., is North American Division Archives, Statistics, and Research director. Previously, he was professor of church history and systematic theology at Southwestern Adventist University. An ordained minister, he pastored in Colorado and Kansas. He is assistant editor of The Ellen G. White Encyclopedia (Review and Herald, 2013) and currently is co-editor of the forthcoming Oxford Handbook of Seventh-day Adventism. He also taught at the Adventist International Institute for Advanced Studies (2013-18) and recently wrote the Pocket Dictionary for Understanding Adventism (Pacific Press, 2020).
First Published: September 22, 2022
John and Lavina Haughey, prominent in church life during the early decades of the denomination's history, were key financial supporters of James and Ellen White and often led the way in financial contributions for major church projects.
Early Life and Conversion
John was born February 12, 1829, in Bowersville, Ohio, the eighth of twelve children of John and Patience Haughey. On April 4, 1853, he married Lavina Paullin, who came from a family active in the Christian Church at Jamestown, Ohio, about five miles north of Bowersville. Together they had four children: Alonzo (b. 1854), David (b. 1856), Joseph (b. 1857), and James (b. 1858).1
The Haugheys joined the Seventh-day Adventist church after attending meetings conducted in Bowersville by Joseph H. Waggoner and I. D. Van Horn during the fall of 1867.2 John served as the clerk for the Bowersville church in 1870 and that same year was elected a member of the Ohio Conference committee.3 He wrote with exuberance about the benefits of health reform in an article published in the Health Reformer in 1869.4
Philanthropic Endeavors
Much evidence points to the Haugheys' high level of financial support for denominational endeavors. In 1871 John and Lavina contributed $25 for the Ohio evangelistic tent, more than anyone else (the next highest contributions were $10).5 In 1871 they purchased $20 worth of shares in the Seventh-day Adventist Publishing Association and $25 worth of shares in the Health Reform Institute.6 As part of a campaign that raised $54,000 for the start up of Battle Creek College, they made a major contribution of $500 to the Seventh-day Adventist Educational Society, the largest single donation by a factor of 10 in a listing apparently covering the second half of 1874.7
The Haugheys were also among the original contributors for the Signs of the Times, launched in Oakland, California, in 1874.8 In 1877 John gave $100 for the "Pacific Mission"9 and another $100 for the "European Press."10 In 1878 John and Lavina joined James White and R. G. Lockwood in challenging seven other people also to contribute $100 each to raise $1,000 to help circulate Ellen White's writings.11 They also became, in 1881, charter "life members" of the General Conference Tract & Missionary Society, contributing $10.00 each.12
In the fall of 1875 the Haughey family relocated to Battle Creek, Michigan, where they purchased the home of James and Ellen White, located near the Battle Creek Sanitarium. Later, in 1884, they put this home up for sale13 and eventually purchased another one at 202 Washington Street in Battle Creek (this home would be later torn down and the current Seventh Day Baptist Church built on the property).
Despite the couple's earlier philanthropic endeavors, by the 1880s their relationship with the church appears to have cooled. Hardly any references to them appear in denominational periodicals. Regarding a visit she had with John and Lavina Haughey in January 1889, Ellen White noted that they had stopped paying tithe, and thus "had been robbing God" but now "gave their note for three hundred dollars."14 Lavina admitted that "she owed the Lord a large sum" and promised that "she would return into the treasure [sic] double," Ellen White recounted.15 This visit appears to have revived their financial support.
Publishing Venture
In 1895 John wrote and published a 32-page pamphlet on Christ's Coming: The Bible Evidences and Signs of our Times.16 It was "put together logically and forcibly," according to a note in the Review and Herald. The pamphlet was advertised for sale for 3 cents each or $5 for 1,000 copies.17 By February 1898 some 107,000 copies had been distributed, and a new edition was available, "printed and illustrated, both in Spanish and English," making it one of the earliest Seventh-day Adventist publications for use in reaching Spanish-speaking people.18 A few months later, in June 1898, another edition of 20,000 copies came out with "an illustrated pink cover."19 Ellen White appreciated his booklet and kept a supply to distribute.20 By 1900, a total of 170,000 copies had been circulated.21
John was noted for his love of Adventist singing. As "a lover of music" he "composed religious poems" some of which were "set to music and published."22 Perhaps his best-known composition is "The Grand Jubilee" published in the hymnbook Songs for Service (1904). His daughter in law, Meda T. Haughey (1854-1886), who married his oldest son Alonzo, wrote the famous hymn "Sunlight in the Heart" shortly before her death (Hymns and Tunes #1216).23
Legacy
John Q. A. Haughey died July 1, 1909, in Assyria Township, Michigan, about 12 miles from Battle Creek. He was 80 years old. George Amadon described him "as a man of prayer, a man of faith, and a very active Christian." Although he didn't have many "educational advantages," he read books, continually pushing himself to learn.24 It likely was this love of learning that led him to make some of his largest financial contributions on behalf of Adventist education at its most crucial, formative stage.
Lavina Paullin Haughey passed away on October 30, 1917, in Battle Creek, at the age of 83.25
Sources
Amadon, G. W. "John Quincy Adams Haughey obituary." ARH, October 14, 1909.
Adams, J. Q. A. "T. J. S. Paullin obituary." ARH, June 2, 1891.
Ellen G. White Writings. Letters and Manuscripts. https://m.egwwritings.org/en/folders/1277.
Gaylord, O. F. "Lavina Paullin Haughey obituary." ARH, December 6, 1917.
Haughey, John Quincy Adams. Christ's Coming: The Bible Evidences and Signs of Our Times. Battle Creek, MI: Independently published, 1895.
Haughey, J. Q. A. "Acceptable Christian Service." ARH, September 17, 1872.
Haughey, J. Q. A. "The Sabbath Binding Upon All." ARH, February 28, 1871.
"John Q. A. Adams." Find A Grave. Memorial ID 13450439, February 26, 2006. Accessed September 21, 2022. https://www.findagrave.com/memorial/13450439/john-q._a.-haughey.
Notes