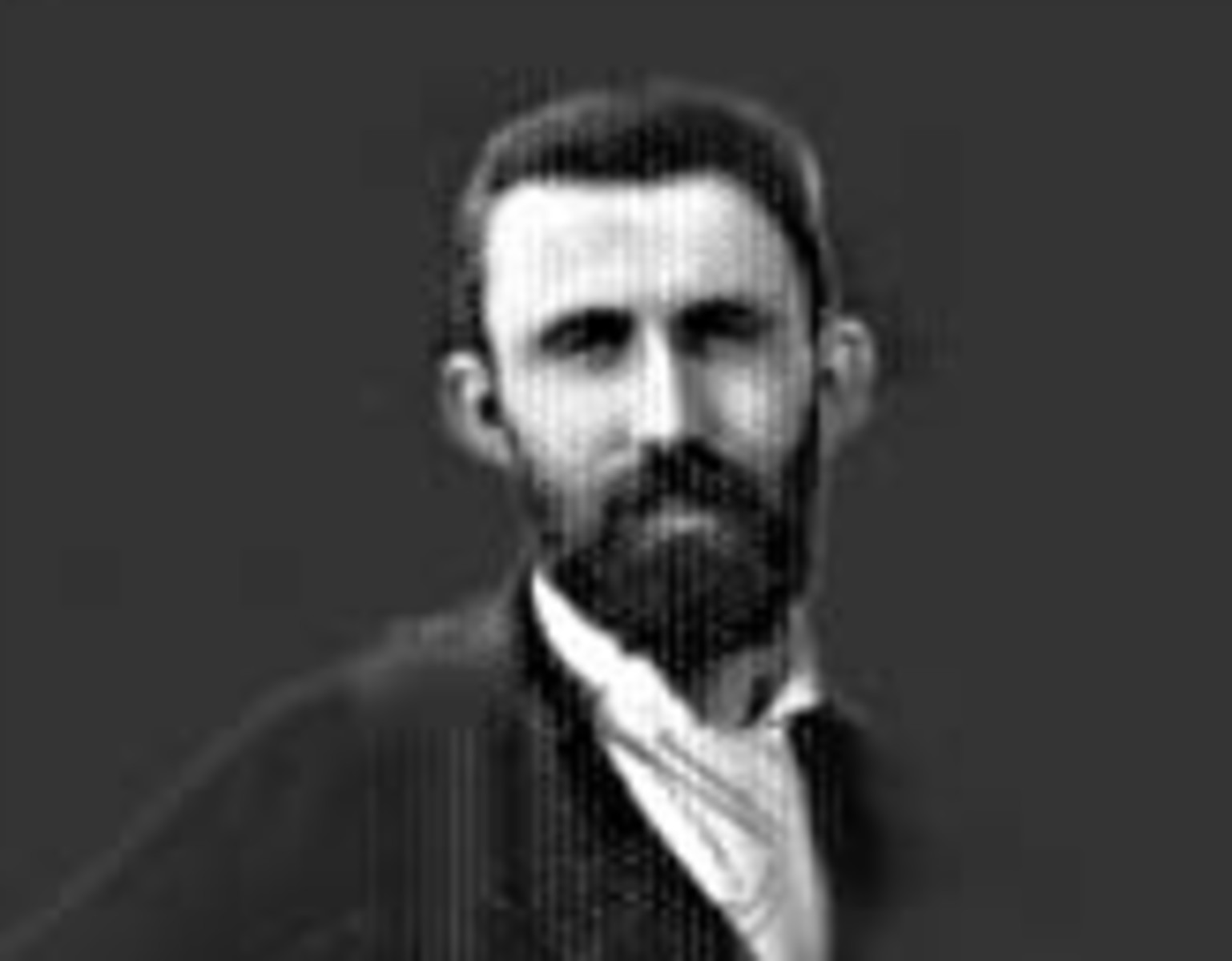 Braucht, Friedrich Eldon (1868–1948) and Mina Agnes (Owen) (1870-1946)
×
Milton Hook, Ed.D. (Andrews University, Berrien Springs, Michigan, the United States). Hook retired in 1997 as a minister in the Greater Sydney Conference, Australia. An Australian by birth Hook has served the Church as a teacher at the elementary, academy and college levels, a missionary in Papua New Guinea, and as a local church pastor. In retirement he is a conjoint senior lecturer at Avondale College of Higher Education. He has authored Flames Over Battle Creek, Avondale: Experiment on the Dora, Desmond Ford: Reformist Theologian, Gospel Revivalist, the Seventh-day Adventist Heritage Series, and many magazine articles. He is married to Noeleen and has two sons and three grandchildren.
Friedrich Braucht was a medical missionary who established the Samoan Sanitarium in the 1890s.
Early Years
Friedrich Eldon Braucht was born to George and Frances Braucht on July 21, 1868, in the farmlands of Mercer County, east of the Mississippi River, Illinois, United States of America.1 He attended Rush Medical College in Chicago, graduating as a medical doctor in 1894. He subsequently received a dentistry degree.2 During his graduate studies, he married Mina Agnes Owen on September 12, 1893, in Battle Creek, Michigan. Mina had attended the Chicago Women's College and did a short course at Battle Creek Sanitarium to equip her for medical mission service.3
Mission Service
In 1894 General Conference officials appointed the Brauchts to join Mina's parents on Rarotonga.4 Friedrich and Mina joined the team of missionaries aboard the fourth voyage of the Pitcairn that left San Francisco, California, on April 30, 1895.5 The voyage to Pitcairn Island took more than a month and was characterized by mountainous seas, severe seasickness, and frustrating periods in the equatorial doldrums.6 From Pitcairn Island, the boat took them to Rarotonga, where they learned the sad news that Mina's mother had passed away. Mina's father, Dudley Owen, joined them.7 The family thought they might settle in Fiji, so the captain sailed westward to Fiji, where Braucht discovered that his American qualifications were unacceptable to the British government in Fiji. They traveled back to Apia, Samoa, arriving October 22. The German government welcomed them, and Braucht began treatments on November 15, 1895.8
Braucht's work met with success from the start, one factor being that the Samoan people believed he did not exhibit a spirit of European superiority. The report at the end of December 1895 gave a total of 1,072 treatments, including 7 surgical operations, 77 home visitations and 85 dental procedures.9
The owner of their rented premises kept raising his price to the point where Braucht determined to purchase his own property. He located a suitable offer on the outskirts of Apia, paying £130 for it. Merritt Kellogg constructed a large building that served as a sanitarium and living quarters (see Samoan Sanitarium), and the medical work prospered. Braucht conducted the enterprise on a cash basis, he being the owner, and by 1899 he reported he had over £400 in cash reserves. He spoke of the dire need of ministerial help to capitalize on the good reputation enjoyed by Seventh-day Adventists.10
Two children were born into the Braucht family while in Samoa: Marjorie Leata on December 15, 1896, and Frederick Alden on January 21, 1898.11
In mid-1899, Braucht attended the Australasian Union Conference Session in Cooranbong, NSW. His glowing report of the Samoan Sanitarium was, in a sense, his undoing, for he was persuaded to transfer to Christchurch, New Zealand, in order to repeat his success.12 In hindsight, it would have been prudent to remain in Samoa for the sake of stability.
Braucht's appointment to New Zealand witnessed a promising start for the Christchurch Sanitarium in 1900 (see Christchurch Sanitarium).13 He was in residence for only 18 months when it became evident that his replacement in Samoa was not a suitable choice. Therefore, in mid-1901, Braucht hurried back to his Samoan Sanitarium to mend matters.14 For approximately two years, he remained in Samoa until illness prompted the family to return permanently to America.15 The Samoan property was later deeded to the Australasian Union Conference.16
Back in the Homeland
Braucht continued in his profession but moved frequently. In 1904 he was located in Chicago.17 The following year he was listed at Council Bluffs, Iowa,18 and at Mhoon Valley, Mississippi. While resident at Mhoon Valley, his daughter Marjorie suddenly became ill and passed away on September 14, 1905. At the time, Friedrich was quarantined in British Honduras for reasons unknown.19 In 1906 the family was in Wisconisco, Pennsylvania.20
The years 1907 through 1909 found Friedrich at the Kansas Sanitarium as the medical superintendent.21 These were the last years that he worked within the Seventh-day Adventist denomination. A late addition to the family, Dorothy Frances, was born in Kansas in 1910.22
During the First World War, Braucht served in the army medical corps, gaining the rank of major. He then returned to private practice, first in Fremont, Nebraska, and from 1925 onward at Elkader, Iowa. Friedrich and Mina joined the local Evangelical Reformed Church. In 1944 the Iowa State Medical Society awarded Friedrich a medal for 50 years of service to medicine. Mina passed away on March 16, 1946. Friedrich continued to practice until he suffered a stroke a week before he passed away on December 4, 1948.23 Both Mina and Friedrich were interred in Elkader Cemetery.24
Legacy
Friedrich and Mina Braucht demonstrated a true humanitarian spirit during their mission service in the South Pacific. They invested their own resources in their endeavors, and their professionalism was highly regarded. If they had remained in Samoa and received the ministerial assistance so sorely needed then, the Samoan mission cause would not have been so slow to gather momentum. Their work had eliminated much prejudice.
Sources
Braucht, F. E. "Samoan Medical Mission." Union Conference Record, July 19, 1899.
———. "Christchurch Sanitarium." Union Conference Record, November 1, 1900.
Butz, E. S. "Missionary Adventures of 1894." Australasian Record, December 7, 1942.
"Doctor F. E. Braucht, who went to the Fiji Islands . . ." ARH, February 25, 1896.
"Frederick Eldon Braucht." Ancestry.com. Retrieved from https://www.ancestry.com.au/family-tree/person/tree/55201883/person/370101958229/facts?ssrc=.
Gates, E. H. "Mission Notes." Union Conference Record, December 1, 1901.
——— "Report of the Island Missions." Union Conference Record, September 11, 1903.
Graham, J. E. "The 'Pitcairn's' Visit to Samoa." The Bible Echo, December 16, 1895.
Howse, E. B., and Howse, T. "Samoa." Union Conference Record, October 24, 1910.
"Items of Interest." ARH, May 14, 1895.
McCoy, Emily. "Encouraging Report from Samoa." The Bible Echo, March 16, 1896.
"Notes from the Field." The Bible Echo, August 13, 1894.
Owen, D. A. "A Letter from the Islands." April 21, 1896.
Owen, R. S. "Marjorie Braucht." ARH, September 28, 1905.
P2-ABQ. "Dr. Friedrich E. Braucht." Find A Grave, November 30, 2016. https://www.findagrave.com/memorial/173333071/friedrich-e-braucht.
P2-ABQ. "Mina Agnes (Owen) Braucht." Find A Grave, November 30, 2016. https://www.findagrave.com/memorial/173333063/mina-agnes-braucht.
Parker, C. H. "Samoa." Union Conference Record, September 7, 1908.
"Resolutions Adopted by the Union Conference." Union Conference Record, July 31, 1899.
Seventh-day Adventist Yearbook. Washington, D.C.: Review and Herald Publishing Association, 1904–1909.
"We are pleased to hear that Dr. F. Braucht . . ." Union Conference Record, November 1, 1899.
Notes