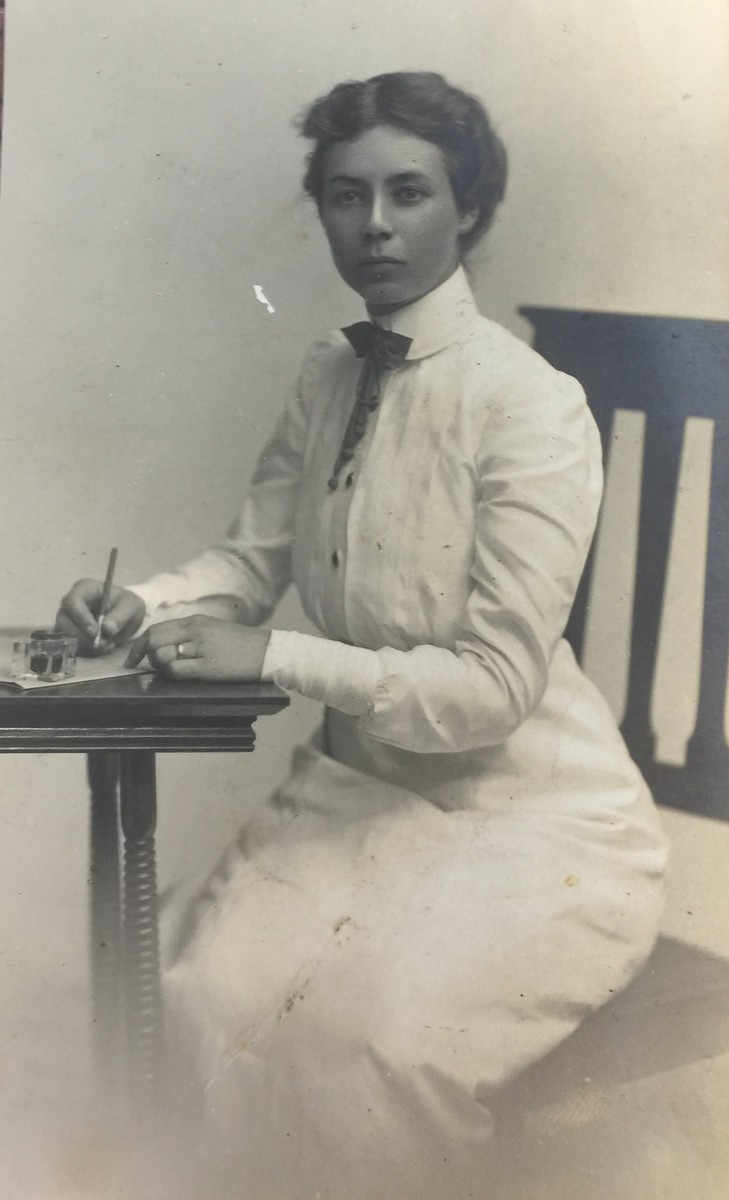 Freeman, Margherita Mahy (1884–1979)
×
Milton Hook, Ed.D. (Andrews University, Berrien Springs, Michigan, the United States). Hook retired in 1997 as a minister in the Greater Sydney Conference, Australia. An Australian by birth Hook has served the Church as a teacher at the elementary, academy and college levels, a missionary in Papua New Guinea, and as a local church pastor. In retirement he is a conjoint senior lecturer at Avondale College of Higher Education. He has authored Flames Over Battle Creek, Avondale: Experiment on the Dora, Desmond Ford: Reformist Theologian, Gospel Revivalist, the Seventh-day Adventist Heritage Series, and many magazine articles. He is married to Noeleen and has two sons and three grandchildren.
Margherita Freeman was the first female Seventh-day Adventist in Australasia to graduate from university medical studies. She had remarkable success in her role at the Avondale Health Retreat, the Sydney Sanitarium, and in private practice.
Early Life
Margherita Freeman, better known as Rita, was born to William and Ada (Renouf) Freeman in their family home in Carlton, suburban Melbourne, on October 9, 1884.1 Margherita's name was an adaptation of her maternal grandmother's maiden name, Marie Marguente Mahy.
At the time of his marriage on December 8, 1883, William Freeman was a librarian and proprietor of a fine art gallery in Melbourne.2 The family moved north to Brisbane, Queensland, when Margherita was a young girl. In Brisbane William and Ada lost their baby son to diphtheria. Ada searched the Scriptures for answers regarding the nature of death and discovered the unrelated biblical method of baptism. This prompted her to leave her Anglican faith and join the Baptists. The family moved back to Melbourne for two years, at which time Ada attended a crusade by Elder Arthur Daniells. He spoke on the nature of death and persuaded her of the Adventist belief. This peace of mind about her son's demise came to her about 1892 or 1893.3
During the height of the Depression years in the 1890s the Freemans decided to move to Perth, Western Australia, where there were better work opportunities in the heyday of the gold rushes. She and her mother began worshipping with the Seventh-day Adventists at a rented hall on Museum Street. They joined as members in 1899.4 They were camping on the south side of the Swan River under primitive conditions. To obtain water to drink they would row across to Kennedy Spring, known to the aboriginals as Goonininup, at the base of Kings Park.5 Later, they had sufficient means to move into a proper home.
Academic Studies
Rita attended the prestigious Perth Girls' Public School (PGPS) and excelled in her studies. She won the proxime accessit (runner up) at PGPS in 1899 and of the three government bursaries on offer, she was awarded one of them.6 In the following year, 1900, she was runner up again and won the General Excellence Award and the Euclid Award. At the awards ceremony Dr. Jameson, a member of the legislative council, spoke at length about how women were achieving equality with men in society and predicted that one day they would lead the nation.7 These sentiments undoubtedly inspired Rita to aim high. She wanted to be a medical doctor.
Church officials advised Rita not to go to the denomination's training college in Battle Creek because Dr. Kellogg was growing antagonistic toward the Seventh-day Adventist Church.8 Instead, she enrolled at the Avondale School for Christian Workers at Cooranbong, New South Wales. She was forever grateful for the godly influence of the teachers.9 Her mind, however, remained focused on a medical career. All roads seemed to lead to Sydney University. Once again, church officials advised her, urging against a long period of study because of their view that she would not complete it before the second advent. Rita reasoned otherwise, believing that if the second advent did occur in the near future, it would be a noble thing to be found studying God's genius in the workings of the human body.10
Entrance examinations to Sydney University were demanding. She applied herself at Ballydown Boys' Coaching School and found success. The years of university study were fraught with financial hardships that were alleviated in her final year when Elder John Fulton arranged for a church loan with an indemnity clause requiring her to repay it after graduation.11 She graduated in June 1911 with a bachelor's degree in medicine and a master's degree in surgery. Freeman was the first female SDA in Australasia to graduate from university medical studies.12 There were six other women in her class, indicative of a social movement in Australian society. Her first response was to publish a few paragraphs in the church paper, acknowledging God's guidance and thanking her supporters.13
Medical Practitioner
Rita began denominational employment in August 1911.14 She returned to Cooranbong and her former school that had recently changed its name to Australasian Missionary College. She was to serve as the resident medic on campus, develop a clientele in the village, and restore the Avondale Health Retreat. Within a month she had started refurbishing the Retreat and patients were admitted.15 It was registered as a private hospital and the official opening took place on July 21, 1912.16 Just a few weeks later, on September 18, she married Dr. Thomas Sherwin at the retreat in a simple ceremony performed by Elder John Fulton.17 Sherwin was already working at the Sydney Sanitarium and, of course, Rita chose to join him. Church officials elected not to replace her at the retreat and the Avondale Health Retreat withered and died, despite a belated attempt at revival in 1914. Rita's hard work proved to be of fleeting effect.
Thomas and Rita first lived in a cottage at the gates of the Sanitarium. Their furnishings were sparse. They owned a double bed stretcher, a table, two chairs, and a few wedding gifts.18 They were advised by church officials to not have any children, which they heeded, because of the nearness of the time of trouble. Rita explained many years later that their marriage was a platonic one that gradually grew into love.19
Fulton had urged that the couple be married and his motive soon became evident. Thomas and Rita Sherwin learned that the Sanitarium was facing deregistration if the resident doctors were not recognized by the British Medical Association. Another underlying problem was the advocacy of medicine without drugs as practiced by previous doctors who trained under Dr. John Kellogg. Thomas Sherwin negotiated the institution out of this dilemma.20 During their tenure they witnessed the addition of two new wings to the main building, in 1917 and 1920, and a separate birthing cottage for maternity patients. Rita spent much of her time in obstetrics, but also engaged in some general surgery and post-operative care on the wards. Tutoring the trainee nurses rested largely in her portfolio. For some months in 1922 she was left in charge of the Sanitarium while Thomas made an overseas study tour.21 She published against the use of coffee and tea22 and gave health lectures at a Brisbane, Queensland camp meeting in 1924.23
In February 1927 the Sherwins were granted eighteen months leave for post-graduate study. Thomas stayed in London to study the treatment of tropical diseases. Rita traveled on to Dublin, Belfast (Rotunda Hospital), Liverpool, and back to London to further her gynecological studies.24
Rita continued her residency at the Sanitarium until April 193325 when she transferred to Melbourne, Victoria in order to be nearer to Thomas. The previous year Thomas had been appointed to be medical superintendent at Warburton Sanitarium. Rita remained in the city and established a private practice as an obstetrician and gynecologist on Collins Street, and later in the beachside suburb of Brighton. Thomas had a cottage on site in the hills at Warburton but would often visit Rita. Later, in 1945, when Thomas was appointed as medical secretary for the Australasian Union Conference his work took him further afield, but Rita maintained her practice in Melbourne. She purchased a motor car and learned to drive herself to home deliveries.26
Retirement
In 1950, when Thomas retired, Rita joined him on a small sheep farm in Collie, Western Australia. During wartime in Melbourne Rita had served part-time with the St. John Ambulance Brigade as a divisional surgeon. In her years of retirement, she continued her commitment to the St. John Ambulance and was honored to be admitted to the Order of Serving Sisters in 1952. Their foray into farming was not a success, losing many lambs to feral animals. They abandoned it in 1958 and moved to the same area in Perth where Rita had camped by the Swan River in the 1890s with her parents.27
Thomas died suddenly on October 15, 1965 of a heart attack.28 In a neighboring suburb, Rossmoyne, the denomination had developed a retirement village where one building was named Sherwin Lodge. In 1970 a high-care facility was added and named Freeman Nursing Home in honor of Rita.29 After its opening she moved into Sherwin Lodge. Later, when suffering from failing eyesight and memory loss, she was transferred to the facility in her name. She died peacefully on March 7, 1979.30
Rita Sherwin was a trailblazer. At the 1975 General Conference Session she was cited for outstanding service in medicine.31 She was held in high esteem by all who knew her and was respected for her dedication to medicine, especially obstetrics.
Sources
Adams, C[yrus] S. "Dr Thomas Aylwin Sherwin." Australasian Record and Advent World Survey, vol. 69, no. 48, November 29, 1965.
"At one o'clock on the afternoon…" Australasian Record, vol. 16, no. 40, September 30, 1912.
Brown, R[eginald] K. "Freeman Nursing Home Opened in Western Australia." Australasian Record and Advent World Survey, vol. 75, no. 4, January 25, 1971.
"Dr Freeman has accepted…" Australasian Record, vol. 15, no. 33, August 14, 1911.
"Food Facts: We Are What We Eat." The Brisbane Courier, vol. 78, no. 20690, May 16, 1924.
Freeman, Margherita M. "An Expression of Appreciation." Australasian Record, vol. 15, no. 30, July 24, 1911.
Freeman, M[argherita] M. "Are We Consistent?" Australasian Record, vol. 27, no. 41, October 15, 1923.
Freeman, Margherita M. "First Australian SDA Doctors." Australasian Record and Advent World Survey, vol. 60, no. 10, March 5, 1956.
Fulton, J[ohn] E. "The Work in Australasia." Australasian Record, vol. 16, no. 16/17, April 15, 1912.
"Honored Women of the Church," Review, General Conference Bulletin No.10, August 7-14, 1975.
"In sending New Year greetings..." Australasian Record, vol. 32, no. 2, January 9, 1928.
"Life Sketch of Doctor T.A. Sherwin," Australasian Record and Advent World Survey, vol. 69, no. 48, November 29, 1965.
Margherita Mahy Freeman Work Service Records. South Pacific Division of the General Conference Archives, Wahroonga, NSW. Work Service Records. Folder: Margherita Mahy Freeman. Document: "Margherita Mahy Freeman Biographical Information Form."
Medical Dictionary of Australia. Glebe, [Sydney]: Australian Medical Publishing Company, 1948.
Moe, R[ex] V. "Dr Margherita Mahy Freeman obituary." Australasian Record and Advent World Survey, vol. 84, no. 27, July 2, 1979.
Moe, R[ex] V. "Life Sketch of Dr Margherita Mahy Freeman." Australasian Record and Advent World Survey, vol. 84, no. 31, July 30, 1979.
Northcote District, Victoria. Marriage Records. Registry of Births, Deaths and Marriages, Melbourne, Victoria. 1883. Registered Number 5334.
"Perth Girls' Public School." The West Australian, vol. 16, no. 4608, December 12, 1900.
Piper, A[lbert] H. "The Re-opening of the Avondale Health Retreat." Australasian Record, vol. 16, no. 32, August 5, 1912.
Power, Rose-lee. Born to Serve: Dr Margherita M Freeman, Woman of Courage and Determination. Warburton, Victoria: Signs Publishing Company, 2012.
"School Prize Distributions." The West Australian, vol. 15, no. 4301, December 14, 1899.
Sherwin, T[homas] A. "First Australian SDA Doctors." Australasian Record and Advent World Survey, vol. 60, nos. 8 and 9, February 20 and 27, 1956.
"Sister Margherita M. Freeman…" Australasian Record, vol. 15, no. 28, July 10, 1911.
"Some necessary alterations…" Australasian Record, vol. 15, no. 41, October 9, 1911.
Notes