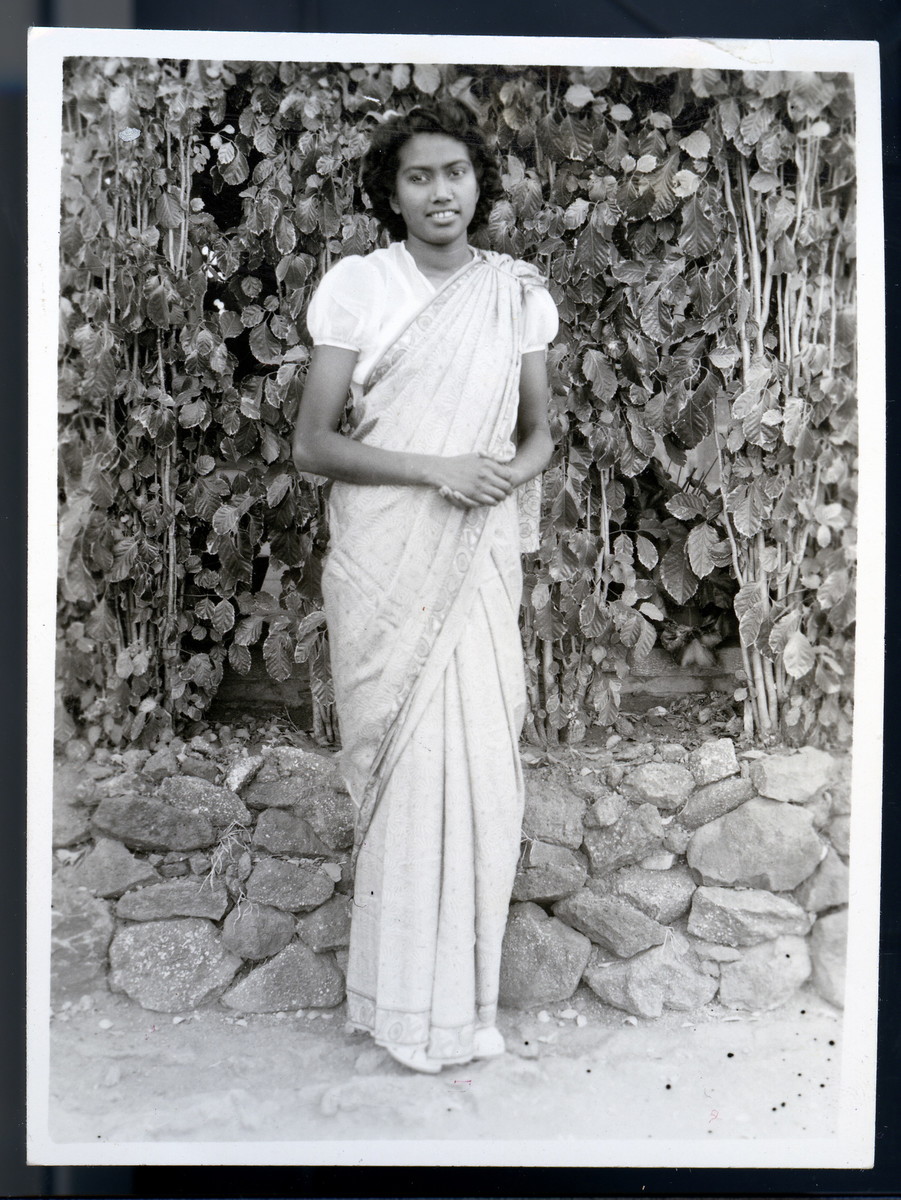 Thomas, Gloria (1925–1980)
×
Cheryl Christo Howson earned a graduate diploma in computer aided interior designing at the Dr. Bhanuben Nanavati College of Architecture for Women in Pune, India. She co-founded an interior design company in Sri Lanka and worked as a copywriter. She contributed to the morning devotional published by Women's Ministries at the General Conference of Seventh-day Adventists, the Shepherdess International Journal magazine, and the Adventist Review. She has written several plays. Currently (2020), she lives in Hosur, India while preparing for a piano exam.
First Published: January 29, 2020
Gloria Thomas was the first South Asian woman to serve at the division departmental level, having served as an associate in the Sabbath School department in charge of children's divisions in the Southern Asia Division.
Early Life
Gloria Gnanapushpam Thomas was born on April 1, 1925, at Tuticorin, Tamil Nadu, India, to Pastor E. D. and Sellammal Thomas, the first Indian ordained minister in the Southern Asia Division. A month later, at Prakasapuram, she was dedicated by Pastor V. D. Koilpillai. She was the youngest of three daughters and two sons.1
In 1933 her family moved to Salisbury Park, Poona (Pune), the location of the division headquarters, when her father was appointed as the Southern Asia Division Sabbath School secretary.2
Education
Gloria studied at Vincent Hill School and College in Mussoorie, Uttarakhand, an institution intended for the English-speaking population of the church. Always conscientious, even during school days, she won a ribbon in Sabbath School for perfect daily study records and attendance for a five-year record in 1940. Gloria studied there for almost 10 years and graduated with the class of 1945 as a stenographer.3
Career and Ministry
The beginning of her career in the denomination was as an office secretary at Vincent Hill School. Then in 1946, she moved to the territory of the Western India Union, where she worked as a stenographer.4 Since 1948, except for a brief absence in the 1960s, her membership was held at the Salisbury Park Church in Poona (now called Pune) continuously, during which time she assisted in every department of the church. Miss Thomas also served in various departmental offices of the division, working for the most part in the Youth department.5
Due to health complications, Miss Thomas left Salisbury Park in 1963 and proceeded to Loma Linda, California, United States of America, for treatment.6 She also battled and overcame a speech impediment.
She returned to India on November 4, 1966, as assistant director of the division Sabbath School department, having been appointed to the position at the 1966 Detroit General Conference. She immediately began planning Branch Sabbath School work and field instruction.7
In 1970, she was appointed the associate director of the division Sabbath School department. During her time, she directed child evangelism, particularly the Vacation Bible Schools.8 Between 1970 and 1975, she and W. F. Storz began 313 newly organized Sabbath Schools and conducted more than 1,000 Vacation Bible Schools, many in previously unentered territories.9
At the Vienna General Conference Session in 1975, she was honored among the outstanding women of the church during the business meeting.10
Gloria Thomas earned for herself the name "Miss Investment" and coined the words centivester and millivester in relation to the amount of money raised for investment in a year.11
Later Life
While in Kandy, Sri Lanka, Miss Thomas suffered a brief illness and was admitted to Lakeside Medical Centre. Miss Gloria Thomas passed away on February 3, 1980, and is laid to rest in the Seventh-day Adventist Cemetery in Kandy.12
Contribution and Legacy
Miss Thomas made an outstanding contribution to the work of the church with her ideas, her plans, her programs, and her stories for the edification of children and with seeing that the care and the concern of the gospel reach as many children as possible. She consistently promoted the goals and objectives of the department in which she served.13
Sources
Fowler, John M. "Gloria Gnanapushpam Thomas 1925–1980." Southern Asia Tidings, March 1980.
Lowry, Helen. "Letters from our G.C. Correspondents: July 15." Southern Asia Tidings, August and September 1975.
Lowry, R. S. "Stress and Progress in Troubled Lands: Report of the Southern Asia Division Presented Sunday, July 13, 1975." ARH, July 15, 1975.
———. "Tribute." Southern Asia Tidings, March 1, 1980.
"News." Southern Asia Tidings, September 1963.
Simpson, P. K. "Special Mention for Vincent Hill Sabbath School." Eastern Tidings, August 15, 1940.
Thomas, Gloria. "Investment Plans Teem with Originality." Southern Asia Tidings, February 1967.
———. "What V.H.C. Has Meant to Me." Eastern Tidings, February 1, 1946.
"V.H.C. Students Now in Denominational Service in India." Eastern Tidings, February 1, 1946.
Notes