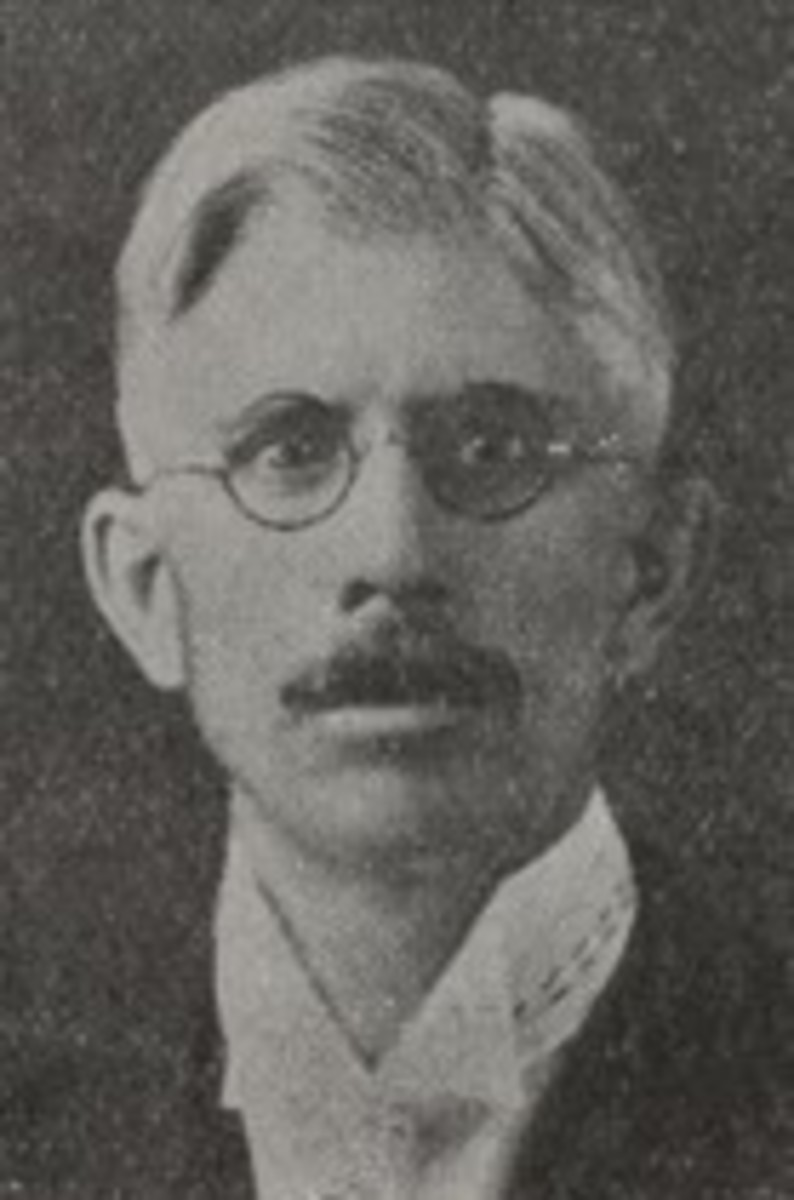 Benton, Roy Lee (1882–1957)
×
Milton Hook, Ed.D. (Andrews University, Berrien Springs, Michigan, the United States). Hook retired in 1997 as a minister in the Greater Sydney Conference, Australia. An Australian by birth Hook has served the Church as a teacher at the elementary, academy and college levels, a missionary in Papua New Guinea, and as a local church pastor. In retirement he is a conjoint senior lecturer at Avondale College of Higher Education. He has authored Flames Over Battle Creek, Avondale: Experiment on the Dora, Desmond Ford: Reformist Theologian, Gospel Revivalist, the Seventh-day Adventist Heritage Series, and many magazine articles. He is married to Noeleen and has two sons and three grandchildren.
First Published: May 24, 2022
Roy Benton served the church in several leadership capacities, including nearly 20 years in the Southwestern Union Conference as a local conference president and then president of the union.
Early Years
Roy Lee Benton was born in rural Richardson County in western Nebraska, on July 28, 1882, to George Augustus Benton and his wife Mary Jane. His education extended only to the eighth grade in Rattlesnake District School. He assisted his father with farming and then trained as a carpenter.
Roy left home when he was 20 years old to become the leading carpenter for Sedalia Copper Company in Salida, Colorado. During his new employment he found his neighbors were Seventh-day Adventists who held Bible studies in their home. He joined them, not entirely without ulterior motives for he was attracted to their eldest daughter, Mary Marguerite Reed. He also attended an evangelistic series held by Meade MacGuire and was baptized in April 1907 at Salida by Watson Zeigler. Roy and Mary Reed got married during the same year.1
Pastoral-Evangelistic Ministry
Benton accepted the role of a summer tent master with the Colorado Conference (which then included New Mexico), sacrificing his $105 per month job at the mining company for one that paid $20. His first assignment was with Milo Warfle in an evangelistic campaign at Roswell, New Mexico. Benton supplemented his income by canvassing copies of the Watchman, a weekly periodical, for five cents each. In the summer of 1909, Benton conducted his own evangelistic series at Lake Arthur, New Mexico. He built a small house of worship for his converts. In February 1910 the youthful preacher accepted the roles of conference secretary and Young People's department secretary for the New Mexico Conference, while continuing with evangelistic work in the field.2 At the 1911 conference camp meeting in Corona, Benton was ordained to the gospel ministry.3
In 1912 Benton transferred to the West Colorado Conference, where he engaged in pastoral and evangelistic endeavors until 1914 when he accepted a call to do similar work in the Minnesota Conference. At that stage Roy and Mary had three children to nurture, Robert (b. 1909), Willis (b. 1911) and Esther (b. 1913). These were taxing years because Mary was struggling with tuberculosis and the cold winters of Minnesota exacerbated her condition. Roy finally requested a move to a warm and dry climate, and in 1920 was appointed to Phoenix, Arizona, for pastoral ministry. The Bentons stayed for a little more than three years in which time Mary made a full recovery.4
Leadership Roles in the Southwestern Union
In 1923 Benton moved into long-term administrative roles, first as president of the Texico Conference, an entity only eight years old with 25 churches and 522 members. As the name suggests the territory spanned portions of Texas and New Mexico, the latter already familiar to Benton.5 In 1926 he was elected president of the North Texas Conference, an older and larger territory with 29 churches and 1,243 members.6 With Mary's improved health she and Roy were blessed with two late additions to their family, namely Elvin (b. 1926) and Ruth (b. 1928).7
Benton was appointed to be Home Missions secretary for the Southwestern Union Conference in the Fall of 1930, a position he held until February 1932 when he was elected as union president.8 Soon after he took the leadership, at the height of the Great Depression, he transferred the offices from Oklahoma City to a more central position at Keene, Texas.9
Wartime Special Assignments
After 10 years in Texas, Benton, in June 1942, was appointed by the General Conference to serve as a camp pastor among the Seventh-day Adventist servicemen in training within the Central Union Conference territory.10 Two years later the church's War Services Commission called upon him to cross the Atlantic in order to help bring about a "thorough organization" of all aspects of the camp pastors' work for American Adventist servicemen stationed in Europe. Before he left in September, his assignment was expanded due to reports that church members in war-ravaged countries were in need of food and other basic necessities. The General Conference Committee authorized Benton to disburse up to $2,500 from the War Relief Fund to meet their needs.11
The original plan was for him to remain only three or four months but Benton ended up being away from his family for eight harrowing months. He arrived back in New York in May 1945 after ministering to the servicemen in England and France. He was immediately assigned to take charge of buying surplus military equipment for use in church schools and hospitals. Additionally, he was tasked with gathering and tabulating denominational property losses in war zones.12
Union Departmental Leader
Following his service under the direction of the General Conference during the war years, Benton was appointed in August 1946 to carry the portfolios of Home Missions, Sabbath School and Religious Liberty in the Upper Columbia Conference, with office headquarters in Spokane, Washington.13 He served in this capacity for two years and then transferred to the North Pacific Union Conference to work as secretary of the Religious Liberty, Press Relations, and War Service departments. In 1951, Benton was called to similar work in the Pacific Union Conference as head of the Industrial Relations, Religious Liberty, and Temperance departments. He served for six-and-a-half years in this final assignment until his death on October 31, 1957 at age 75.14
Roy L. Benton served his church for 50 years before going to his rest. He was interred in the Forest Lawn Memorial Park Cemetery at Glendale, California.15 Mary Benton remained in the locality, passing away on November 10, 1974.16 She rests alongside her husband in the same memorial park.17
Sources
Benton, R. L. "Some Conference Plans." Southwestern Union Record, February 21, 1910.
General Conference Committee Minutes. General Conference Online Archives. https://documents.adventistarchives.org/Minutes/Forms/AllItems.aspx.
"Mary Margaret Benton." Find A Grave. Memorial 46634605, January 13, 2010. Accessed May 11, 2021. https://www.findagrave.com/memorial/46634605/mary-margaret-benton.
"Mary Marguerite Benton obituary." ARH, December 5, 1974.
"Roy L. Benton." Pacific Union Recorder, November 25, 1957.
"Roy Lee Benton." Find A Grave. Memorial 46634609, January 13, 2010. Accessed May 11, 2021. https://www.findagrave.com/memorial/46634609/roy-lee-benton.
Roy Lee Benton Biographical Information Blank, March 30, 1934. Secretariat Missionary Files, RG 21, Record 11487. General Conference of Seventh-day Adventists Archives, Silver Spring, MD (GCA).
Seventh-day Adventist Yearbooks. General Conference Online Archives. https://documents.adventistarchives.org/Yearbooks/Forms/AllItems.aspx.
Notes