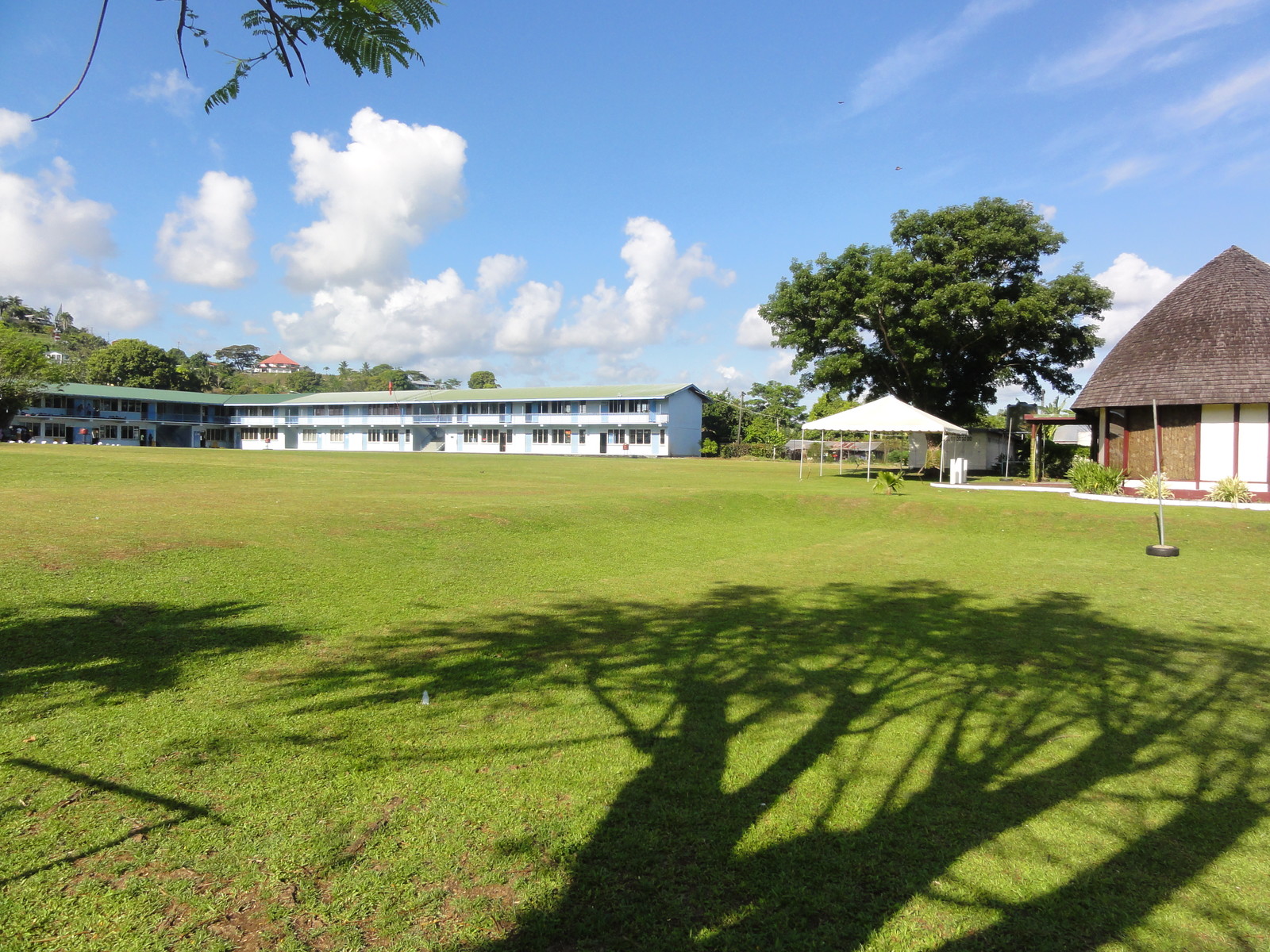 Samoa Adventist College
×
Milton Hook, Ed.D. (Andrews University, Berrien Springs, Michigan, the United States). Hook retired in 1997 as a minister in the Greater Sydney Conference, Australia. An Australian by birth Hook has served the Church as a teacher at the elementary, academy and college levels, a missionary in Papua New Guinea, and as a local church pastor. In retirement he is a conjoint senior lecturer at Avondale College of Higher Education. He has authored Flames Over Battle Creek, Avondale: Experiment on the Dora, Desmond Ford: Reformist Theologian, Gospel Revivalist, the Seventh-day Adventist Heritage Series, and many magazine articles. He is married to Noeleen and has two sons and three grandchildren.
Samoa Adventist College is the senior Seventh-day Adventist secondary school in Samoa.
Humble Start at Lalovaea
The Samoan people quickly realized the value of Christian education and moved to establish an elementary school. The enterprise was initiated in 1951 with a few grades taught by Saunoa Afamasaga in the basement of the Apia Seventh-day Adventist Church. In 1952, Richard and Jean Thompson taught, and then Fred and Marie Thomson replaced them for 1953 and 1954. The number of students, 150 in total, outgrew the capacity of the basement, so funds were raised locally to purchase land in Lalovaea, suburban Apia, on which to build proper premises.1
To pay for the school building, the Samoan Mission president, Elder Herbert Christian, screened his movies of Samoa in all the villages to raise funds, and the church ladies sold garden produce at street stalls. The men volunteered their labor to build the school. The dedication service was held on July 5, 1955. It was decided that the classes would be conducted in the English language and that it would be a coeducational institution. The school accepted students from all faiths.2
The school continued to be funded without allocations from outside Samoa. In 1955, William Miller became the principal. He reported of the first full year, 1956, that 220 students had been in attendance, spread over the elementary levels and on to the matriculation year. Five young people were accepted to advance to Fulton College in Fiji.3
David Hay arrived in 1958 to replace Miller. National missionary Tavita Niu conducted baptismal classes, and approximately 40 students joined the church as a result of his evangelism. At this time, the school was officially known as the Apia Central School. More than five hundred were students attending, making it the largest school in the Australasian Division (later renamed the South Pacific Division).4 Hay eventually gained the assistance of another expatriate, Neil Hughes, in addition to 11 national teachers.5
In 1964 Glynn Litster replaced Hay as principal. He remained until 1969 and had the assistance of Roy Sodeman6 and, later, Wilfred Rieger.7 Owen Hughes (1971–1973)8 and Cedric Grieve (1974–1980)9 succeeded Litster.
The Kosena College Experiment
Some expatriates and nationals alike became concerned about detrimental influences among the youth, which, they believed, were exerted by the proximity of the school to the city. As early as 1968, a search began for a relatively isolated site for a boarding school that offered good soil for crops to feed the students and where some agricultural training could be included in the curriculum. A suitable site was located at Falealili near Salani on the south coast of Upolu. It came to be known as Kosena (Samoan language), meaning "the Land of Goshen."10 True to its given name, it proved to be a place of hard work and trials in a land of plenty.
Thousands of dollars from the Australian church headquarters were invested in building the Kosena classrooms, dormitories, and a church on site. It was officially opened on April 24, 1979. That opening year, the enrollment reached 78. During the following five years, numbers exceeded one hundred. When Grieve was transferred in 1980, Tasimale Latu became principal for 1981, followed by Kuresa Taga'i for 1982–1983. The 1980s witnessed many short-term teaching appointments of expatriates, including Dale Henley (1981), John Lewis (1982), Reg Litster (1982–1984), Graham Chester (1983–1984), Helena Alexis (1984), Brian Mercer (1985), and Victor Bonetti (1986–1987). These short tenures brought instability. By 1985, enrollment had plummeted to only 45 students, and costs mounted rapidly. Church officials voted in 1987 to transfer back to Lalovaea.11
Consolidation at Lalovaea
During the Kosena experiment, the school was dropped from any mention in the Seventh-day Adventist yearbooks. It took a little time to recover. It was first mentioned again in 1991 under the new title Samoa Adventist College (SAC), with Sarai Tusa as principal.12 The institution made a fresh and cautious start, offering elementary grades in addition to the first two levels of secondary school. It resumed the nature of a day school rather than a boarding institution. Subsequent principals during the 1990s were Iosua Malaga (1992–1993),13 Michael Tarburton (1994–1997),14 and Sarai Malaga (1998–2000).15
Since 2000 the institution has expanded to offer all academy levels to the matriculation standard.
The Samoan Mission Education director reported in 2011 that the SAC enrollment hovered around the five hundred mark. It was, therefore, operating under similar circumstances to its heyday 50 years earlier. An "enhanced academic and spiritual program" was highlighted, and it was noted that students had excelled in national competitions in science, general knowledge, spelling, and debating.16 SAC continues to be a resilient provider of Christian education.
Principals
Fuliesa Fatu (2001–2002; 2009–2011);17 Vincent Tofilau (2003–2004);18 Falesoa Puni (2005–2006);19 Losana Matasawalevu (2007–2008);20 Eteuati Koria (2012–2018).21 Tragically, Koria passed away in 2018, two months prior to his son being the valedictorian of SAC.22
Sources
Branster, G. "The Central Pacific Union Mission." Australasian Record and Advent World Survey, January 19, 1959.
Christian, H. B. "Hard Work and Sacrifice Culminated in Joyous Dedication." Australasian Record and Advent World Survey, August 29, 1955.
Hay, David E. Samoa: 100 + Years. Newcastle, N.S.W.: WHO Presentation Services, 2005.
Lavata'i, Yolanda. "Daniel Koria Tops SDA College." Samoa Observer, November 29, 2018. https://www.samoaobserver.ws/category/samoa/31840.
Laweloa, Moses. "Gift-Giving In-Reach at Samoa Adventist College." Adventist Record, May 8, 2019. https://record.adventistchurch.com/2019/05/08/gift-giving-in-reach-at-samoa-adventist-college
Miller, W. P. "Needed—a Hole in the Roof." Australasian Record and Advent World Survey, March 4, 1957.
Seventh-day Adventist Church Yearbook. Silver Spring, Md.: Office of Archives, Statistics, and Research, General Conference of Seventh-day Adventists, 2012–2014.
Seventh-day Adventist Yearbook. Silver Spring, Md.: Office of Archives and Statistics, General Conference of Seventh-day Adventists, 1990–2011.
Seventh-day Adventist Yearbook. Washington, D.C.: General Conference of Seventh-day Adventists, 1978–1980.
Seventh-day Adventist Yearbook. Washington, D.C.: Office of Archives and Statistics, General Conference of Seventh-day Adventists, 1981–1989.
Seventh-day Adventist Yearbook. Washington, D.C.: Review and Herald Publishing Association, 1967–1977.
"Teacher in Samoa Beaten in Response to Alleged Corporal Punishment." RNZ News, August 1, 2016. https://www.rnz.co.nz/international/pacific-news/309889/teacher-in-samoa-beaten-in-response-to-alleged-corporal-punishment.
"The Apia Central School, Western Samoa." Australasian Record and Advent World Survey, August 17, 1959.
Wallwork, Seiuli P. "Samoa Seventh-day Adventist Mission." Accessed October 7, 2019. https://www.adventist.org.ws/education.
Yearbook of the Seventh-day Adventist Denomination. Washington, D.C.: Review and Herald Publishing Association, 1962–1966.
Notes