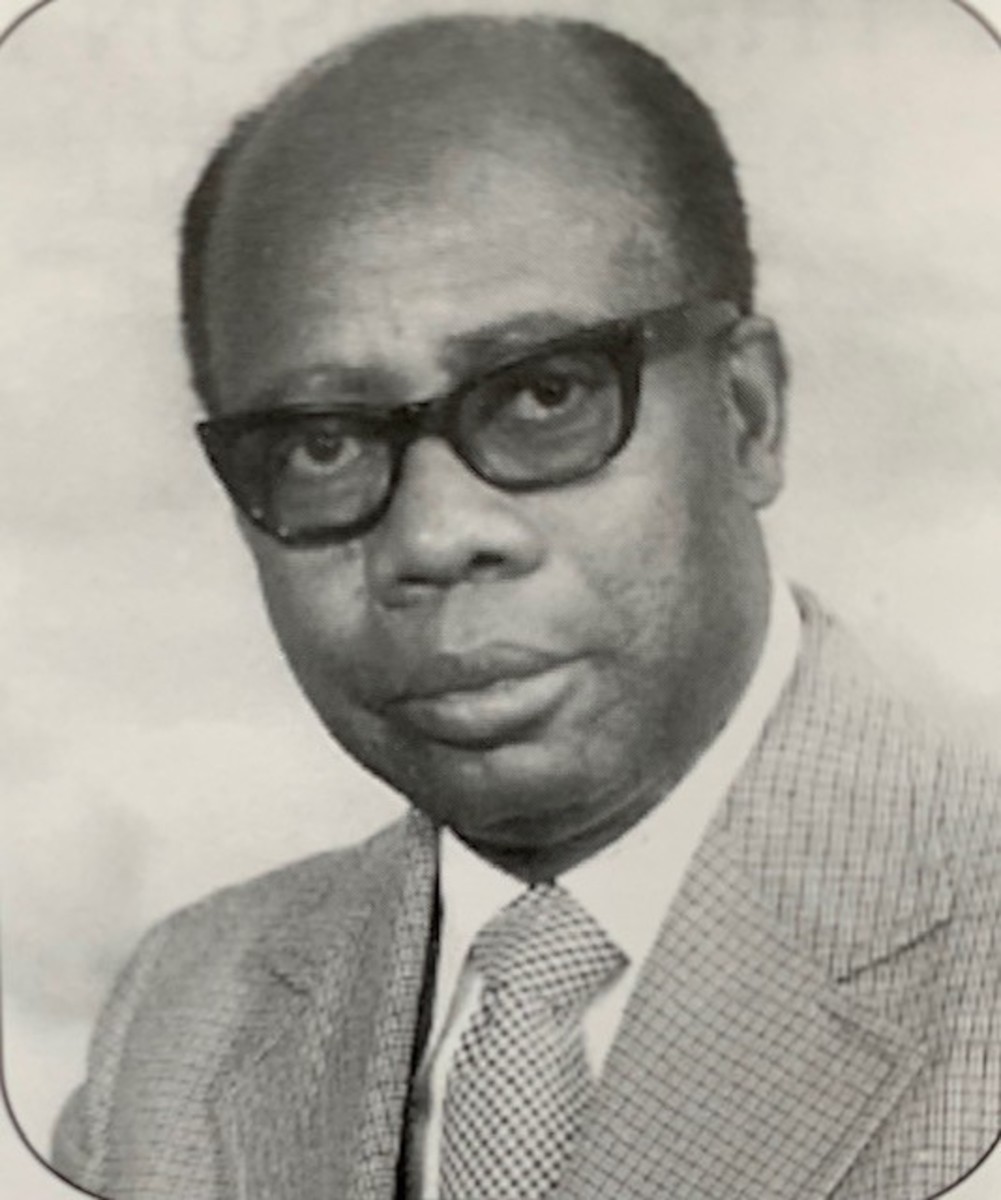 Hoyte, Roy L. (1929–2004)
×
Glenn Roberts
Clive P. Dottin is currently the field secretary and the Public Affairs and Religious Liberty director of the Caribbean Union Conference. He has served on the Police Service Commission (2006-2009). He assists several non-governmental organizations such as Servol: Roman Catholic Youth Development Programme, Alcoholic Anonymous, and the Loveuntil Foundation which empowers youth in crime-saturated areas. His qualifications include a D. Litt. from the University of the Southern Caribbean (USC) for community service, an M.P.H. from Loma Linda University, and a B.A. in Theology from USC. In 2014, he received the National Award of Trinidad and Tobago the Chaconia Silver for his work in rescuing endangered youth from gangs and the drug trade. His publications appear in the Bell Journal and the Youth Horizon.
First Published: December 18, 2020
During his forty-seven years of service, Roy L. Hoyte contributed to the development of the Seventh-day Adventist Church in the Caribbean and the United States as a pastor and administrator.
Early Life
Roy L. Hoyte, the first of six children, was born on March 21, 1929 in the parish of St. Michael, Barbados. As a young man he went against his father's wish for him to be a carpenter, choosing rather to follow the call from God to the ministry. This led him to Caribbean Union College where he completed his junior college in 1949.
As a result of an accident which he sustained while attending Caribbean Union College, Roy was admitted to the Port of Spain General Hospital where providentially, the nurse who attended to him became his sweetheart. He married nurse Mabel Pierre on December 4, 1951 in Port of Spain, Trinidad. They had two children: Judith Hoyte and Roland Hoyte.
Prior to migrating to the United States in 1961 to pursue higher education, Pastor Hoyte served three and a half years in the East Caribbean Conference on the islands of Antigua and Barbuda, St. Kitts and Nevis. In later years, he served as president of that conference with headquarters in Barbados.
Ministry
After completing his bachelor's degree at Atlantic Union College, Hoyte returned to the East Caribbean Conference in 1963. He served as pastor on the island of St. Croix and later as a departmental worker for the conference as director of education, youth, Sabbath school and personal ministries.1
The Lord next led him to Caribbean Union Conference in Trinidad where he again served as a youth, education, and public relations director. During that period, he also completed a graduate program at Andrews University.
In 1970, Pastor Hoyte began his relationship with Northeastern Conference in New York. In addition to serving a stewardship director he also pastored the Mt. Zion Church in New Haven, Connecticut, Flatbush Avenue in Brooklyn, New York, Corona in Queens, and Mt. Sinai Church also in Queens, New York.2
The 1975 Caribbean Gleanings describes the 2nd Triennial session (September 26, 1975) in the following manner: "The Second Triennial Session was a session with a difference. For delegates from Barbados, St. Lucia, and Dominica, it was the Second Triennial Session; for the delegates from Grenada, Grenadines, St. Vincent, Bequia, and Union Island, it was their first East Caribbean Conference Triennial Session. Delegates from the Leeward and the Virgin Islands were absent for the first time. They now belong to the North Caribbean Conference. The officers elected for the new triennium were Roy L. Hoyte as president and John Simmons as secretary/treasurer."3
Hoyte was not prepared to moan and groan but rather to put his shoulders to the wheel, expand and diversify the evangelistic focus of the church. He believed that the entering wedge - the health message - should not be placed in reverse gear, while public evangelism exploded.
In 1965, the Inter-American Messenger captures the dynamism of his team-planning, servant leadership and evangelistic skills with the following account: "Roy L. Hoyte, youth leader of the East Caribbean Conference, and George W. Brown, MV secretary of the Caribbean Union, held an inspiring and successful youth crusade in St. John's, Antigua, from March 2 to April 4, 1965."4 "The Hour of Destiny" youth crusade came to an inspiring climax on Sunday, April 4, when a record crowd of over 1,000 jammed the assembly hall for the last meeting. Responding to the appeal, 136 young people publicly declared their total surrender to Jesus Christ. A team of personal workers under the direction of Gwendolyn Robins has been organised to follow up these interests and prepare the candidates for baptism."5
"Between 1976 and 1981, R. L. Hoyte and his colleagues sought to utilize a variety of outreach programs that accompanied the evangelical thrust of the church, in an effort to improve the quality of life for a broader cross-section of Barbadians. Hoyte immediately set about building linkages between the wide spectrum of resources available to the Adventist Church in Barbados. Additionally, he sought to give the Seventh-day Adventist church in Barbados a higher public relations profile than it experienced before. One of the ways this was accomplished was the promotion of Adventist Health services."6
Pastor Hoyte's achievements included the establishment of the Cave's Memorial Diagnostic Center, named in honour of the outstanding Adventist physician, Charles Cave. This was located on Bryden Avenue, Britton's Hill, Barbados.7 and officially opened in 1973. He was also responsible for the launch of the Mobile Primary Health Care Unit called The Chevrolet Ambulette.8 In 1980, his unique health initiatives included the launch of the Chevrolet Ambulette – a mobile clinic to facilitate outpatients of the clinic.9
As a magnificent bridge-builder between the church and community, his motivational, encouraging style produced powerful laymen such as Vic Johnson. Vic Johnson was the first Seventh-day Adventist to be elected to the Barbados House of Assembly and served in two capacities in the Cabinet: Ministry of Labour and Minister of Transportation.10
Conclusion
In 1994, Pastor Hoyte was assigned to the Hanson Place Church, New York which was the last church he pastored before officially retiring on October 20, 2000. This assignment was particularly poignant because he was instrumental in organizing and pastoring the small group of believers worshipping in a store-front that blossomed into the one-thousand plus member Hanson Place Church.11
During his forty-seven years of service, God blessed Pastor Hoyte's ministry. His deep yet gentle voice and meek spirit blessed those to whom he ministered. One must acknowledge the long-range vision of this proactive leader, his astute mobilisation skills, and his ability to motivate pastors as well as the laity.
Pastor Roy Hoyte lived his life in great expectancy of Christ's imminent return and he was also one of the outstanding visionary Adventist leaders of his time. He died on February 25, 2004. His funeral service was held on March 2, 2004 at the Oakwood College Church (now Oakwood University Church) in Huntsville, Alabama where numerous family members, fellow colleagues and friends celebrated his life of service. He was interred at the Oakwood Memorial Gardens, Huntsville, Alabama.12
Sources
Brown, George W. "136 Decisions for Christ in Antigua." Inter-American Messenger, July 1965.
Caribbean Gleanings, 3rd/4th Quarter, 1975, Vol. 48.
Phillips, Glenn O. Seventh-day Adventists in Barbados: Over A Century of Adventism, 1884-1991. Bridgetown, Barbados: Caribbean Graphics & Letchworth Ltd., 1991.
Phillips, Glenn O. Singing in a Strange Land, The Hanson Place SDA Church, Brooklyn, New York,1958-2008. Littleton, MA: Tapestry Press Ltd., 2008.
Phillips, Glenn O. The Making of a Christian College: Caribbean Union College 1927-1977. Maracas, Trinidad: The College Press, 1977.
"The Celebration of the Life of Elder Roy L. Hoyte, 1929-2004." Obituary. Oakwood College Seventh-day Adventist Church, March 2, 2004, Huntsville, Alabama.
Notes