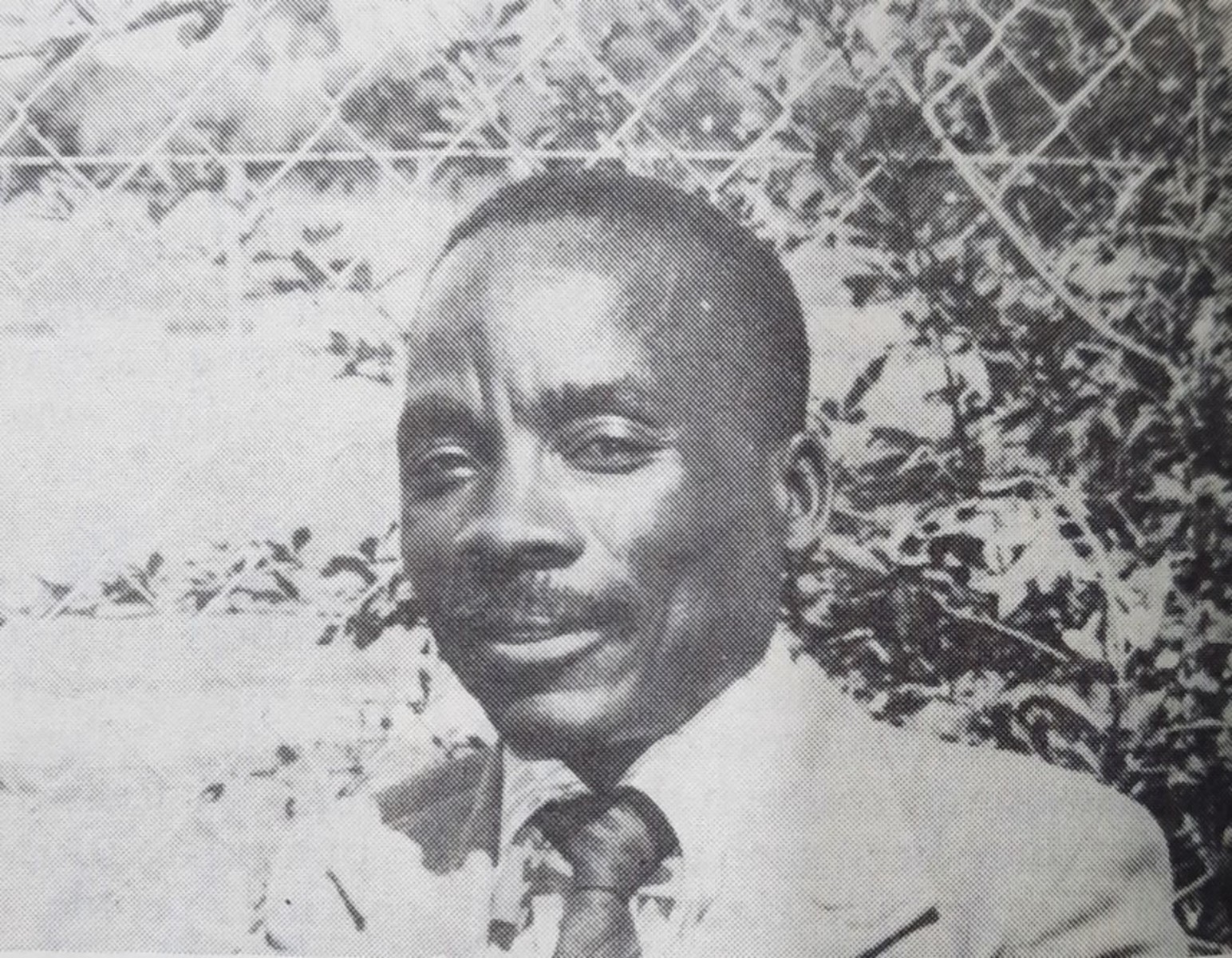 Kawila, Albert Musansha (1927–2016)
×
Ruth Mutale Mweo Changwe, Diploma (Zambia Institute of Chartered Accountancy Studies, Lusaka, Zambia), currently serves as an accountant in the Luapula Zambia Conference. Ruth first worked for Chinsali Municipal Council from 1996 to June 1998 when she joined denominational employment. Between 2015 and 2018, she worked as Luapula Zambia Conference chief financial officer. Currently pursuing a bachelor's degree in accounting at Zambian Open University, she is married to Leonard Changwe and has two daughters and a son. 
Lushinga Eliazer Kawila, M.A. (Institute of Social Studies, Netherlands), has served as director of human resources and administration at Independent Broadcasting Authority since 2017. He holds several other academic qualifications in education, public administration, and law from the University of Zambia. Currently he is pursuing a Doctor of Philosophy degree at the same university. Having taught at high school and university levels, he has held senior positions in government ministries. 
First Published: May 9, 2022
Albert Musansha Kawila was a Zambian ordained Seventh-day Adventist minister and church administrator.
Early Life
Albert Musansha Kawila was born November 25, 1927, in Mutoba Village, Senior Chief Puta of Nchelenge District (now Chiengi District), in Luapula Province, Northern Rhodesia (Zambia). The first child in a family of four children, his two brothers were Charles Chituma (1930-2004) and Binwell Chimpinde (1935-1996). His sister, Selita Chishala (b. 1937) is still alive today. Their parents, Kashibwe Lushinga and Annie Kafiswe, hailed from Mpweto town in the Belgian Congo [Democratic Republic of Congo]. Like most rural people of that time, his parents moved from place to place in search for better living conditions. Having little formal education, they depended on fishing in Lake Mweru and Mweru Wantipa as well as doing menial jobs and farming.1
Education and Marriage
In 1942, at the age of 15, Kawila enrolled at Ponde Primary School. At that time, children began their education at a late age because of the limited number of schools available, which were often many kilometers away from their homes. Meanwhile, the expatriate Seventh-day Adventist Church missionaries had established Chimpempe Mission in 1921 in Kawambwa district almost 200 kilometres from Chiengi.2 Kawila travelled on foot to enroll at Chimpempe Mission school. At the time the school was in its infancy during the late 1940s and under the leadership of Elder R. P. Robinson.3 Studying at Chimpempe Mission planted the seed of Adventism in Kawila's heart. In addition to receiving the education he wanted so much, he encountered the Word of God and was baptized on August 31, 1946.
After completing his education at Chimpempe, a friendly white man persuaded him to go to Lubumbashi in the Democratic Republic of Congo. While there, he kept his Adventist faith. Also, he met Febby Musonda Kaoma, who had come from Chishamwamba Village in the Mporokoso district of the Northern Province of Zambia. They fell in love and married in 1956.4 The couple had eight children: Grace Chileshe Kawila, Eliazer Lushinga Kawila, Jane Chanda Kawila, Albert Musansha Kawila, Elizabeth Kawila, Hildah Chisanga Kawila, Naomi Kawila, and Benjamin Kawila.5
Ministry
Albert Kawila joined the literature ministry in 1955. During his vacations, he would go to Rusangu Mission in Monze, in the Southern Province of Zambia, to receive further ministerial training. Meanwhile, he continued working as a literature evangelist in Northern Zambia from 1955 until becoming a district pastor in 1958. In the early 1960s, after completing his studies at the ministerial school at Rusangu, church leadership appointed him as district pastor for a new Mupapa district in Ndola rural. It comprised the following churches, including some that he planted himself: Bangwe Church, Kapepa Church, Chiwala church, and Nkambo Church. He would visit the churches by bicycle.6 Their distances ranged from 50 and 80 kilometers. While working in the Copperbelt Province of Zambia in 1963, he participated in the evangelistic campaign in Chingola led by Reward Ndhlovu from Bulawayo, Zimbabwe.7
Later in 1963, he transferred to Mansa as a district pastor. During his ministry there, Kawila opened the Mpanta, Milenge, Matanda, Chembe, Chipili, and Mwense SDA churches.8 Mansa town was the center of his district. It was 136 kilometers to Mwense, 90 kilometers to Chembe, and 57 kilometers to Chipili. Milenge, was about 101 kilometers from Mansa, while Mpanta was about 128 kilometers distant. Again, his main mode of travel was by cycling.9
Then in 1965 he left for Solusi College [now Solusi University] in Bulawayo, Southern Rhodesia [Zimbabwe] for further ministerial training. When he returned from Solusi, Kawila continued to serve as district pastor, being ordained August 9, 1969. In 1972, he was appointed as the only director for all departments10 in the newly established North Zambia Field, with the Musofu Mission and Chimpempe Mission stations in its territory. North Zambia Field comprised half of the northern part of Zambia. Its territory covered the whole of the Luapula and Copperbelt provinces, and the Northern Province of the Republic of Zambia. In addition, it also included a part of Central Province, consisting of Kapiri Mposhi, Mkushi, and Serenje towns.11 The treasury department for North Zambia continued during June to December 1972 to operate out of Rusangu Mission, in the South Zambia Field.
When Pastor Mpamba became confirmed as president of the newly formed North Zambia Field in 1973, Pastor Kawila took charge of the lay activities and youth departments, while Pastor R. S. Mulengela headed the Sabbath School and church development.12 Pastor Kawila's counterparts in the youth ministry in other fields were Pastor John Sitwala in the West Zambia Field, and Pastor E. C. Mainza in the South Zambia Field.13 Meanwhile, in 1974, under the administration of Pastor D. Lufungulo as president and D. M. Brenneman as secretary-treasurer, Pastor Kawila directed the Sabbath School, lay activities, and temperance departments, while Pastor W. Sampa had charge of the publishing department.14 In 1976, Pastor Kawila's final year as a departmental leader in the North Zambia Field, he worked as stewardship director.15
While serving under the administration of Pastor Mpamba, Pastor Kawila helped in drawing plans for building the North Zambia Field office.16 It became reality during 1977-1984, with the assistance of the Trans-Africa Division president, Merle Mills. Pastor A.V. Kaite, field president during that period, supervised the building project with the assistance of Pastor A. Kanjelesa and Pastor Sampa, the departmental directors. Today the Luapula Zambia Conference occupies the offices.
In 1977, Pastor Kawila was posted to Mbala as district pastor. His territory covered Mbala and Mpulungu towns. During his ministry there he opened the Senga Hill and Muswilo churches. As always, his main mode of travel when visiting the Mbala and Mpulungu churches and companies, plus the Senga hill church and its companies, continued to be by bicycle. He served in the area until 1978 when elected as director for the stewardship and Sabbath School departments of the Zambia Union Mission with headquarters in Lusaka, the capital city of Zambia.17
Thereafter, Pastor Kawila continued as departmental director for Zambia Union Mission, responsible for various areas such as stewardship, church development, lay activities, youth, and temperance. In 1985 he was elected to serve as North Zambia executive director [president] for the North Zambia Field. He worked hard to evangelize the un-entered areas of the Northern Province covering Shiwan'gandu, about 532 kilometers from Mansa, Kantongo, about 551 kilometers from Mansa, and Kalungu and Kabole in Kaputa 399 kilometers from Mansa. (These three places are in the Chinsali and Nakonde districts of Zambia). One of the first people Pastor Kawila baptized in Shiwan'gandu was Miss Mary Mulonga, who later married Pastor Sinkamba, who retired in 2020 in the Midland East Conference.
The other un-entered place which Pastor Kawila opened was Kasomalunga. The area is swampy, and the only mode of transport was by canoe. Having come from Chiengi Village, a fishing area on the shore of Lake Mweru, he had no problem traveling by canoe although it was very risky.18 Working tirelessly until his retirement in 1990, he saw the work in North Zambia Field continue to grow.19
Legacy
Pastor Kawila's legacy, among others, is that he was a reliable stewardship leader and family life mentor and counselor. During his retirement, churches as far away as Solwezi Central Church in North Western Province would invite him to conduct a family life week of prayer. Although retired, Pastor Kawila continued serving the Lord in his local congregation, Mansa Central, despite his advanced age. Besides mentoring many young pastors and other local church workers, he was also a model spiritual leader for both young and old members of his local church.
Pastor Kawila died at age of 89 on August 12, 2016, in Mansa General Hospital after a short illness and was buried in Mansa, in the Luapula Province.20 He was survived by his wife, Phebby Musonda Kaoma Kawila, his children, and several grandchildren.
Sources
Clifford, F. G. "A Moving, Growing Work." Southern African Division Outlook, April 15, 1941.
Matandiko, Cornelius M. Seventh-day Adventism in Zambia. Lusaka, Zambia: Zambia Adventist Press, 2003.
Ndhlovu, Reward. "Chingola Campaign." Southern African Division Outlook, July 15, 1963.
Seventh-day Adventist Yearbook. Hagerstown, M.D: Review and Herald Publishing Association, 1976 and 1991.
Straw, W. E. "Young People's Goal for 1922." African Division Outlook, January 15, 1922.
Notes