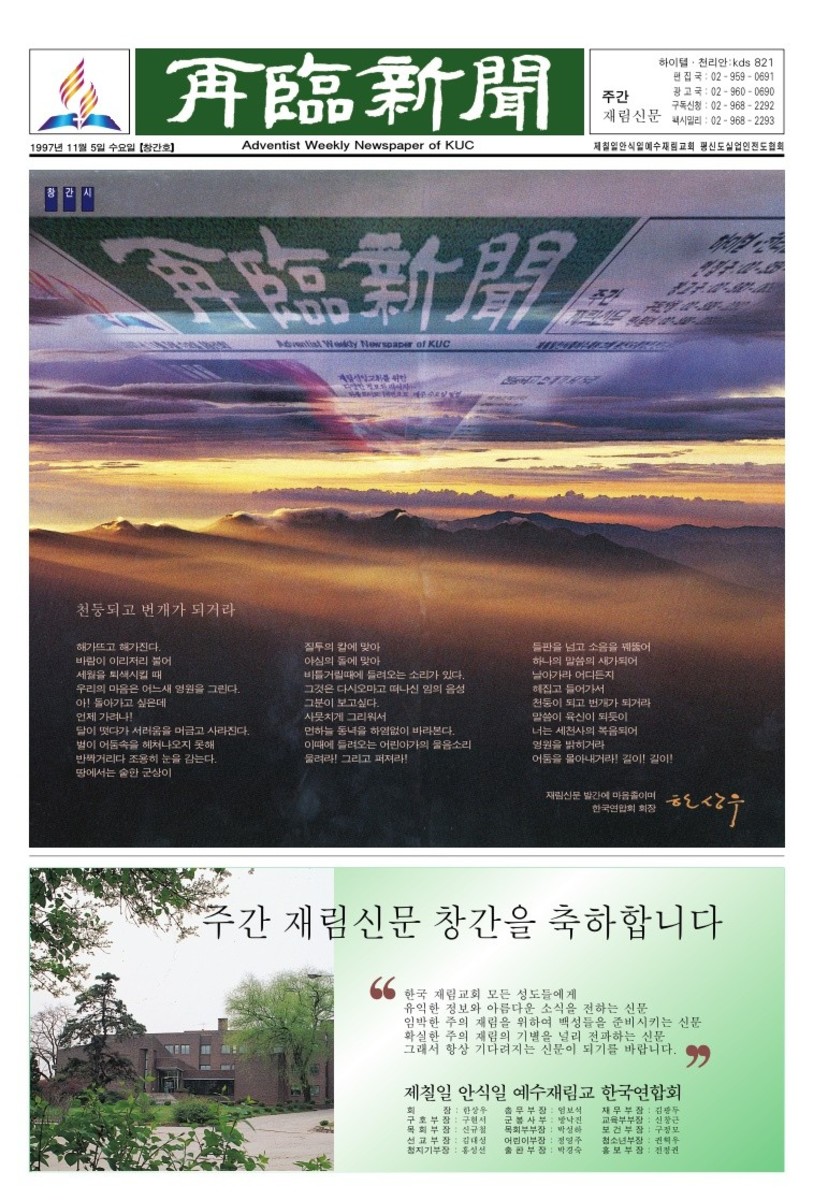 Adventist Weekly News–Korea
×
Seong Il Kim graduated from Sahmyook University. He served as a pastor in the East Central Korean Conference and in Adventist Education in Korea and later in several local churches in Washington State from 1997 to 2006. He served as editor of Adventist Weekly News from 2012 to 2015. In 2021 he returned to serve as Adventist Weekly News editor.
First Published: April 14, 2021
Adventist Weekly News–Korea (aka. Jaerim Shinmun) is a weekly newspaper run by Adventist-laymen Services and Industries (ASI) Korea. It was founded on November 5, 1997 to serve as a medium of communication between church members, pastors and institutional leaders of the Korean Adventist Church. The main office is located on the third floor of the Korean Publishing House (Sijosa) at 11 Imun-ro 1-gil, Dongdaemun-gu, Seoul, and consists of 4 journalists and 3 office workers.
Founding
During the 29th General Meeting of the Korean Union Conference (KUC) held in 1991, the church leaders decided to make the publication of weekly newspapers as official denominational media one of the church's priority projects. However, it took several years to publish the first issue. In 1996, Taeneung Church in the West Central Korean Conference began publishing weekly newspapers under the name of Sechonsa News. Kyung-Tae Kim was its first editor. The contributors were volunteers, and the articles covered a variety of topics, including Bible and health. The newspaper was aimed at the local communities.1
In early 1997, the Department of Public Relations of the KUC collaborated with ASI Korea to take over the management of Secheonsa News and publish the newspaper as the official newspaper of the denomination. With the financial support from various institutions affiliated with the KUC, ASI Korea founded a newspaper company and opened its office on the first floor of the GI Center on the grounds of the KUC.
The newspaper's title was Adventist Weekly News (AWN, Jaerim Shinmun). Kyung-Yong Park was appointed executive director, Hyun-Cheong Kim editor, Bum-Tae Kim chief reporter, Yo-Dan Park editing designer, Mi-Kyung Bae reporter, and Yeon-Soo Shin head of advertising. The newspaper company recruited also 23 writers. The first issue was published on November 5, 1997. The newspaper had 18 pages. Each page was 275 mm wide and 395 mm long.2
History
At the time of AWN's foundation, the president of the KUC serves as the newspaper company's publisher, and the president of ASI Korea was the company's CEO. The arrangement was changed in 2013 when the ASI Korea president was appointed to serve as both the CEO and publisher. AWN continued to report about the church's events and other news and cover various topics and surveys on faith, psychology, legal advice, domestic and foreign religious news, global Adventist Church news, and various social issues from the perspective of Adventism.
In April 1997, shortly before the AWN was launched, the Association of Adventist Writers was organized. The Association established the Adventist Literature Award in 1998 to encourage creative literary activities of Korean Adventists, which was jointly promoted with the AWN. The Adventist Literature Award has been awarded for outstanding creative literary works in poetry, novels, essays, and fairy tales, divided into elementary school category, middle and high school category, and general category. AWN published a series of selected award-winning works.3
In November 2002, AWN celebrated its fifth anniversary and sought a new path of development. It focused on strengthening the professionalism of its journalists and sought financial independence.4 However, achieving independent management of the newspaper was not easy.
In 2004, the AWN ran a series of special columns authored by Dr. Jin-Soo Bae, director of the Korea Military Research Institute and consultant to the presidential National Security Adviser. The series was about international politics in Bible prophecy. In addition to writing this series, Dr. Jin-Soo Bae held a seminar called "Academy of the Signs of the Times" in May 2004 to present in more detail his research published in the AWN series. The seminar, which was held at the Mukdong First Church for a month, was a meaningful event and an excellent promotion of AWN.5
Among other AWR projects was the "Continuing the Ring of Love" campaign that won the sympathy of many people. In 2006, Eriko, a third-generation Korean from Russia, was hospitalized in intensive care with lupus. Upon hearing this news, AWN staff organized the "Ring of Love" campaign in collaboration with Korean Adventist News Center to convey her sad story to Adventists across the country and raise donations for her treatment. Thanks to the campaign, Eriko could afford hospital treatment. She was cured after five months and returned to Russia.6 The "Ring of Love" campaign helped other people with their medical bills, including Sung-Joon Park in 2007, Hee-Kyun Chae in 2009, Joon-Hyuk Lee in 2012, Seung-Gi Lee in 2013, and Pastor Chi-Beom Moon's in 2021.7
In preparation for its 10th anniversary, AWN organized the Newspaper Development Research Committee to seek innovations to improve the newspaper. Elder Young-Soo Kwon, president of ASI Korea, saw running the newspaper independently and maintain its unique function as the way forward.8 Despite this effort, the independent operation of AWN remained a long way off.
As the Korean Advent Church's official publication, AWN actively engaged in religious freedom issues. In 2001, a conscientious objection movement was launched in Korean society that dealt with the reality of Adventist youth suffering because of their non-combatant beliefs and lack of support when seeking alternative service as conscientious objectors.9 Adventist youth faced another great challenge when the national qualification examination day was moved to Saturday. AWN made every effort to promote religious freedom and collaborated with organizations seeking to change the test date.10 As part of this effort, Han Ji-man, a medical student in 2019, won the Supreme Court's ruling.11
In 2017, the AWN celebrated its 20th anniversary. On November 15, 2017, ASI Korea held its 13th General Meeting to elect new presidents and executives. The new leaders of ASI Korea established a plan to publish 10,000 copies of AWN and achieve independent operation of the newspaper company.12 The plan was also reaffirmed at the 14th General Meeting of ASI Korea held on December 20, 2020. At this meeting, the future direction of the AWN was discussed as well as making AWN issues available in electronic format and on the Internet.13
Legacy
The purpose of the AWN has been to promote the Church's mission work and the various ministries of Korean Adventist Church in addition to providing religious news and cultural and health information to readers. Elder Jae-Moo Lee, the first CEO of the newspaper company, explained that the newspaper was established to be a medium of communication and exchange of views and opinions between the church leaders and members.14 Pastor Byung-Deok Cheon, the former chairman of the Northern Asia-Pacific Division, highlighted the role of the newspaper in forming and communicating public opinion.15 AWN has sought to fulfill its role as a communication channel within the church through various surveys and in-depth reports from its first issue.
For AWN to continue to perform its functions as a press media of the church on the highest level, it must strengthen its identity as a media institution of Korean Adventist Church, secure financial independence, engage more professional reporters, and switch to an online format. AWN is committed to implementing high-quality journalism and faithfully fulfilling the Adventist Church's mission.
In April 2021, ASI Korea renewed the discussions to make AWN an independent corporation. AWN is currently published in about 8,000 copies, with 18 to 20 pages per issue.
List of Publishers and Editors
Publishers: Sang Woo Han (1997-1999); Kye Hun Shin (2000-2002); Jeong Kwon Cheon (2003-2004): Myung Kwan Hong (2005-2009); Dae Seong Kim (2010-2012); Ha Ik Lee (2013-2014); Tae Kyung Kim (2015-2017); Jeong Woong Kim (2018-2020); Yong Ho Ahn (2021- ).
Editors: Hyun Cheong Kim (1997-2007); Gi Ho Lee (2008); Sang Wook Gwak (2009-2011); Seong Il Kim (2012-2015); Gi Ho Lee (2016-2017); Soong Gi Paek, Yoon Ho Sohn, Seong Gu Park (2018); Jin Yung Kim 92020); Seong Il Kim (2021- ).
Sources
Adventist Weekly News, November 5, 1997; February 17, 1999; February 28, 2001; May 21, 2001; May 28, 2001; May 12, 2004; March 8, 2006; March 15, 2006; March 29, 2006; November 19, 2008; September 7, 2016; March 7, 2018; April 11, 2018; April 25, 2018; May 9, 2018; July 18, 2018; September 5, 2018; October 10, 2018; October 24, 2018; November 14, 2018; November 28, 2018; December 30, 2020; May 19, 2021.
Korean Adventist News Center. November 27, 2002; January 31, 2019.
Secheonsa News, March 1, 1996.
Notes