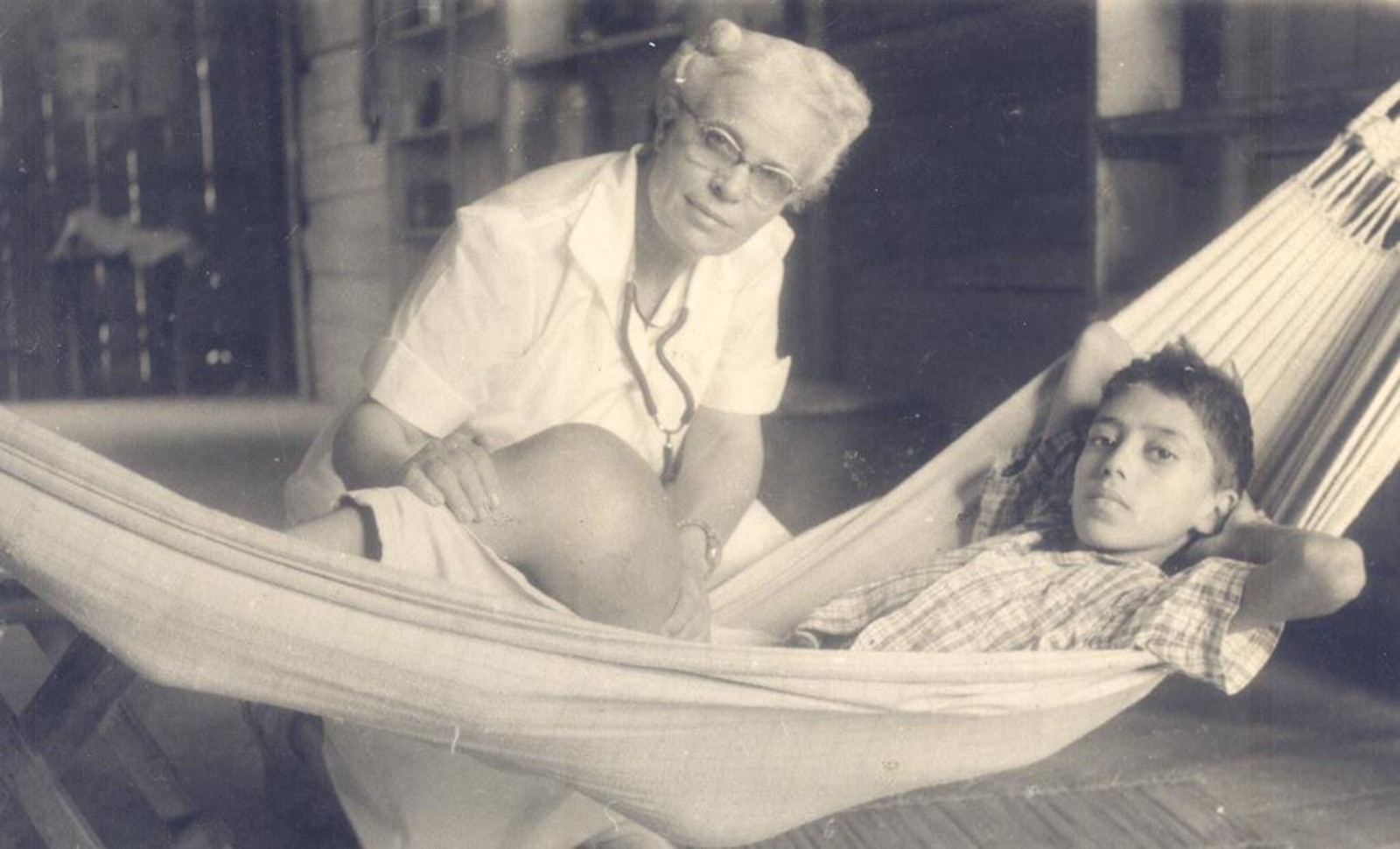 Halliwell, Jessie Viola (1894–1962)
×
The Brazilian White Center – UNASP is a team of teachers and students at the Brazilian Ellen G. White Research Center – UNASP at the Brazilian Adventist University, Campus Engenheiro, Coelho, SP. The team was supervised by Drs. Adolfo Semo Suárez, Renato Stencel, and Carlos Flávio Teixeira. Bruno Sales Gomes Ferreira provided technical support. The following names are of team members: Adriane Ferrari Silva, Álan Gracioto Alexandre, Allen Jair Urcia Santa Cruz, Camila Chede Amaral Lucena, Camilla Rodrigues Seixas, Daniel Fernandes Teodoro, Danillo Alfredo Rios Junior, Danilo Fauster de Souza, Débora Arana Mayer, Elvis Eli Martins Filho, Felipe Cardoso do Nascimento, Fernanda Nascimento Oliveira, Gabriel Pilon Galvani, Giovana de Castro Vaz, Guilherme Cardoso Ricardo Martins, Gustavo Costa Vieira Novaes, Ingrid Sthéfane Santos Andrade, Isabela Pimenta Gravina, Ivo Ribeiro de Carvalho, Jhoseyr Davison Voos dos Santos, João Lucas Moraes Pereira, Kalline Meira Rocha Santos, Larissa Menegazzo Nunes, Letícia Miola Figueiredo, Luan Alves Cota Mól, Lucas Almeida dos Santos, Lucas Arteaga Aquino, Lucas Dias de Melo, Matheus Brabo Peres, Mayla Magaieski Graepp, Milena Guimarães Silva, Natália Padilha Corrêa, Rafaela Lima Gouvêa, Rogel Maio Nogueira Tavares Filho, Ryan Matheus do Ouro Medeiros, Samara Souza Santos, Sergio Henrique Micael Santos, Suelen Alves de Almeida, Talita Paim Veloso de Castro, Thais Cristina Benedetti, Thaís Caroline de Almeida Lima, Vanessa Stehling Belgd, Victor Alves Pereira, Vinicios Fernandes Alencar, Vinícius Pereira Nascimento, Vitória Regina Boita da Silva, William Edward Timm, Julio Cesar Ribeiro, Ellen Deó Bortolotte, Maria Júlia dos Santos Galvani, Giovana Souto Pereira, Victor Hugo Vaz Storch, and Dinely Luana Pereira.
Jessie Viola Halliwell,1 nurse, teacher, and missionary,2 was born February 22, 1894, in Nebraska, U.S.A.3 Daughter of the Rowley family,4 she married an electrical engineer,5 Leo B. Halliwell,6 with whom she had two children: Jack and Marian Halliwell.7 Together with her husband, Jessie contributed to the medical missionary work of the Seventh-day Adventist Church in Brazil.8
Around 1911 the Rowley family moved to Odessa, Nebraska. At this time, it was common for families to organize dances for the community. As the Rowleys had just moved to that city, Jessie took the opportunity to participate. She caught the eye of one of the violinists, Leo Blair Halliwell. Without hesitating, the young man accompanied Jessie in a dance, which made his feelings for her grow. After the dance, Leo sought to know her better. When he found out that Jessie worked at a large supermarket in the region, he changed his usual shopping routine so he could see her more often.9
They were engaged by the end of the summer. Since Jessie and Leo were quite young, they thought it best to prioritize their studies. They planned to get married after they finished college.10 While Leo was studying engineering in Lincoln, Nebraska, Jessie took part in a one-week public conference about the Bible. At the end of the meetings, Jessie was baptized and became a Seventh-day Adventist.11
After her conversion, Jessie decided to study nursing at Union College,12 located in the same city where her fiancé studied electrical engineering at the University of Nebraska.13 The two had plans to wed after Jessie's graduation, except that she would not marry a non-Adventist. So, without understanding the beliefs of Adventists, Leo looked for a Seventh-day Adventist Church so he could be baptized. Thus, on October 1, 1916, Jessie graduated and two days later, she married Leo B. Halliwell.
Since Leo worked in a British factory for war materials in Charles City, Iowa, after their wedding, they moved to that city.14 In October 1918, while pregnant, Jessie caught the Spanish flu. The nurse that took care of her registered their newborn child as Claris, even though the parents called him Jack.15
What left Jessie sorrowful in her marriage was Leo's wavering faith.16 Close to the time that an evangelistic meeting would occur, Leo suffered an accident at work. Therefore, he was dismissed from work for ten days, allowing him to participate in the evangelistic meetings with Jessie. These meetings transformed Leo's life goals, making him yearn to be more than simply an engineer.17 In the spring of 1920, after reading literature that motivated him to do missionary work, Leo abandoned his job and signed up to serve as a ministerial worker for the conference where he was a member.18
Jessie and Leo moved to Cedar Falls where they helped organize an evangelistic week. Then they were transferred to Fort Madison, where they were responsible for the churches in that district. After a year of work, they were called to missionary work in Brazil. Since their family members were not Adventists, they were reluctant to see the couple go, but Jessie and Leo accepted the call to serve.19
On October 15, 1921, Jessie, along with her husband and son, embarked in the transatlantic ship Aeolus, bound for Brazil.20 From New York, they traveled to Rio de Janeiro, where they arrived on October 30. Jessie and Leo traveled with many other missionaries, including the Landes couple,21 pioneers of Presbyterianism in Brazil.22
After their arrival in Rio de Janeiro, the Halliwells were sent to the Bahia Mission, where Leo would be president.23 Because they had not yet learned Portuguese, Gustavo S. Storch was designated to accompany them, since he was fluent in English.24 When they arrived in Salvador, they rented an old loft in the middle of the city.25 However, the absence of financial assistance made the accomplishment of their work much harder. Because of this, and since Jessie was a nurse and specialized in midwifery, she started helping women in labor in that region, looking for the funds to keep the mission going. During this time, very few women had access to hospitals, so Jessie was requested with increasing frequency and, as a result, many people were converted to the Adventist faith.26
After working for two months in Bahia, Jessie discovered that Jack had caught malaria. This worried the missionary couple and motivated them to move to the Bahian coast. As a result, the spread of the disease would slow down and would allow Jack to recover.27 In 1922, Marian was born, the Brazilian in the Halliwell family.28
In 1928, after seven years of contributions to the former Bahia-Sergipe Mission29 whose territory included both of those states, Jessie and Leo were called to work at the Lower-Amazon Mission, which corresponded to the states of Ceará, Piauí, Maranhão, Pará, Amazonas, and Acre.30 Their difficulties increased, especially with regard to transportation between the cities. To get to the countryside, they had to travel in steamboats,31 which did not have any security or comfort for passengers.32 After a year of using this type of transportation, the couple talked about the possibility of building their own motorboat.33 Jessie, while acknowledging their need for a motorboat, pointed to the lack of funds with which to build a boat. During their furlough in 1930, they decided to raise money in the churches and camp meetings that they visited in the United States. By this means, they collected enough to build a motorboat.34,35,36
After returning to Brazil, Leo showed his project to Afonso so he would make the new boat. Afonso was the same boat builder who made the motorboat used for canvassing in that region.37 After much effort, in Belém, on July 4, 1931, Jessie inaugurated the motorboat with a bottle of guaraná and christened it Luzeiro I.38 Hence, the boat became a house,39 a school,40 a church, and a hospital from which the Halliwells aided communities in the Amazon.41
Jessie sincerely valued education for children and youth. For the younger ones, she was a teacher, providing basic knowledge. For the older ones, she was a sort of godmother for those who wished to study in college.42 Since she had canvassed in the past, she was able to train many young people to gain the means to study through canvassing. When she saw that a student would not be able to raise enough money, she would ask for help from her American friends, from whom she acquired the remainder of the money the student needed to study.43 Consequently, Jessie contributed to many being able to study at Brazil Adventist College who would later become workers for the Seventh-day Adventist Church.44
A while later a second motorboat was built, called Luzeiro II.45 The first boat remained in the care of another American Adventist worker, Fred Pritchard, who worked for the same cause as the Halliwells.46
For 24 years (1933-1957) Jessie served the church as a licensed missionary in the Amazon.47 In this post she helped people with malaria, hookworm, yaws, kala-azar, leprosy, and tropical ulcers. Even more than this, she saved many from venomous snake bites and assisted many women in labor.48 During this time the Halliwell couple noticed a great need to build a clinic in Belém. In 1942 they rented a loft in which the ground floor would serve as a clinic and the upper floor as the doctor's home. In this way, the population that craved the help of a physician ended up receiving spiritual help as well. Medical care provided an open door which caused many to welcome the Adventist faith. Sometime later, the Halliwells realized that just one clinic would not be enough to help everyone. So, in 1951, they raised enough money to buy land in Marco, a neighborhood away from the city, where they built Belém Hospital.49 For the next seven years50 they continued to use medical work as an opening wedge for their mission work.51
Their many and diverse contributions brought them notable honors. Before returning to the United States, the Halliwell couple was decorated by the Brazilian government with a Southern Cross National Commendation.52 This commendation is voted by the National Congress and bestowed by the President of the Republic, exclusively for foreigners who provide various benefits to the Brazilian population. In Brazil's history, Jessie was the first woman to receive such an honor.53 Afterwards she retired and returned to the United States in 1958.54
Regardless, her contributions continued through financial help for many students. Even after becoming feeble, she continued to worry about those she had left behind in Brazil.55 Her work in the Amazon impacted the people so deeply that the name "Jessie" is common among girls in those communities.56 On September 27, 1962, at age 68, she died57 because of a disease she acquired after her return to the United States.58
Jessie Viola Halliwell provided a significant contribution to the Seventh-day Adventist Church through her medical missionary work as a nurse and a teacher. Through this work she converted many to the Adventist faith and promoted the growth of Adventism in Brazil.
Sources
Ana, P., Desafio nas Águas: um resgate da história das lanchas médico-missionárias da Amazônia. 1st edition, Tatuí, SP: Casa Publicadora Brasileira, 2009.
Divisão de polícia marítima, aérea e de fronteiras – DPMAF Relações de passageiros em vapores. In: National Ellen G. White Research Center Archive/Ellen G. White Research Center: UNASP-EC, Engenheiro Coelho, SP. Stand 2. Shelf 13. Folder "Halliwell, Jessie Viola." Accessed May 11, 2018.
"Halliwell." Revista Adventista, year 58, no. 4, April 1963, 34. Accessed May 11, 2018, http://acervo.revistaadventista.com.br/capas.cpb.
Halliwell, Leo B. Light in the Jungle, New York, NY: David McKay Company, 1959.
Image and additional information regarding Jessie Viola Halliwell's tombstone. In: National Ellen G. White Research Center Archive/Ellen G. White Research Center: UNASP-EC, Engenheiro Coelho, SP. Stand 2. Shelf 13. Folder "Halliwell, Jessie Viola." Accessed May 11, 2018.
Katie, T. O. Lightbearer to the Amazon. Boise, ID: Pacific Press Publishing Association, 1944.
Loriza, K., Uma Igreja na Selva: A história sobre pioneirismo da Igreja Adventista no Amazonas (Campinas, SP: Millennium Editora, 2016).
Matos, A. S., 2018, História da Igreja: Igreja presbiteriana de Botucatu, 2014, http://cpaj.mackenzie.br/historiadaigreja/pagina.php?id=281.
Matos, A. S., 2018, História da Igreja: Pioneiros presbiterianos no Brasil – Igreja do Norte, 2014, http://cpaj.mackenzie.br/historiadaigreja/pagina.php?id=230.
"No Amazonas." Revista Adventista, year 37, no. 4, April 1942, 32. Accessed May 13, 2018, http://acervo.revistaadventista.com.br/capas.cpb.
Seventh-day Adventist Yearbook. Washington D.C.: Review and Herald Publishing Association. Years 1921, 1928-1929, 1934, 1958. Accessed May 11, 2018. https://www.adventistyearbook.org/old-yearbooks.
Streithorst, O. S. Leo Halliwell na Amazônia. Santo André, SP: Casa Publicadora Brasileira, 1979.
Utt, Richard H. A Century of Miracles, Mountain View, CA: Pacific Press Publishing Association, 1963.
Notes
Jessie Viola Halliwell (National Ellen G. White Research Center Archive/Ellen G. White Research Center: UNASP-EC, Engenheiro Coelho, SP).↩

A. Paula, Desafio nas Águas: um resgate da história das lanchas médico-missionárias da Amazônia (Tatuí, SP: Casa Publicadora Brasileira, 2009), 28-29.↩

Jessie Viola Halliwell (National Ellen G. White Research Center Archive/Ellen G. White Research Center: UNASP-EC, Engenheiro Coelho, SP).↩

O. S. Streithorst, Leo Halliwell na Amazônia (Santo André, SP: Casa Publicadora Brasileira, 1979), 18.↩

Ibid., 19.↩

Paula, 28-29.↩

Ibid., 28.↩

"Halliwell," Revista Adventista, no. 4, April 1963, 34.↩

Streithorst, 17-18.↩

Ibid., 18.↩

Ibid., 20-21.↩

Paula, 28.↩

Streithorst, 21; and K. T. Oliver, Lightbearer to the Amazon (Boise, ID: Pacific Press Publishing Association, 1944), 7.↩

Streithorst, 24.↩

Ibid., 27.↩

Ibid., 24, 27.↩

Ibid. 27.↩

Streithorst, 28; and "Iowa Conference," Seventh-day Adventist Yearbook (Washington, D.C.: Review and Herald Publishing Association, 1921), 46.↩

Streithorst, 28.↩

Ibid., 29-30.↩

Divisão de polícia marítima, aérea e de fronteiras – DPMAF Relações de passageiros em vapores (National Ellen G. White Research Center Archive/Ellen G. White Research Center: UNASP-EC, Engenheiro Coelho, SP).↩

A. S. Matos, 2018, História da Igreja: Pioneiros presbiterianos no Brasil – Igreja do Norte, 2014 and A. S. Matos, 2018, História da Igreja: Igreja presbiteriana de Botucatu, 2014.↩

Streithorst, 30.↩

Ibid., 32-33.↩

Ibid. 33.↩

L. Kettle, Uma Igreja na Selva: A história sobre pioneirismo da Igreja Adventista no Amazonas (Campinas, SP: Millennium Editora, 2016), 12; and Streithorst, 36.↩

Streithorst, 37-38.↩

Ibi., 38; and Paula, 28.↩

Streithorst, 44; and Paula, 21-22.↩

"Lower Amazon Mission," Seventh-day Adventist Yearbook (Washington, D.C.: Review and Herald Publishing Association, 1929), 204.↩

Streithorst, 44.↩

Ibid, 48-49.↩

Halliwell, 94.↩

Streithorst, 50.↩

"Bahia Mission," Seventh-day Adventist Yearbook (Washington, D.C.: Review and Herald Publishing Association, 1928), 196.↩

Streithorst, 44; and Paula, 21-22.↩

Ibid, 50, 51.↩

Kettle, 16; and Streithorst, 54.↩

Streithorst, 53-54.↩

Paula, 29.↩

Streithorst, 53, 72.↩

Paula, 29.↩

Kettle, 21.↩

Paula, 29; and Kettle, 21.↩

"No Amazonas," Revista Adventista, year 37, no. 4, April 1942, 32.↩

Streithorst, 73.↩

"Lower Amazonas Mission," Seventh-day Adventist Yearbook (Washington, D.C.: Review and Herald Publishing Association, 1934), 167; and "South American Division," Seventh-day Adventist Yearbook (Washington, D.C.: Review and Herald Publishing Association, 1958), 145.↩

R. H. Utt, A Century of Miracles (Mountain View, CA: Pacific Press Publishing Association, 1963), 117.↩

Streithorst, 89-90.↩

Ibid., 44, 138.↩

Ibid. 90.↩

Utt, 117.↩

Streithorst, 155.↩

Ibid., 134, 138.↩

Ibid., 134-135.↩

Utt, 117.↩

Jessie Viola Halliwell (National Ellen G. White Research Center Archive/Ellen G. White Research Center: UNASP-EC, Engenheiro Coelho, SP).↩

Streithorst, 134.↩