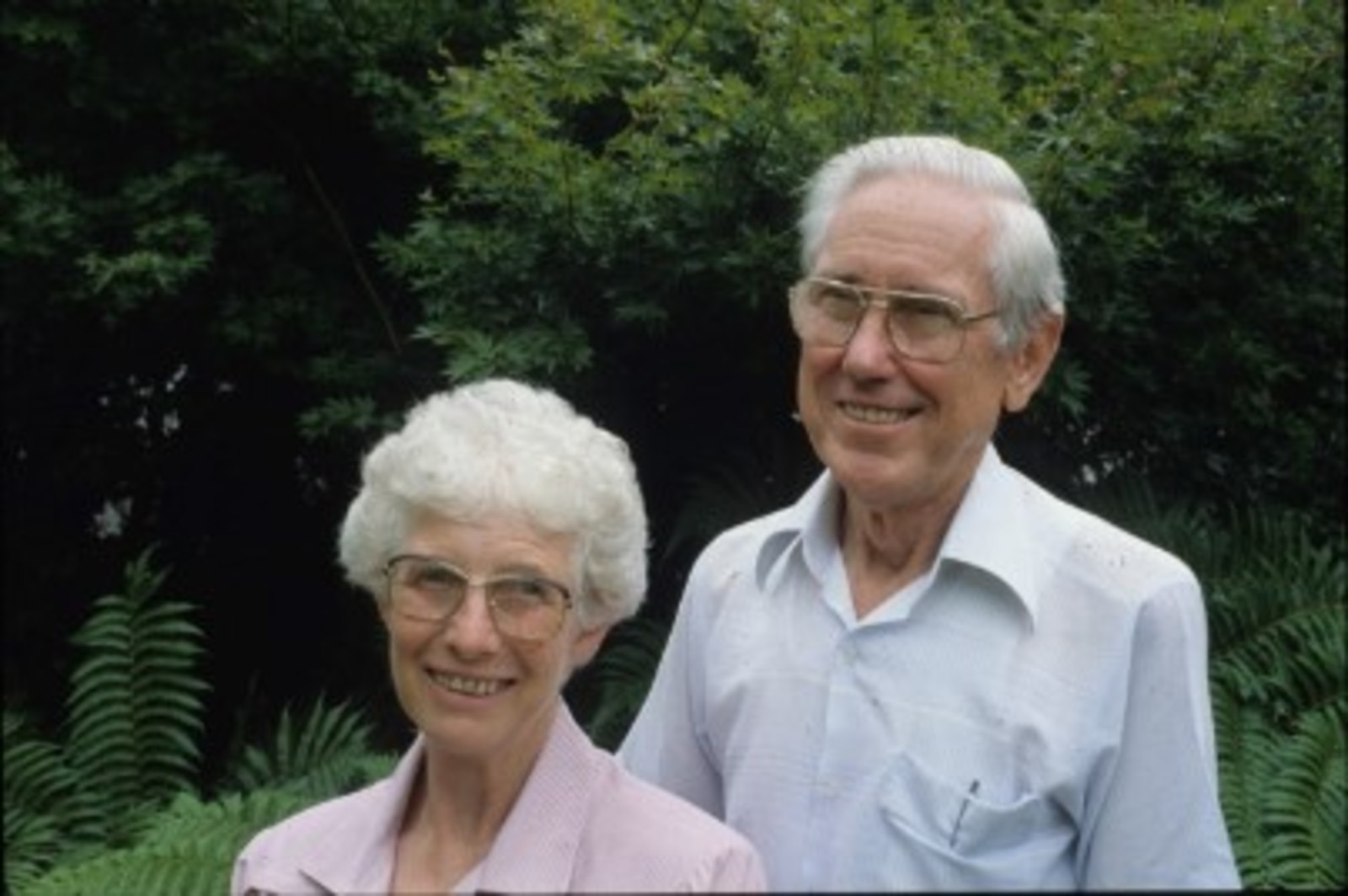 Dickins, Hugh Alfred (1919–1999) and Royce Myrtle (Stockton) (1920–2019)
×
Shirley Tarburton, M.Litt. (Distinction) (University of New England, Armidale, New South Wales, Australia) retired in 2008 after 40 years teaching church-school (mainly high school but including eight years at university). An Australian, she has taught in four mission fields, Australia, and New Zealand. She has authored five books and co-authored one on church history, biography and family history, as well as several magazine articles. She is married to Dr. Michael Tarburton with two adult children and four grandchildren.
First Published: January 29, 2020
Hugh Dickins and his wife, Royce, gave 27 years of continuous mission service in the island nations of the South Pacific. They occupied a variety of pastoral and administrative positions there before spending ten years in pastoral and departmental ministry after their return to Australia.
Birth and Early Years
Hugh Alfred Dickins was born in Melbourne, Australia, on October 9, 1919.1 He was the eldest child of Alfred James Dickins (1892–1967) and Martha Charlotte Dickins (nee Wyatt, 1895–1979). Hugh had three younger brothers and one sister: Norman George (1921–2004), Keith Richard (1923–2011), Roy William (1927–2017), and Lois May [Fechner] (1929–2007).
His parents became Seventh-day Adventists before their marriage, through attending a series of evangelistic meetings run by James William Kent in Melbourne, in the last months of 1918.2 Alfred Dickins was a railway employee,3 so the family lived in some isolated country towns while the children were small.4 Early in the 1930s when the Depression hit, the family moved to Melbourne, and Hugh's mother became a literature evangelist, selling books to finance her children's church school education.5 Hugh attended the Hawthorn Seventh-day Adventist (SDA) Central School6 and then learned the printing trade.7
Education and Marriage
When he was 18 years of age, Hugh enrolled in the teaching course at the Seventh-day Adventist (SDA) college at Avondale.8 He graduated in 1940 and took a job in the Cooranbong Sanitarium Health Food (SHF) factory to earn some money before the school year commenced in February 1941.9 Hugh was assigned back to his home city of Melbourne, where he was appointed to be in charge of the one-teacher, grades 1-6 SDA school at East Preston.10 Here he spent three years, until the end of 1943.11
On January 12, 1944, in the Preston SDA Church, he married Royce Myrtle, the eldest daughter of Mr. and Mrs. Roy Stockton.12 Both of Royce's parents were of pioneer SDA stock. Her father was the youngest son of the first Australian Seventh-day Adventist, John Henry Stockton, who was baptized in Melbourne on January 10, 1886, by J. O. Corliss.13 Her mother was Emma Hawkes, who came from another family of early Adventist converts in country Victoria.14 Royce had one sister, Peggy Ilma (Bradbury, 1927–2011).
Career and Contribution
At the end of 1943 Hugh received a missionary appointment to Fulton College, in Fiji. Shortly after their marriage, he and Royce set sail for this appointment,15 but because of World War II enemy action across their route, they were forced to disembark in New Zealand, where they spent several months waiting until it was safe to proceed.16 During this time Hugh did some relief teaching at the Wanganui SDA School and helped care for the church headquarters property in Auckland, in the North Island.17
They eventually arrived at Fulton College by June 1944, and Hugh taught there until the end of 1945, when they transferred to the Vailoa Training School on the island of Upolu, Western Samoa (now Samoa).18 This was a boarding school situated in a beautiful elevated location overlooking the sea, and Hugh was the principal there for two and a half years.19
Hugh was transferred to the Coral Sea Union Mission in mid-1948. By this time two children had joined the family—Lynnette Robin (Mrs. Dudley House) was born in Fiji and Donald James (later married to Glenis Townend) was born in Samoa. The family of four arrived in Rabaul, on the island of New Britain, in the Bismark Archipelago Mission, in July of 1948.20 Here Hugh was the education liaison officer between the SDA mission and the newly formed postwar New Guinea government.21 He was also the mission MV (Youth Department) director and Sabbath School director.22 His work necessitated much interisland travel on the mission ships, so, to further facilitate this, Hugh obtained his 40-ton shipmaster's license.23 He itinerated widely, and ran many training courses to develop the abilities of the local personnel to take on more responsibility across the mission.24
In 1949 Hugh and Royce suffered the loss of their second son, Garry John. He lived for only three months and died in April.25 It is a testimony to their strength and dedication that they continued their service throughout this time.
Upon commencing a second four-year term in Rabaul in 1952, the Home Missions Department was added to Hugh's responsibilities.26 Early in 1953 a reorganization of the Australasian Division (now South Pacific Division) mission territories saw the Coral Sea Union Mission split in two and the creation of the Bismark-Solomons Union Mission (BSUM).27 Hugh's area of service now lay within the new BSUM. At the end of the year, on December 19, 1953, he was ordained to the gospel ministry.28
Hugh was concerned about the lack of resources for the ministries under his supervision, and obtained the collaboration of Elisha Gorapava in the Solomon Islands, to prepare a series of attractive readers suitable for using in the many BSUM schools.29 He encouraged the incorporation of Junior Missionary Volunteer (JMV) classwork into schoolwork and integrated the JMV honor program with the educational curriculum, to establish a program that provided a wide variety of learning experiences beyond the basic curriculum. He also adapted a number of the JMV honor studies for the island context30 and assisted in the production of a history textbook suitable for the village culture.31 For 13 years he also rewrote all the Sabbath School Bible study guides in simple English, contextualized for the Pacific Island readership, printed and distributed them.32
Hugh was described as being "energetic and tireless" by R. A. Vince, who further commented that "in a period of fourteen months, he was home only seven weeks."33 However, being away so much was hard on his family, which now included two more children, Jillian Lee (Dr. Jillian Thiele, wife of Dr. David H. Thiele) and Cheryl Ann (Mrs. David Mitchell).
During May 1961 Hugh assisted the Australasian Division educational secretary, E. E. White, to run a four-week workers' intensive development program studying church practice, church history, and church organization.34 Shortly afterward, after spending 13 years in the BSUM, Hugh was appointed to the same positions in the Coral Sea Union Mission (CSUM), which he held from January 1962 until June 1964. This necessitated a move for the family to Lae, on the mainland of New Guinea.35
From June 196436 until December 1969 Hugh was the president of the Eastern Highlands Mission, based at Goroka, inland from Lae.37 "Pr. H. A. Dickins is the very busy president of this, the largest of our local fields in Papua New Guinea. With his five district directors and total working force of 147, he has the responsibility of proclamation of the Advent message to a population of 360,000 indigenous peoples, speaking hundreds of languages and dialects."38 One of these groups was the newly contacted warlike pygmy Angu people often known as the Kukukukus.39 Hugh Dickins and Rex Tindall worked together to pioneer their successful evangelization.
His next posting was back to the BSUM, to be the president of the Eastern Solomons Mission.40 However, this position changed to that of union mission liaison officer and union assistant educational secretary for the Solomon Islands, when the local president positions were nationalized in June 1970.41 After supervising the smooth transition, Hugh and his family left the mission field in December 1970, after 27 years continuous service, and commenced a period of pastoral ministry in the home field of Australia.42
Over the next six years he pastored churches in Lismore and Tamworth in the North New South Wales Conference,43 then spent 1977 and 1978 as stewardship director for that conference.44 This was followed by his last two years before retirement, as pastor of the Grafton/MacLean church.45
Retirement and Later Life
Hugh Dickins retired on December 27, 1980,46 however, he didn't stop working. From 1981 to 1984, inclusive, he pastored the church at Woy Woy where he and Royce had retired,47 as a sustentee.48 He died in Cooranbong on November 5, 1999, and was buried in the Avondale Adventist Cemetery at Cooranbong.49 Royce continued an active retirement until she died in Cooranbong on May 27, 2019, and was buried with Hugh at Avondale.50
Sources
"A change of work . . ." Australasian Record, June 1, 1970.
Aveling, R. A. "Eastern Highlands Biennial Session." Australasian Record, January 3, 1966.
Bartlett, E. S. "Sister Elizabeth Hawkes." Australasian Record, November 12, 1951.
"Brother and Sister . . ." Australasian Record, May 29, 1944.
"Brother Hugh Dickins." Australasian Record, February 7, 1944.
Brown, Frances. "100 Years and a Day." South Pacific Record and Advent World Survey, February 22, 1986.
"By recent action . . ." Australasian Record, July 6, 1948.
Coombe, L., and P. Holmes. "Pastor Hugh Alfred Dickins." Record, January 15, 2000.
Dever, J. J. "Gary Dickins." Australasian Record, June 6, 1949.
Dickins, H. A. "American Student Missionaries—Their First Walkabout Among the Kukukukus." Australasian Record. July 27, 1970.
———. "Dickins, Hugh and Royce . . ." Australasian Record, January 15, 1994.
———. "Martha Charlotte Dickins." Australasian Record, September 10, 1979.
———. "Mission Affairs in Rabaul." Australasian Record, September 13, 1948.
———. "Reorganizing on Bougainville." Australasian Record, July 10, 1950.
———. "The Church Budget." Australasian Record, March 6, 1978.
Dickins family. "Life Sketch of Royce Dickins." Unpublished document, May 2019. Copy in author's possession.
"Distribution of Labour." Australasian Record, September 30, 1940.
Ellison, R. M. "A New Day in Mission Education." Australasian Record, November 15, 1954.
"Having been thirteen years . . ." Australasian Record, November 6, 1961.
Hugh Alfred Dickins. Conference Worker's Evangelistic Record, South Pacific Division of the General Conference Archives. Folder: "Dickins, Hugh Alfred." Document: "Conference Worker's Evangelistic Record."
Hugh Alfred Dickins. Personal Service Record, South Pacific Division of the General Conference Archives. Folder: "Dickins, Hugh Alfred." Document: "Personal Service Record."
Hugh Alfred Dickins. Worker's Biographical Record. South Pacific Division of the General Conference Archives. Folder: "Dickins, Hugh Alfred." Document: Worker's Biographical Record."
McMahon, B. H. "Education Department." Australasian Record, March 8, 1943.
Mitchell, C. E., "But Satan Hindered." Australasian Record, October 4, 1948.
Mote, F. A. "Coral Sea Union Mission Re-organization." Australasian Record, May 25, 1953.
"On his return . . ." Australasian Record, September 29, 1958.
"Pastor H. A. Dickins . . ." Australasian Record, September 1, 1969.
"Pastor W. R. Ferguson . . . and Pastor H. A. Dickins . . ." Australasian Record, March 29, 1971.
"School Staffing as at May 1, 1941." Australasian Record, June 9, 1941.
Stratford, S. V. "From Central Polynesia." Australasian Record, February 18, 1946.
Streeter, H. S. "Dickins–Stockton." Australasian Record, February 14, 1944.
"To fill the vacancy . . ." Australasian Record, June 15, 1964.
White, E. E. "Looking Toward the Future." Australasian Record, August 14, 1961.
"Worthy of Honourable Mention." Australasian Record, February 23, 1981.
Notes
L. Coombe and P. Holmes, "Pastor Hugh Alfred Dickins," Australasian Record, January 15, 2000, 14.↩

H. A. Dickins, "Martha Charlotte Dickins," Australasian Record, September 10, 1979, 14.↩

Jillian Thiele, email message to author, July 31, 2016.↩

Dickins, 14.↩

Ibid.↩

Hugh Alfred Dickins, Personal Service Record, South Pacific Division of the General Conference Archives (Folder: "Dickins, Hugh Alfred"; Document: "Personal Service Record," 1).↩

Hugh Alfred Dickins, Worker's Biographical Record, South Pacific Division of the General Conference Archives (Folder: "Dickins, Hugh Alfred"; Document: "Worker's Biographical Record").↩

Jillian Thiele, email message to author, July 31, 2016.↩

"Distribution of Labour," Australasian Record, September 30, 1940, 6.↩

"School Staffing as at May 1, 1941," Australasian Record, June 9, 1941, 8.↩

B. H. McMahon, "Education Department," Australasian Record, March 8, 1943, 8.↩

H. S. Streeter, "Dickins–Stockton," Australasian Record, February 14, 1844, 7.↩

Frances Brown, "100 Years and a Day," South Pacific Record and Advent World Survey, February 22, 1986, 9.↩

E. S. Bartlett, "Sister Elizabeth Hawkes," Australasian Record, November 12, 1951, 7.↩

"Brother Hugh Dickins," Australasian Record, February 7, 1944, 8.↩

"Brother and Sister . . . ," Australasian Record, May 29, 1944, 8.↩

Jillian Thiele, email message to author, July 31, 2016.↩

S. V. Stratford, "From Central Polynesia," Australasian Record, February 18, 1946, 4.↩

"By recent action . . . ," Australasian Record, July 6, 1948, 8.↩

H. A. Dickins, "Mission Affairs in Rabaul," Australasian Record, September 13, 1948, 3.↩

"By recent action . . ."; C. E. Mitchell, "But Satan Hindered," Australasian Record, October 4, 1948, 5.↩

Dickins, Personal Service Record, 2.↩

Dickins, Worker's Biographical Record.↩

H. A. Dickins, "Reorganizing on Bougainville," Australasian Record, July 10, 1950, 3.↩

J. J. Dever, "Gary Dickins," Australasian Record, June 6, 1949, 7.↩

Dickins, Personal Service Record, 2.↩

F. A. Mote, "Coral Sea Union Mission Re-organization," Australasian Record, May 25, 1953, 2.↩

Dickins, Worker's Biographical Record, 1.↩

Jillian Thiele, email message to author, July 31, 2016.↩

Ibid.↩

R. M. Ellison, "A New Day in Mission Education," Australasian Record, November 15, 1954, 1, 2.↩

Jillian Thiele, email message to author, July 31, 2016.↩

"On his return . . . ," Australasian Record, September 29, 1958, 16.↩

E. E. White, "Looking Toward the Future," Australasian Record, August 14, 1961, 8.↩

"Having been thirteen years . . . ," Australasian Record, November 6, 1961, 16.↩

"To fill the vacancy . . . ," Australasian Record, June 15, 1964, 8.↩

"Pastor H. A. Dickins . . . ," Australasian Record, September 1, 1969, 16.↩

R. A. Aveling, "Eastern Highlands Biennial Session," Australasian Record, January 3, 1966, 10.↩

H. A. Dickins, "American Student Missionaries—Their First Walkabout Among the Kukukukus," Australasian Record, July 27, 1970, 3.↩

"Pastor H. A. Dickins . . ."↩

"A change of work . . . ," Australasian Record, June 1, 1970, 2.↩

"Pastor W. R. Ferguson . . . and Pastor H. A. Dickins . . . ," Australasian Record, March 29, 1971, 16.↩

Hugh Alfred Dickins, Conference Worker's Evangelistic Record, South Pacific Division of the General Conference Archives (Folder: "Dickins, Hugh Alfred"; Document: "Conference Worker's Evangelistic Record").↩

Ibid.; H. A. Dickins, "The Church Budget," Australasian Record, March 6, 1978, 12.↩

Dickins, Conference Worker's Evangelistic Record, 1.↩

"Worthy of Honourable Mention," Australasian Record, February 23, 1981, 7.↩

H. A. Dickins, "Dickins, Hugh and Royce. . . ," Australasian Record, January 15, 1994, 14.↩

Dickins, Conference Worker's Evangelistic Record, 1.↩

Coombe and Holmes.↩

Dickins family, "Life Sketch of Royce Dickins," unpublished document, May 2019 (copy in author's possession).↩