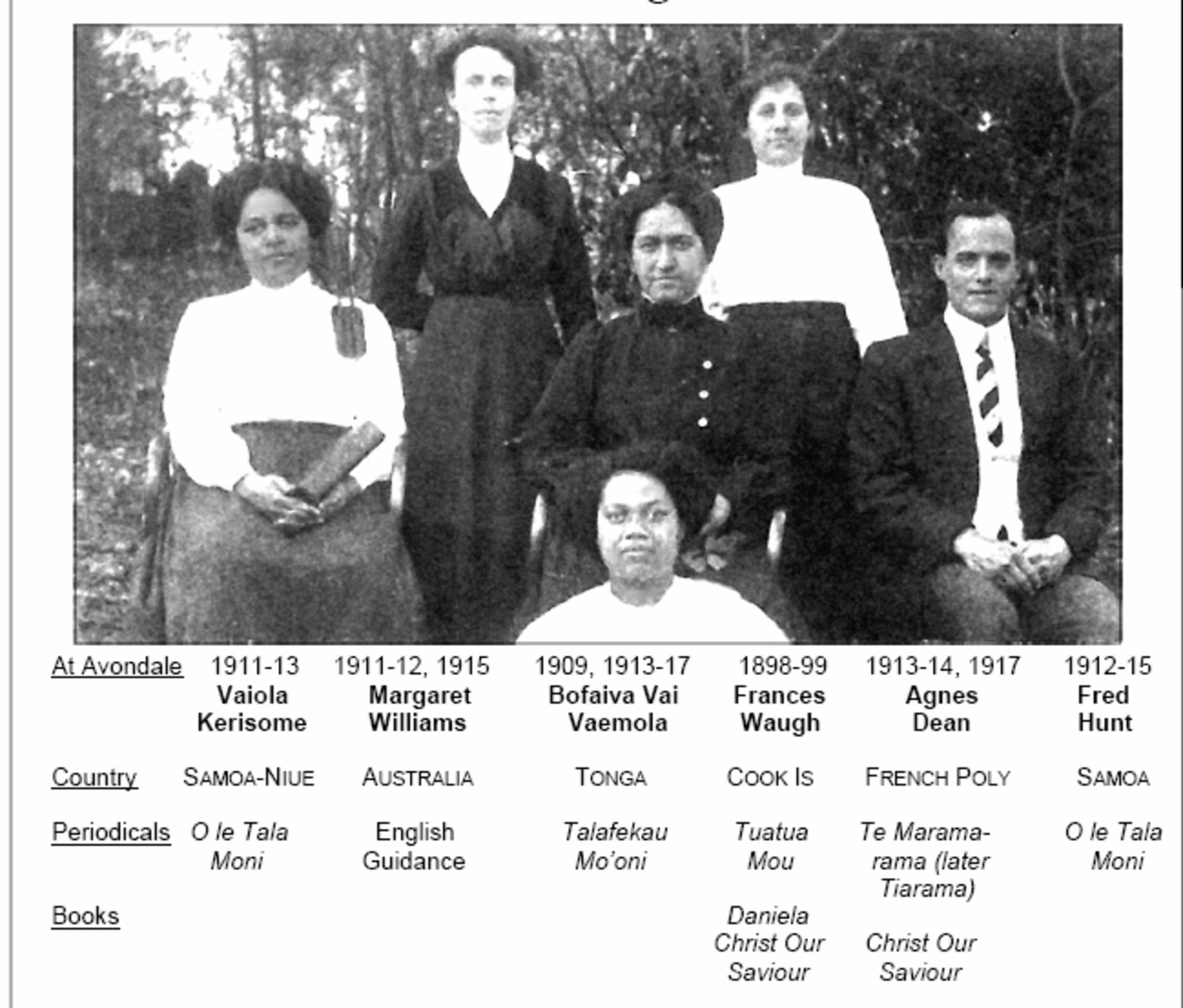 Tali Moni ("The True Story"), South Pacific Division
×
Milton Hook, Ed.D. (Andrews University, Berrien Springs, Michigan, the United States). Hook retired in 1997 as a minister in the Greater Sydney Conference, Australia. An Australian by birth Hook has served the Church as a teacher at the elementary, academy and college levels, a missionary in Papua New Guinea, and as a local church pastor. In retirement he is a conjoint senior lecturer at Avondale College of Higher Education. He has authored Flames Over Battle Creek, Avondale: Experiment on the Dora, Desmond Ford: Reformist Theologian, Gospel Revivalist, the Seventh-day Adventist Heritage Series, and many magazine articles. He is married to Noeleen and has two sons and three grandchildren.
First Published: January 29, 2020
Tali Moni ("The True Story") is a Seventh-day Adventist magazine printed in the Samoan language since 1911. In 1960 its name was changed to O le Tala Moni.
Church leaders had been encouraged by the success of the Tahitian periodical Te Maramarama and voted in 1910 to launch a similar magazine in the Samoan language.1 They lost no time in organizing the first issue, published early in 1911. Frances Waugh's editorial work with the Tahitian magazine was simply doubled when she was asked to carry the Samoan magazine also. She worked from her home in Wahroonga, Sydney. Vaiola Kerisome, a young woman who had spent her childhood in Samoa, assisted with the translation work while attending the Avondale School for Christian Workers at Cooranbong.2 It was on that same campus, at the Avondale Press, where the four-page (eight-sided) monthly titled Tali Moni (or Tala Moni) was printed in its earliest years.3 The missionaries distributed it widely and found it to be popular with the island people.4 The title was later refined to O le Tala Moni, once again meaning "The True Story" or "The Message of Truth."5
During World War I the center for production shifted from Australia to the Pacific. Fred Hunt, a young Tongan-Samoan convert, came to the assistance of Kerisome to translate the paper.6 Missionaries in Samoa, Annie Williams and Henry Thomas Howse, acted as editors at various times. When the printing of the periodical gravitated from Australia, the Buresala School Press in Fiji was utilized during the war and onward.7 This situation deteriorated in 1924, when Howse was forced to retreat from Samoa to a cooler climate after contracting elephantiasis.8 The periodical lapsed.
Raimund Reye, the replacement for Howse, became preoccupied with developing the educational work. He had an eye on Samoan leadership for the next generations. Not until about 1940 did he make a belated attempt to resurrect the periodical.9 Reye was a son of German Samoa, and competent to fulfill the role of both editor and translator. He had it printed at the Western Samoan Mail newspaper office until a wartime paper shortage occurred.10 The war years brought other emergencies. Germany lost control of Samoa and German citizens were institutionalized in New Zealand. Reye, being of part German heritage, was given exemption for a short time but eventually held on Somes Island, New Zealand, and later confined to mainland New Zealand.11 It therefore became more difficult to produce the periodical, but national leaders in Samoa managed its survival in a reduced format from eight pages to six.12 In 1958 it returned to being an eight-page periodical.13
By the 1950s the Samoan leadership that Reye had planned emerged with strength. Some served as editors for the O le Tala Moni. Among them were Nu'ali'i Neru,14 Tasi Tesesi,15 Siaosi Neru,16 Papaofa Ta'ala,17 and Ripini Rimoni.18 In the 1970s the monthly became a bimonthly19 and continues as an effective written testimony to the Seventh-day Adventist message in Samoa.
Sources
"At a meeting of the Island Book Committee…" Union Conference Record, December 19, 1910.
Butler, L[ewis] A. "Savaii, Samoa." Australasian Record, January 15, 1912.
Cady, B[enjamin] J. "Words of Courage from Central Polynesia." Australasian Record, September 4, 1911.
Hook, Milton [c. 1986]. "Lotu Aso Fitu: Early Adventism in Samoa." South Pacific Division Education Department Retrieved from http://www.adventist.org.au/document_groups/378.
Liston, J. J. Liston to Raimund Reye. June 28, 1940. Private letter. Personal collection of Mary (Martin) Reye.
"Plans and Recommendations: Missions." Union Conference Record, November 7, 1910.
Reye, Arnold C. "Raimund Reye: The War Years, 1939–1945." Unpublished manuscript. Personal collection of Mary (Martin) Reye.
Seventh-day Adventist Yearbooks. Washington, D.C.: Review and Herald Publishing Association. Years 1913–2015.
Steed, Joseph E. "Progress of the Work in Samoa." Australasian Record, June 25, 1917.
———. "Samoa." Australasian Record, November 8, 1915.
———. "The Work in Samoa." Australasian Record, February 20, 1922.
Turner, W[illiam] G. "Recent Actions of the Executive Committee." Australasian Record, August 18, 1924.
Notes