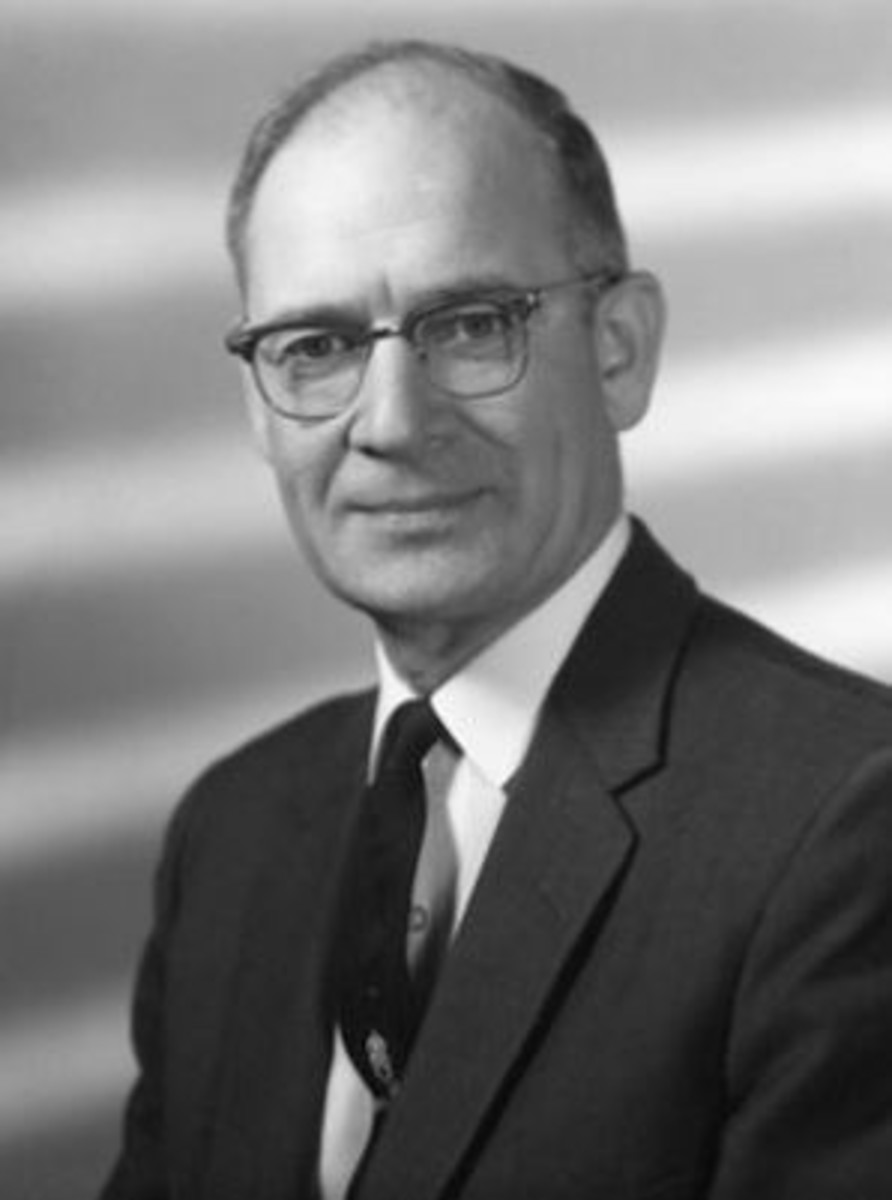 Fowler, Ray Warren (1905–2006)
×
Sabrina Riley was born in Auburn, New York and raised in Dowagiac, Michigan. She received a B.A. in history from Andrews University and an M.A. in information and libraries studies from the University of Michigan. Riley was a member of Andrews University's library staff from 1998 to 2003, library director and college archivist at Union College from 2003 to 2016, and is presently a freelance researcher, author, and information professional.
First Published: January 29, 2020
Ray Warren Fowler was an Adventist educator who served as principal of two academies and president of two colleges in addition to his years of teaching.
Early Life
Ray Warren Fowler was born on April 20, 1905, in Stanley, North Dakota. He was the son of a farmer, George Warren Fowler (1878–1949) and his wife, Hattie Alida (Ward) Fowler (1880–1957). Fowler's maternal great-grandfather had been born in England and immigrated to the United States about 1848.1 George Fowler joined the Seventh-day Adventist Church around 1902.2 His wife was already an Adventist when they married in 1900.3 The second of four children, Ray Fowler's siblings included Ruby Margaret (1902–1995), who married Otto O. Lenz and served with him at several Adventist academies;4 Erwin Sylvester (1908–2000), who became a businessman after graduating from Walla Walla College;5 and Frances Mae (1915–2001) who married Jonathan Victor Peters, an Adventist educator and administrator.6
Education and Family
Fowler attended public school in Stanley, North Dakota, before attending Union College in Lincoln, Nebraska. He graduated from Union College in 1929 with a Bachelor of Arts degree, and was elected president of his senior class.7 In 1941 Fowler completed a master's degree in business from the University of Idaho,8 and later pursued a Ph.D. from the University of Nebraska, which was completed in 1950.9
On July 24, 1929, in Redfield, South Dakota, Fowler married his fellow Union College student Alice Elizabeth Carr. The daughter of Fred Maxson Carr and Maryetta Palmer, she was born on September 4, 1906. Her sister Maude Isabell Carr married Harvey C. Hartman, who later served as president of Union College. Alice Fowler taught at many of the schools at which her husband was administrator. Ray and Alice Fowler never had any children of their own; however, they maintained a close relationship with two foster daughters, Vivian Hassell and Stacia Alexenko.10
Career
Upon graduation from Union College, Ray Fowler was offered a teaching position at Maplewood Academy in Hutchinson, Minnesota. He initially taught math and science, and later added serving as boys dean to his duties.11 In 1935 Fowler became principal of Sheyenne River Academy, where he remained until 1941.12
In 1941 Fowler returned to Union College, this time as a member of the faculty and chair of the Business Department from 1941 to 1951. The Fowlers were very active in the life of the campus and the College View Seventh-day Adventist Church and were noted for their "personal interest in student problems."13 Fowler briefly returned to academy administration, serving Auburn Academy as principal from 1951 to 1955.
Pacific Union College called Fowler to be its academic dean in 1955. He became president of college just a few months later when the previous president, Henry L. Sonnenberg, unexpectedly suffered a heart attack and died. Fowler's tenure as Pacific Union College president was characterized by high enrollment, capital improvements, and new academic programs.14 He remained president of Pacific Union College until 1963, when he returned to Union College for a third time, this time as business manager.15
Fowler's tenure as business manager lasted for only a year, when he was asked to become Union College's new president in 1964, a position he held until 1970. As at Pacific Union College, Fowler's presidency of Union College was also marked by strong enrollment and an active building program. Union College also started the student missionary program and achieved National Council for Accreditation Teacher Education (now Council for the Accreditation Educator Preparation) accreditation for the first time and National Association of Schools of Music accreditation.16
Later Years
After 41 years of dedicated service to Adventist education, Fowler retired in 1970 and settled in Walla Walla, Washington, where he continued to teach business courses at Walla Walla College for a few years.17 Both Ray and Alice Fowler remained active in their community, volunteering at the Walla Walla General Hospital. Alice Fowler died on March 24, 2003. Ray Fowler died in Walla Walla, Washington, on October 26, 2006.
Sources
Dick, Everett, George Gibson, and Union College staff. Union College: Light Upon the Hill. Lincoln, Nebraska: Union College, Alumni Association, 2004.
"Dr. Fowler to Resign Post." Napa Valley Register, April 8, 1963.
"Former Union College President Dies at 101." Cord Magazine, Winter 2006/2007.
Fowler, Ray Warren. "A Proposed Accounting System for Boarding Academies." MA thesis, University of Idaho, 1941.
———. "The Emergence and Development of Inventory Pricing Methods." PhD diss., University of Nebraska, 1950.
"Fowler New President of Pacific Union," Napa Valley Register, September 10, 1955.
"Fowler Retirement." Northern Union Outlook, March 6, 1970.
"Fowler 65th." North Pacific Union Gleaner, September 19, 1994.
"Fowlers Leave." Clocktower [Union College], August 1, 1951.
"George Warren Fowler obituary." Northern Union Outlook, October 18, 1949.
"Hattie Ward Fowler obituary." Pacific Union Recorder, July 15, 1957.
"Jonathan Victor Peters obituary." North Pacific Union Gleaner, July 7, 1969.
Minnesota. Otter Tail County. 1900 United States Census. Digital Images. Ancestry.com. Accessed September 28, 2019. https://www.ancestry.com.
"Professor of Business and Economics." North Pacific Union Gleaner, March 16, 1970.
"PUC Shows Increase in Enrollment." Napa Valley Register, February 5, 1963.
"Ruby Margaret Lenz obituary." ARH, October 19, 1995.
Seventh-day Adventist Yearbook. Washington, D.C.: Review and Herald Publishing Association, 1930–1970.
"Union College News." Central Union Reaper, March 12, 1929.
Notes