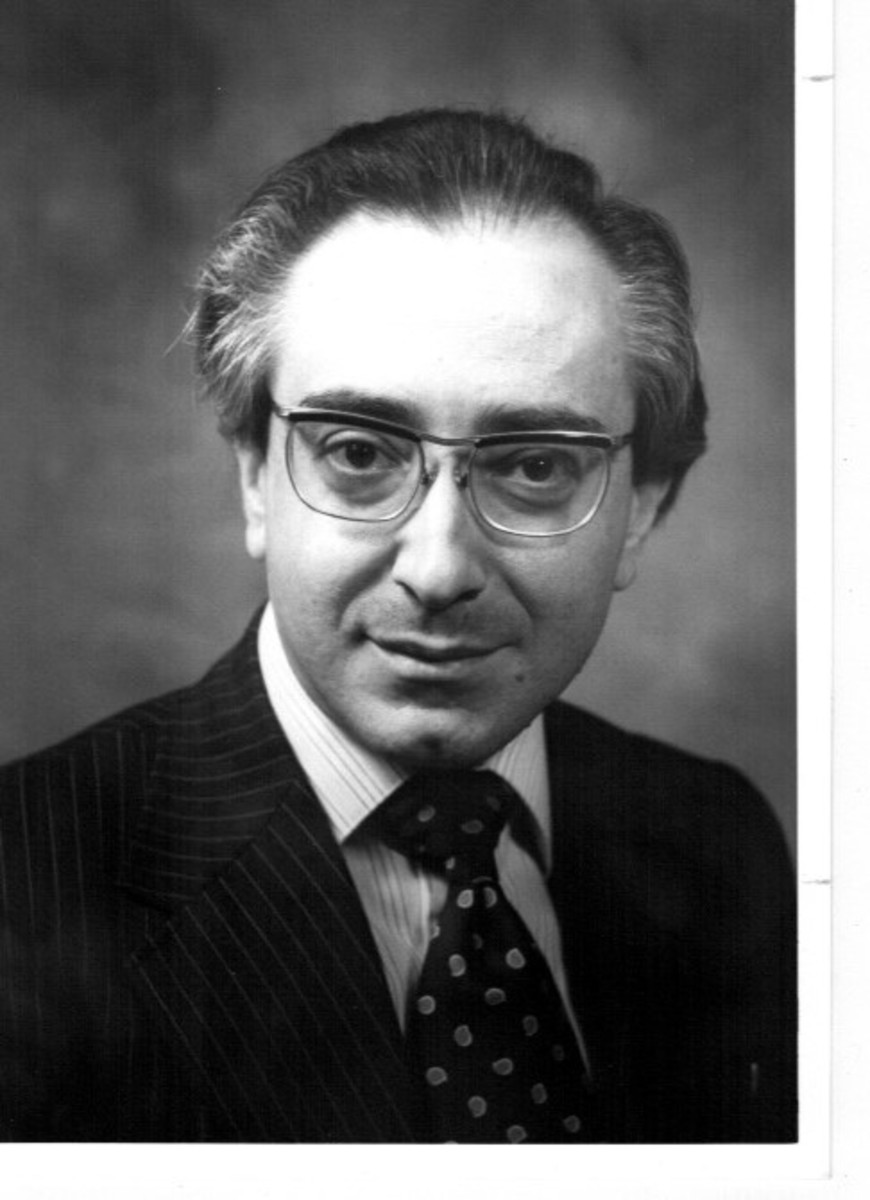 Landa, Paul Joseph (1941–1997)
×
Milton Hook, Ed.D. (Andrews University, Berrien Springs, Michigan, the United States). Hook retired in 1997 as a minister in the Greater Sydney Conference, Australia. An Australian by birth Hook has served the Church as a teacher at the elementary, academy and college levels, a missionary in Papua New Guinea, and as a local church pastor. In retirement he is a conjoint senior lecturer at Avondale College of Higher Education. He has authored Flames Over Battle Creek, Avondale: Experiment on the Dora, Desmond Ford: Reformist Theologian, Gospel Revivalist, the Seventh-day Adventist Heritage Series, and many magazine articles. He is married to Noeleen and has two sons and three grandchildren.
First Published: September 19, 2020
Paul Joseph Landa was a religion and history professor in North America. 
Early Life, Education, and Marriage
Paul Joseph Landa was born in Constantine Province, Algeria, on January 31, 1941, when his parents, Eugene and Emmanuele (Baldino) Landa were missionaries. A younger sister, Ruth, was his only sibling.1 The family remained in Algeria until World War II ended2 and then transferred to France, first at Marseille and later at Angers.3 In 1951 they moved yet again so that Eugene could adopt the role of superintendent of the Israel Mission.4 Later, in 1954, Eugene was appointed to be the secretary of the French Oceania Mission.5 For Paul the five major moves during the first fifteen years of his life disrupted his early schooling, but he endured the circumstances without any apparent disadvantage. When he was sixteen he enrolled at the Australasian Missionary College (AMC), 1957, and repeated his last year of academy level education in order to be sure of his readiness for college level studies. A teacher of vocal techniques also tutored him to pronounce his words without a French accent.6 Paul pursued ministerial studies at AMC and graduated in 1961 with a Bachelor's Degree in Theology.7
Paul did not enter denominational service immediately. He secured a teaching position at Williamstown High School, suburban Melbourne, where he taught History and French. At the same time he did some freelance script writing on education topics for the Australian Broadcasting Commission.8 Paul had met Iris Adams at AMC and they married in Sale, rural Victoria, on January 9, 1964. Paul's father officiated at the ceremony.9
To America
In 1965 Paul and Iris transferred to California where Paul taught at San Gabriel Academy for twelve months. During 1966/1967 he obtained at Andrews University a Master of Arts Degree with a major in the history of Christianity. It became the foundation for the next two decades of his career. The following years, 1967 through 1970, he worked as associate chaplain at Madison Adventist Hospital, Tennessee, and an instructor in religion for the Madison nursing school administered by Southern Missionary College. At the same time he studied at Vanderbilt University where, in 1968, he earned a Master of Arts Degree in Patristics. Having received his degree he then served as a Teaching Fellow in Church History at Vanderbilt University, 1969/1971. In 1976 he completed his doctorate in Reformation Studies at Vanderbilt University. His graduate and post-graduate studies were enabled by several awards: John Henry Smith Graduate Fellowships (1968-1970), Woodrow Wilson Graduate Fellowship (1970/1971), Harry Schrillo Awards (1979 and 1984), and a Pfister Grant (1986).10
Landa's extended association with Loma Linda University began in August 1971. He served as a lecturer in history and religion, progressing in 1980 to professor of the History of Christianity and chair of the Department of Historical Studies. He continued to lecture in the History of Christianity, but from 1986 he began to merge into the field of education as Director of the Loma Linda Center for Lifelong Learning. In this capacity he developed degree programs at extension campuses in Hong Kong, Canada, Australia, and Saudi Arabia. He also developed an undergraduate adult degree program (ABLE) and an experiential learning assessment process.11
Landa was a member of several academic associations. These included the American Academy of Religion, the American Historical Association, the American Society of Church History, the American Society of Reformation Research, the Catholic Historical Association, the Menonite Historical Association, the Société de l'historie du Protestantisme français, the Verein für Reformationsgeschichte, the Association for Innovation in Higher Education and the American Association for Adult and Continuing Education.12
Creativity was a characteristic of Landa's legacy. He was a contributing editor for These Times magazine (1973-1981) and a consultant for the Faith for Today feature film about John Hus.13
Landa conducted study tours to Reformation sites in Europe and the United Kingdom in addition to places such as the Middle East, the South Pacific, China, and Tibet. He was a guest lecturer at the University of California, Hong Kong Adventist College, Avondale College, and the Seventh-day Adventist Theological Seminary in the Philippines. He was a member of the Loma Linda University Faculty Senate (1973-1986), a member of the General Conference Biblical Research Committee or BRICOM (1974-1983), and a member of Southeastern California Conference Justice Commission (1990-1991). He was also an elder at the Loma Linda University Church. His prodigious writing included over one hundred position papers and policy documents. He was a book review editor for Christian Scholar's Review (1976-1978) and for Fides et Historia (1978-1983). He was an editorial consultant for Adventist Heritage, beginning with the Winter 1975 issue, and served as its managing editor (1980-1989). He reviewed book manuscripts for Harper and Row, Fortress Press, Concordia Publishing House, Louisiana State University Press, Review and Herald Publishing Association, and Southern Publishing Association.14
During Paul's career Iris served as an assistant dean of students at the La Sierra campus of Loma Linda University,15
In the midst of Paul's extensive academic work, his lecturing and research and writing, he found leisure time to enjoy photography, collecting rare books, and listening to classical music. During the last three years of his life he suffered with cancer, which caused his premature death on November 10, 1997, in Loma Linda University Medical Center. The Paul Landa Memorial Lectureship was established in his honor.16
Following Paul's death Iris initiated and directed for ten years a creative charity titled Happy Rooms. The participants in the enterprise painted the interior walls of schools and children's hospital wards with decorative artwork. The beneficiary institutions were located in China, India, Cambodia, Ethiopia, Kenya, Moldova, Romania, Guatemala, Papua New Guinea, and the Solomon Islands.17
Selected Academic Papers Published by Dr. Paul Landa
"Le mystère de la brêve papale à Gérard Roussel du 27 décembre [1531]." Bulletin de la Société de l'histoire du Protestantisme français, vol. 123 (1974), 101-103.
"Jacques Lefèvre d'Etaples," "Josse Clichtove," "Guillaume Briçonnet," "Marguerite de Navarre." Bio-Biography Project of the American Society for Reformation Research (1976).
"Gérard Roussel," "Guillaume Farel," "Noël Béda." Bio-Biography Project of the American Society for Reformation Research (1976).
"Guillaume Farel's Understanding of the Sacraments - A Critique of Elfriede Jacobs." Colloquium on Calvin and Calvin Studies, Grand Rapids, MI, 1979, 33-37.
"Noël Beda's View of the Reformation." Occasional Papers of the American Society for Reformation Research, vol. 4 (1980), 93-107.
"Guillaume Farel and the Reformation Radicals." Sixteenth Century Journal, vol. 12 (1981), 31-48.
"Guillaume Farel, the Little Known Reformer." In Colloque Guillaume Farel, 1980, ed., Richard Stauffer. Neuchâtel: Paul Attinger, 1982, 7-31.
"Le problème du Nicodémisme au temps de Calvin." Bulletin de la Société de l'histoire du Protestantisme françois, vol.132 (1983), 77-90.
"The Languedoc, 1520-1540. A Study of Pre-Calvinist Heresy in France." Archiv für Reformationsgeschichte, vol. 76 (1985), 225-244.
"Jacques Lefèvre d'Etaples: From Philosophy to Sola Scriptura, Renaissance, Reformation, Resurgence." Colloquium on Calvin and Calvin Studies, Grand Rapids, MI., 1985, 33-57.
"Pierrade de Vingle, l'imprimeur de Farel." Beiträge für schweitzerisches Reformationsgeschichte, vol. 98 (1985), 38-78.
"Education for Freedom." Lutheran Forum, vol. 43 (1987), 12-21.
"Adult Learners: Characteristics, Concerns, and Challenges to Higher Education: A Comprehensive Bibliography." NACADA Journal, Spring 1990, 86-112.
"Strategic Planning in Higher Education: The What? Who? And How?" A manual. Loma Linda, California. 1987. Revised 1991.
Sources
"Happy Rooms Around the World." Spectrum, November 7, 2009. Retrieved from https://spectrummagazine.org/article/jonathan-pichot/2009/11/07/happy-rooms-around-world.
Landa, Eugene J. "Landa-Adams." Australasian Record, March 30, 1964.
Paul J. Landa Biographical Papers. Loma Linda University Archives, Riverside, California. Work Service Records. Document: "Paul J. Landa Biographical Papers."
Paul J. Landa Short Curriculum Vitae 1996. Private papers. Personal collection of Iris Landa.
"Paul Joseph Landa." FamilySearch.org. Intellectual Reserve, 2021. Retrieved from https://www.familysearch.org/tree/pedigree/landscape/LX3V-5M5.
"Senior Class." Jacaranda [Warburton, Victoria: Signs Publishing Company, 1961].
Seventh-day Adventist Yearbook. Washington, D.C.: Review and Herald Publishing Association, 1946-1983.
Notes