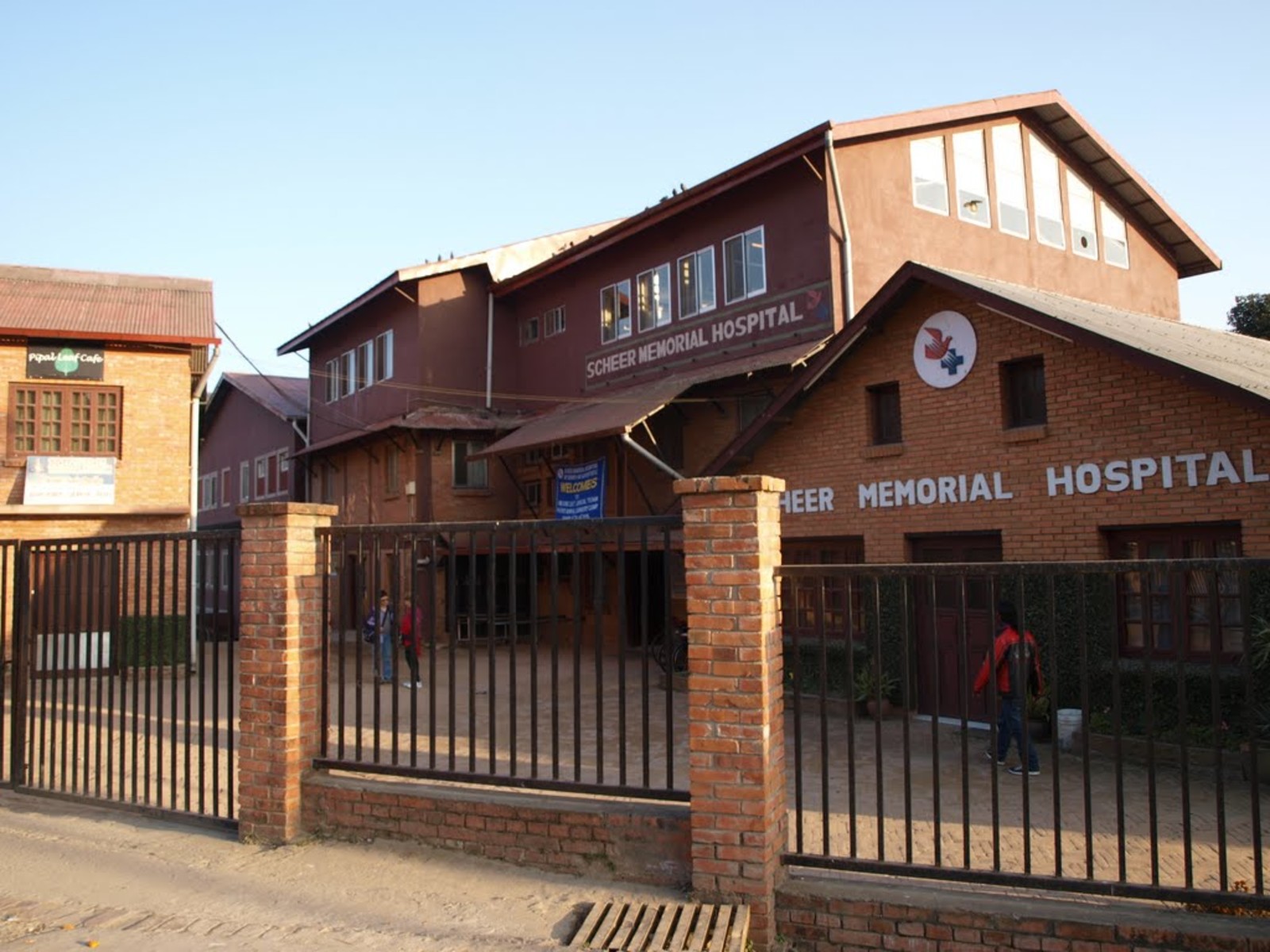 Scheer Memorial Adventist Hospital
×
Cheryl Christo Howson earned a graduate diploma in computer aided interior designing at the Dr. Bhanuben Nanavati College of Architecture for Women in Pune, India. She co-founded an interior design company in Sri Lanka and worked as a copywriter. She contributed to the morning devotional published by Women's Ministries at the General Conference of Seventh-day Adventists, the Shepherdess International Journal magazine, and the Adventist Review. She has written several plays. Currently (2020), she lives in Hosur, India while preparing for a piano exam.
The Scheer Memorial Adventist Hospital is located in Banepa, a small village 18 miles east of Nepal's capital, Kathmandu. Situated near the Himalayan Mountains, it lies in a fertile valley at an elevation of nearly 5,000 feet. Named after a New Jersey couple who donated money for the institution, it was founded in June 1957 by Dr. and Mrs. Stanley Sturges.1
Developments
For a long time, Nepal existed under the rule of hereditary prime ministers who favored a policy of isolation. It remained closed to the outside world until a palace revolt in 1950 restored the crown's authority in 1951.2 Only after this time did the country allow Adventist foreigners to enter, not as missionaries, but as medical personnel.
In 1957, Pastor W. F. Storz, the president of the Northeast Union in the Southern Asia Division, and Allan Maberly, flew over the hills into Nepal with Stanley Sturges, a young doctor from Loma Linda. With letters of introduction to government officials, they interviewed the minister for health and the foreign minister, seeking permission to open medical opportunities in Nepal.3
They explained their plan to first place a central clinic in a strategic area and then work the surrounding villages with a mobile clinic. Later on, they said, they would establish a small hospital as the need arose. Dr. Sturges would serve as head of the unit, assisted by two nationals from India. After they outlined their concept to the health minister, also a medical doctor, the official exclaimed, "This is just what Nepal needs!" He then turned to a large map and put his finger on it. "That is where we want you," he said, "right at Banepa." The Adventist representatives had never heard of the place and did not have time to visit it, as they had to get back to India. But they accepted the location and made formal applications to begin the program in Banepa.4
Founding
While the hospital was under construction, the village made available a small building in which Dr. Sturges conducted an outpatient clinic.5 He began his work in a small room with just the help of his wife, surrounded by cows, goats, and the sick. Dr. Stanley, Raylene Sturges, and their children stayed with the high priest at the Chandawori Temple about a half mile up the road.6 They started off with a borrowed jeep, a medical kit, and donated medicine.7
Mr. Clifford C. Scheer, as a memorial to his parents, Charles J. and Carolyn Scheer, donated most of the money needed to construct the hospital. Funding for equipment, room furnishings, and medical supply necessities came from CARE and the Seventh-day Adventist Church.8
The Scheer Memorial Hospital officially opened May 18, 1960, with Dr. Sturges as the medical director. For a long time, it was the only general hospital serving the large population east of Katmandu. It started with 20 beds.9
History
After Dr. Sturges returned to his homeland in 1963, his brother, Keith Sturges, took over and served there for four years.10
In 1969, the hospital expanded from 20 beds to 30 beds when the obstetrical wing officially opened on February 17 while Dr. Richard I. Clark was the medical director.11
The hospital slowly added more beds, reaching 32 beds in 1973 and 36 beds in 1979. Then it jumped to 50 beds in 1990 under the leadership of Ruben Urrejola and increased to 65 beds in 2000 when Rafael Garcia was the administrator and Dr. Ira Bailie the medical director.12
In 2001 Fylvia and Roy Kline arrived, and with the new nursing school, the hospital grew into a 150-bed hospital. Roy Kline, the administrator at the time, stayed on during the war when the communists tried to take over. Despite all the killing and unrest, under their management the hospital continued to develop.13
Currently, Scheer Memorial Hospital has evolved into a three-story, 150 bed facility that provides a full range of outpatient and inpatient services.
Services available are:
ER: 24-hour emergency service and out-patient department
Medicine: dental, dermatology, STI, leprosy clinic, DOTS clinic, ENT, internal medicine, cardiology, echocardiography, carotid doppler, endocrinology, ICU
Pediatrics: NICU, PICU
Surgical: anesthesia, general surgery, laparoscopic surgeries, urology (PCNL, TURP, TURBT, URSL)
Diagnostics: lab, X ray, radiology, ultrasound, venous doppler
Obstetrics/gynecology: Safe Motherhood Program
Orthopedics: physiotherapy
Out-reach clinics and community health
Pharmacy14
Historical Role
As one of the poorest nations in the world, one third of Nepal's population lives below the poverty line. Many in the region around Scheer can't afford the cost of a health care consultation, but the hospital doesn't turn anyone away because they can't pay. People come from miles around, traveling on foot from rural villages with no roads, electricity, or adequate health care. Some even arrive carrying sick family members on their backs, because they know they'll be welcomed, regardless of finances.15
Professional medical teams from America, the Netherlands, Australia, and Japan conduct annual, free health camps at Scheer, providing surgical repairs for burn victims, uterine prolapse, and cleft lip/palate patients.16
Outlook
In a country that restricts proselytization, Scheer Memorial Adventist Hospital is the Adventist church's chief witness to God's love. It provides excellent support to the community through health education and elementary education. Yet, the hospital is almost always under the threat of take-over. Renewing the license is difficult each time. Visas for doctors are a challenge. The hospital can do little to ensure continued service except to pray for God's intervention.
List of Name Changes
Scheer Memorial Hospital (1960-2017)
Scheer Memorial Adventist Hospital (2018- )
List of Administrators17
Medical Directors:
| | |
| --- | --- |
| 1960-1962 | S.G. Sturges |
| 1963-1967 | K.W. Sturges |
| 1968-1972 | R. I. Clark |
| 1973-1974 | C. P. Jaggi |
| 1975-1976 | R. I. Clark |
| 1977-1983 | J. B. Oliver |
| 1986-1988 | L. J. Vigna |
| 1989 | Nestor E. Hein (acting)                                              |
| 1990-1991 | Ruben Urrejola |
| 1997 | Leonardo Vigna |
| 1998-2000 | Ira Bailie |
From 1984 to 1988 the director general, department of health, of His Majesty's Government, Nepal, was on the board of management as chairman.
Administrators:
| | |
| --- | --- |
| 1984-1985 | David H. Skau |
| 1992 | Derreck E. Binning |
| 1993-1994 | Arthur H. Blood |
| 1995-1996      | Leonardo Vigna (served five years as administrator, MD, and CMO) |
| 1998-2000 | Rafael Garcia |
| 2001-2007  | Roy Kline |
| 2008 | Wesley Lutz |
| 2009-2013  | Lincoln Morikone |
| 2014-2015 | Fernando Cardona |
| 2016-2017 | Dale Mole |
| 2018- | Dr. Jonathan Thorp |
Chief medical officers:
| | |
| --- | --- |
| 1984-1985 | Henry Wiebe      |
| 1992-1994 | Leonardo Vigna |
| 2004-2009 | Rick Rentfro |
| 2010- |   |
| 2011-2015 | Fernando Cardona                                                       |
Sources
"In Brief." ARH, May 1, 1969.
Johnson, Duane S. "Gospel Outposts in India." Atlantic Union Gleaner, November 30, 1959.
Maberly, Allan. "Adventist Clinic in Buddha's Birthplace: Nepal admits foreigners." Australian Record, August 12, 1957.
Proud, Richard Riseley, Matinuzzaman Zuberi, Pradyumna P. Karan, and Leo E. Rose. "Nepal." In Encyclopedia Britannica, updated: Feb 28, 2020, https://www.britannica.com/place/Nepal.
Roth, D. A. "Scheer Hospital is only SDA Center in Nepal." ARH, March 13, 1980.
"Scheer Memorial Adventist Hospital." scheermemhosp.org, accessed March 12, 2020, http://www.scheermemhosp.org/about.html
Seventh-day Adventist Yearbook. Years 1960-2018. https://www.adventistyearbook.org/.
Notes