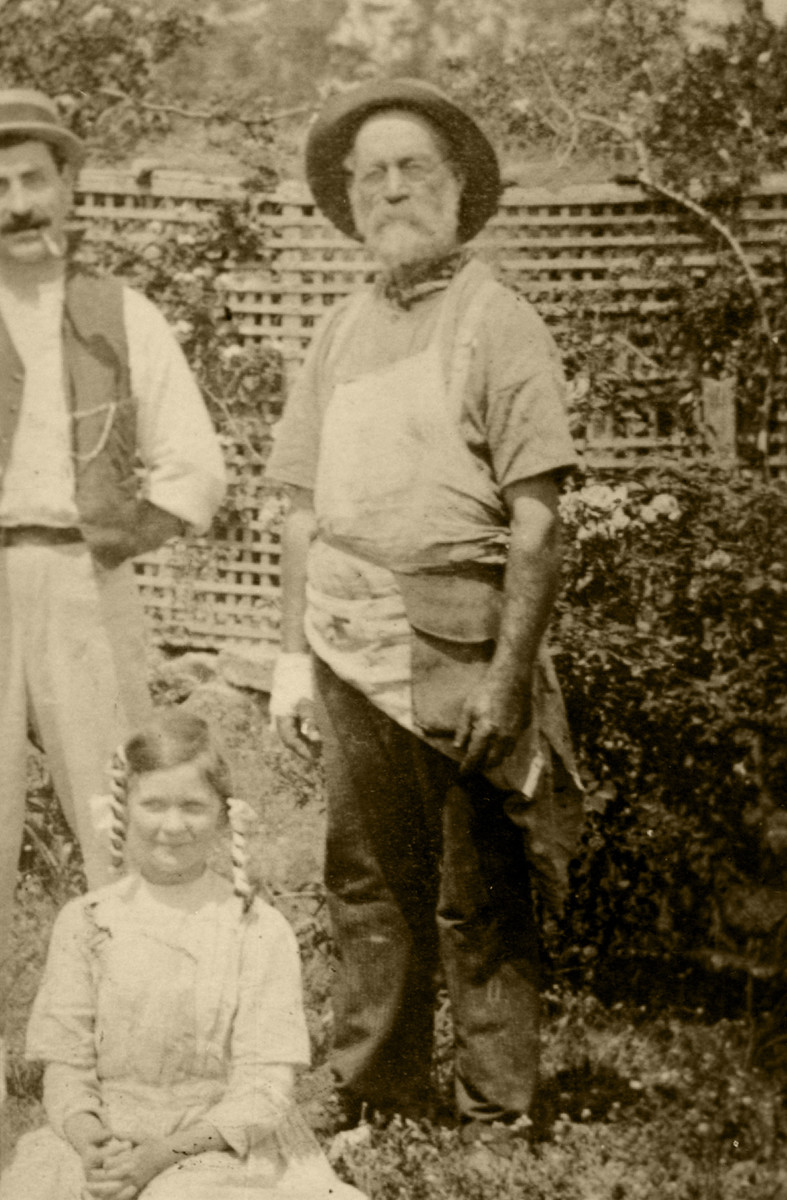 Thomson, Henry Edmund (Harry) (1845–1926)
×
D. Graham Stacey, Ph.D. (Loma Linda University, Loma Linda, California, the United States) retired in 2018 as the associate dean for Admissions and Student Affairs, Loma Linda University. Graduate qualifications in family therapy, clinical psychology and bioethics, enriched by experience as pastor, psychologist, lecturer and administrator – permitted a full career in Australia and the United States. Published research on the statistical analyses of student performance has given way in retirement to research of family history.
First Published: November 2, 2020
Harry Thomson was a carpenter to Avondale College, Avondale Health Retreat, and the community through his work on Ellen White's home Sunnyside and individual contracts.
Henry Edmund (Harry) Thomson was born in Curry's Corner, Windsor, Nova Scotia, on September 7, 1845.1
Understanding Thomson's contribution to Adventist history requires appreciation of his personal and family background. Hailing from Scotland, Thomson's grandparents (James Thomson [1773–1854], from Tulliallan, Perthshire, and Christian Keir [1767–1821], from Saline, Dunfermline) moved as a new young family to Nova Scotia, Canada, in 1798–1799.2 His maternal grandfather (Gaspar Gruber, 1742–1842), a Hessian veteran of the American War of Independence, had married Christina Caterina (Kate) Schultze (1769–1841) and had also established his family in Nova Scotia (1783) after his involvement in the war ended.3 Thomson's parents (James Thomson, a cabinetmaker [1798–1863], and Sarah [Sally] Gruber [1807–1882]), with 13 children (Henry Edmund as the second-youngest), established themselves in Windsor, Nova Scotia. Key elements from the family—Scottish heritage, Christian faith, large family, skilled at gardening and nursery, and talented cabinetmaker—were significant ingredients in Thomson's own life.
It is unclear what prompted the young Thomson to leave his home and family. In his father's last will and testament (1863),4 James Thomson, Jr., stated that "[it is] also my desire that my son Henry Edmund Thomson shall remain with his mother and take charge of the nursery until he comes of age, say 21 years . . . and then he is to have all benefits of said nursery." Did something go wrong with the then-17-year-old Thomson's father's plan? Did he resist the request? Did he prefer another life career? Was there a family disagreement or dispute? No clear answer has emerged.
What is clear is that on Tuesday morning, December 24, 1867, the now-22-year-old Thomson left Nova Scotia alone on the brig America, with no particular destination in mind.5 After visiting with siblings and cousins in Boston, Massachusetts, he secured a position as a carpenter on a ship en route to New Zealand. The trip was eventful, with records of life-threatening storms, uncomfortable living conditions, and tense crew member interactions.6 Several prominent themes characterized the journey. First, there was no clear purpose recorded for the journey; second, there was a clear belief in the providence of God in leading his life; and third, his separation from a beloved May (no other identification was offered), who eventually forsook Thomson for another (it took the whole 104-day journey to communicate that disappointing news).7
With experience in cabinetmaking and nursery management he found employment in Dunedin. However, not much is revealed of his nine years in Dunedin. Thomson went from job to job and eventually engaged in nursery work and a short spell in the infant photography business.8 During this time Thomson eventually met and married Harriet Barber Smith.9 In January 1871 Thomson made some final entries in his diary, one of which records "saving" Harriet (Hattie) from the advances of an older man.10 His determination to marry Hattie was not realized until 1875.
Harriet had come to South New Zealand, departing Glasgow with her family, in 1861 on the Storm Cloud.11 This woman, who later would plead with Ellen White to make the "message" simple for her,12 as she lacked the education to understand deep truths, was to be the other half of this husband-wife team. Over the next few years she moved from New Zealand to Australia with her new husband, left her family, set up home to mother and raise 11 children, struggled with limited resources, spent considerable time away from her husband when he was called to Avondale, met and established a warm and lasting friendship with Ellen White, supported two sons who served in World War I, and served the Prospect and Avondale churches as a charter member.13
Harry and Hattie moved from Dunedin to Australia circa 1877. The reasons for the move are unclear, and while Thomson was familiar with leaving home and family, Hattie was the only one of the 12 Smith children to leave South New Zealand. The next eight years were spent in and around Ashfield and Summer Hill in Sydney, NSW. Here Thomson and Hattie went about the business of raising a family and working hard to sustain them. A large family provided challenges, and there is a record of insolvency.14 Thomson struggled to pay debts, and sadly, household furniture and tools of the trade were sacrificed to satisfy creditors.
After an 1885 move to Prospect, a town just out of Paramatta, NSW, Thomson and the family were confronted by the ministry of Arthur Hickox, D. Steed, and Ellen White. Not much is recorded of the actual mission; suffice to say that when the evangelistic team had completed their "effort," Hickox decided to linger in the area, and in 1893 the family joined the new Prospect church as charter members. Thomson's skills as a carpenter were utilized to help with the church building, which was just the third church in New South Wales.15 At that time Ellen White first met the Thomsons when looking to buy a cow. She reported, "We purchased the cow and conversed with Mr. and Mrs. Thomson. We found them intelligent people, and favorable to the truth."16
Sabbathkeeping for a struggling tradesman was a challenge when most people in Sydney worked six days a week.17 At the invitation of Ellen White, Thomson moved to Cooranbong in 1895 to work on the Avondale College property. Thomson had found his niche and spent the next 31 years in the community. Thomson and his two oldest sons, Christie and Lake, together with Morgan Connell, worked on the campus buildings. While doing so, they lived on the Sunnyside property, where young Roy (Thomson's son) took care of the housekeeping for the four of them.18 Hattie and the other children remained in Prospect.
Thomson, and other carpenters, were tasked with working on the college buildings. Funds were short, and Ellen White sought the cooperation of A. G. Daniells and the board chair W. C. White.19 With finance secured, they were employed on the boys' dormitory, and Haskell Hall, a two-story men's residence (first called Herman Hall), was completed in the summer of 1897 to 1898. Another project, the Avondale church building, at the entrance to the estate, was dedicated debt-free in 1897. College Hall, later known as The Chapel, was built during three months in early 1899.20 It contained several classrooms, the principal's office, two primary school classrooms, the library, and a chapel. While Thomson was employed to assist on these projects, he also worked where needed on the college garden and orchard.
In late 1899 Thomson provided the plans and supervised the building of the Avondale Health Retreat. This enterprise, while ultimately short-lived, was designed to meet the medical needs of the community and to provide practical experience for first-year nurses in training.21
During this time Ellen White made her generous donation of £30 (A$5,000 in 2020 dollars) to the Thomson family. White saw the benefit of assisting a family reunion with the prospect of the children attending the new school.22 The 17 acres (seven hectares) on Alton Road became the site for a "humble bushman's hut, the center of which was made of bark from trees and the two ends of tents."23 The family "planted a garden and have almost lived off it. They had cows and therefore found it easier to get along. We let them have a horse, to be paid for when they could."24 With significant contributions to Avondale and contract building in the community the family consolidated their situation and built upon the early struggles.
Henry Edmund Thomson passed to his rest on February 28, 1926, and was buried in the Avondale Cemetery, Cooranbong, on March 1. So ended an eventful life as husband to Harriet Barber (née Smith), father of 11, grandfather to 45 at the time of his passing (with six more to come), committed believer, skilled and conscientious tradesman, and significant contributor to the early work of the Seventh-day Adventist (SDA) Church in Australia. In a letter to J. H. Kellogg, Ellen White reported Thomson to be "an excellent man, a sincere believer of no mean capabilities. His wife frets, but never complains. He is patient and kind."25
So it was that Harry and Hattie made their long-term commitment to Avondale and Cooranbong. They brought their distinct heritage, their commitment to faith and hard work, and established themselves in the community. Their children and their descendants continued their contribution to the adopted country, the wider community, and the church.
Significant Events
1845 Born: September 7, Curry's Corner, Windsor, Hants County, Nova Scotia, Canada
1867 Departure: December 24, Nova Scotia, Canada (on the brig America).
1868 Arrival: May 8, Dunedin, (Port Chalmers), New Zealand
1870 Traveled: February 18, Sydney, NSW, Australia
1875 Married: July 27, Harriet Barber Smith, Great King Street, Dunedin, New Zealand
1876 Sarah: March 7, Dunedin, New Zealand
1878 Emigrated: Sydney, NSW, Australia
1878 Bessie: February 10, Sydney, NSW, Australia
1880 Christie: January 8, Ashfield, NSW, Australia
1882 Insolvency: Ashfield, NSW, Australia
1882 Luke: March 23, Summer Hill, NSW, Australia
1883 Roy: March 29, Summer Hill, NSW, Australia
1886 Olive: May 23, Seven Hills, NSW, Australia
1888 Glen: October, Prospect, NSW, Australia
1889 Seaton: November 11, Prospect, NSW, Australia
1893 Baptized; Arthur Hickox, Prospect, NSW
1893 Keith: April 25, Blacktown, NSW, Australia
1894 Gray: July 23, Blacktown, NSW, Australia
1895 Relocated: Cooranbong, NSW, Australia
1895 Worked: Sunnyside, 27 Avondale Rd., Cooranbong, NSW, Australia
1896 Completed Sunnyside
1896 Roy football accident and damaged his knee/cared for at Sunnyside
1897 Carpenter: Avondale College, NSW, Australia
1897 Bruce: December 30, Prospect, NSW, Australia
1897 Family relocated from Prospect, 15 acres on Alton Road (previously Central Road)
1898 Roy remained at Sunnyside until end of year
1900 Designed and built Avondale Health Retreat
1926 Died: February 28, Cooranbong, NSW, Australia
1926 Buried: March 1, Avondale Cemetery, Cooranbong, NSW, Australia
Sources
Ancestry Family Trees (online publication: Provo, Utah, USA: Ancestry.com; original data: Family Tree files submitted by Ancestry members), Ancestry.com, record for Henry Gruber. https://search.ancestry.com/cgi-bin/sse.dll?db=1030&h=34051352812&indiv=try.
Ancestry.com, Public Member Trees (Provo, Utah, USA, Ancestry.com Operations, Inc., 2006), Ancestry.com, record for James Thomson. http://search.ancestry.com/cgi-bin/sse.dll?db=1030&h=12216862783&indiv=try.
Ancestry.com, New Zealand, Marriage Index, 1840–1937 (Provo, Utah, USA, Ancestry.com Operations, Inc., 2014), Ancestry.com, New Zealand, Marriage Index, 1840–1937, record for Harriet Smith. http://search.ancestry.com/cgi-bin/sse.dll?db=8950&h=126048&indiv=try.
Ancestry.com, U.S. and Canada, Passenger and Immigration Lists Index, 1500s–1900s (Provo, Utah, USA, Ancestry.com Operations, Inc, 2010), Ancestry.com, Nova Scotia, Canada, 1798–1863, 105, record for James Thomson. http://search.ancestry.com/cgi-bin/sse.dll?db=7486&h=4326515&indiv=try.
"Insolvency Court: Henry Edmund Thomson." Sydney Morning Herald, September 7, 1882.
Irwin, G. A. G. A. Irwin to A. G. Daniells. February 4, 1898. Presidential Outgoing Letters. In Milton Hook, "The Avondale School and Adventist Educational Goals, 1894–1900." Doctroral Thesis, Andrews University, 1978.
Pascoe, William H. "Obituary for Harriet B. Thompson (sic)." Australasian Record, May 28, 1928.
Last Will and Testament of James Thomson, late of Windsor, Nova Scotia, October 15, 1863. In personal collection of author.
Rogers, Viola M. "When the Third Church Was Built in New South Wales." Australasian Record and Advent World Survey, November 14, 1955.
Thomson, Ken A. Diary of Henry Edmond Thomson, 1867–1871. In personal collection of author.
White, Ellen G. "Comments on Family Situations in Australia." Manuscript Release 814. In Ellen G. White. Manuscript Releases. Silver Spring, Maryland: E. G. White Estates, 1990.
———. "Diary." April 9, 1894. Manuscript 23, 1894. Ellen G. White Estate Office.
———. Ellen G. White to Brother and Sister J. H. Kellogg. February 13, 1898. Letter 21, 1898. Ellen G. White Estate Office.
———. Ellen G. White to Brother and Sister J. H. Kellogg. July 4, 1898. Letter 186, 1898. Ellen G. White Estate Office.
———. Ellen G. White to Brother and Sister John Wessels. April 4, 1899. Letter 63, 1899. Ellen G. White Estate Office.
———. Ellen G. White to Uriah Smith. September 5, 1898. Letter 72, 1898. Ellen G. White Estate Office.
Notes