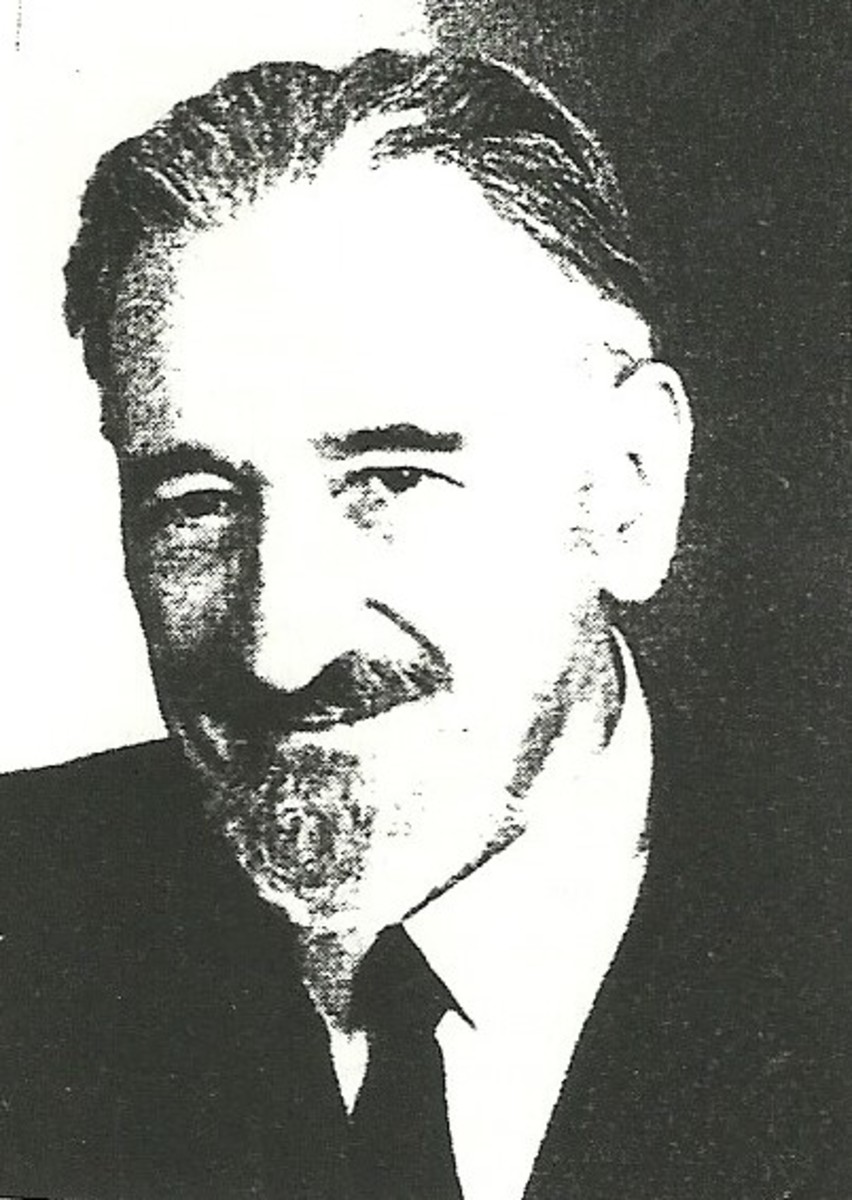 Rey, Jules (1883–1962)
×
Eudritch Jean: Diploma in Electronic Engineering (Haitian State University), B.A. in Theology (Adventist University of Haiti), and M.T.S. (Friedensau Adventist University [FAU], Germany). Jean worked as an electronic engineer in Haiti for twelve years and shortly served as assistant pastor at the district of Bethanie in the Central Haiti Conference. Currently, he is working as volunteer for the Institute of Adventist Studies of FAU. He plans to pursue doctoral studies in ethics.
Jean-Michel Martin, Ph.D. (University of Geneva), is a retired church historian who has taught history in the Adventist University of France in Collonges-Campus Adventists du Salève.
First Published: January 29, 2020
Jules Rey was a Swiss Adventist evangelist and administrator who worked in France, Switzerland, and North Africa during the first sixty years of the twentieth century.
Early Years
Jules Rey was born on February 19, 1883, in Moudon (Canton of Vaud, Switzerland) where his parents had a farm.1 He had six sisters and five brothers. Rey became a Seventh-day Adventist in 1900. At that time, he had completed six years of elementary education and two years of secondary schooling.2 Two years later, he joined a course for Adventist preachers organized in Paris, France, by the Latin Union Mission.3 The training course took about five months. Afterwards, Rey settled in Geneva, Switzerland, and assisted Leon-Paul Tièche, the then president of the French-Swiss Conference, in his evangelistic activities.4
Marriage
In 1906, Rey married Amélie Eva in Clermont-Ferrand, France. She served as secretary and treasurer at the Romance-Swiss Conference in 1905.5 Unfortunately, after a long period of illness, she died on May 22, 1920.6 One year later, Rey remarried. His second wife was Juliette Longhi (1895-1978). Their wedding ceremony took place on June 21, 1921, in Geneva, Switzerland. Juliette and Jules Rey had three children, including a daughter named Ruth.
Evangelist and Administrator
After serving as a Bible worker for about three years in Switzerland, Rey was sent to the south of France in 1905 to serve as evangelist. That same year he started evangelistic activities in Lasalle and then moved to Nîmes where he organized a church of fifteen members. Subsequently, he went to Montpellier and contributed to the organization of the Adventist church in that city. Rey ministered in the south of France until the beginning of 1909 and conducted evangelistic meetings in several other cities such as Alès, Clermont-Ferrand, and Saint-Etienne.7
Due to health issues, Rey returned to Switzerland at the beginning of 1909 and worked as evangelist in Yverdon. While working there, he was ordained to the ministry on August 13, 1910.8 After his ordination, he went to the canton of Valais in southwest Switzerland. He faced strong opposition in the area in which Roman Catholicism was predominant. Nevertheless, he could organize a church of twenty members in Saxon.9
At the beginning of the First World War, Rey accepted a call to return to France and pastored a church in Montbéliard. He worked there for about a year and was then transferred to Paris where he served until 1917. Three years later, Rey was called to serve as president of the French Conference.10 He took charge at the end of 1920 and held the position until 1923. Following the reorganization of the French Conference in the summer of 1923, he became president of the Leman Conference.11 Rey led the conference for five years. Besides his administrative duties, he remained active as an evangelist and was directly involved in organizing missionary activities in Lausanne and other places.12
Missionary in North Africa
After serving as evangelist and administrator in France and Switzerland for more than two decades, toward the end of 1928 Rey received a call to superintend the newly organized North African Union Mission.13 He accepted the call and moved to Algeria in October 1928.14 While leading the union, he also served as superintendent of the Algerian Mission.15
Upon his arrival in Algeria, Rey laid out plans to reach the Arabic-speaking people.16 Prior Seventh-day Adventist missionary activities had centered on the European population–French, Spanish, and Italians–who lived there.17 Rey started the publishing of Arabic literature for the indigenous population and enrolled several young people in the colporteur work.18 In addition to the colporteur ministry, he strengthened and expanded the medical work, which he believed was the best means to reach Arabs and Berbers,19 first, through the medical activities of lay members,20 and then the establishment of the Philanthropic Association of the Friends of the Sick, an organization aimed at raising money and facilitating the acquisition of property for the health ministry.21
Rey worked in North Africa for eight years. Under his leadership, the union recorded a considerable growth in both baptized membership and organized churches.22 Several dispensaries and a new sanitarium were built providing health services in the union territory. At that time, they played a significant role in their environment, especially in Algeria, where hospitals and nursing facilities were meager.23
Back to Europe
At the end of 1936, Rey asked to return to Switzerland. His request was granted, and J. A. de Caenel was appointed superintendent of the North African Union.24 Upon his return to Switzerland, Rey served as pastor at the Leman Conference until 1950 and was a member of the Conference executive committee from 1946 to 1949. As a minister, he successively worked in Tramelan, Moutiers, Bienne, La Chaux-de-Fonds, Yverdon, La Tour de Peilz, and Oron. Before leaving Oron, he contributed to the establishment of a retirement home in the city.25
Later Years
Rey retired as a church employee in September 1950.26 He first stayed in Oron and then, four years later, he settled in the vicinity of Clarens and Chailly (Canton of Vaud, Switzerland).27 Despite his retirement, he remained an active evangelist. He regularly presented conferences and gave Bible studies until his health deteriorated in August 1961. After starting a series of evangelistic meetings in Vevey, Switzerland, he became very sick and did not recover. He died on January 25, 1962, in Clarens-Montreux, Switzerland.28 He was 79 years old.
Contribution
Jules Rey contributed to the development of the Adventist Church in Switzerland, France, and the French-speaking countries of North Africa. During his lifelong career as pastor and evangelist, he planted several churches, especially in Switzerland and France. He had a significant impact on the missionary medical work in the North Africa Union Mission. He facilitated the establishment of several medical facilities, among them the institute "Vie et Santé" which operated in Algeria until the beginning of 1970.
Sources
Beach, Walter R. "European Mission Notes." ARH, November 12, 1936.
Caviness, L. L. "The Annual Conference Sessions in the Latin Union." ARH, December 13, 1923.
Dail, Guy. "In Roman-Switzerland." ARH, October 27, 1910.
DeForest, P. A. "Amélie Rey-Eva." Revue Adventiste, July 7, 1920.
Guy, Maurice. "Fédération de la Suisse Romande." Revue Adventiste, September 1950.
Hilborn, Robert and Caroline Hilborn. "A Sanitarium for North Africa." ARH, August 3, 1933.
Mathy, L.A. "Jules Rey obituary." Revue Adventiste, April 1962.
"Miss Serpouhi Tavoukdjian to Leave in Six Weeks for Work in Morocco." The Sligonian, August 18, 1932.
Montgomery, O. "The First Believers in North Africa." ARH, April 30, 1930.
Pleniceanu, Doru. "L'Implantation du Mouvement Adventiste en Algérie: 1905-1962." MA Thesis, Faculté Adventiste de Théologie Collonges sous Salève, 2002.
Rasmussen, Steen. "Beacon Lights in North Africa." ARH, August 29, 1935.
Rey, Jules. "Algiers, North Africa." ARH, June 8, 1933.
________. "North African Union Mission." ARH, February 20, 1930.
________. "The Needs of North Africa." Missions Quarterly, Second Quarter, 1932.
"Rey, Jules." Seventh-day Adventist Encyclopedia. Hagerstown, MD: Review and Herald Publishing Association, 1996.
Seventh-day Adventist Yearbook. Washington, D.C.: Review and Herald Publishing Association,
1905, 1921, and 1929.
"The Work is launched..." ARH, January 2, 1930.
Waber, Karl. "L'Eglise Adventiste et ses Pionniers: Jules Rey." Le Lien, Spring 2007.
Wilkinson, B. G. "The Latin Union Field." ARH, July 28, 1904.
Notes