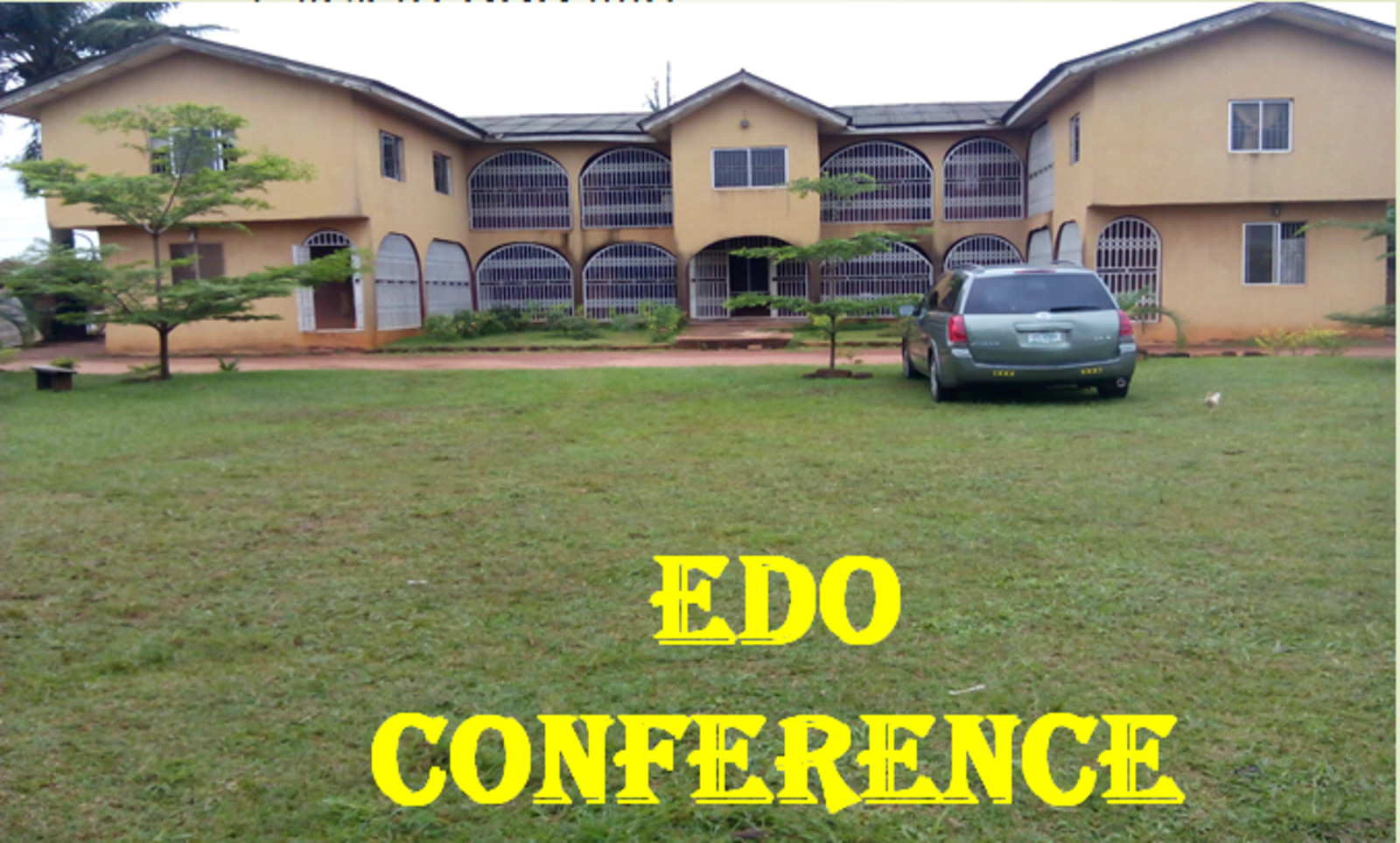 Edo Conference
×
Michael A. T. Senne-Aya, D.Min. (Adventist University of Africa, Nairobi, Kenya)  is the director of archives, statistics, and research for the Western Nigeria Union Conference, Lagos, Nigeria. He was the last president of Edo-Delta Mission before its formal reorganization into two separate conferences and served as the pioneer president of the Edo Conference in the Western Nigeria Union Conference. 
First Published: January 29, 2020
The Edo Conference of Seventh-day Adventists presently covers the territory of Edo state, one of the 36 states that make up the Federal Republic of Nigeria. The state is comprised of 18 local government areas or councils and located in the South-South Geo – Political Zone, with its capital in Benin City. According to the 2006 population estimate, Edo State has 3,218,322 citizens and is ranked 24th in size (land mass) out of the 36 states of Nigeria.1 Edo state has an area of about 19,794 square kilometers.2 The state has a tropical climate characterized by rainy and dry seasons. As a result of the current global climate change, weather has become unpredictable.3 Edo people, like most other Nigerians, are highly religious and this is visible in the people's lives. The three dominant religions of Nigeria—African Traditional Religions (ATR), Islam, and Christianity—are equally found in Edo state. The major ethnic groups in Edo state are: Edo (Binis), Esan, Afemai Owan, and Akoko Edo.4 Edo state is sometimes referred to as the Cradle of Black Civilization and the home of arts and culture, and it has produced some outstanding artists.5
Becoming a Conference
Edo Conference territory was originally part of the defunct Edo-Delta Conference (EDC) which existed from February 2, 2002 until December 29, 2012, with headquarters in Benin City, Edo state. It once covered the territories of the Edo and Delta states which have been reorganized as a separate conference of the Church under North-Western Nigeria Union Mission (NWNUM). The NWNUM approved the idea of reorganization as presented by the EDC as stated below.
At the 4th Triennial Constituency Session of EDC held February 23-27, 2011, it was voted that EDC be reorganized on a state basis, Edo and Delta states. At the meeting of the Executive Committee of the Edo-Delta Conference held on June 19, 2011, it was voted to adopt the action plan of the NWNUM and the constituency resolution to restructure the existing conferences and to hold a special mini-constituency session on June 26, 2011 (Action 2011/48). At this meeting the motion was overwhelmingly supported and it was voted to reorganize on a state basis: Edo Conference and Delta Conference (Action 2011/4). Based on the above voted actions, the Conference Administrative Unit Inauguration of each state took place as scheduled:
Delta Administrative Unit: December 24, 2011 at Evwreni, Delta state.

Edo Administrative Unit: December 31, 2011 at COMAC, Benin City, Edo state.
An inaugural service for the Edo administrative unit was held December 31, 2011, at COMAC. Three leaders were elected as officers of the Edo administrative unit to actualize the conference status, and these included Pastor M. A. Senne-Aya (president) Pastor G. A. Umhebaita (secretary), and Elder E. O. Okoro (treasurer). The inspection team from the West-Central African Division and the officers of NWNUM visited on August 21, 2012, and concluded that the two administrative units had been able to run successfully between December 24, 2011 and October 2012. Having passed the WAD Inspection Team Evaluation, the EDC Executive Committee voted that the two administrative units be reorganized as full conferences based on the NWNUM program scheduled as follows:
Delta Conference: December 1, 2012.

Edo Conference: December 29, 2012.
The inaugural constituency session of Edo Conference was held at COMAC, Benin City on December 27-30, 2012. Organization of the new Edo Conference was approved, officers were elected, and the newly elected officers and directors were dedicated in an inaugural service.
At the inception of the Edo administrative unit in January 2012, there were 1,613 baptized members in nine district churches. As of December 2017, Edo Conference's membership was 3,373 in 12 districts.
History of Seventh-day Adventist Churches and Pioneers in EDO Conference (1952-2017)
The origin of the Edo Conference of the Seventh-day Adventist Church in Nigeria can be traced from three main locations within Edo State—the Benin section, the Iyora/Ogbona section, and the Ibhiedu-Ohordua section. The work started at nearly the same time in the Benin and Iyora/Ogbona areas, but individuals who were involved in the growth of the church were not associated with each other.
The Benin Section – Edo South
The history of the Adventist Church in Edo state began in 1952 when Rufus Edoro started taking Voice of Prophecy (VOP) correspondence lessons at Ibadan when he was in elementary school at Opoji.6 The West Nigeria Mission entered the Benin province when Pastor S. A. Majolagbe visited the Edoro family in May 1958 from Ibadan, in the company of James Eregare and James Familusi. The latter was sent to Irrua.7 By 1961 the Edo state section (Benin province) was merged with Warri section to form the Midwest District with Pastor S.A. Majolagbe as the first district leader. At the time of the Midwest District organization (1961), four workers were available, namely Otoide, L. O. Osekete, J. E. Eregare, and J. Familusi. Majolagbe and Eregare were based at Benin City while Otoide was stationed at Irrua and Familusi was at Iyora. At the same time there was a Benin-based Literature Evangelist, E. A. Onumadu. With Rufus Edoro was his younger brother, Sanni Edoro. His other brother, Stephen A. Edoro, came later to stay with him in Benin between1960 and 1963, after completing secondary school at Opoji. In 1959 Pastor J. Eregare left for training in Bekwai, Ghana.8
Between 1961 and 1977, when the Midwest Mission was created, the following pastors served as district/church leaders and made significant contributions, namely: I. O. Adewusi, G. A. Solademi, Chima, Eregare, L. O. Osekete, Odiase, Adugbo, Abovwe, and M. O. Olayemi. One notable contribution to the development of the church was the purchase of a private primary school—Ekhaguere Memorial Primary School, Benin. Mr. Akpeghagha, an Urhobo and a trained teacher based in the west, relocated to Benin as the pioneer headmaster of the young school. But because Mr. Akpeghagha lacked commitment to the Adventist philosophy of education, the school project suffered many setbacks until it was eventually taken over by the Military Government in 1972. Though some of the teachers were not dedicated to the cause of Adventism, others were and became champions of the faith in our various churches with their families still in the church today. These committed ones included Dr. Felix Adugbo, Elder E. O. Osifo, and Elder R. E. Owumi.9
The first recorded baptismal service took place in Benin on November 21, 1959, and four persons were baptized by Pastor J. A. Adeogun. They were Rufus Edoro, J. O. U. Odiase, Mrs. B. O. Osemwota, and Madam Ewemade Aghede. The second baptism of two people occurred in 1961, while the third baptism took place on November 2, 1963. Between 1968 and 1969, a Bible Instructor, Miss Christiana A. Odiase (now Mrs. C. Lawal), worked with Pastor J. O. Eregare and later with Pastor L. O. Osekete. Pastor J. A. Adeogun was president of the West Nigeria Mission when the Midwest District was created.10
From 1975 to 1978 an American missionary, Pastor Meyers, worked in Benin as an evangelist. Meyer's tenure was an interlude between Olayemi and Chima, the pioneer president of the Bendel Mission. Pastor P. C. Chima led the young mission from 1977 until his death in 1985.11 He was followed by Pastor S. O. Gbenedio, Pastor G. C. Nwaogwugwu, Pastor J. O. Owolabi, Pastor (Dr.) J. B. A. Kio,12 Pastor J. E. Umoru, and Pastor M. A. Senne-Aya. During the presidencies of Gbenedio and Nwaogwugwu, the idea of a secretariat complex was conceived, but it was completed and dedicated during the time of J. O. Owolabi.13 The following officers served along with the presidents: E. C. Onwere, M. J. Obrimah as secretary/treasurer, while Pastor (Dr.) O. E. Okonkwo, Pastor M. A Senne-Aya and Pastor G. A. Umhebaita served as secretaries. Full treasurers include Elder A. O. Ibhiedu and D. E. Edafe. Pastor (Dr.) O.E. Okonkwo was later moved up as the pioneer secretary of the North-Western Nigeria Union with headquarters in Maryland, Lagos. Edo administrative unit came on board on December 31, 2011 at COMAC when it was inaugurated by the administration of Pastor (Dr.) Oyeleke A. Owolabi, president of NWNU. At the inauguration three officers emerged, namely Pastor M. A. Senne-Aya (president), Pastor G. A. Umhebaita (secretary), and Elder E. Okoro (treasurer).14
Etsako Section – Edo North
It was in 1959, seven years after Rufus Edoro came in contact with Adventism through the VOP series, that P. U. Oitoto got the message through a radio broadcast at Ibadan, the Oyo state capital, while he was at Ile-Ife for medical attention. He immediately brought the message to his people at Iyora where individuals like Ozoro, Paul Ibhikumen, David Ogikie, and Thomas Okpetu joined to establish a church in 1960. Others who later joined the group include Akhaluemoi and Benard Okumolor.15
In an epic story of divine intervention, the history of the Adventist Church in Ogbona is an interesting one. It began in 1962 when controversy broke out between two groups over where to locate the proposed church building of an American Mennonite church whose members prior to that time worshipped in the palace of Chief Okozi. There was a sharp contention among the brethren of the Mennonite church, in that more than 452 members of the group preferred the Okotor location to Irioche for the erection of the church building, especially since Irioche already had Catholic and Anglican churches. When this protracted disagreement on a site for the church building could not be resolved, the 452 displeased members migrated to the present-day Imakhena Primary School and started to worship there. Providentially, this group invited Pastor L. O. Osekete from Iyora Adventist Church to give them Bible studies in 1963. Later, Pastor J. A. Adeogun, M. O. Olayemi, Olomojobi, and J. A. Adeniji joined L. O. Osekete to evangelize those believers into Sabbatarian Adventists with Elder Daniel Imana as the presiding elder. It was reported that the membership dropped to 250 because some of the people did not want to identify with Sabbath-keeping and because Adventism was relatively new and unpopular. After a series of Bible studies, with Johnson Esue as interpreter, the first baptism was conducted by Pastor Olayemi in 1964 with more than 12 being baptized.16
On his return from England in 1965, Pastor (Dr.) J. B. A. Kio was stationed at Ogbona to minister to the people as the first graduate minister,17 with Michael Bello and George Egwakhe as his associates.18 A church was later organized in 1979 by Pastor P. C. Chima, with Elder Peter Atate as the first elder.
The Maranatha Nursery/Primary School, Ogbona was also established there in 1982, where J. E. Umoru (now Pastor [Dr.] J. E. Umoru, president of Atlantic Conference in Lagos), became the first head teacher. The foundation of the current church building was laid by Pastor P. O. Olise in 1989, roofed through the support of SDF during the late Pastor B. N. Kalu's tenure, followed by D. D Kimia and others, and then completed and dedicated on September 11, 2010 during Pastor A. Emurotu's era. As one person remarked: "It had been rough, tough, thorny and sometimes controversial and frustrating, but through it all, an edifice of God's monumental glory defying every gate of darkness stands dedicated at Ogbona as the fourth in the defunct EDC and the first in Edo state. To God be the glory!"19
Esan Section – Edo Central
The history of the Adventist Church in Esanland dates back to around the 1960s, but it was not deep-rooted enough to survive as the church was basically made up of older people with little or no place for the younger generations. Therefore, the church died. However, the second wave of Adventism in Esanland started at Ibhiedu-Ohordua in the early 1970s. Similar to the one at Ogbona in 1962, this time around the theater of action was the Assemblies of God Mission School, Ibhiedu-Ohordua. It is an exciting history and a blessed story.
It began with U. A. Udoh, from Calabar, at that time the superintendent of the Sunday School of the Assemblies of God Mission. Udoh visited Benin in February 1973 and returned to inform some of his church leaders that the actual day of worship may not be Sunday, but Saturday. Perhaps he stumbled upon a Sabbath tract and was convinced. A Bible study/debate was arranged between the ministers of the Assemblies of God church and that of the Adventist church, with the aim to prove the veracity of Sunday or Saturday as the biblical day of worship. When the minister of the Sunday church could not buttress his position from the Scriptures, an air of shame and disappointment pervaded the audience, especially his members. A. U. Udoh, in company of others, went to Jacob Ojieabu-Anorh's house on September 9, 1973, for worship. About 150 people were baptized into the Adventist Church.20 Those present on that fateful day included Jacob himself, U. A. Udoh, Nathaniel Arebun, Tom Oriakhi, Edward Izebhor, M. O Ojieabu, and others. Because of the smallness of Jacob Ojieabu's parlor, Tom Oriakhi volunteered one of his family buildings for subsequent worship. A year later, Jacob Ojieabu donated a large piece of land for church development (1974), which culminated with evangelism in 1975 that resulted in the mass movement of members from the Assemblies of God Mission to the Seventh-day Adventist church. That singular event brought to our church the families of the Ibhiedus, Otoibhis, Arewes, Ojuromis, Ahunsis, Ifebhors, and others. Pastor S. O. Gbenedio became the Esan district leader with headquarters at Uromi and from there he managed the activities of the Ibhiedu church. Evangelist S. I. D. Chigbundu (1978-1984) also served as a church pastor at Ibhiedu. The church was formally organized in 1979 by Pastor P. C. Chima. A camp meeting and a crusade were held at Ibhiedu in 1975 to increase the membership. Between 1977 and 1978, a union-wide crusade was conducted by Pastor Isaac Nwaobia at Uromi. 
The Districts of Edo Conference
Agbazilo: This covers Esan Northeast and Esan Southeast LGAs. The church in Agbazilo started at Ibhiedu-Ohordua around 1972, and at Uromi at about 1977 through Uwakwe (a trader), Wilfred Oseghe, Helen Akioyamen, Dr. Mike Osiwele, and Elder A. E. Esene. The church arrived in Ubiaja in 1985 through the prison ministry of Brother Ogbebor and a crusade in 2008 where Eddy Thompson was the speaker. The district has two organized churches (Uromi and Ibhiedu) and four companies (Egbelle, Ubiaja, Ukoni, Ewohimi). Current membership is 220.
Akoko-Edo Churches: The church was planted at Akoko-Edo through the joint effort of the EDC and Mrs. E. Osikorobia, a native of Ibillo, in 2003, where Pastors Kelvin and Ogah collaborated. Akoko-Edo has two companies (Igarra and Ibillo), two branch Sabbath schools, and a membership of 81.
Auchi: The church began around 1960 at Iyora through the efforts of Elder A. U. Oitoto and his people. Jattu was reached through a crusade conducted by Pastor G. C. Nwaogwugwu in 1992. Auchi town was reached through the efforts of our NAAS, while Ewora was planted by SDF in 1999. Membership stands at 189. It has two organized churches (Iyora and Auchi) and two companies (Apana and Ewora). This district covers the entire landscape of the present Etsako West Local Government Area with headquarters at Auchi town.
Etsako: The Adventist message arrived in Ogbona in the wake of the crisis that engulfed the Mennonite church in 1962 that led to the establishment of the SDA Church (at Ogbona). From there the church has now spread to Fugar and other areas. We still have churches at Okpekpe and Ekperi. The Etsako district has one organized church with three companies. This consists of both Etsako Central and Etsako East LGAs of Edo State. Membership is 162.
Evboriaria: This was carved out of the old GRA district on January 10, 2015. It is comprised of three organized churches (Evboriaria, Ekae, and Ugbekun) with four companies. Membership stands at 379.
GRA: The present GRA district was first reorganized out of the old Upper Mission district on May 8, 2010, and later gave birth to the Evboriaria district in 2015. It consists of two organized churches (GRA and Valley View) and two companies, with membership of 371.
Ikpoba-Hill: The current district was carved out of the old Upper Mission district on December 20, 2014. It has two organized churches (Ogbeson and Ramat/Aduwawa) with four companies, and membership of 531. Christiana Omorere Adventist College (COMAC) is located within its territory. It covers the part of Ikpoba Okha LGA of Edo State.
Okpebho: Okpebho district was created out of the former Ishan district between 1988 and 1989 during the administration of Pastor S. O. Gbenedio. The Okpebho district as it is currently constituted, is made up of Esan West, Esan Central, and Igueben LGAs of Edo State. The church started first at Obodeko-Amahor when Amos Esquire brought the Adventist message to his people early in 1980 from Sapele. That eventually led to the baptism in June 1980 of six pioneer members, namely, Madam Alice Esquire, Alex Eboh, Lucy Esquire, Anthony Ekpa, Mr. Agbaramen, and Cletus Osifo. The baptism was conducted by Pastor L. O. Osekete in the presence of Pastor P. C. Chima. The next place to receive the Adventist message in Okpebho, was Opoji on February 1982, where Osekete spoke and A. A. Madojemu interpreted, though as an Anglican at first. About 20 people joined the church through baptism, including the interpreter and his family. That was the beginning of the church at Opoji. Another effort was held in March 1982 at Uwendova Primary School, Ekpoma where the late Osekete spoke. That resulted in 15 baptisms, including Kenneth Ehizode. The work at Okpebho has expanded to include the church at Iruepken, established by EDC Zonal AMO Crusade where Pastor G. A. Umhebaita was the featured speaker and 111 people were baptized. Currently Okpebho has two organized churches (Ekpoma and Iruekpen) and seven companies. The second and third nursery/primary schools in the conference are located in Okpebho district. The Adventist message entered Ebhosa in 2015 through an effort conducted by Pastor Senne-Aya where 14 were baptized and a church building was donated by Elder Richard Ukpebor. Membership is 213.
Owan: It was in 1986 that Pastors G. O. Omijeh and Ripley Oriakhi started the church in Owan through a crusade where five people were baptized at Afuze. Pastor Oriakhi was later stationed there to nurture the flock. A year later, between 1987 and 1988, another crusade train went to Sabo where Pastor S. O. Gbenedio was the guest speaker and five persons were baptized. This district covers Owan East and Owan West LGA of Edo State. As of December 2017, Owan district has one organized church (Afuze) and two companies. Membership stands at 219.
Ugbowo: It was carved out of the old Uzebu district on October 27, 2012. It consists of the major parts of the present Egor and Ovia North East LGA of Edo state. It has four organized churches (Ugbowo, Uselu, Okhoro, and Osiohor) and two companies, Membership is 324.
Upper Mission: It was reorganized on December 20, 2014, to include part of Oredo LGA. It has two organized churches (Upper Mission and MMWay) with two companies, and membership of 283.
Uzebu: It is the oldest district and the mother church, the very cradle of Adventism in Edo state. Uzebu gave birth to virtually all the churches in the Benin metropolis. The churches at Umaza and Iguobazuwa came through the effort of Elder J. I. Ehiorigie and James Enumah. Uzebu district covers a large portion of Oredo and Egor LGAs. It has three organized churches (Uzebu, Ugbiyokho, and Useh) and two companies (Utagban and Iguobazuwa). Membership is 401.
Sources
Agboola, D. T. Seventh-day Adventist History in West Africa (1888-1988): A Mustard Seed. Ibadan: Lasob Productions, 2001.
Alalade, Adekunle A. Limiting Factors to the Success of the Seventh-day Adventist Church in Africa: The Nigeria Case Study. Ibadan: Agbo Areo Publishers, 2008.
Alao, Dayo et al., ed. 90 Years of Adventism in Nigeria (1914-2004): A Compendium. Lagos: Communication and PARL Department of SDA Church in Nigeria, 2004.
Amanze, Philemon O. et al., ed. Pioneers: Courageous Stories of God's People. Ilishan-Remo: The Ellen G. White – SDA Research Centre, 2011.
Babalola, David O. Sweet Memories of Our Pioneers. Lagos: Emaphine Publishers, 2001.
Eregare, Emmanuel O. An African Christian Church History: Seventh-day Adventist Cosmology in Edo/Delta States: 1948-2012 and Ecumenical Initiatives. Lagos: Christ Coming
Books, 2013.
"History of Edo State" The Official Website of Edo State Government. Accessed June 10, 2017. http://www.edostate.gov.ng/history-of-edo-state/
Maigadi, I. B. The Adventist Church in Northern Nigeria. Kaduna: Culture Impressive, 2005.
Odiase, J. O. U. A Short History of The SDA Church in Edo/Delta States of Nigeria: 1948-2001. Lagos: Emaphine Publishers, 2001.
Osamede Osunde, "Benin Kingdom and Edo State Historical Link." Accessed March 26, 2017.
https://www.edoworld.net/Historical_prospective.html
Schwarz, R. W. Light Bearers to the Remnant. Boise, Idaho: Pacific Press Publishing Association, 1979.
Senne-Aya, Michael A. "Towards Effective Involvement of the Laity in the
Mission/Ministry of the Edo Conference of SDA Church in Nigeria." D.Min. dissertation, Adventist University of Africa, 2017.
Notes